Define Your Style,
Declutter Your Closet, and
Decrease Your Consumption
What if you could have the wardrobe of your dreams, while also reducing clutter in your closet and decreasing your environmental impact?
I'm here to tell you that you can. If you want to know how, then just keep reading!
Does any of this sound familiar?
You have a closet full of clothes but feel like you have nothing to wear. There's so much clutter in your wardrobe that it's hard to see past all of the pieces that don't work to what you really love to wear.
You spend a lot of money on clothes that still have the tags on. You have trouble picking out clothes that you really love, and aren't sure what styles or trends are right for you.
You feel discontent with the everyday and sometimes use retail therapy as a way to feel better. Shopping helps you feel good in the moment, but it doesn't last. The amount of money you're spending and clutter that is piling up is actually detracting from your happiness, not adding to it.
You want to live more sustainably but you're not sure where to start. You've heard of the negative impacts of fast fashion on the environment, and are interested to learn more about what you can do to make your wardrobe more eco-friendly.
You're ready to let go of consumerism and make room for more meaningful things in your life. You're sick of all of the complexity and stress that 'keeping up with the Joneses' brings into your life. You're looking for a way to start simplifying and slowing down.
Maybe some or all of this resonates with you.
If so, you're in the right place.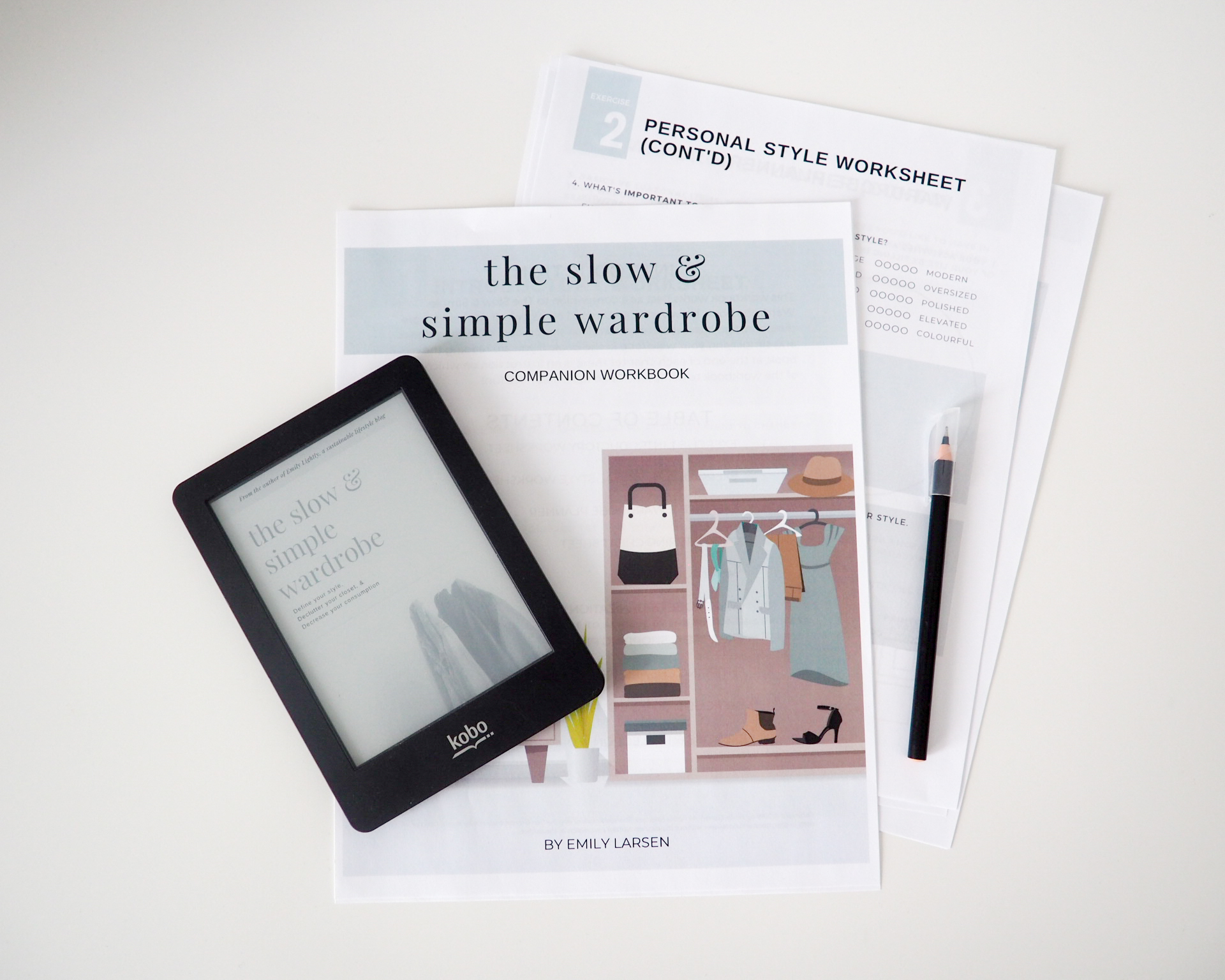 Introducing The Slow & Simple Wardrobe eBook and Companion Workbook.
It's my comprehensive guide to defining your style, decluttering your closet, and decreasing your consumption.
In these materials, I'm spilling everything I've learned from over two years of simplifying my closet and wearing seasonal capsule wardrobes. I've been there, and now I'm here to tell you what works and what doesn't, with all of my tips and tricks along the way.
This is your chance to have the wardrobe you've always dreamed of.
Take it from me.
I used to be a total shopaholic. I'd spend a lot of my hard-earned income purchasing clothes and accessories to keep up with trends and always have something new to wear.
But deep down, all of that wasn't making me happy. In fact, all of the clutter and the fact that I had no savings to show for my hard work made me feel worse about my life.
It was then that I stumbled across minimalism and the world of capsule wardrobes, and decided to try it for myself.
I thought it could be a fun way to get more wear out of the clothes I own and spend less money on things I didn't end up wearing.
But the actual benefits I experienced were beyond what I ever could have imagined.
Removing all of the clutter from first my closet, and then my life, helped me uncover deep-seated fears and negative emotions that were holding me back in life. I didn't realize it before then, but deep down I was really unhappy and discontent. What I'd actually been doing was using shopping and retail therapy as a way to make myself feel better about my life.
The more I learned about the negative impacts that fast fashion has on humans and the environment, the more I felt like I needed this change.
I started slowing down my consumption and simplifying my life, starting with my closet. I gained a lot of clarity on what wasn't right in my life, and started making changes to be happier. I started feeling lighter and freer with less possessions, obligations, and stresses. It was like a whole new world had opened up to me.
Ultimately, my entire life changed just because I decided to declutter my closet. And the same can happen for you, too!
It's a process and it won't happen overnight, but I'm here to guide you through it. All you have to do is get started.
Here's what you can expect…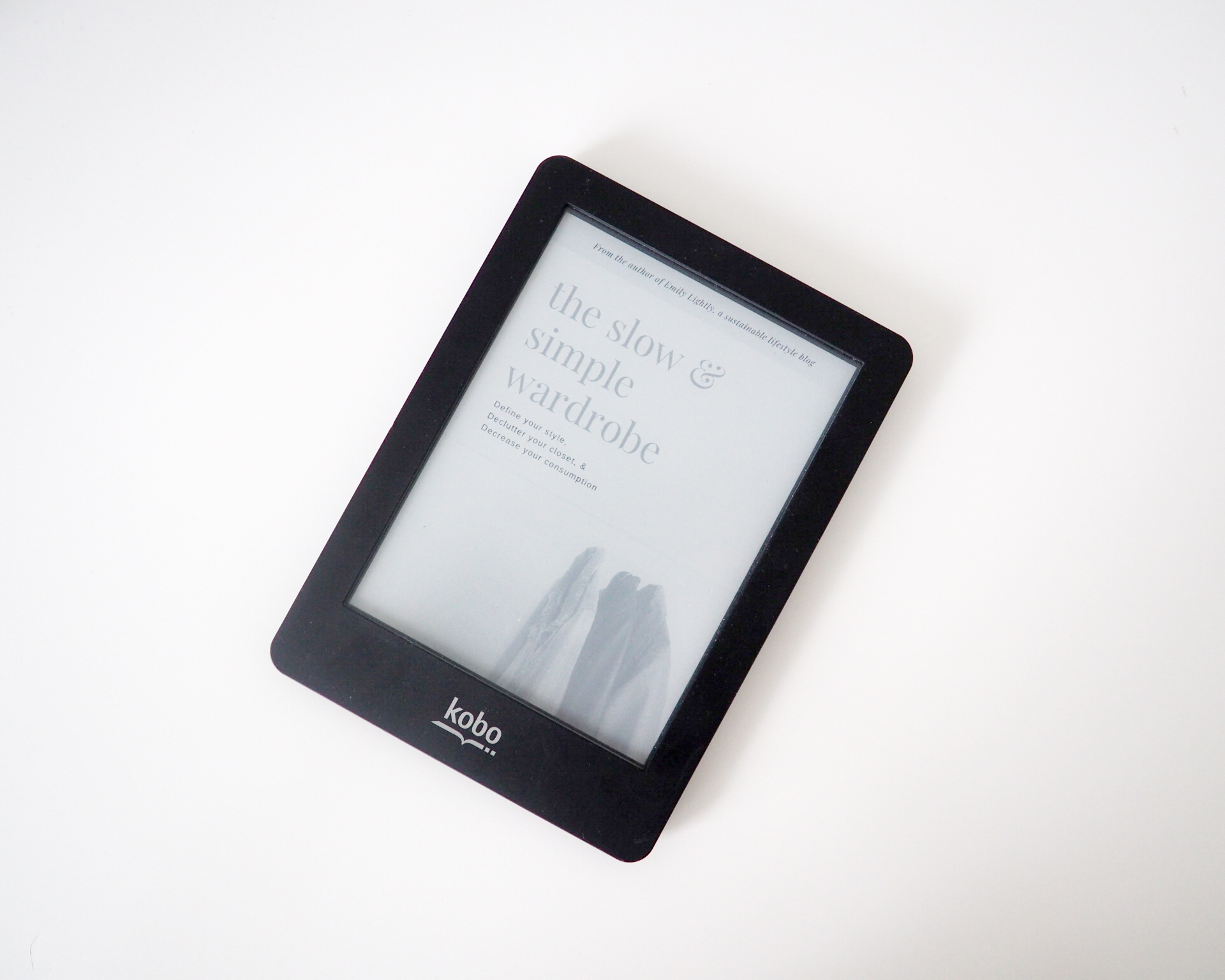 The Slow & Simple Wardrobe eBook is structured like a course with six steps steps to get you from clutter to simplicity, while helping you be more sustainable along the way.
Introduction
The what's, why's, and how's of a Slow & Simple Wardrobe
How decluttering my closet changed my life
Chapter 1: Defining Your Personal Style
What is personal style
How to discover your personal style
Chapter 2: Planning Your Wardrobe
Making a detailed plan for your wardrobe
What to consider when planning, such as your activities and lifestyle, colour palette, and number of pieces
Chapter 3: Decluttering Your Wardrobe
Sorting into piles and other methods of decluttering your wardrobe
How to declutter responsibly
Chapter 4: Organizing Your Wardrobe
Making your closet feel revived and refreshed
How to organize and store your clothing, shoes, and accessories
Chapter 5: Shopping to Fill Gaps
Creating a shopping plan
Shopping mindfully and being a more conscious consumer
Refreshing your wardrobe
Chapter 6: Maintaining Your Wardrobe
Styling your pieces and creating looks
How to properly care for your clothes
Keeping your wardrobe slow & simple for the future
Chapter 7: Final Thoughts & Reflection
Looking back on the process and what you've learned
Where to go from here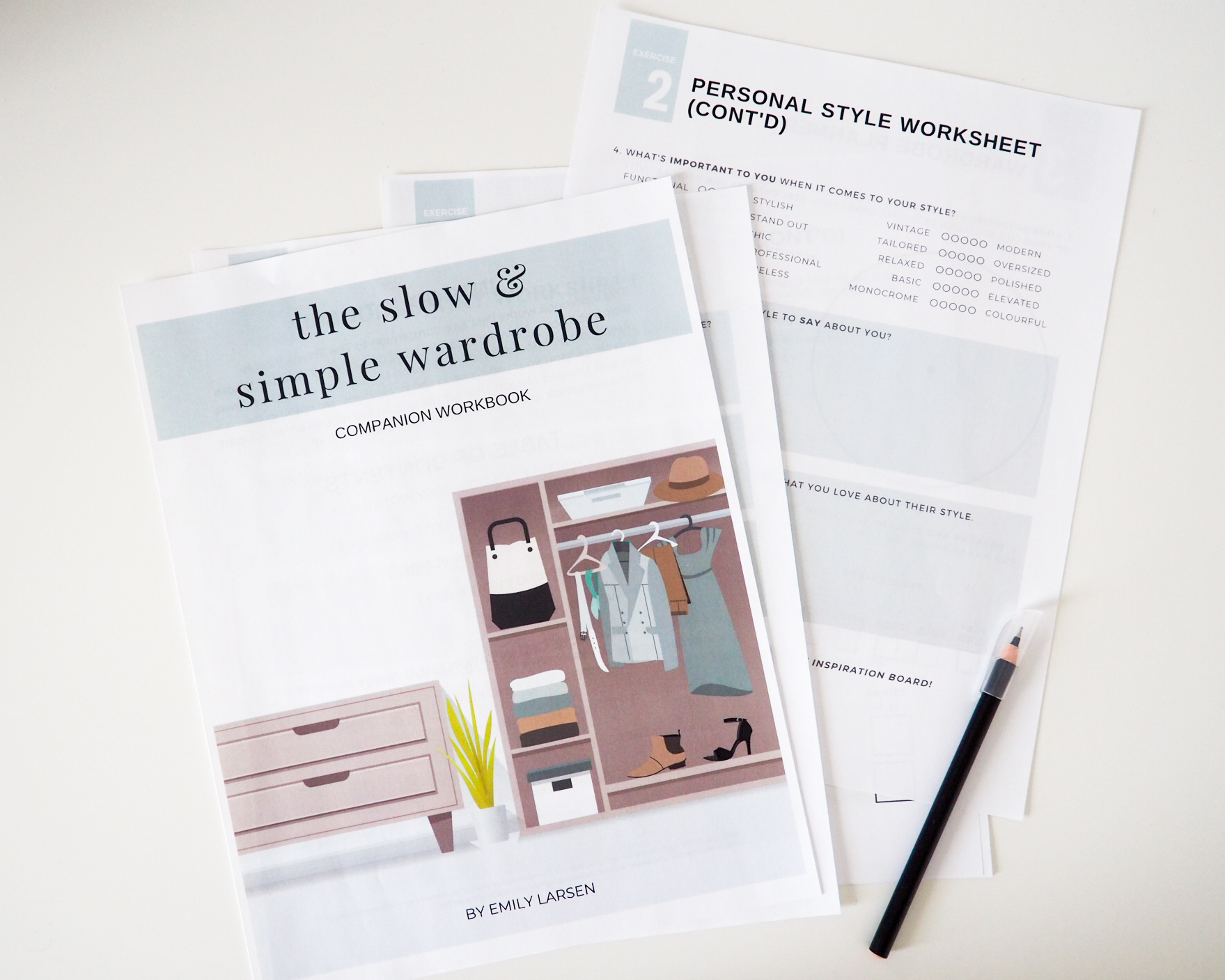 The Companion Workbook is a set of exercises and cheat sheets to help you get the most out of the process. It works best when used in conjunction with the eBook.
The Companion Workbook contains six exercises, such as a Personal Style Worksheet and Wardrobe Planner, as well as four cheat sheets, such as a Decluttering Cheat Sheet and Wear Counter template.
So tell me – are you ready to love your wardrobe again?
This is for you if…
You desire a simpler closet full of clothes you love to wear
You want your clothes to reflect your values of sustainability and ethics
You're curious about simplifying your life and are looking to take action to see what it's all about
This is not for you if…
You're not ready to let go of the clutter that's holding you back
You want to keep up your current schedule of shopping and spending money on clothes
You're not open to the benefits that a more simplistic, minimalistic lifestyle can bring
What people are saying…
"I recently went through your book with a friend and it was really life changing for me to realize I just need some staples and basics and I'll be good to go. Everything goes together and I am excited to get dressed each morning. Thank you!!! Once I realized my wardrobe goals are simple, plain, comfortable, athletic, versatile etc it made things much easier."
– Vanessa
You might be wondering…
Here are some frequently asked questions about The Slow & Simple Wardrobe.
What's your refund policy?
Due to the digital nature of these products, returns are not accepted for refunds. If you are unhappy with your purchase for any reason, please contact me.
How is this different from your free 5-step guide?
My free guide, 5 Steps to a Simpler Wardrobe, is a quick and easy version of The Slow & Simple Wardrobe Companion Workbook. This eBook and Companion workbook go into much more detail on the what's, why's, and how's of slowing down and simplifying your closet, including everything I've learned from doing it myself for the past 2+ years.
What if I don't have an e-reader?
That's totally fine! The eBook comes in both EPUB and PDF formats, and the Companion Workbook is in PDF format, so you can easily read all of the content on your computer, tablet, or even your phone.
So will you keep the clutter in your closet… or start creating the slow & simple wardrobe you've always dreamed of?