Today I'm showing you my 5-product everyday makeup routine that I've been loving the past few months. It's quick and easy, has everything that I need, and gives me a flawless yet natural look that is perfect for every day!
Step 1: Primer
Because I'm only using a few products, the most important thing for me is that my skin looks flawless and radiant. So I always start with the Becca Backlight Priming Filter ($46, available at Sephora). This adds a luminous glow to my skin that even shines through my foundation. This particular product has a lot of hype built around it; I kept hearing about it and seeing it everywhere. So I finally caved and bought it, and have to say that it's actually living up to it's stellar reputation so far. On to step 2!
Step 2: Base
Next, I use another product with a lot of hype: the It Cosmetics CC+ Cream ($38 USD, available online at Beautylish). I use this in the shade light which is just a touch too dark for me. Pretty much the only complaint I have about this product is that the shade range is so limited (there are only five). That said, it is a CC cream so offers lighter and more blendable coverage than a foundation would. Overall I really love this product; it mattifies my oily skin throughout the day, evens out my skin tone, and covers blemishes while still looking very natural. It works so well that it even allows me to skip the concealer step and move straight on to blush!
Step 3: Blush
Blush might not even make the list of many people who are limited to only five products for a make up look, but it is probably my number one priority. If I could only choose one product, it would have to be blush! I feel that having a slight flush to my cheeks changes my whole face, making it look more radiant, healthy, and youthful. Lately I've been using this NYX Bright Idea Illuminating Stick in the shade Pinkie Dust, which I picked up at London Drugs for around $11. It's a peachy-pink shade with quite a bit of shimmer (very reminiscent of NARS Orgasm). Because of the shimmer, this product multi-tasks as a highlighter that illuminates and brings colour to my cheeks all in one. And, it's super easy to just swipe on and blend in with my fingertips.
Step 4: Brows
Where would a girl be without her brows? To keep it easy and simple in the morning, I just use this tinted brow gel from Givenchy ($31, available at Sephora). I actually wouldn't recommend this particular product. I find it hard to work with because too much of the product can come off at once. But when used carefully with a lighter hand, it helps to define my brows and add a little bit of density to the hairs. I'll continue using this one until it's finished so that it doesn't go to waste, but if you have any recommendations for a tinted brow gel that you love, I'm all ears!
Step 5: Mascara
Finally, I like to apply mascara just to define my eyes and finish the look. Depending on the day and the occasion, I will either one of either a mascara or an eyelash primer. If I'm going to work or out for the evening, I'll swipe on some of my holy grail mascara: the Too Faced Better Than Sex mascara ($30, available at Sephora). This stuff is amazing, I can't even tell you. With a couple of coats it looks like I'm almost wearing false lashes (and I have very fine, blonde lashes naturally).
If I'm not going for such a dramatic look, like on the weekends or for running errands, I like to use my best-kept secret for that 'no-mascara mascara' look: the Little Black Primer from Estée Lauder. This works really well for its intended use as an eyelash primer (the combo with Too Faced BTS is heavenly). But I actually love to use it on its own as well. It gives a grey tint to my lashes, which I find looks more natural than black or even brown mascara. It also works to lengthen, separate, and curl my lashes, making my eyes look more open and defined without looking like I'm wearing anything. I almost feel like I'm cheating with this product. If you don't believe me, try it yourself and let me know what you think!
Voilà!
So that is it for my quick and easy 5-product everyday makeup routine. I hope you enjoyed this post, and if you end up giving this look a try, let me know what you think in the comments below! Or if you have any recommendations for multi-tasking products that cut down on your time and money when it comes to beauty, I'd love to hear about that as well.
Until next time,
Emily
Pin for later: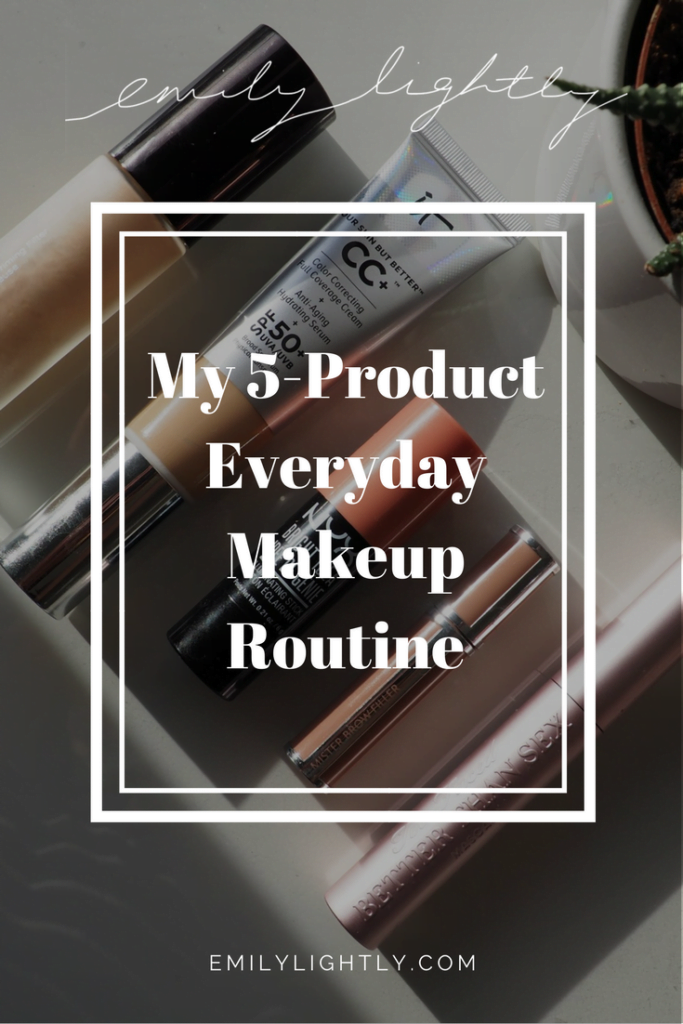 Disclaimer: This post is not sponsored. These are my own, honest opinions.