I used to live on my own in a one bedroom apartment, which meant I had space for a lot of stuff. I had two full closets to myself, and they still managed to be overflowing. When I moved in with my boyfriend two years ago, I donated about half my closet to make the move easier and so that I could fit everything our new shared closet.
I remember looking at everything I had set aside for donation and thinking, What a waste. What a waste of both my money (and the time and effort I put into working for it) as well as the materials used to make these things. Aside from learning to shop and use less in the first place, wouldn't it be great if I could get something back for everything instead of just giving it away?
Fast forward to about a year ago when I first stumbled upon Depop. It's an app where you can sell anything, really (but mainly clothing and accessories). I decided to post a few things and see what happened. I've been using it ever since! Over time I've learned a lot from my experiences re-selling clothing, and have tried several other avenues as well. This article will basically be a brain dump of everything that I've learned and my own personal tips for how you can resell your clothes as well.
Why resell your clothes?
Firstly, why should you resell your clothes? Being completely honest, it can be a lot of work. There are four key reasons why you should resell your clothes:
1. It feels good to declutter your closet.
Personally, I was holding on to a lot of clothes I didn't wear anymore just because I had spent so much money on them. Making a little bit back for what I paid took away the sting of letting them go.
2. It's better for the environment.
Donating might seem like a feel-good alternative, but a lot of the clothes that end up there and don't sell go to a landfill. The best thing you can do with clothes you don't want anymore is give them to someone who will continue to use them.
3. You'll make some extra cash on the side.
It's a win-win situation when you get rid of something you no longer want, and also make some money for it. Over time, if you sell an item here and there it can actually add up to a lot.
4. You're making someone else happy.
Whoever buys your item is getting a deal on something they otherwise would have had to pay full price for. I'll always remember when I sold a pair of Steve Madden boots on Craigslist to a girl who was so thankful to have them. Just the look on her face made it all worth it.
Preparing to resell your clothes
For starters, you should try to resell your clothing and accessories that are in very good to like new condition. Anything with stains, rips, discolouration, etc. should be recycled if possible. Make sure to wash everything so it's clean and wrinkle-free. To help prepare your clothes for pictures, there are a few things I use that are good to have on hand:
Stain remover
Lint roller
Fabric defuzzer (I have one like this – it works like a charm to remove any pesky pilling!)
Cleaning wipes for shoes & accessories
Iron
Once your items are clean, pressed, defuzzed, and ready to go, you'll likely need to photograph them for whatever app or website you're using to sell them. As long as you have a smartphone and some good natural lighting, you should be good to go. I prefer to use a camera as it allows me to adjust the exposure and tone of the images. I also use a white backdrop to place the clothes against which gives my Depop feed a very professional aesthetic. The better your images, the more likely it is that your items will sell.
Where to resell your clothes
These days, there are so many places to resell your clothes. I've tried a lot of them and have found that the most lucrative are Apps (mainly Depop and Letgo) and local buy & sell groups on Facebook. Here's a list of all of the ways I can think of:
1. Apps
There are four main apps that I use – Depop, Letgo, Carousell, and VarageSale. Depop is great for selling to non-local users – I sell across Canada and rarely meet anyone in person. The other three are geared towards local buying and selling, and I've found that Letgo has given me the most sales out of any of them. So, Depop and Letgo are the two that I use most often.
2. Websites
Craigslist is an obvious one for buying and selling, though I've found it doesn't work well for a lot of clothes. You can always make a bundle post or advertise a closet clearout sale to attract buyers. But I typically use Craigslist to sell big-ticket items like coats and high-end shoes and accessories.
Other than Craigslist, eBay is another way to go, though haven't tried it for clothes just yet (Girlboss, anyone?) Vestiare Collective is an excellent option if you have luxury designer goods to sell. If you happen to make clothing or have a lot of vintage items, you could also give Etsy a try.
3. Social Media
Sites like Facebook and Instagram are great for reselling your clothes. I am a member of several local buy & sell groups on Facebook, and it's a great way to reach a wide audience with your items. If it's going to sell, it will likely sell there.
I also have a separate Instagram account devoted to my Depop store and market the clothes I'm reselling. Since I'm taking photos of the clothes anyway, I post them on Instagram to try and drive more traffic to my store. Using relevant hashtags is super important to gain more followers.
4. Your own website
This one might be a bit more advanced, but if you have a WordPress site with WooCommerce installed, it's actually quite easy. The only difficulty once it's set up is driving traffic to your site, which is the main reason why I haven't done this yet. It's much easier to use apps and social media which have huge active user bases already as opposed to trying to go it on my own. But if you happen to have a website already, it could be a great avenue to sell your clothes as well.
5. Friends & family
If you're not so on board with all of the apps and websites, selling within your social circle is a good alternative (especially if you have friends with similar sizes or style!) A really fun idea would be to host a closet swap party where you invite your friends over, crack open some wine and dig through each others' unwanted items to trade or buy from one another.
6. Local pop-up shops/flea markets
Lastly, there is the odd pop-up shop or event where you can register for a table and try to resell your clothes there. This is something that I've been looking into more seriously, the major downside being the upfront investment to get a table. It's probably only worth it to do this if you have a lot to sell, and can make it to the location easily. I'd also contact the organizers to get an idea of their expected turnout – it would be disappointing to get a table and only a few customers show up!
Tips for reselling your clothes
If you're not already exhausted by this topic, here are some of my own personal tips for how to resell your clothes. I'm sure there will be more to add in the future, and if you have any to add please do so in the comments on this article!
Only list lightly worn items in very good to like new condition (no stains, rips, discolouration, etc.)
Clean your items before use – get rid of any stains, pet hair, smells, deodorant marks, etc.
Post items for ~30% of the sale price.
If you know the original sale price, include that in your listing.
Be willing to negotiate with buyers, especially with shoes where sizing is very specific (and there is a reduced pool of people who can buy them).
Post items for the current season, as it helps them to sell better.
I typically keep items posted for up to 6 months. After that, they're not very likely to sell and at that point I will donate or recycle them (pro tip: H&M will take 2 bags of your clothing at a time for recycling).
Don't just post what you think will sell! As long as its in good condition, give it a shot. In my experience, some things I thought would definitely sell didn't, and other things I wasn't sure people would want sold straight away.
Keep track of your items & details in Excel or a notebook to keep them organized. This is best for when you're cross-posting across several channels or have a ton of items to sell. I like to track the sale price, brand, size, condition, etc.
Some final things to consider
Finally, if you haven't done a lot of buying and selling used things before, here are a couple of things you should also consider.
If you're meeting in person, do it safely! I always meet in a public place and if I'm ever unsure or have a bad feeling, I will bring someone with me or cancel the sale altogether. Don't meet at your home or work address if you can help it.
Have change on you, especially if the price of your item is not a multiple of $20. I carry two $10's and two $5's to make sure that I can give change and get the full price for my item.
Shipping & associated fees. Because I sell across Canada on Depop, I need to factor in shipping costs and tracking. I like to use the flat rate boxes from Canada Post because they include tracking and insurance, but they are a bit expensive. If you're planning on using an app that allows shipping, look into pricing beforehand so that you know how much you need to charge buyers.
Again when shipping, use a safe return address (like a PO box) for increased anonymity. I have a Flex Delivery address with Canada Post which I use as my return address so that I'm not giving out my home address.
Finally, it is a lot of work if you have a lot of items, cross-post them across multiple apps, and have to coordinate meet-ups as well. To keep things simple, especially if you're just starting, I'd recommend using just one or two channels. As I mentioned before, my two go-to apps are Depop and Letgo because I've sold the most there. Find what works best for you and focus on that to keep things simple!
I hope you found this article helpful and informative! As I mentioned in my recent secondhand shopping article, I'd really love to see the idea of buying secondhand items become more widespread, especially when it comes to clothes. Let me know your thoughts in the comments, and I'll see you next week.
Emily
Pin for later: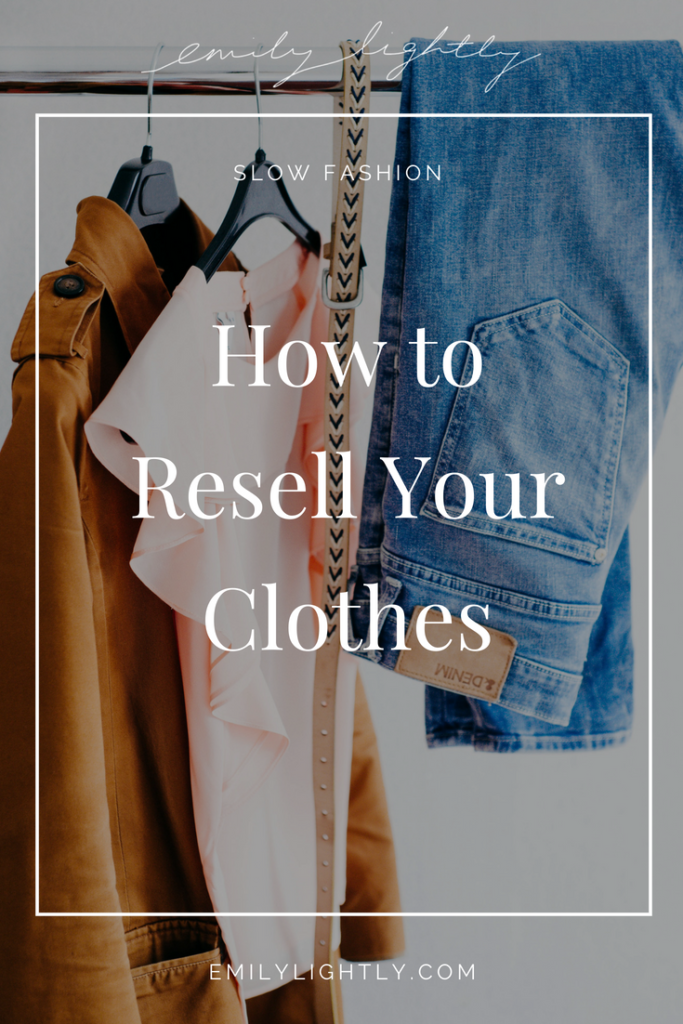 Featured photo by Alexandra Gorn on Unsplash