Happy last day of January! Can you believe this month is already over? How are your resolutions coming along? I didn't make many traditional resolutions, however there are a few things I want to work on in the new year. One of those is continuing to be more intentional and conscious about my wardrobe. I've found that a capsule wardrobe really helps me do this, so I'm going to try and keep it up.
If you read my recent post on what I learned from a year of capsule wardrobes, you'll know that I think planning is key when it comes to successfully decluttering your closet and dressing better with less. This year, I wanted to take that a step further by drawing up a full 2019 capsule wardrobe plan.
The plan contains everything I want to keep in mind for my wardrobe moving forward, including colours and materials, where I want to shop, and who I follow for my inspiration. I'm hoping that this plan will help keep me focused and intentional about my closet and my purchases as I go through the year.
In this article, I'll be sharing my plan with you as well as explaining my thoughts behind each of the different areas. Hopefully it provides you with some good inspiration! It's also a really great resource and template if you wanted to create a plan for your own wardrobe. If that sounds good to you, then just keep reading!
My 2019 Capsule Wardrobe Plan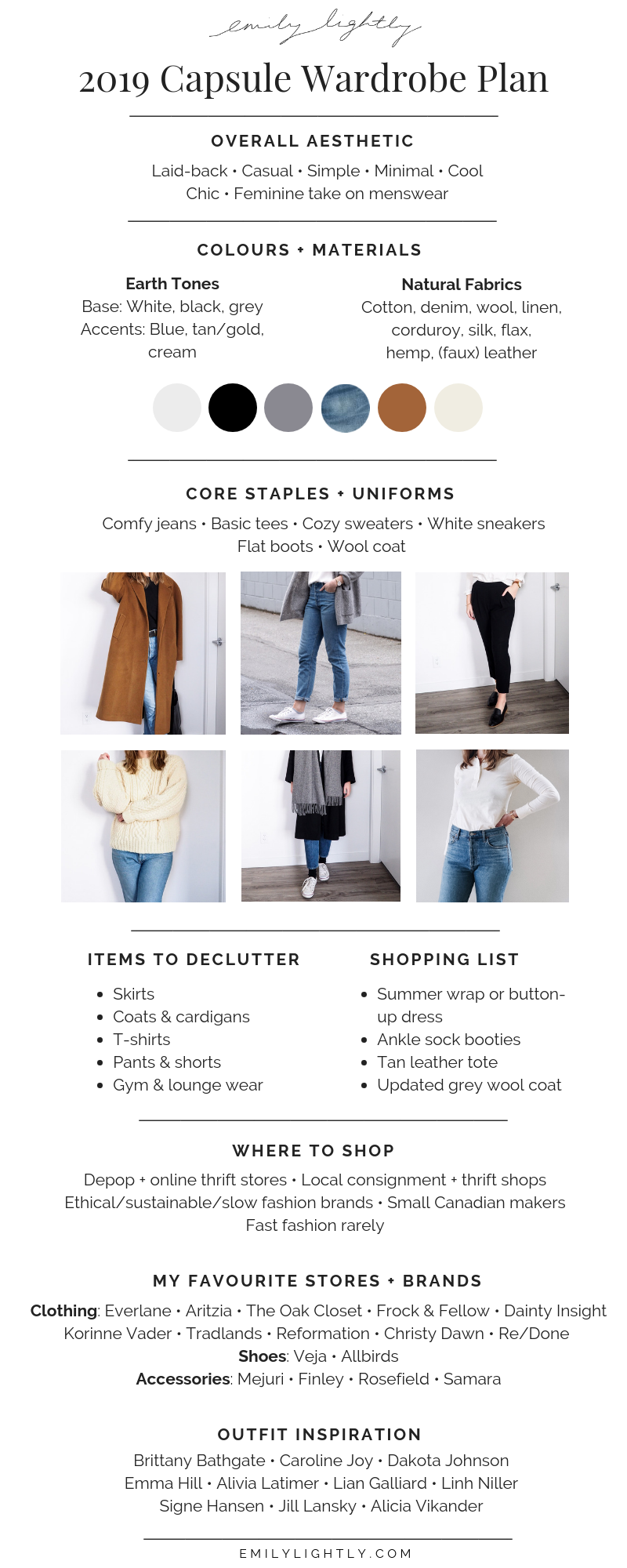 Overall Aesthetic
The first thing I thought about was the overall aesthetic or look and feel that I am striving for with my closet. I came up with some buzz words that really describe my personal style and how I want it to look: laid-back; casual; simple; cool; chic; and a feminine take on menswear. I don't want to box myself in too much – if I want to try a new style, I'll give myself some flexibility. But this is what I've learned about my personal style after my first year of capsule wardrobes, and it serves as a good reminder and guide for what I truly want to bring into my closet.
Colours and Materials
As to colours and materials, I really want to keep it to neutral, earth tones and natural fabrics as much as possible. I'm not one to have a lot of colour in my wardrobe, and when I started decluttering, all of the colourful pieces were some of the first ones to go. So I know that about myself and that I just don't wear them. And as much as I can, I'd like to invest in pieces that are made with natural materials, especially those that are more sustainable.
Core Staples and Uniforms
One of the best things having a capsule wardrobe has taught me is what my favourite pieces are. You'd think this would be an easy thing to figure out, but I had never really even asked myself the question before. I continued to buy things whether I thought I would get a lot of use out of them or not. Now that I know my favourite uniform – typically, some jeans, a tee and sneakers – I can keep my wardrobe mainly stocked with those pieces, and only have a few others outside of it for specific occasions (like a special dress).
Items to Declutter
Even though I've been doing capsules for a year, my wardrobe still isn't perfect! I have four skirts, and I hardly ever wear them, so that is an area I definitely need to look at and see if I can cut them down. Another area is my activewear and loungewear. It takes up an entire drawer in my dresser that is stuffed to the brim. There's no way that I need all of it, so it's time to have a good sort out and decide what I need to keep and what I can let go of.
Shopping List
Here I just listed a few items that I've had on my wish list for a while (a few months or longer). I know that I want to add these pieces, but I'm holding out until I find the perfect one. One thing I'm looking for is a vintage-style button-up dress, and unfortunately I haven't struck gold at my local thrift shop yet – but I'll keep trying!
Where to Shop and My Favourite Stores & Brands
These are good guidelines to have that help me from impulse shopping. If I see something I like from a store that's not on my list, I can ask myself if I really want to spend my money with that company, or if I could get something similar from a company that is on my list. My goal is to purchase whatever I can secondhand first; if I can't find it, I'll look to ethical and sustainable brands; and if I can't find it there, I'll look at investing in high-quality pieces from fast fashion brands but that will last a long time in my closet.
Who I Follow for Outfit Inspiration
Finally, I listed some lovely ladies who are my favourite go-to's when I'm looking for style inspiration. It's a mix of influencers and celebrities, all of whom have great style in my eyes. I don't necessarily follow them to find new things to buy, but more for inspiration on how I can style the items I already have in my closet. It helps keep things fresh and interesting even when I'm not bringing new pieces in even half as often as I once was.
What strategies do you use to help you be more intentional about your closet? Let me know in the comments below!
Thanks for reading,
Emily
Pin for later