As an aspiring minimalist/slow fashion blogger, I can see firsthand why partnering with brands and providing shopping links might seem a little incongruous. That said, what I am trying to do is share companies that I believe are worth your money. As consumers, we vote with our dollars for what kinds of companies and brands we want to support, including the values they hold behind their products. I'm giving my vote to brands that are conscious, sustainable, and/or ethical; in sharing them with you, I'm hoping you'll vote for them too!
So with all of that out of the way, today I wanted to start a series of articles where I review the brands I've decided to partner with, telling you more about them and why I chose to work with them. In this article, I'll be sharing Organic Basics with you! I was super excited to partner up with them as an affiliate, and think you'll love them too!
About Organic Basics
Organic Basics is a company based in Denmark that creates sustainable, ethical, and oh-so-soft undergarments, activewear, and basics (things like tees and socks). Their mission is to change the dirty fashion industry and do better by reducing their impact through partnering with certified factories and using eco-friendly materials and technologies.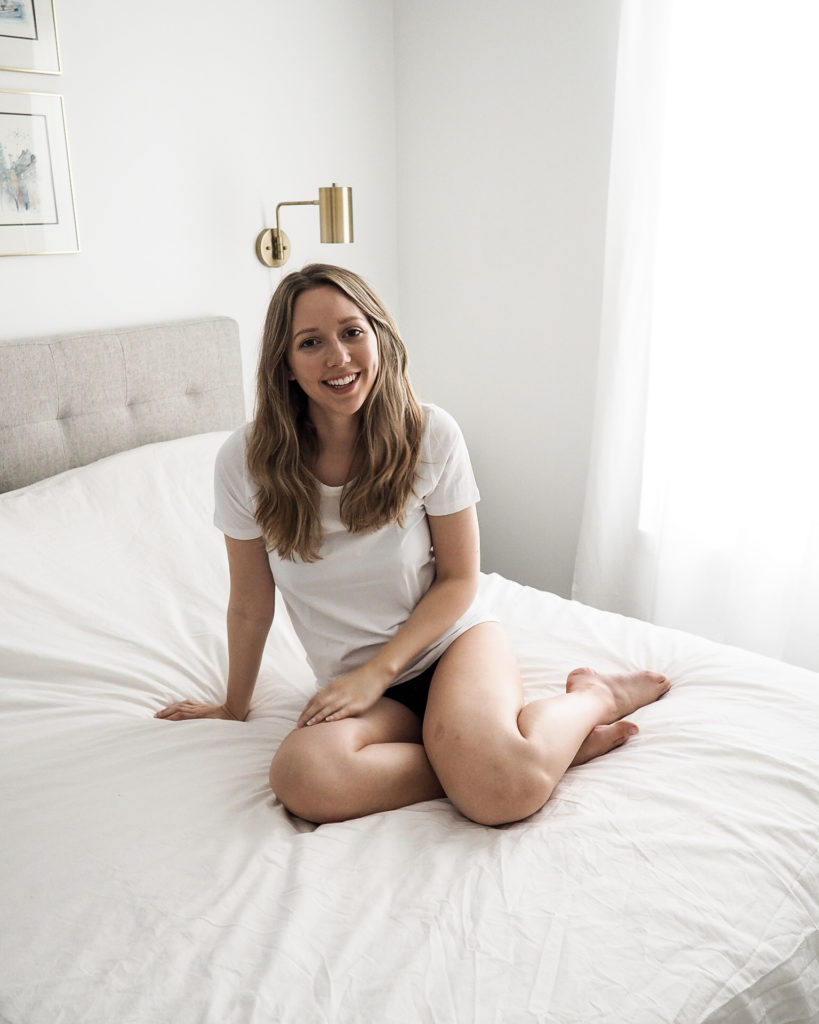 Why I'm working with them
I'm all about working with brands that I truly believe in and that share similar values with me when it comes to sustainability and ethics. Organic Basics is one of those brands that is doing it right, and setting an example for how all companies should be striving to do better for our planet. Plus, their products are excellent and have the quality to back up their claims.
Product review
Organic Basics kindly allowed me to pick a few pieces from their collection to share with you. I went with a basic white tee, a lite bralette and matching lite briefs, and a pack of invisible cheeky briefs. But, I'd actually tried their underwear before because I received two pairs of their regular bikini briefs as a gift last Christmas – so I was already a fan!
Quality
Overall, I'm impressed by the quality of their pieces. There are no threads hanging out, and they hold up well in the wash. The lite bralette somehow manages to be dainty and beautiful without being flimsy. The fabric is soft and comfortable (especially the pieces from the Lite range), and I love that there are no itchy tags.
Fit
I'd say the sizing is quite true-to-size; I'm generally a M in tops and bottoms (my bra size is 36C) and I took a M in everything, which ended up fitting me well. They offer sizes ranging from XS-XL, but it would be great to see them tack on some more sizes in order to be more inclusive.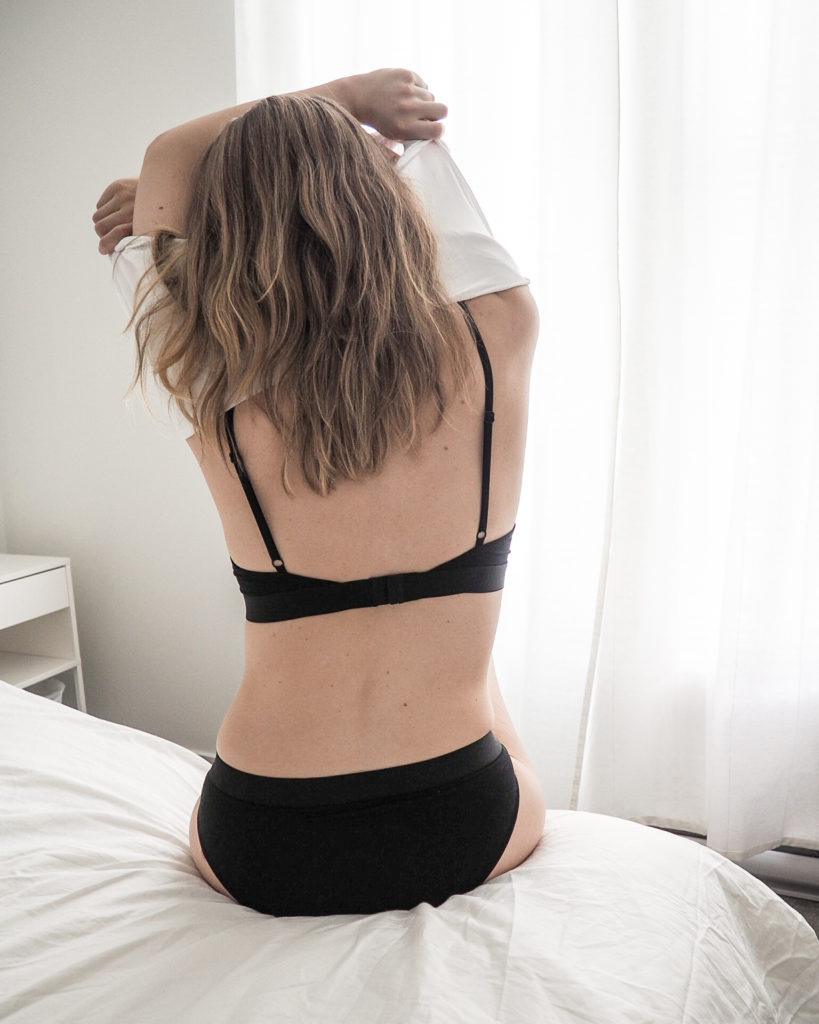 Packaging
The pieces all come individually in either recycled cardboard boxes or paper bags, both of which can easily be recycled again. For shipping, they use recycled plastic bags which can also be recycled again. If anything I would love to see them use less packaging since each item doesn't need to be individually wrapped, but they score points for using recycled options and minimal plastic.
Price
When it comes to price, I would say that their products are at the high end for undergarments and activewear, especially when you add in shipping costs and duties from overseas. But, you get what you pay for – these pieces will last longer than low-quality fast fashion buys, and unfortunately the cost of producing sustainable, high-quality goods is just higher. They do offer combo packs on their shop which is a great way to save, especially if you need to re-stock.
Shop Organic Basics
Use code EMILYLIGHTLYOB for 10% off your order (valid until Jul 31, 2019)
I hope you enjoyed reading this post and found it useful! Let me know if you'd like to see more reviews of brands I partner with in the comments below.
Until next time,

Pin for Later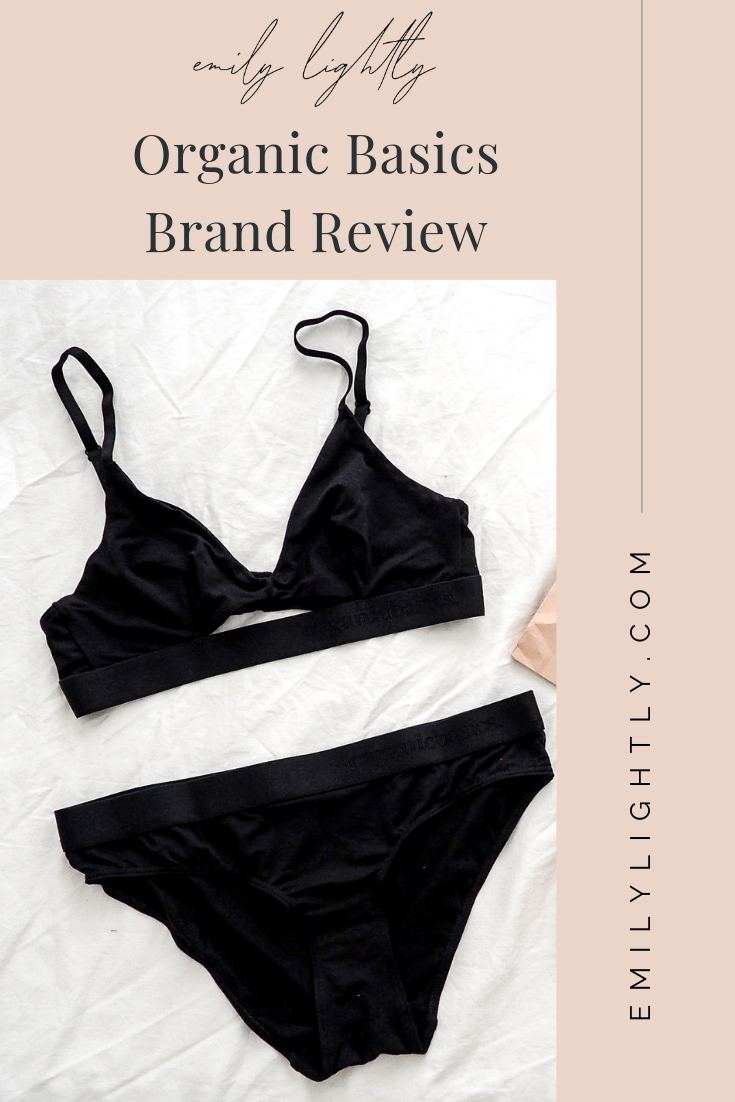 Note: These items were kindly gifted to me by Organic Basics to share with you. The contents of this article are not sponsored – these are my own opinions. This post contains affiliate links which means I make a small commission off purchases from these links. Please see my disclaimer for more information. Thank you for your support!