Disclaimer: This post is sponsored by Everlane. The Everlane products featured in this post were kindly gifted to me to share with you. All opinions on my own. This post contains affiliate links, meaning I make a small commission from purchases made through these links. Thank you for your support!
When I think of fall, I think of changing leaves, cooler temperatures, shopping for stationery and back-to-school supplies, cuddly blankets and mugs of tea, and all things cozy. Specifically when thinking about it in terms of my wardrobe, two pieces stand out as absolute fall staples: boots and blazers. These are timeless basics that are also versatile workhorses in any wardrobe because they can be worn so many different ways and for different occasions. In this article, I wanted to share five of my favourite ways to style boots and blazers for fall, featuring a couple of gorgeous pieces from Everlane.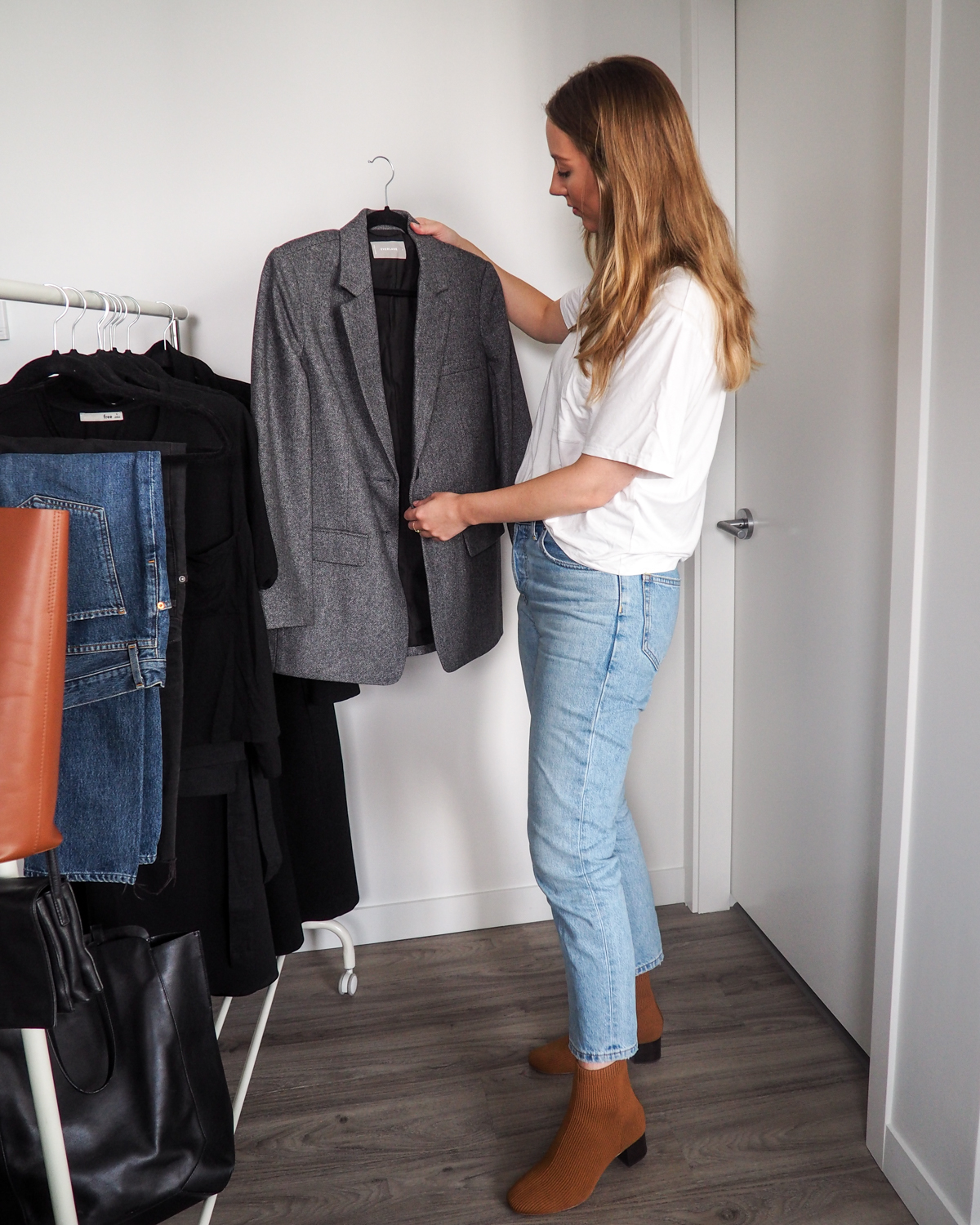 First, let's talk about the two pieces that I'll be featuring. The boots are the Glove Boot ReKnit in the colour Toffee. I have been getting so many questions about these over on Instagram! I have yet to try them in different kinds of weather – for the most part, we've been having chilly but clear days here which these are perfect for. They are so comfortable – they're like a little sweater for my feet! The low heel also elevates the style, so they are appropriate for the office but still comfortable to wear on the weekends. Plus, each pair is made from 9 recycled plastic bottles. I love them so far and I'm so glad I added them to my wardrobe this season!
Next is the blazer. Everlane has a few great options for blazers this season, and I have had my eye on this Oversized Blazer in Grey Herringbone for a while after seeing Signe of Use Less get so much wear out of hers year after year. The fit is perfect – it's oversized, but not so much that it looks bulky or like it doesn't fit. I am normally a size 6 or S/M in tops, and I went with a size 6 in this which fits great in my shoulders and when I button it up, so I would say it's true to size. It's made of 100% recycled Italian wool which makes it thick and cozy. It's perfect for wearing on its own or layering, as you'll see if you keep reading! That said, let's get into the looks.
1. With a tee and jeans
If you know me, then you'll know this one was coming, so let's get it out of the way first! Basic tees and jeans are my go-to look on a daily basis, and they're so easily worn in fall with a pair of boots and a nice thick, woolen blazer like this one. And the best part about the boots is that they keep my ankles nice and snugly warm under my ankle-length denim. Plus, I think this look would actually translate well to warmer weather, even summer – think cute denim cutoffs in place of the jeans and voila!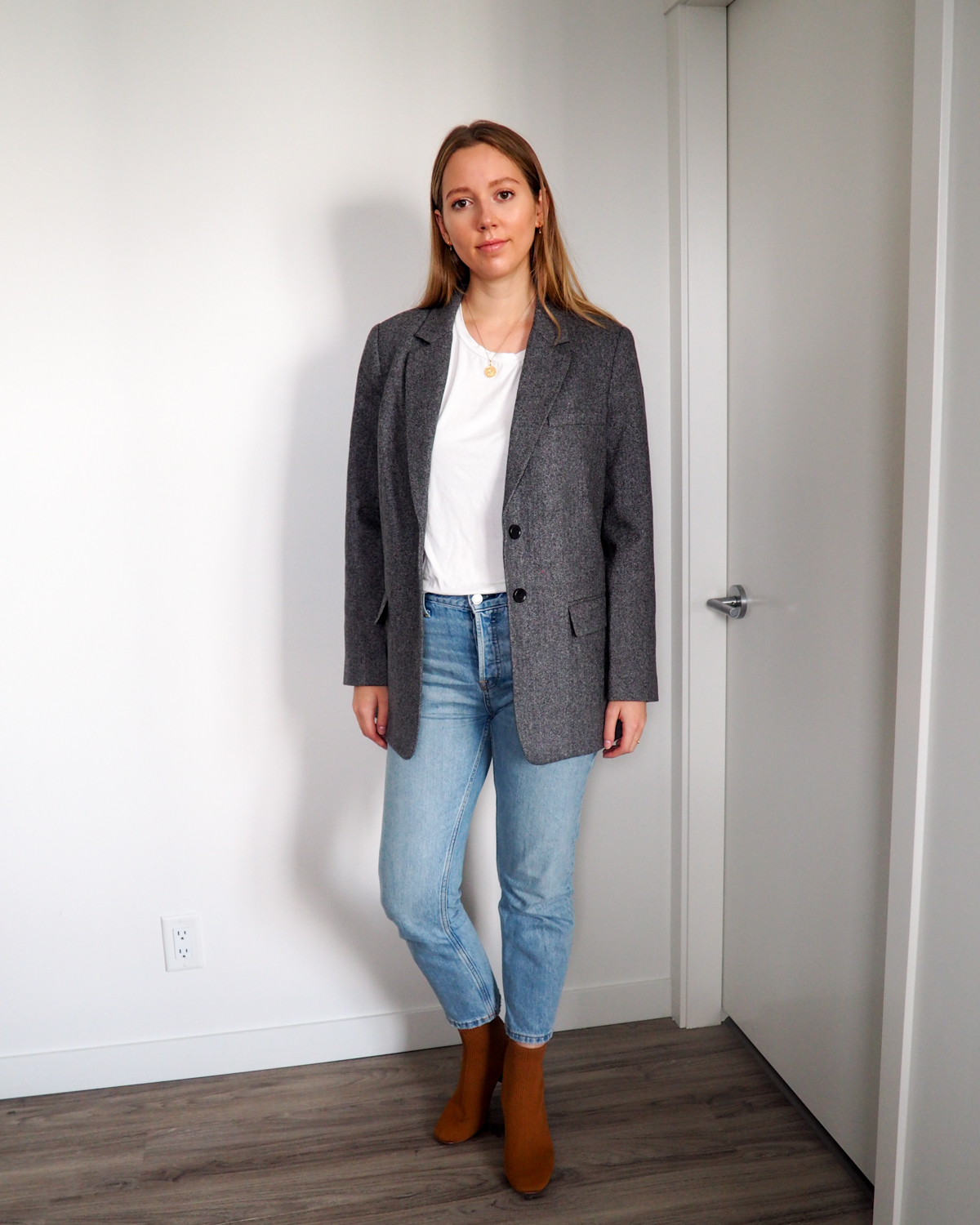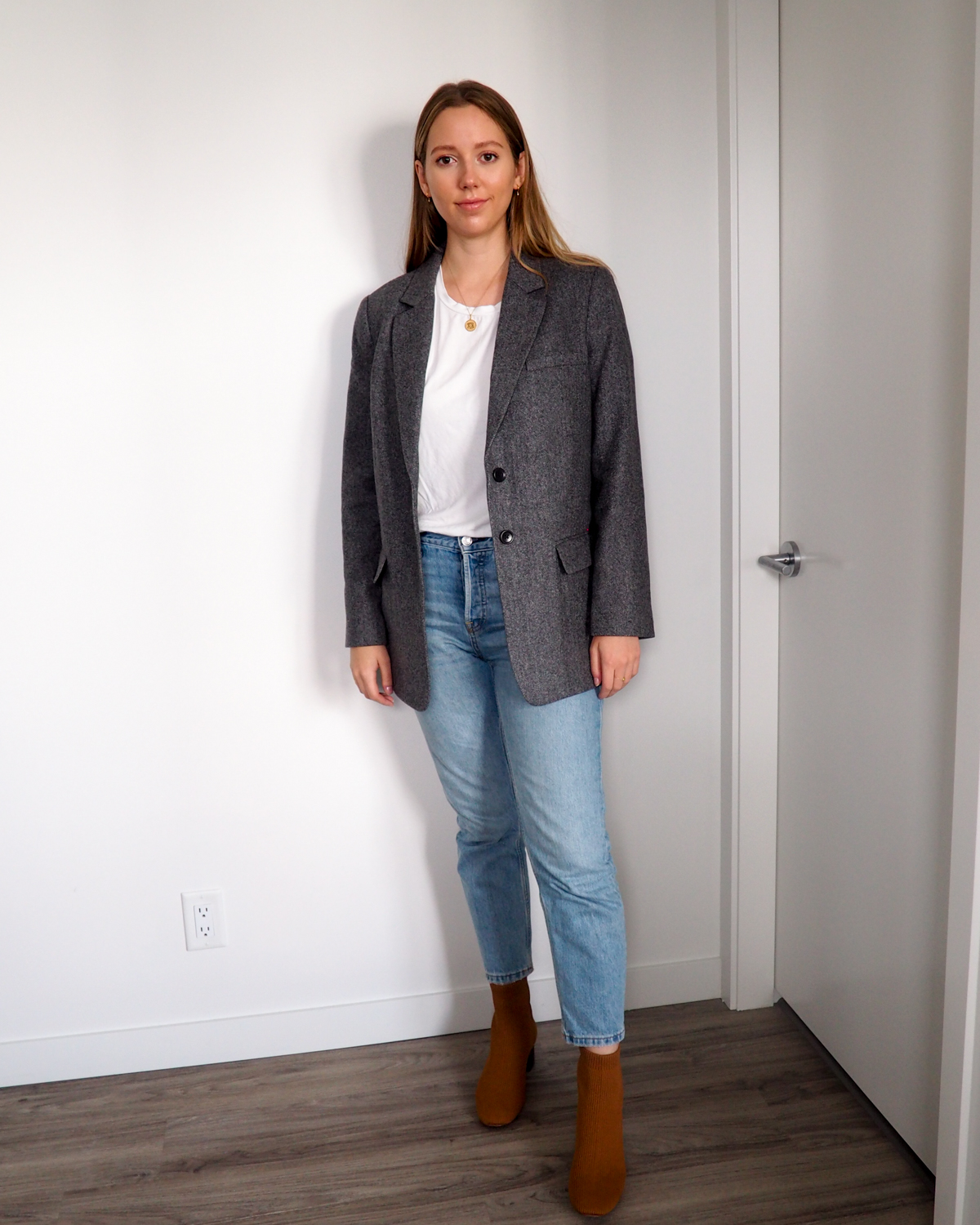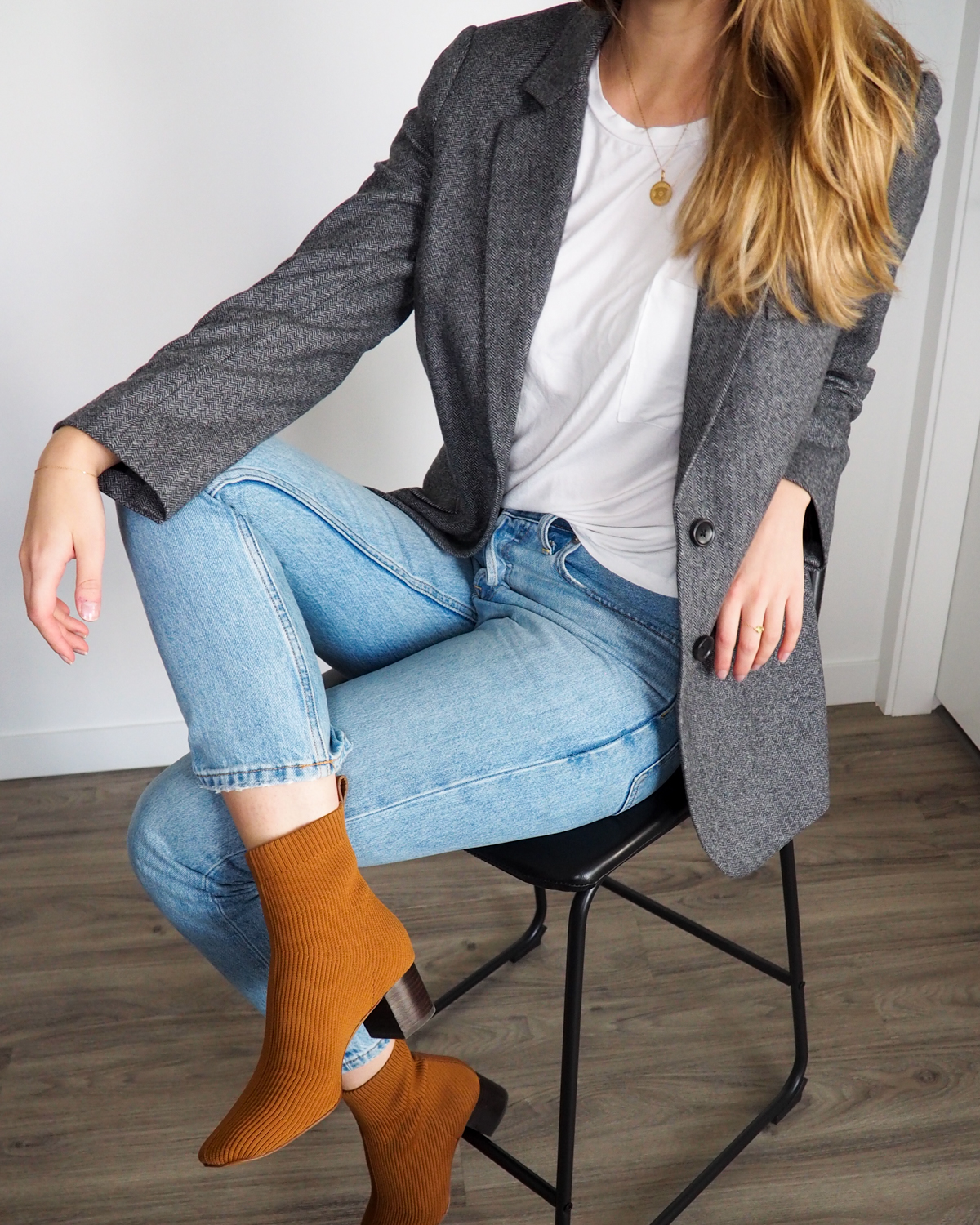 Outfit Details
2. Layered under a wool coat
For this look, I layered the blazer over a long-sleeved crew sweater, and under a heavy vintage wool coat. Honestly, I was so cozy taking these photos! I love this layered look, and it's the best way to dress on those days when it's cold outside and then the heat is blasting in your office. This is a perfect look to wear to work – the darker denim is great in a more casual setting, or you could swap them out for a pair of tapered trousers to be more business-appropriate.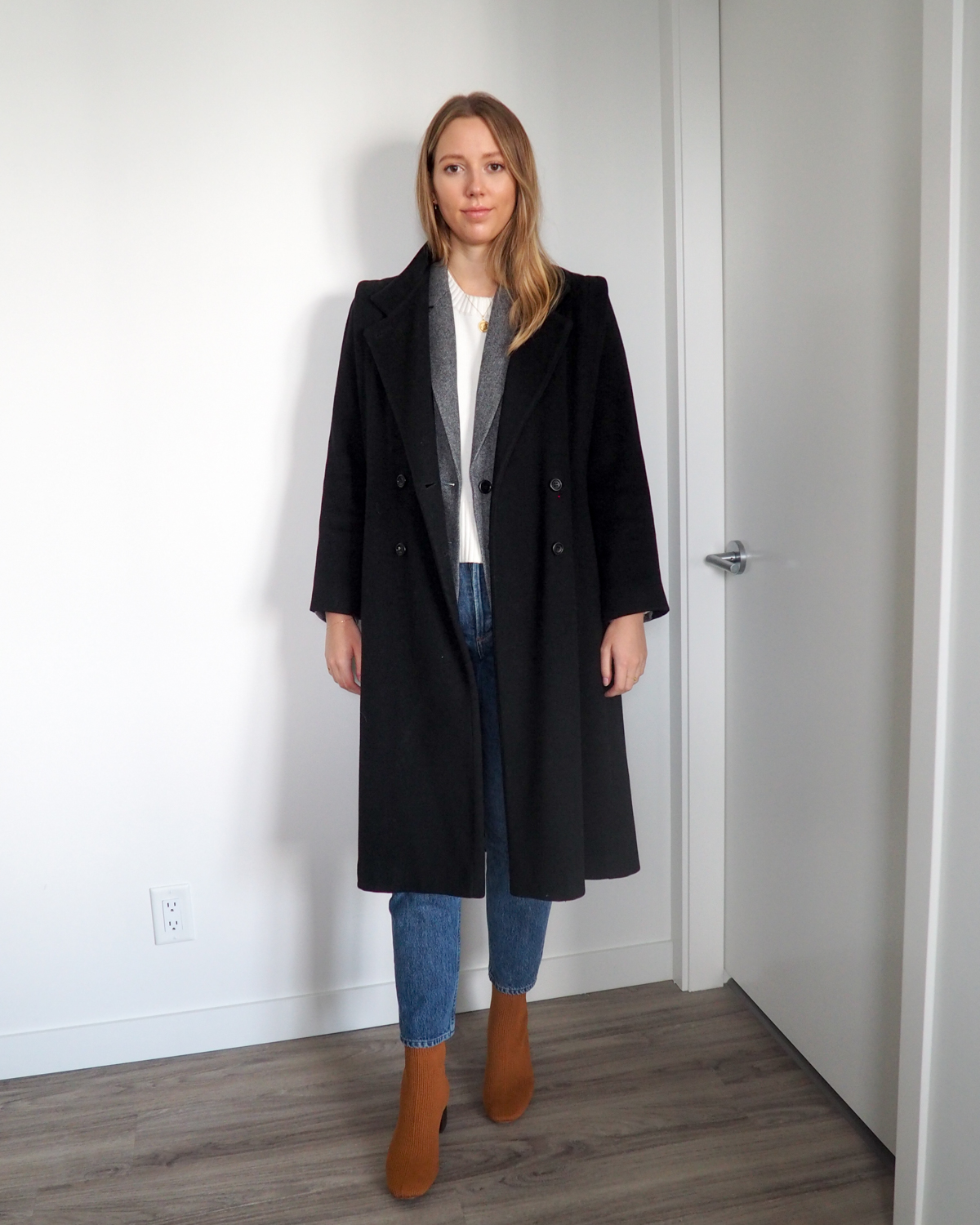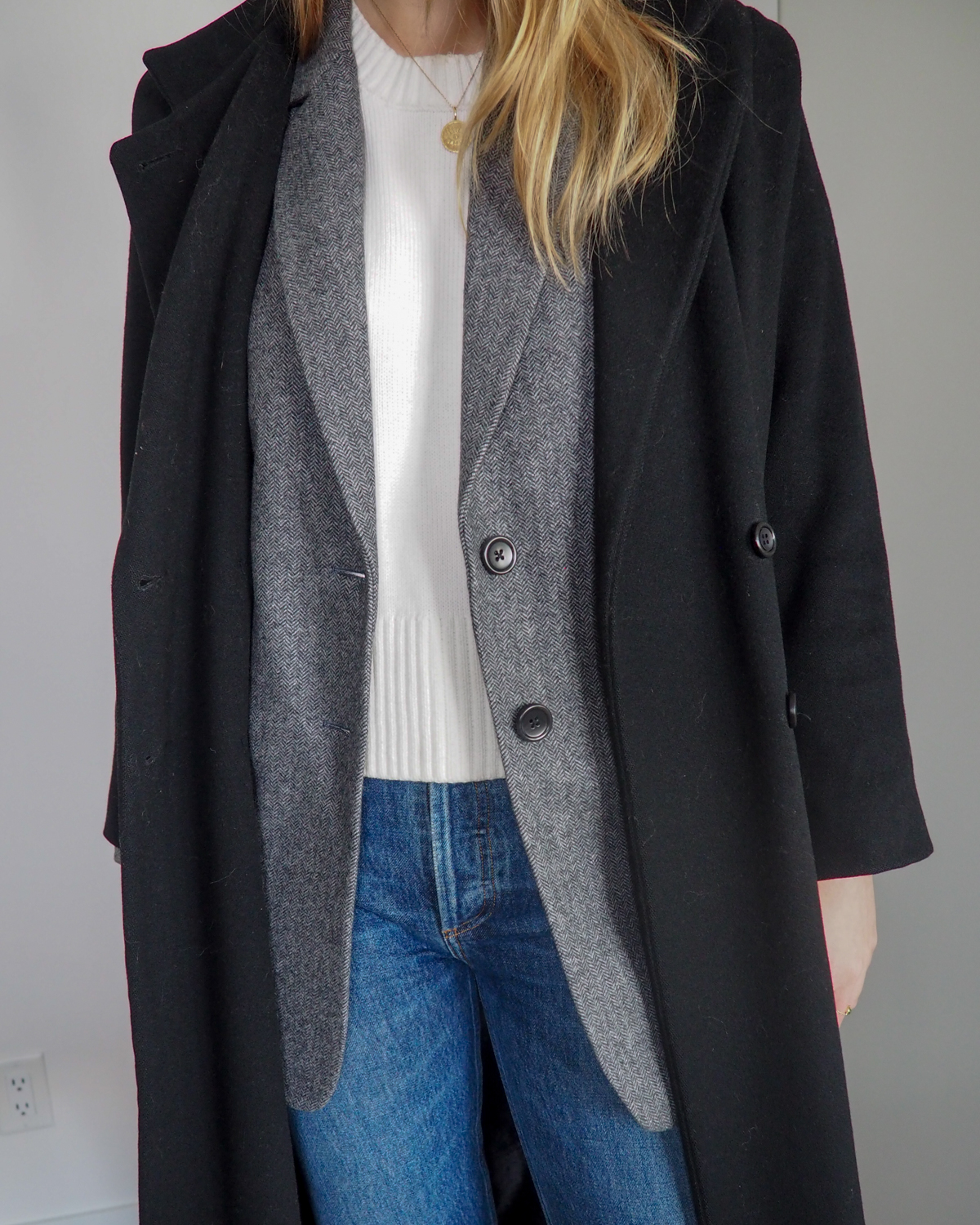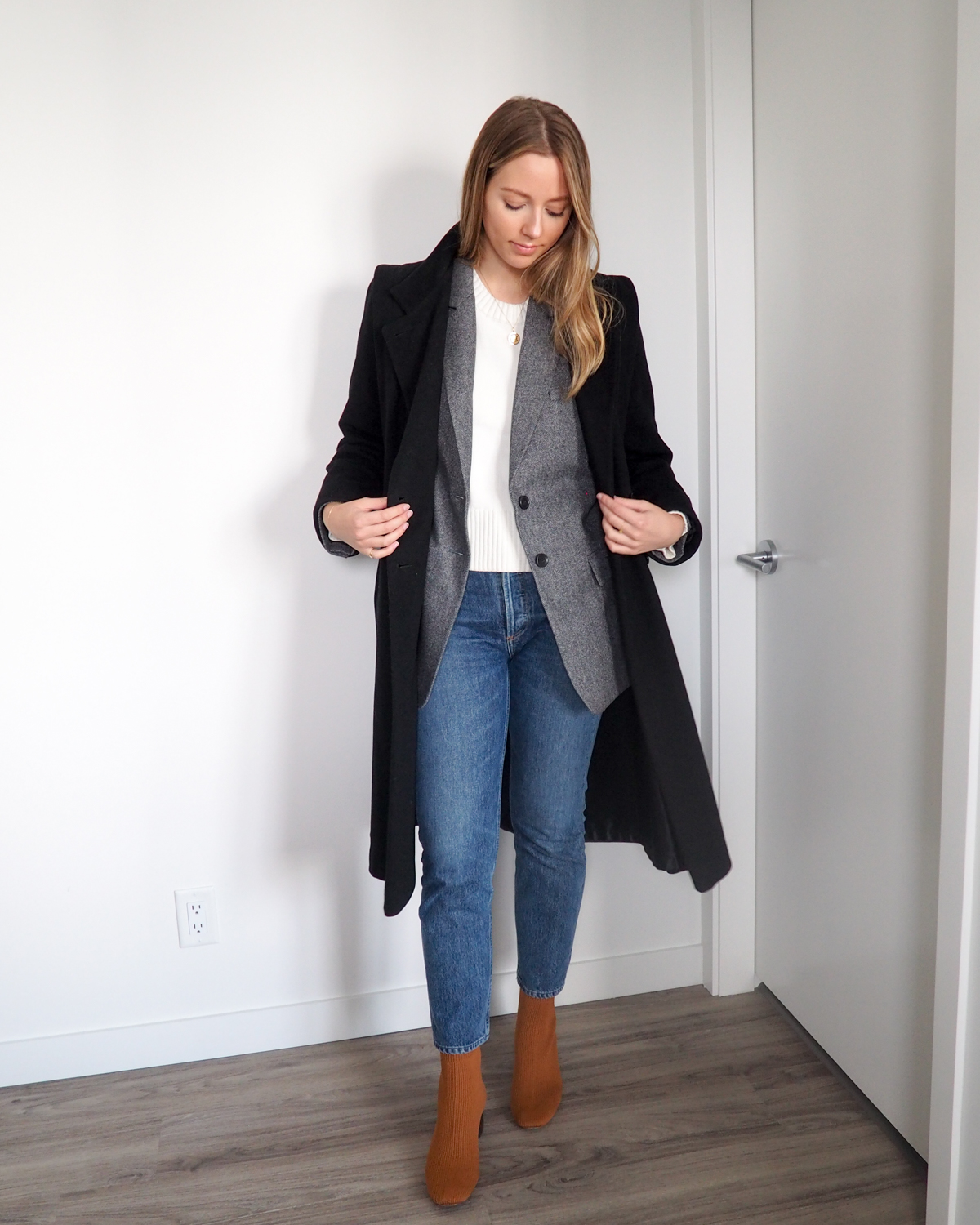 Outfit Details
3. Over a turtleneck/mockneck
There's just something about the way a turtleneck combines with the structured collar of a blazer that screams sophisticated. I love that although this outfit is made up of mainly neutral colours of black, grey, and tan, it's not boring – but it still looks sleek and polished. I love the way the tan colour warms up the cooler neutrals and balances out the outfit.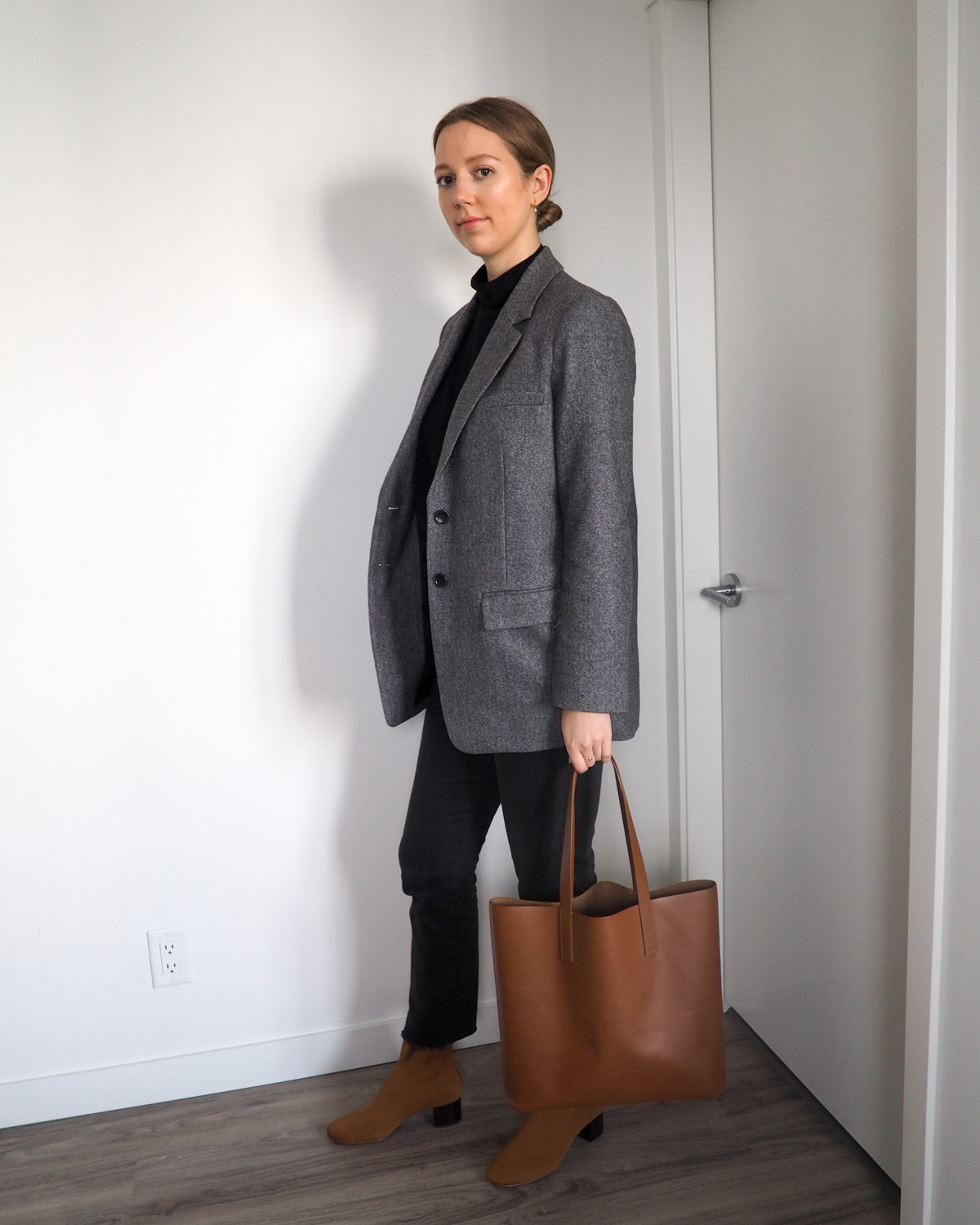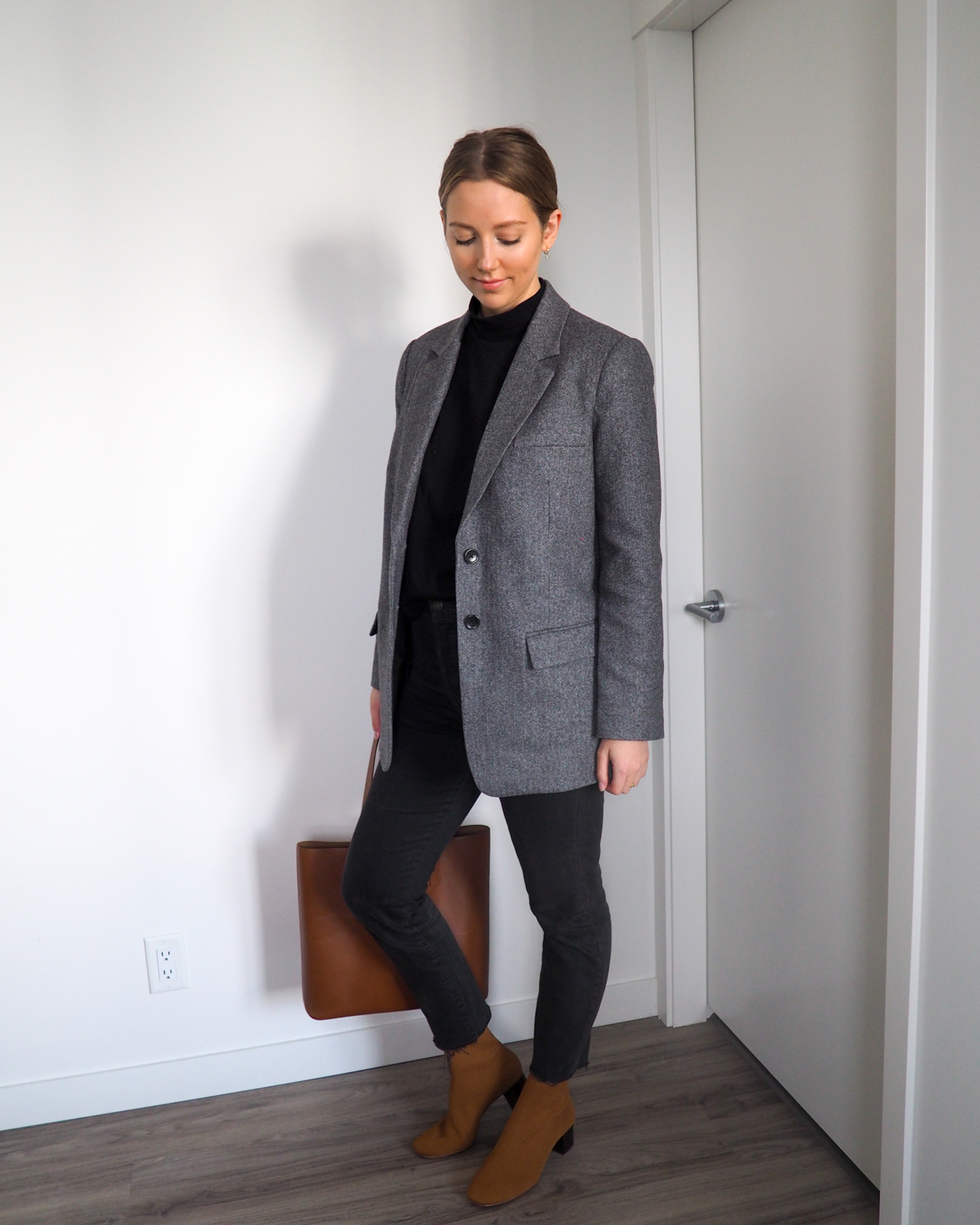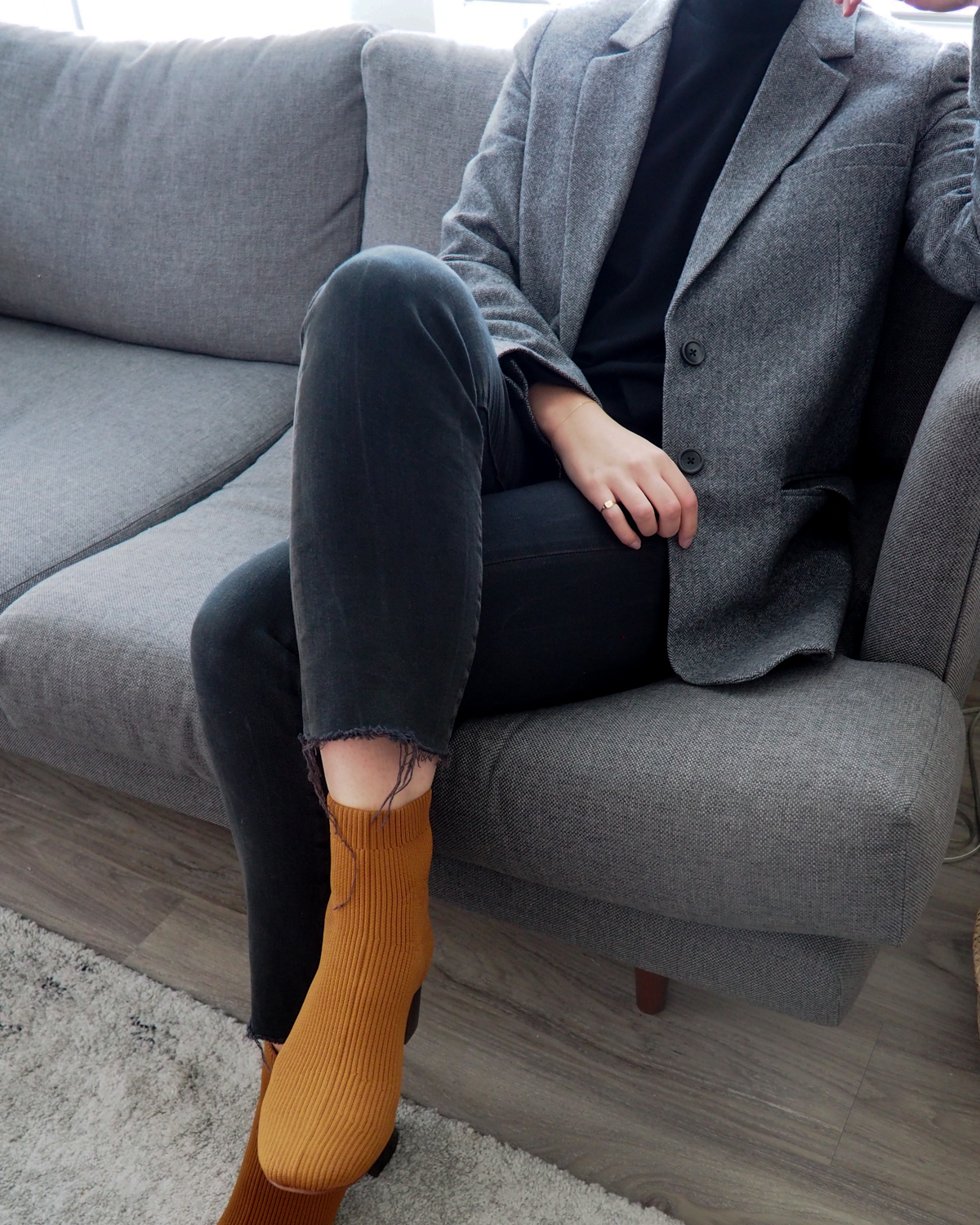 Outfit Details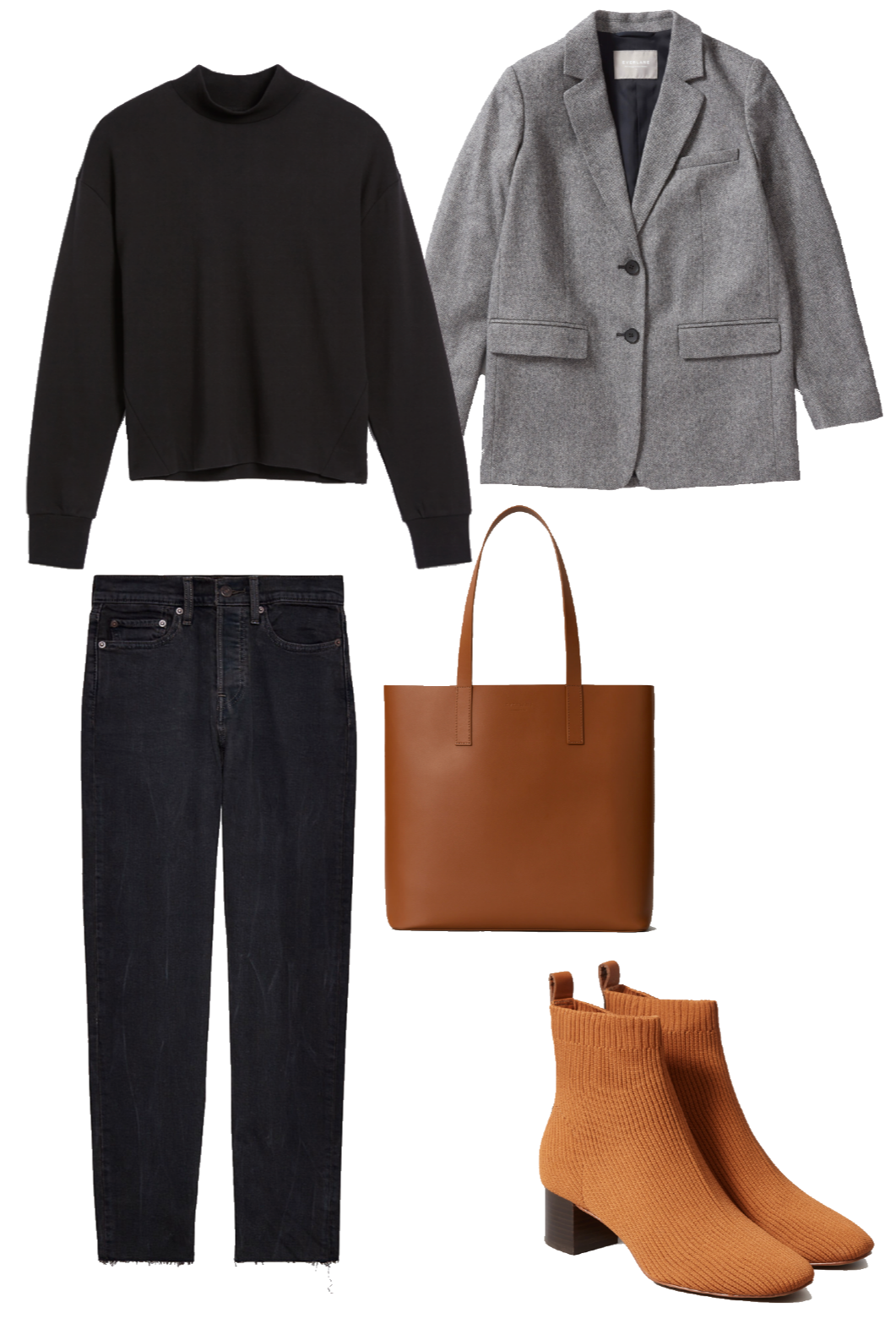 4. With a full skirt
At first I wasn't sure if this look would work because the blazer is oversized and the skirt is more of a fuller silhouette, but I actually love the way they work together. You could also try a pencil skirt or even a fitted mini skirt with this look if that's your style! And for chillier days, adding a pair of stockings would be perfect.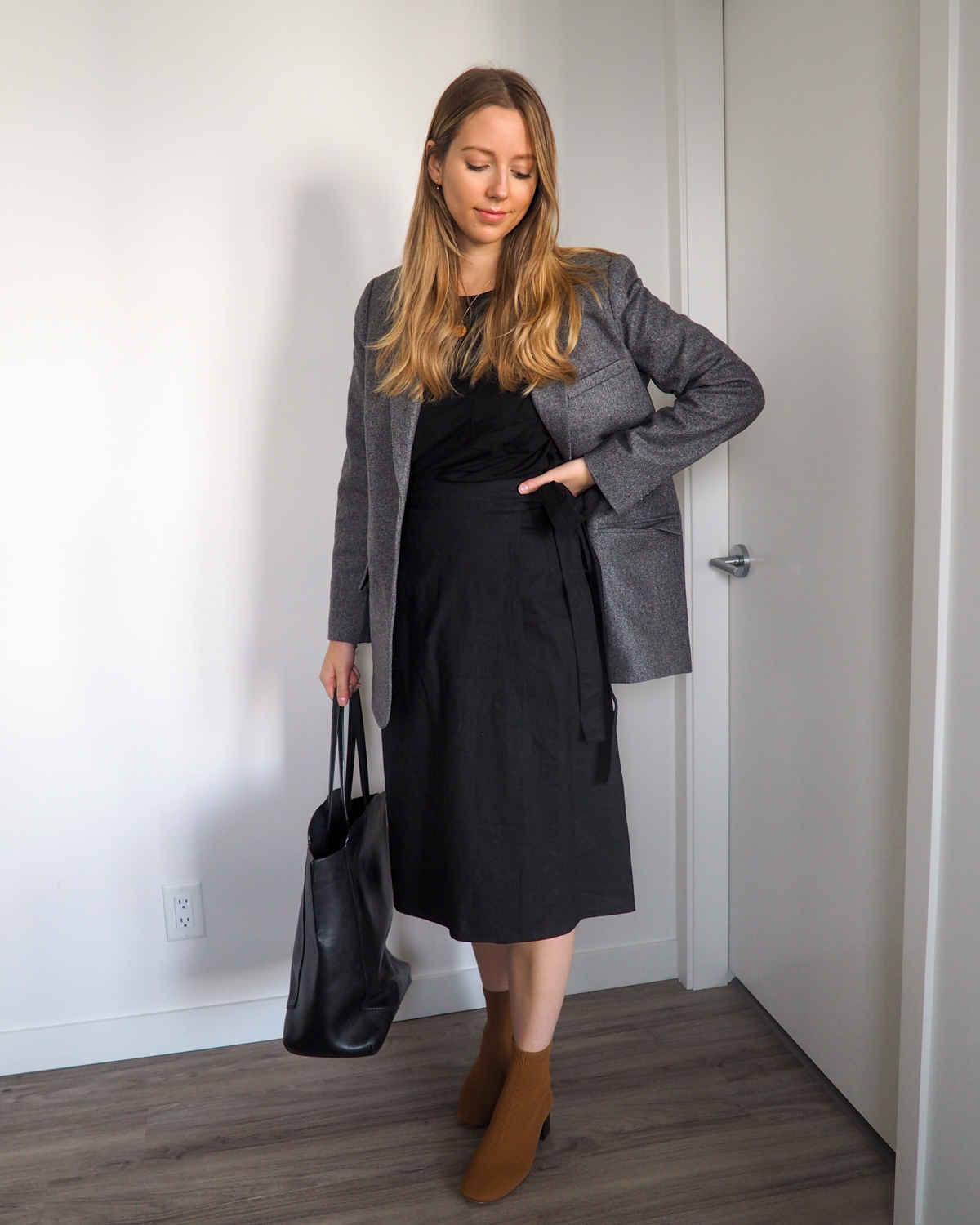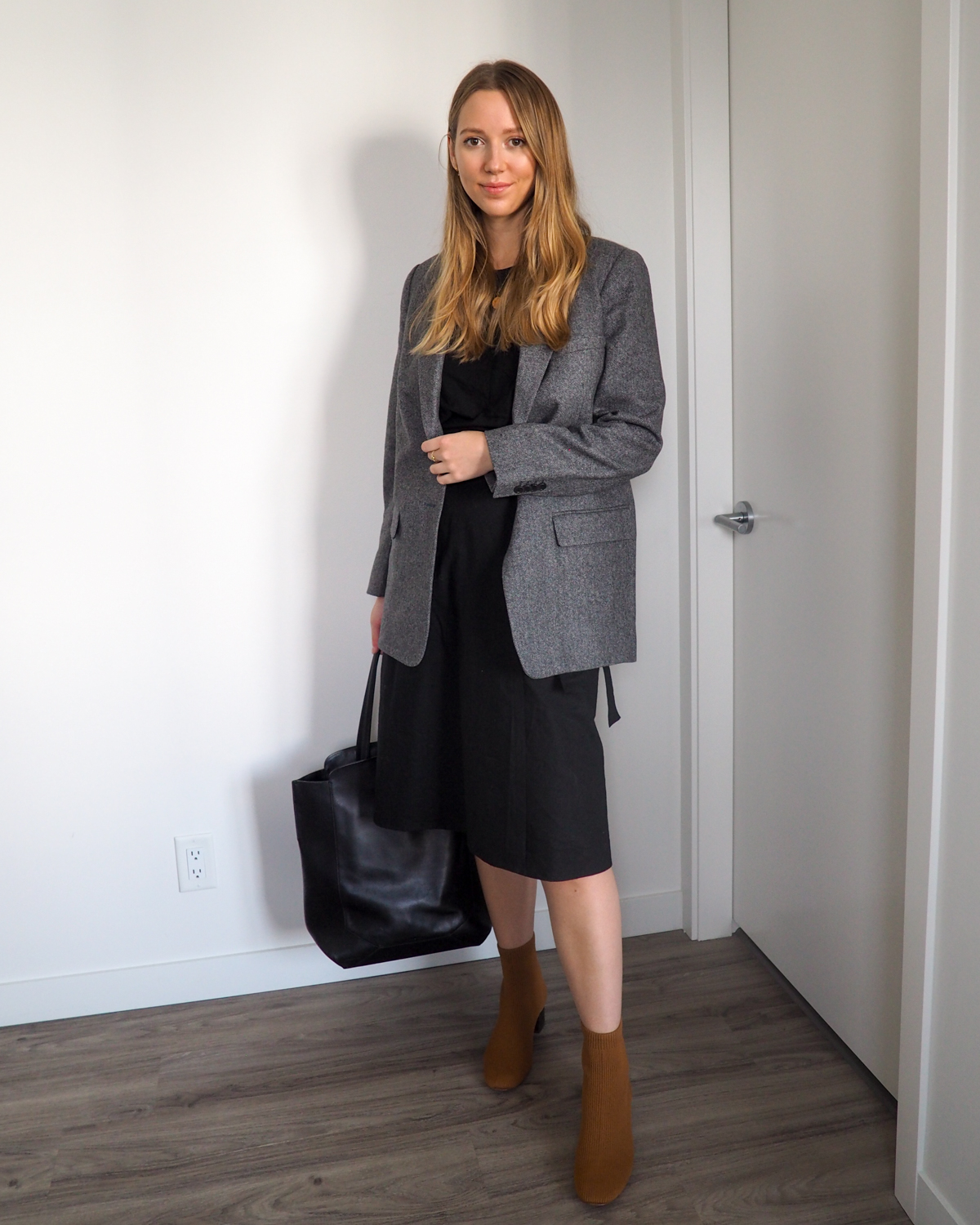 Outfit Details
5. With a slip dress
This last look is perfect for a date night or one of the many upcoming seasonal events. I love mixing different styles – the tailored blazer is so menswear-inspired, while the slip dress is dainty and feminine. It creates an interesting contrast (while also making sure you don't freeze, which is important!) The knit fabric is casual, but with the heel and the sleek silhouette they end up looking more sophisticated. I love how these boots make such a statement when they're worn with a dress or skirt and really get to show themselves off.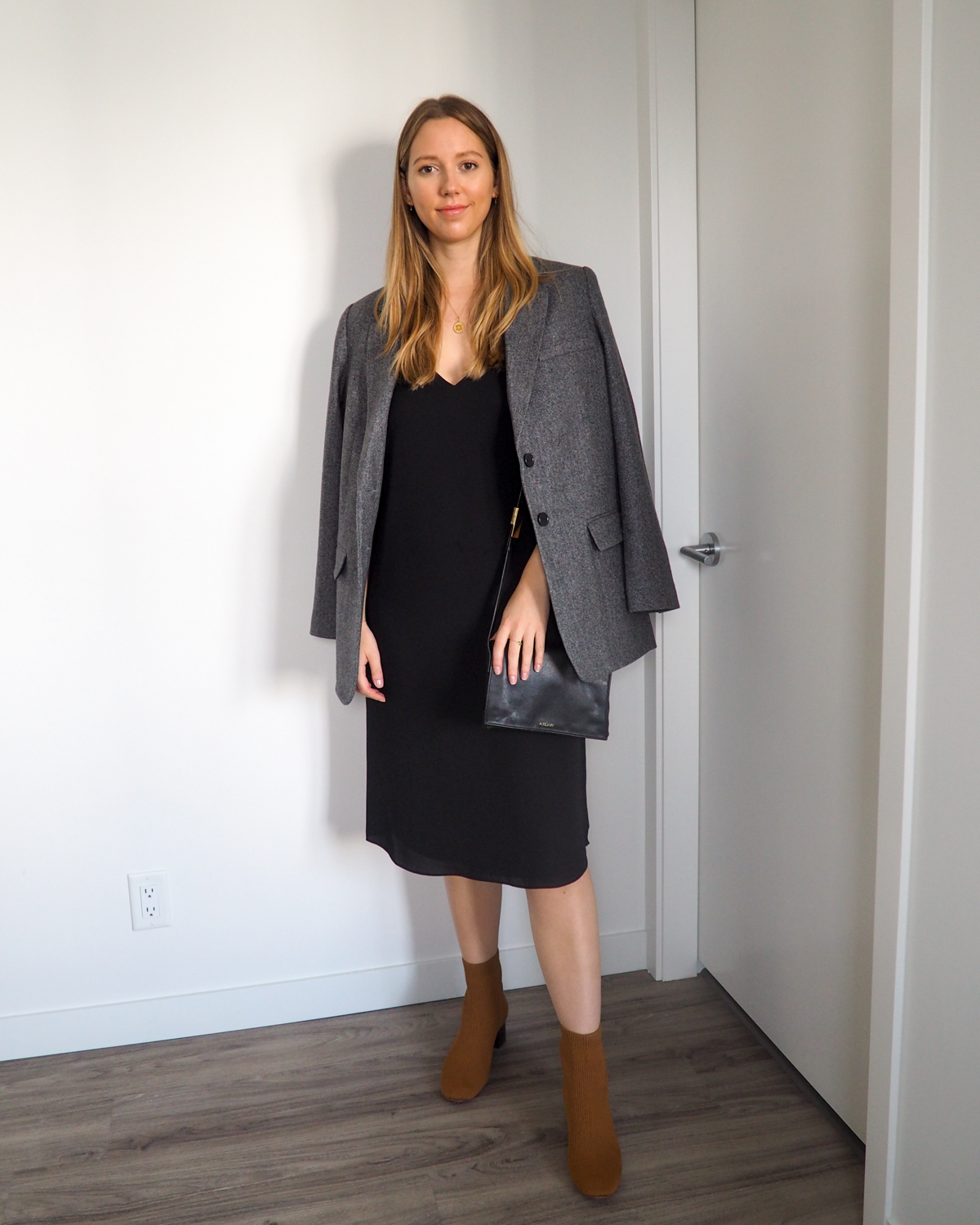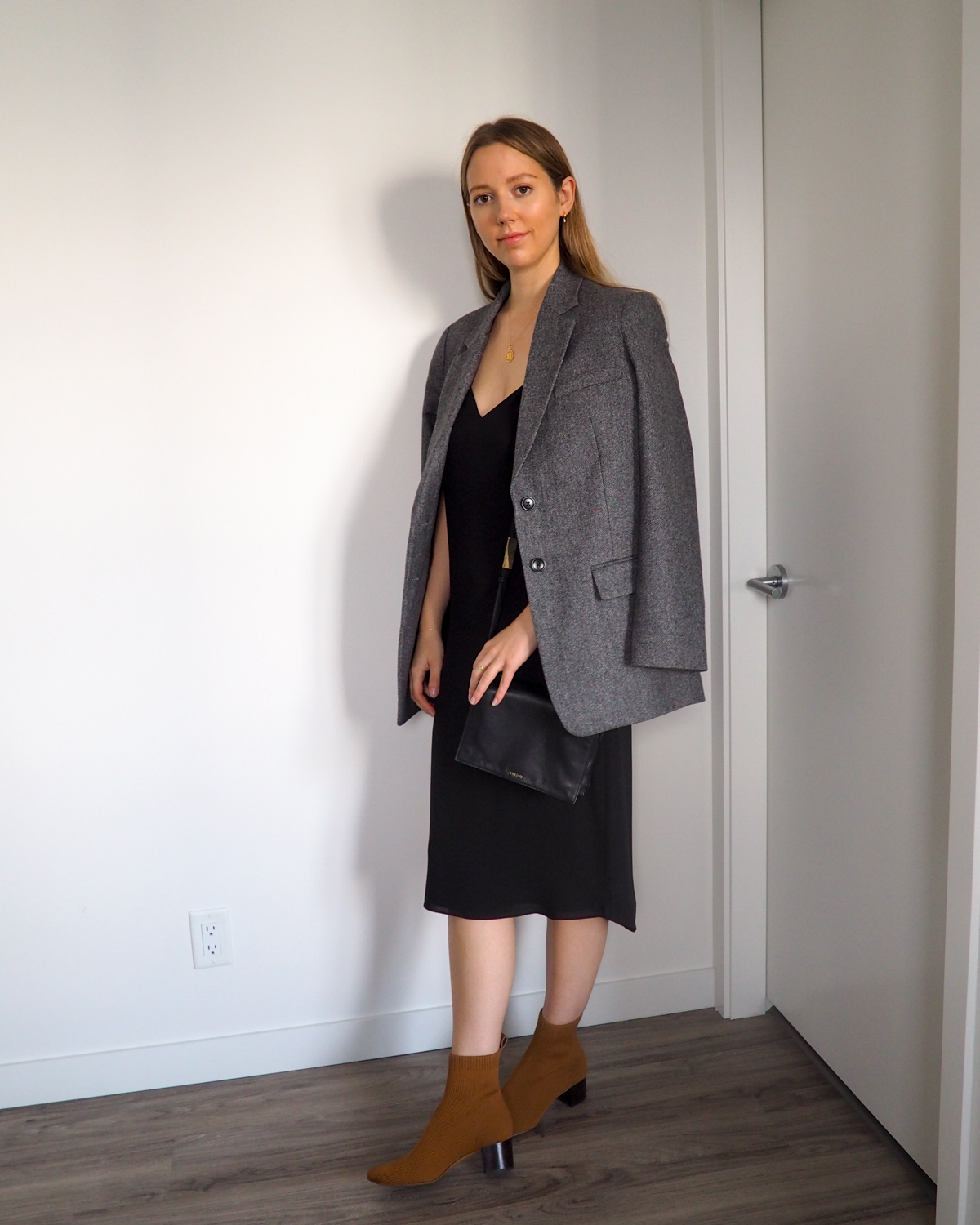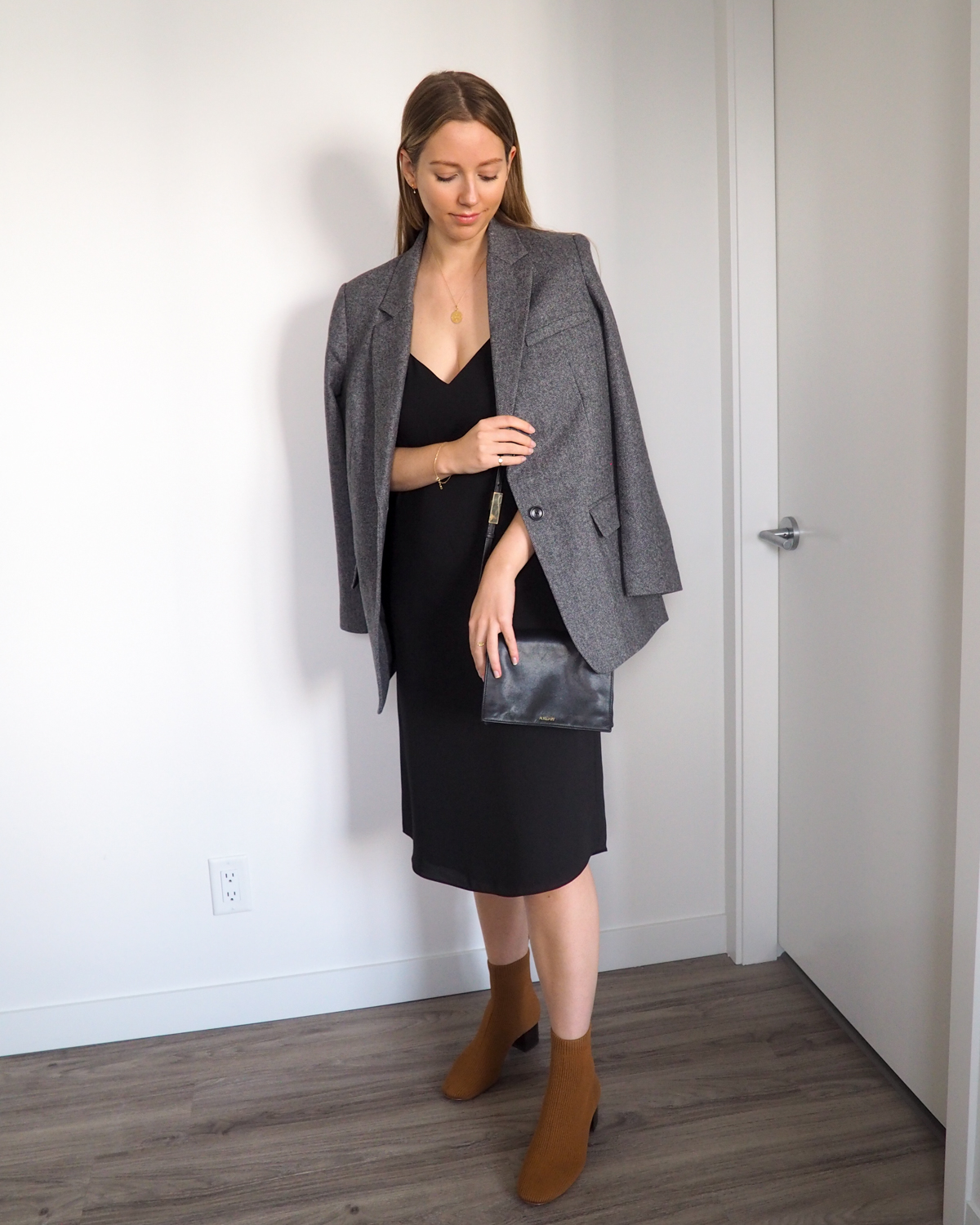 Outfit Details
And there you have it! I hope you enjoyed reading this post and that it gave you some ideas on how to style basics like boots and blazers in your own wardrobe this season. Which look was your favourite? Let me know in the comments below! Also, let me know if you have any specific questions about these pieces from Everlane.
Thanks for reading,

Pin for later