Hi everyone! I can't believe it's already time again for my winter capsule wardrobe. This year really seems to have flown by. The holiday season especially seems to appear suddenly and rush past in a flurry of activity, to-do's and events. It's always important for me to remember to slow down this time of year, take a breath, and just enjoy.
Maybe it's something to do with turning 30 this year, or the fact that we're heading into a new decade, but I feel like my personal style has really shifted over the past year. My Pinterest boards used to be full of looks that were stylish, poised, and polished; I gravitated towards black blazers over white tees, crisp tailoring, and sharp neutrals. I would say my style back when I started this whole journey was definitely along the lines of 'minimalist chic'.
Now, however, I find that I am more drawn to comfort; to loose, drapey silhouettes that are easy to throw on; soft colours that remind me of the earth; socks and sandals for crying out loud (if my high school self could only hear me now). Maybe it's a function of operating in the slow fashion community, where loose silhouettes and earthy colours are so prevalent.
In any case, it's hard to strike a balance between hanging on to old things and buying new ones when your personal style shifts. As much as I would love to keep wearing some of the things in my closet from years ago, they just don't feel like me anymore. I have dresses that I no longer wear, because they are too short or too fitted which really doesn't work for me nowadays. Other things like skinny jeans, which I used to adore but now don't get any wear out of, opting instead for tapered, straight or wide-leg fits with a little more room.
There are still a few things that hold true as my style changes. Instead of donating my old clothes, I give them to a local consignment store to sell for me, which provides a better chance that they'll end up in the hands of someone who will wear them. I've been sewing a lot more of my clothing at home. When I'm purchasing something, I will only purchase secondhand or from a sustainable, ethical brand. And I am always keeping the tenets of slow fashion in mind: high-quality, built to last clothing that I love and plan to take good care of. I really feel like this shift that's happening is leading me towards a simple, quiet style that I will keep for the rest of my life.
Anyway, what I'm trying to say is that you might see some of those changes reflected in my capsules, especially when you compare the same seasons (winter to winter, for example). I'm toying with the idea of only doing two capsules a year in 2020 – spring/summer and fall/winter. What do you think?
The only problem is that where I live, we really get all of the seasons, and they're all different. Spring can be warm to chilly and wet, summer is hot, fall is mild to cold, and winter is freezing with snow. Plus, changing up my wardrobe every few months by shopping my closet and adding a couple new pieces has really helped me cull my consumption overall. But it's something to think about, in any case.
I feel like I've rambled long enough in this introduction, so let's just get to the capsule! As always, where possible I have linked to the items or similar ones if they are no longer available. I hope you enjoy and that this gives you some inspiration on how to style your own closet this season.
Winter Capsule Wardrobe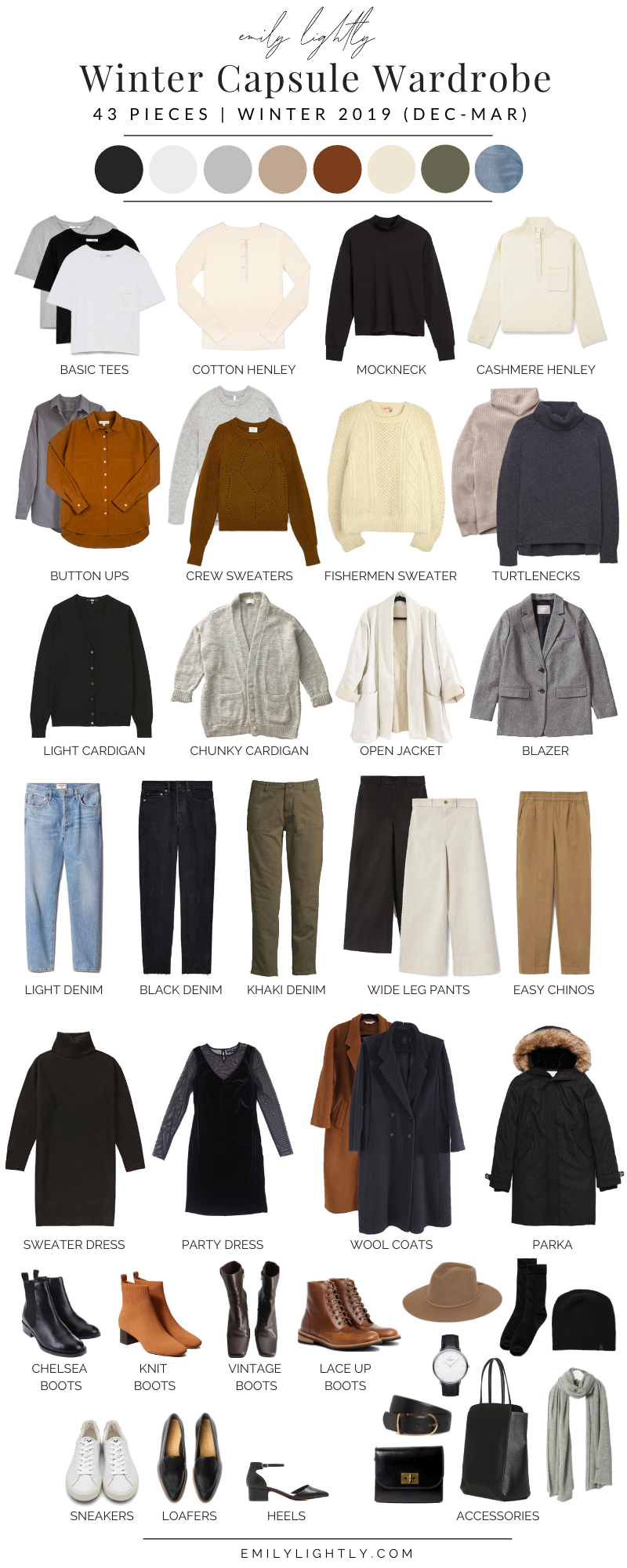 Item list:
Note: * denotes an item that was kindly gifted to me by a brand. Some of these links are affiliate links. For more information, please see my disclaimer. Thank you for your support!
I almost didn't include my favourite light wash denim this season, which is crazy because I think it's been in every capsule since I started doing this. One reason being that the khaki denim pants have become such a favourite of mine the past couple of months (I still can't believe I found them at the thrift store, on sale for $4 if I remember correctly).
The other reason is that my favourite pair of light denim was recently wearing in the crotch, and while I sewed them up they then fully ripped not long after, so I feel like they might be beyond repair which is so sad! In the end I still decided to include light denim in this capsule just because it is such a staple for me and I'm not sure if I could go a whole season without it, so I'm going to try my best to patch up my pair and see if they can be saved.
Otherwise I am really happy with how this capsule turned out. I love the colour palette, and I know that I'm going to get a lot of wear out of everything this season. My main go-to outfit will be a sweater, pants, and boots (as per usual) but I still like to have a bit of room to play around with other pieces like the blazer, sweater dress, and button-ups. That said, let's get into some outfit inspiration!
Outfit Ideas
So that is it for my winter capsule wardrobe for 2019! I hope you all have a wonderful holiday season and new year (or should I say new decade?) Like I mentioned earlier, let me know if you'd like to start seeing just two capsules a year (spring/summer and fall/winter) or if you think I should stick to doing all four seasons separately. And, let me know what you're most excited about this winter in the comments below!
Thanks for reading,