Over the past few weeks, a new reality has set in in which many or most of us are staying at home. Our normal routines have been completely disrupted for the most part, and the world feels like it's been turned upside-down. It's unsettling, to say the least.
One of the things that's really helping me through these times is continuing to create my regular content here on my blog and on social media. So in the spirit of maintaining a thread of normalcy in these strange days, I wanted to write a lighthearted post today sharing some brands that I love for their comfortable loungewear and stay-at-home clothes. I'll be sharing eight different brands today – most of which I have purchased from, and some that I haven't, but have admired from afar and would love to try in the future. I'll also share a few of my favourite pieces from each.
But first, a small disclaimer. The intent of this article is not to capitalize on the current global situation. If you are not in a position to shop and do not want to look at products, please feel free to sit this one out. The intent, rather, is to support good brands which I love and think deserve some attention, especially right now when times are tough for everyone, small businesses included. And as usual, I want to share my thoughts and recommendations with you on what brands to look to for high-quality, sustainable and ethical loungewear staples when for a lot of us, staying at home most or all of the time is our new normal for the foreseeable future.
Many of us are not in a position to shop right now, and that's okay. At the least, if you're interested this could be a way to hear about a new brand you might like to follow and support sometime down the road. Always remember that you are enough as you are, and you don't necessarily need something new to 'do staying at home better'.
Last note before we get started: this article will contain affiliate links for the brands I am partnered with. If you do decide to shop, a small portion of the sale goes towards supporting me and keeping this blog going, for which I am very grateful. So with all of that said, here are the brands in no particular order!
Pact
Pact offers an excellent range of loungewear basics for women, men, and children – everything from essential tees and joggers to exercise clothing and summer dresses. Their clothing uses fair-trade organic cotton and is really affordable (with a great selection of sale items, too). They also have a line of maternity clothes.
My picks:
ARQ
ARQ creates cotton base layers in beautiful colour schemes that just look oh-so-cosy. I have been eyeing their undergarments for a long time, and love them for their inclusivity and overall aesthetic.
My picks:
Kotn
Kotn offers great casual staples for everyday, but also has some very cozy loungewear. Their clothing is made from Egyptian cotton which is ethically and sustainably sourced. I have a ribbed cotton set which is so comfortable. It's ideal for staying at home but feels like a step up from spending my day in the wrinkly pyjamas I slept in. I love that they're a Canadian company, too!
My picks:
Girlfriend Collective
Girlfriend makes really cute and functional workout gear made from recycled plastic. I remember purchasing my first pair of high-waisted black leggings from them several years ago when they were just starting up and offered a launch promotion to only pay the price of shipping. I've been doing a lot of home workouts and yoga lately to get my exercise in, and my Girlfriend set is the perfect companion. I love their concept and the colours they offer, but should note that you do need to be careful washing them. Because they contain plastic fibres, they release microplastics into the water so you'll need to wash them in a microplastic-catching bag (like a Guppyfriend).
My picks:
Groceries Apparel
Groceries Apparel makes comfortable clothing that can take you anywhere from the couch to the treadmill and from bed to your evening date night. They manufacture in their own LA-based factory to ensure their standards are adhered to. Currently when you buy a 3-pack of cotton face masks, they will donate 10 masks to essential service workers.
My picks:
Organic Basics
Organic Basics is a great source for essential tees, underwear, and activewear. I love this company's principles and everything I have tried from them has been high-quality. They are my go-to brand for underwear, and I particularly like their Tencel Lite line of bras & undies for how soft they are. They use organic cotton and are continuously trying to reduce their environmental footprint through the use of things like recycled materials.
My picks: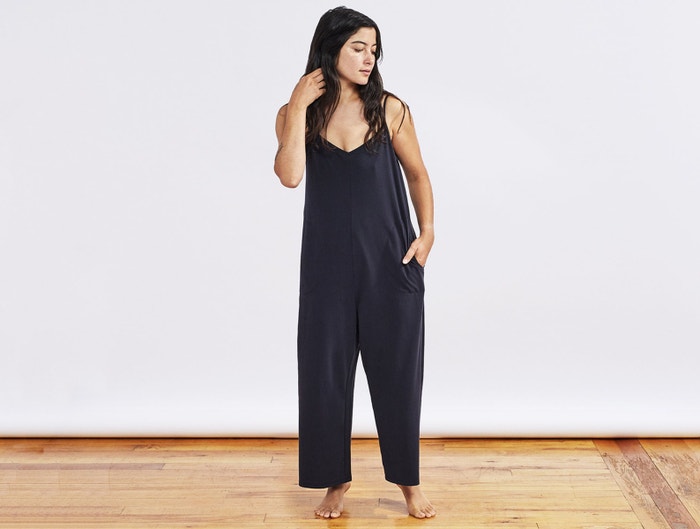 Coyuchi
Coyuchi's main products are bed linens, but they also offer a range of sleepwear and robes. Their whole business seems to be centred around getting a good night's sleep, which I'm sure we could all use right now. Their cotton comes from organic fields and is ethically processed in accordance with the Global Organic Textile Standard (GOTS). I have an old pyjama set of theirs which is my main sleepwear that I use almost year-round, except in the summer when it gets too hot.
My picks: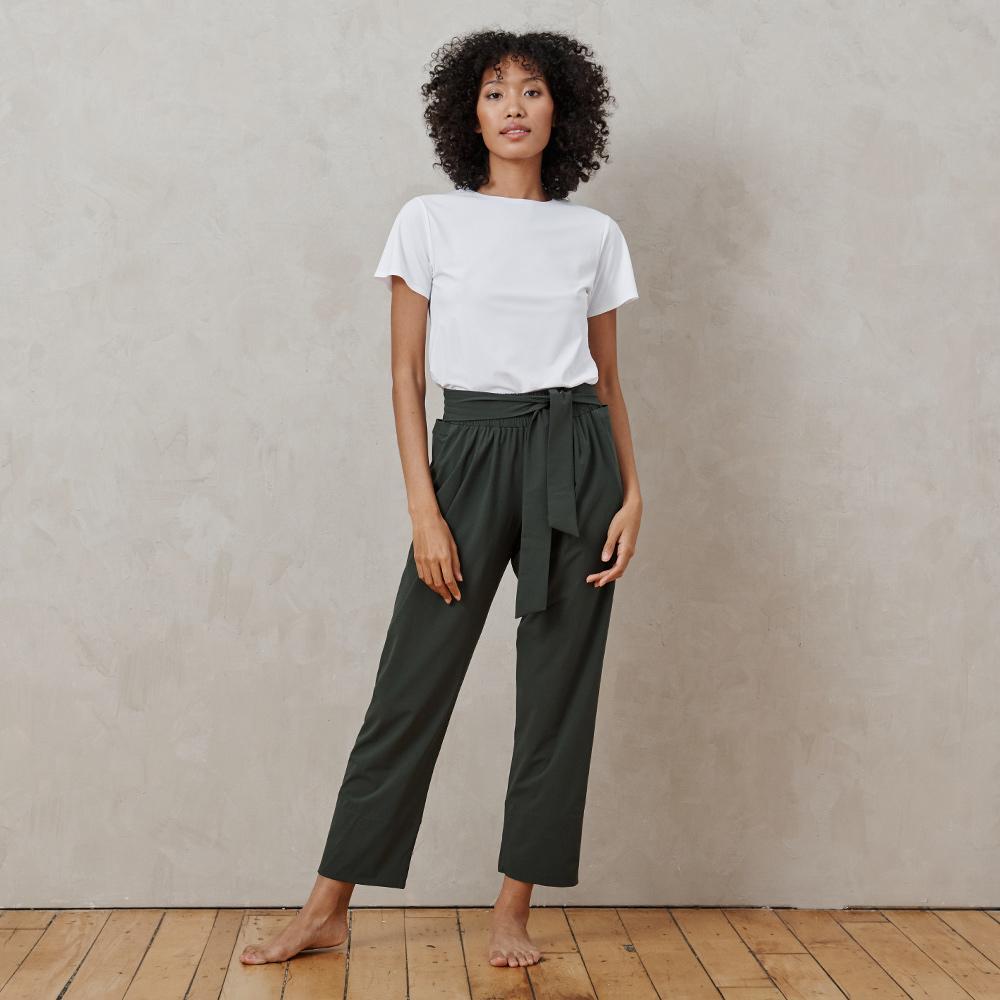 ADAY
ADAY creates seasonless wardrobe staples geared towards professional attire. I love their workwear clothes that look professional but seem like they would be really comfortable. In that sense, they're a great for working at home but can still take you to the office or a more professional setting once that becomes the norm again. They also offer curated 'uniforms' of products that go together (at a cost savings to you) so that you can easily pick outfits that will work well together. Their clothing is consciously designed using technical fabrics.
My picks:
I hope you enjoyed this article and that it brought you something positive. What are your favourite brands for comfy, lounge-around-the-house clothes? Also, let me know if you'd like to see more recommendations on brands I love for specific activities. I'd love to share roundups of my go-to brands for everyday casual wear, work attire, and travel. Until next time, take care and stay safe.
Thanks for reading,

Pin for later