A good shirt dress is a staple in any basic wardrobe, in my opinion. It's such a simple yet sophisticated piece; it's easy to style and works for a variety of occasions, from the work day to the weekend.
In this article I'm going to be showing you a few different ways to style a shirt dress, featuring this classic black shirt dress from Kotn. I'll be doing a full review of the dress and telling you a little bit about the brand – so, let's get started!
Note for transparency: this dress was sent to me as a PR product in exchange for a post. I am also an affiliate with Kotn, and this article contains affiliate links meaning I make a small commission from purchases made through these links (at no extra cost to you). This post is not paid for and all opinions are my own. You can learn more about how I work with brands in my disclaimer – thank you for your support!
About the brand
First things first, Kotn is an ethical company based in Toronto, Canada. Their products are made from high quality cotton sourced directly from the Nile River Delta in Egypt. Kotn partners with the local farmers there and has insight into their production processes so they can ensure fair wages and ethical treatment. They are also a certified B corporation and have a give back program which donates a portion of all sales to schools in Egypt to help support the families of their partners there.
When it comes to what I look for in a brand, Kotn really ticks all of my boxes! Their styles are simple, refined, and timeless. Their pricing is on the affordable end when it comes to ethical fashion, and they have great sales. I also don't see them releasing new product every week; and when they do release a new collection, it seems very considered and intentional. I get the feeling their pieces are really meant to last in your wardrobe, both in terms of style and quality.
Shirt dress review
Now, let's take a closer look at the Shirt Dress which is the piece I chose from their current collection.
Style
I love the classic and timeless style of this dress. It hits perfectly at my knee (I'm 5'9″ for reference) and has slits on the side so that it's easy to walk in. I also love the optional waist tie that comes with it, and it has belt loops as well so you have the option of wearing it with or without a belt. My only wish is that it has pockets – not only do they increase the functionality of a piece, but I personally just love having somewhere to stick my hands and phone when I'm out.
Fit
When it comes to dress sizing, I am normally a size US 6-8. In this dress, I went with the 8 and it fits me well, especially in the shoulders and hips; I definitely wouldn't have wanted to size down. I feel like with a 100% cotton piece like this, there is not much stretch and there's also the risk of it shrinking, so my advice would be to size up if you're between sizes.
Quality
Overall, I'd say the quality of this piece is good. There were no obvious defects or loose threads when it arrived. The material is a lighter cotton, so in the light it can look a little bit sheer, but it's not fully see-through. This makes it a great piece for summer, but I feel like it could also be layered easily in the cooler months with a cardigan overtop or a long sleeve worn underneath. I haven't washed it yet but the instructions say to hang dry it, so in order to ensure its longevity and reduce the risk of shrinking it, I will definitely do that!
Overall it's a really comfortable piece that can be worn in so many different ways. Speaking of which, let's take a look at how I styled it!
Styling a shirt dress 5 ways
Outfit 1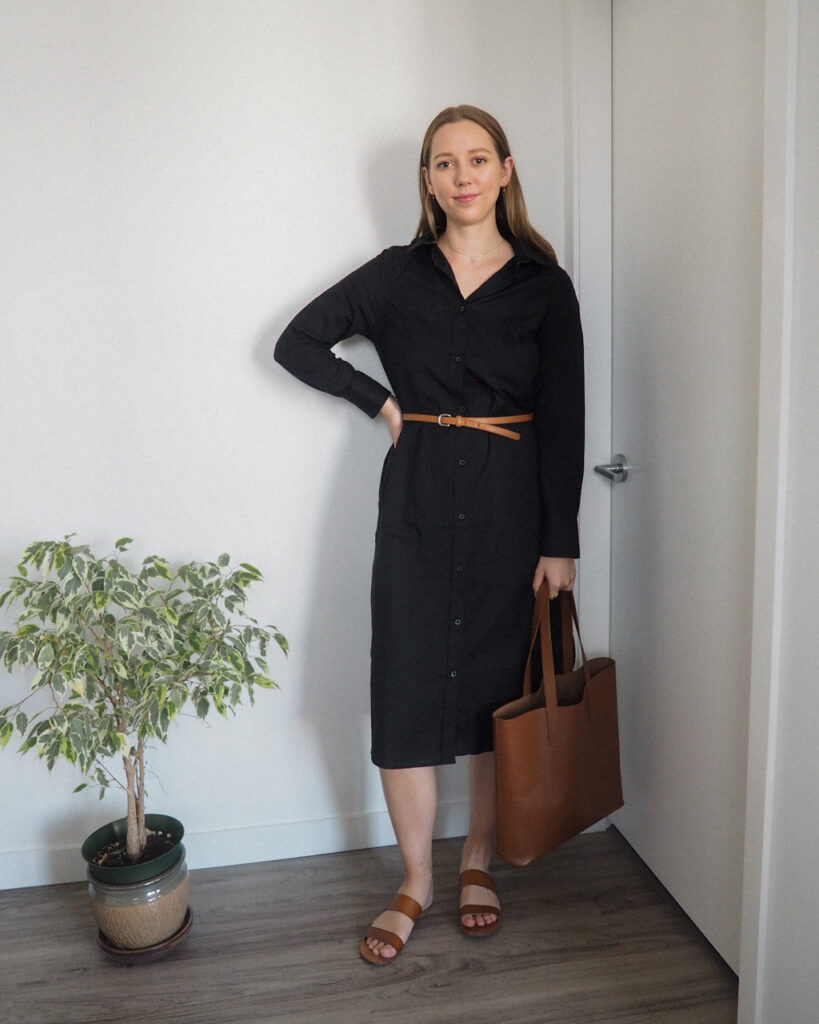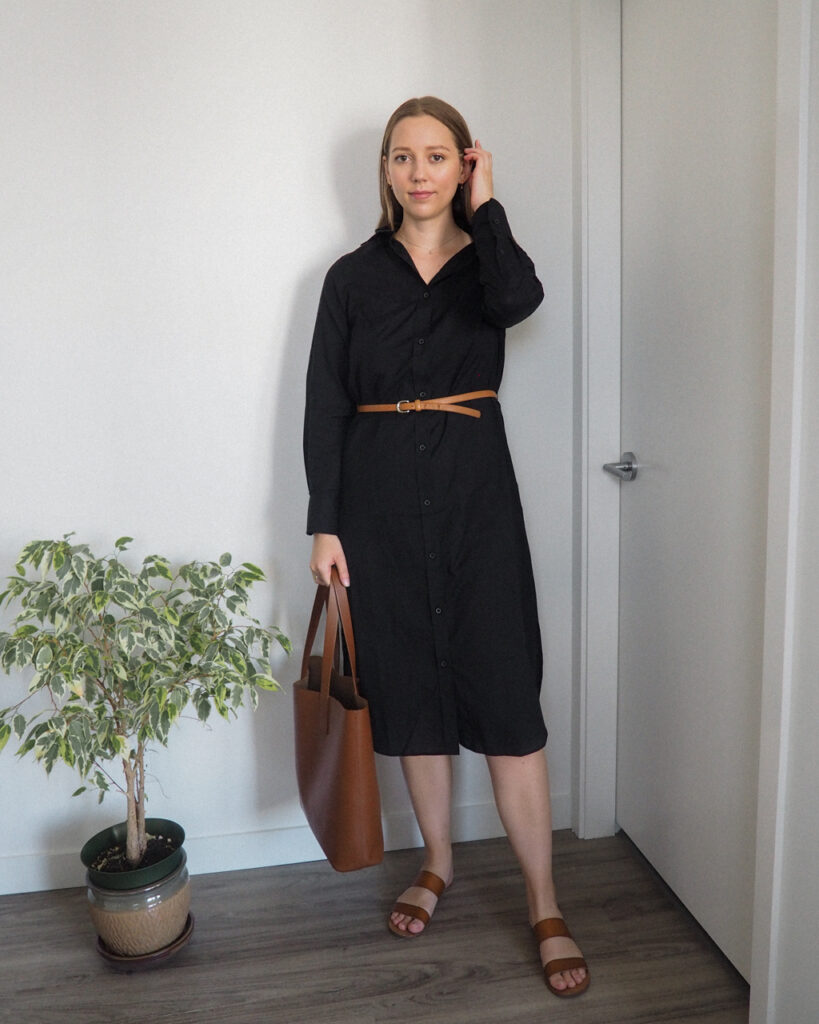 For the first outfit, I've gone with what I feel is a classic shirt dress look for summer. I'm wearing it with matching tan accessories: a belt, simple sandals and a carryall tote. I feel like this is the perfect look for a weekend brunch with friends (virtually for now, of course!)
Outfit details: dress | belt (old, linked to similar) | tote | sandals (old, linked to similar)
Outfit 2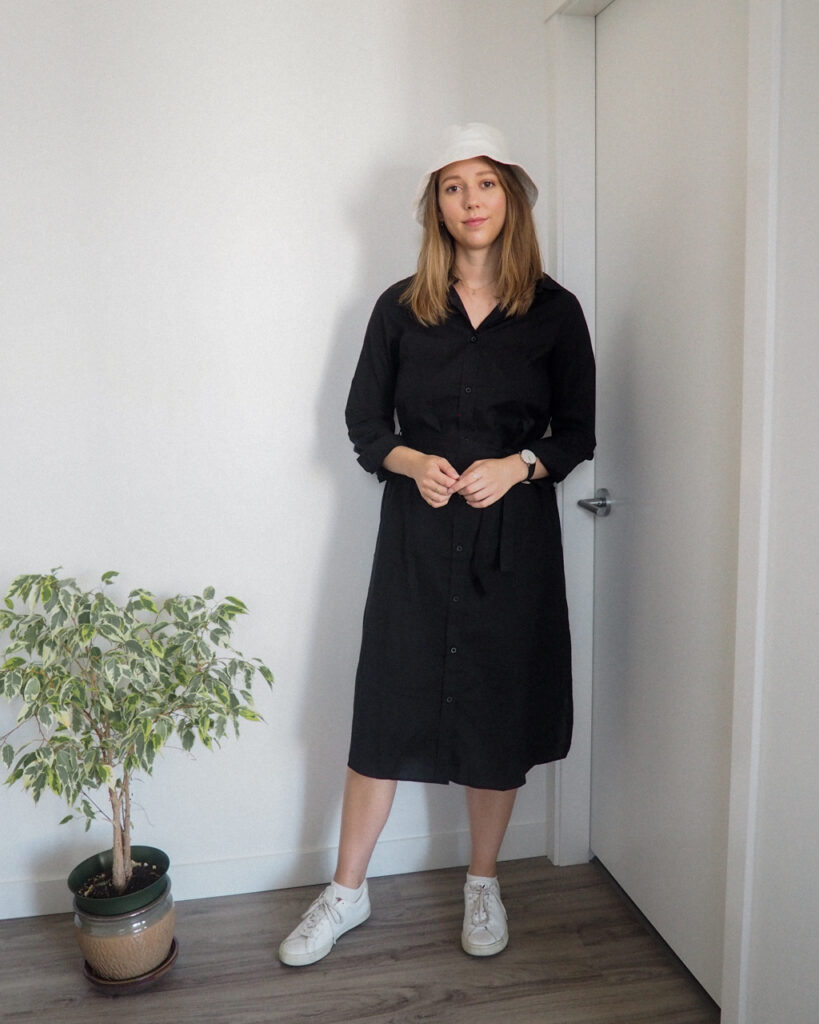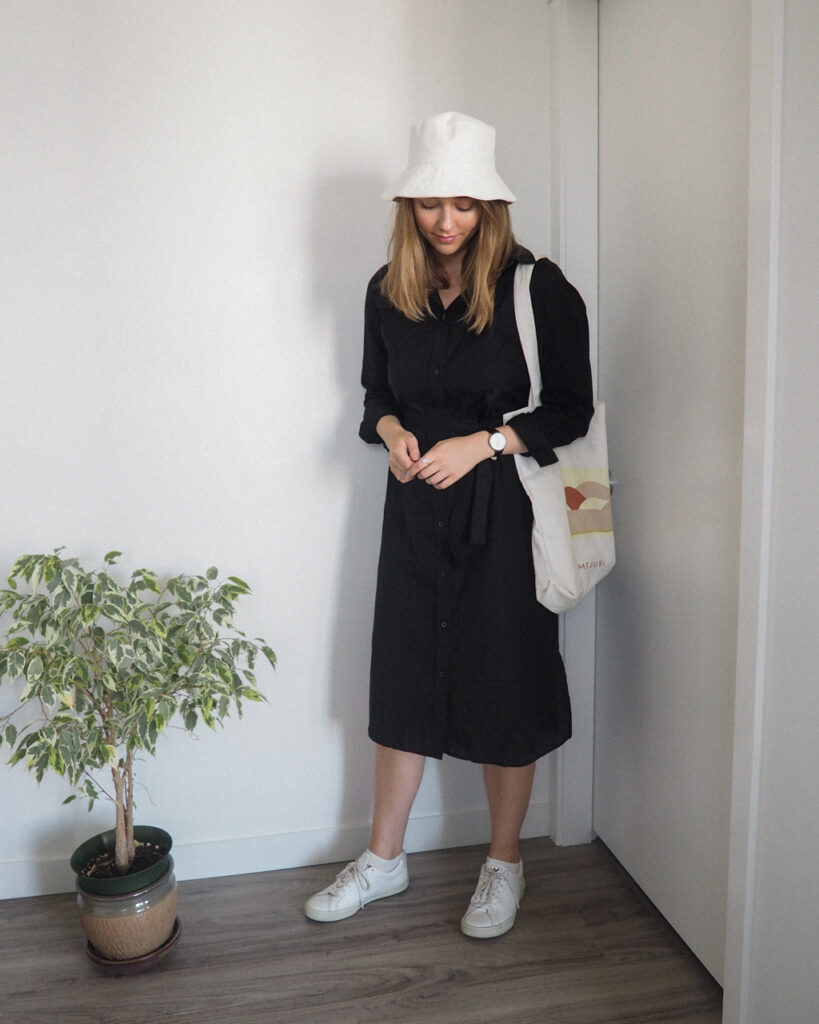 To keep things more casual, I've styled the dress with the matching waist tie and sneakers. I added self-made bucket hat and canvas tote. This is something I'd totally wear to the farmer's market once it's safe to go again!
Outfit details: dress | sneakers | hat (me-made, linked to pattern) | watch | tote (PR)
Outfit 3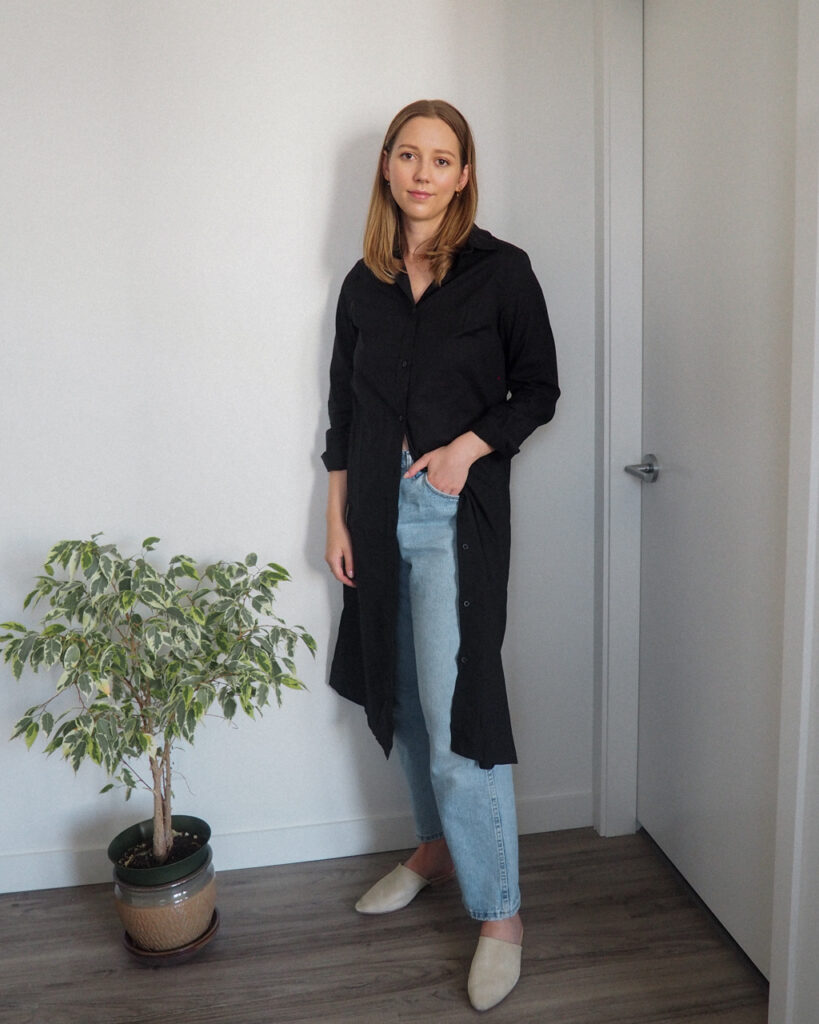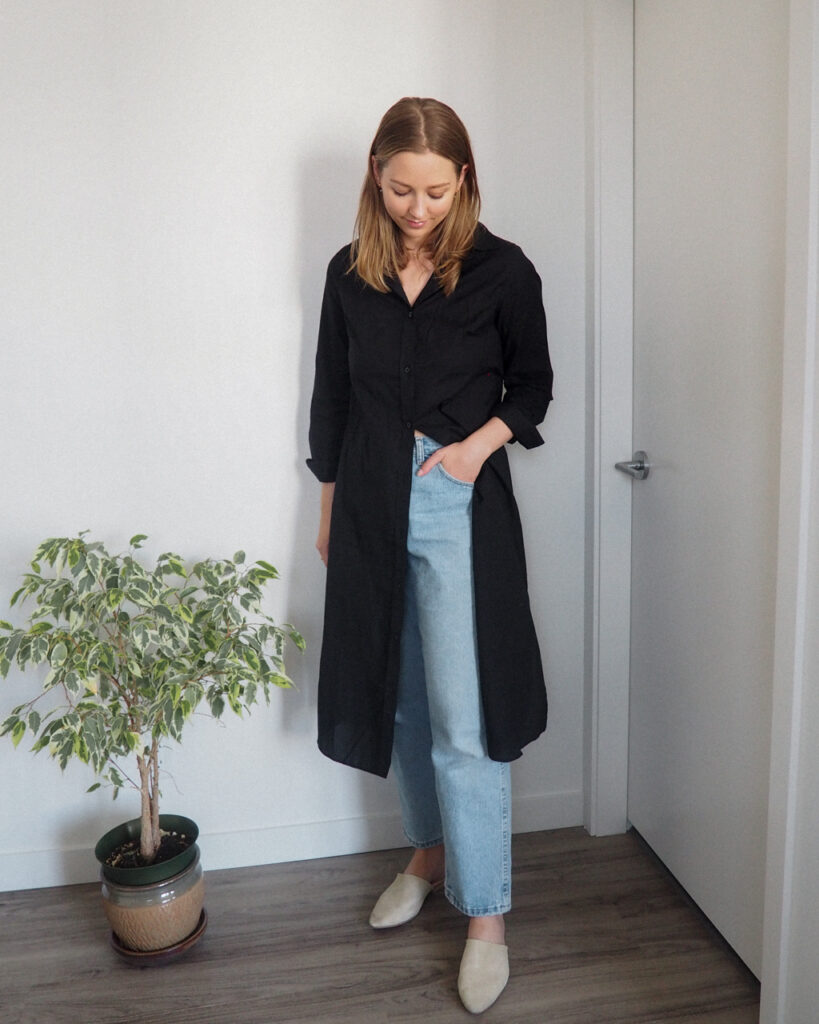 This one might be my personal favourite! I'm wearing the shirt dress as a tunic and have it open from the waist down. Under that I'm wearing my favourite pair of vintage denim and comfy slides for a casual look.
Outfit details: dress | denim (vintage, linked to similar) | slides
Outfit 4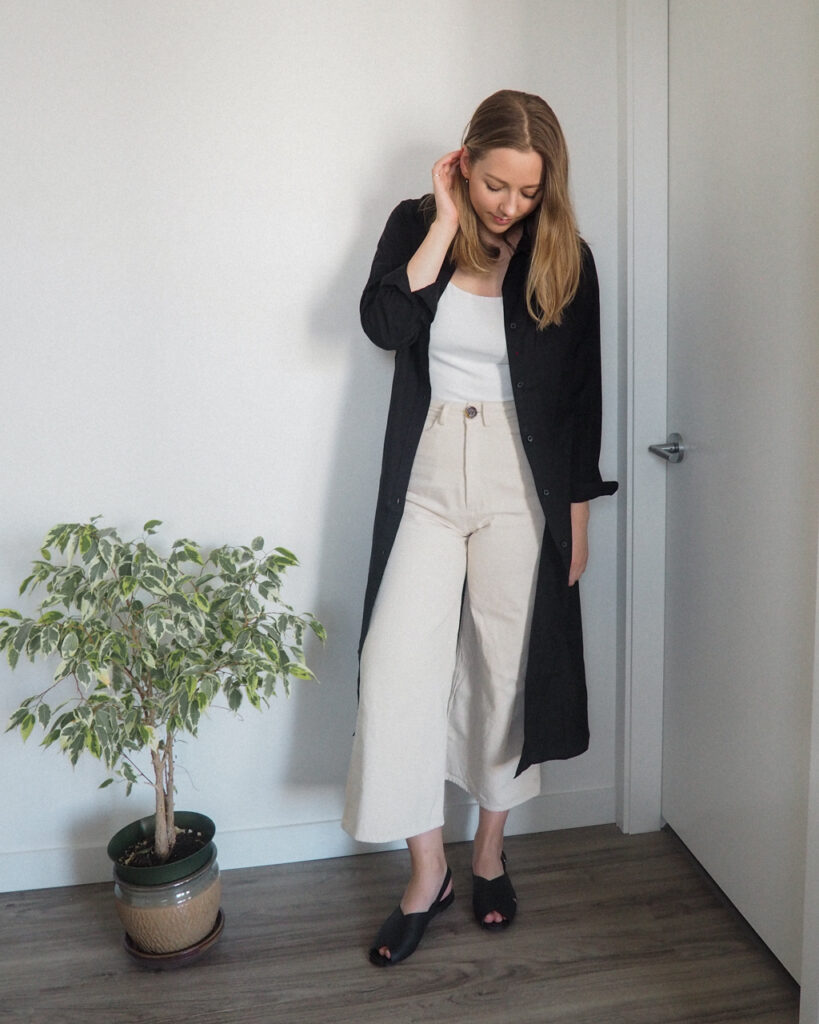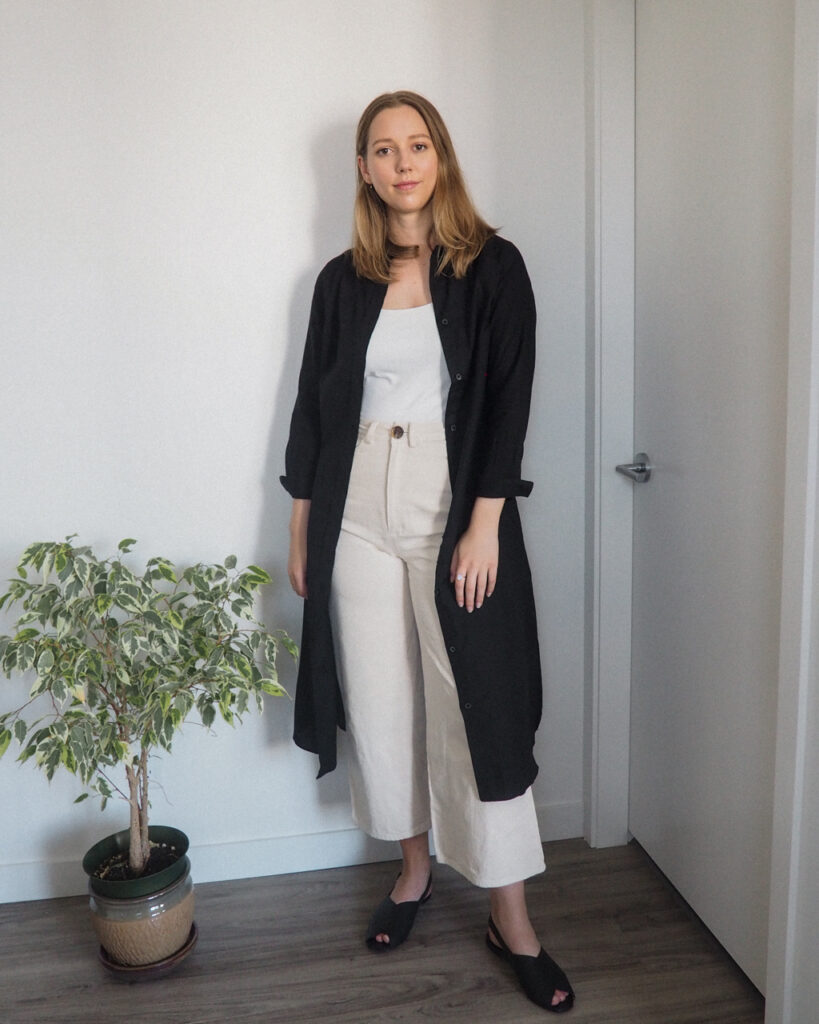 This time, I'm wearing the shirt dress fully open layered over a contrasting bodysuit and high-waist, wide leg pants. I've finished the look off with simple black sandals to tie everything together.
Outfit details: dress | top (old) | pants | sandals
Outfit 5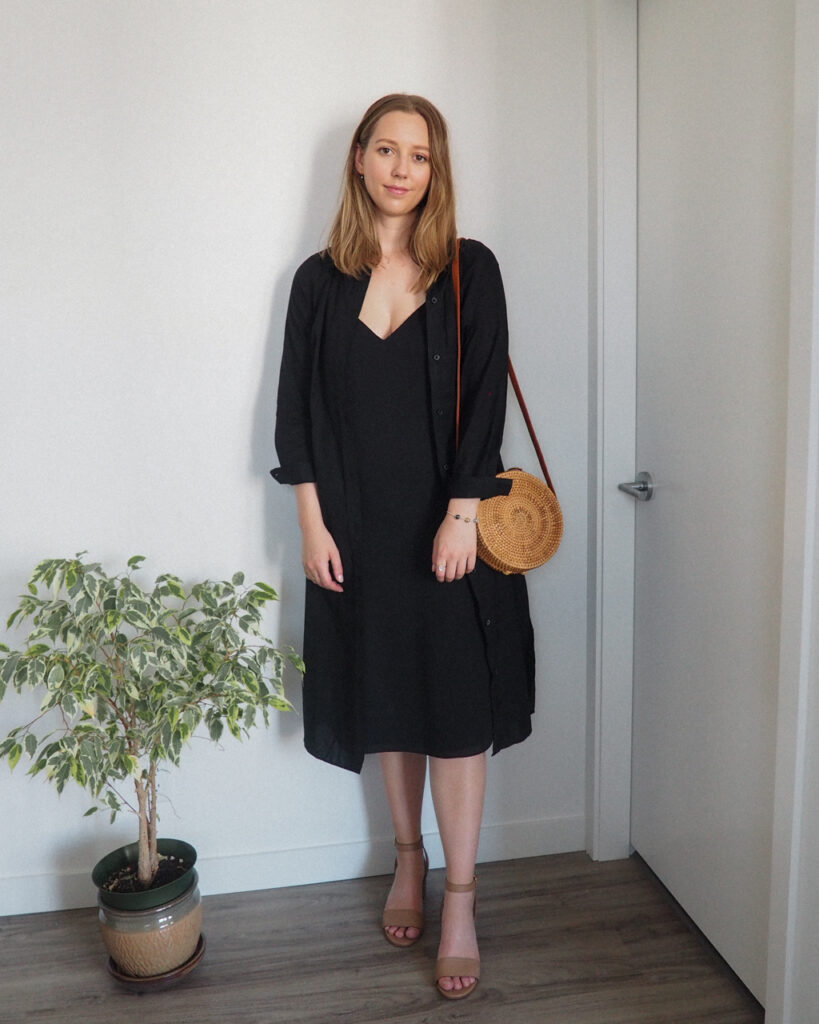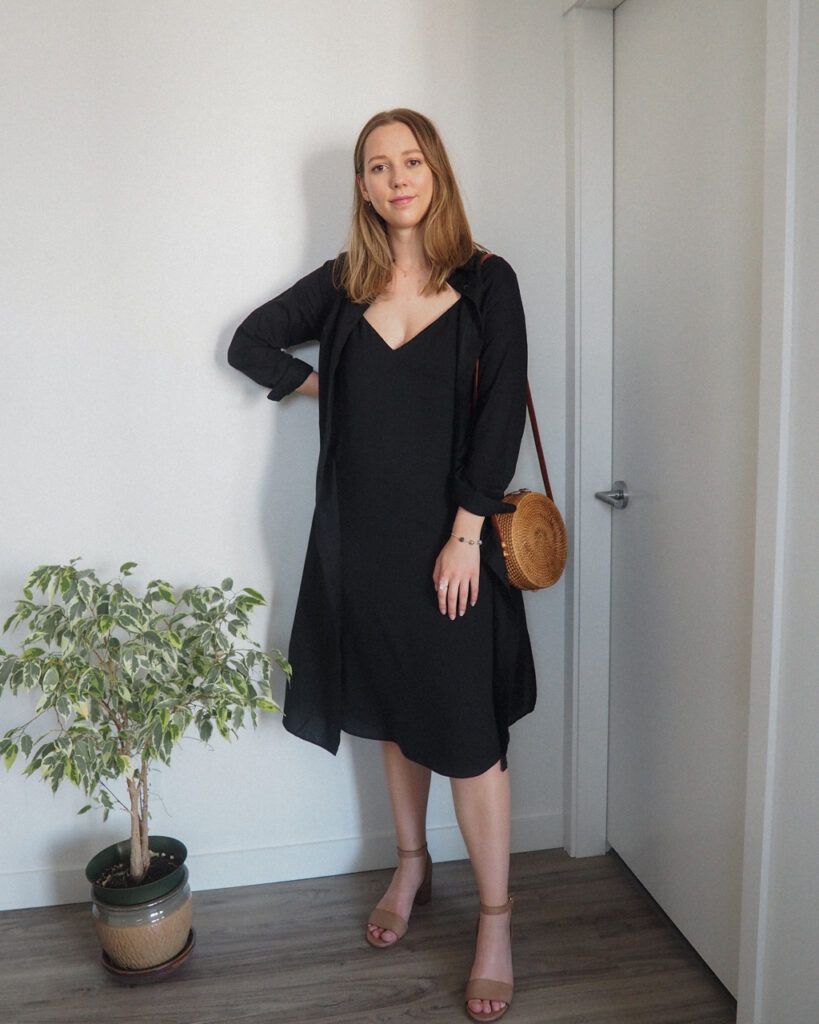 For my final outfit, I've dressed things up a little wearing the shirt dress over a slip dress. I feel like this would work really well if the slip were another colour, maybe a tan or cream. You could also wear this look with the shirt dress only, paired with heeled sandals to take it up a notch. As it's worn here, I feel like the extra layer adds some coverage to the slip dress and adds some interesting dimension to the look.
Outfit details: dress | slip dress (old, linked to similar) | heels (old, linked to similar) | bag (old)
Shop the dress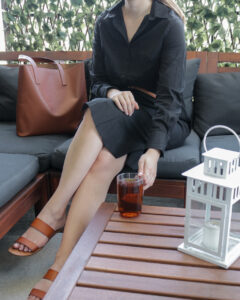 I hope you enjoyed this article and that it gave you some inspiration for styling your own wardrobe! What's your favourite way to wear a shirt dress? Let me know in the comments below, I'd love to hear from you!
Thanks for reading,

Pin for later