Confession: I'm starting to feel a little bored with my closet, again. It happens every now and then, despite my best intentions to keep a minimalist wardrobe and ignore brand advertising. But I think the combination of the pandemic (working from home, wearing the same thing every day, finding myself scrolling endlessly on Instagram and seeing all the new things) as well as doing Slow Fashion Season for the summer is just making it extra difficult right now.
So, what better way to make things fresh and exciting again than doing a challenge? Style challenges are a great way to mix things up, re-discover pieces in your closet, and find new ways to wear what you already have. I wrote a previous article on some fun wardrobe challenges happening in 2020 to try, if you want to join in on one that's already going on. But in this article, I wanted to share a new challenge that I came up with myself!
First, a little backstory. I've posted a few times on Instagram with a similar photo formula: three tops, three bottoms, and three shoes all laid out neatly in a 3×3 square on my bed. Typically I do this at the start of a season to showcase some of my staple pieces in that season's wardrobe edit. Everyone really seemed to like those photos, and I'm not surprised; they're incredibly satisfying, especially to my inner Virgo!
So based on this, I decided to make a challenge out of it that will help me create a load of outfits using only a few pieces. I'm calling it (drumroll please)… the "3Squared Challenge"! What I'm going to do is take three tops, three bottoms, and three pairs of shoes that all work well together and can be paired interchangeably in outfits. Then from these 9 items, I'm making all of the possible combinations for a total of 27 outfits!
This challenge is meant to help discover new ways to wear old things, and also test the versatility and cohesiveness of my wardrobe. The point isn't to then go and wear every outfit for 27 days in a row, although I guess you could (wearing only 3 tops for an entire month might drive you crazy); but more to just get an idea of what outfits are possible in your wardrobe and what happens when you mix different pieces together. Personally, I am tracking my outfits in my Stylebook app so that I can come back to them later when I need a bit of inspiration for getting dressed in the morning.
This is something I'm thinking I could do seasonally or maybe even monthly to help me keep my closet feeling fresh and interesting while I'm not shopping for new pieces. As it's July and this week is going to hit 30 degrees, I've chosen to start with some very summery pieces for my first round of the challenge. Here are the 9 pieces I've selected from my closet: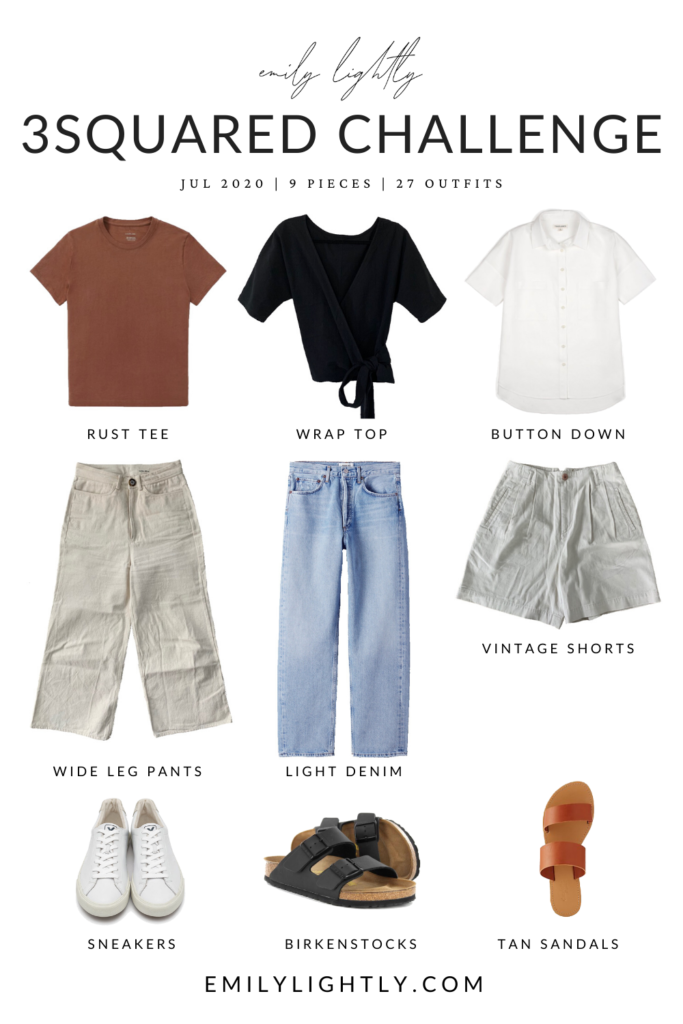 Here are links to the items I've included, or something similar if possible. Some of these links are affiliate links, which means I make a small commission from purchases made through these links (at no extra cost to you). You can learn more about this in my disclaimer. Thanks for your support!
I still haven't worked out how including a one-piece item (like a dress or jumpsuit) might work in this scenario. So for now, I'm sticking to my trusty basic uniform of a top and bottoms. I love how every piece in this collection works together, so that I could just randomly pick one from each category and end up with an outfit I'd like to wear!
Here are the 27 outfit combinations I was able to create with these 9 items: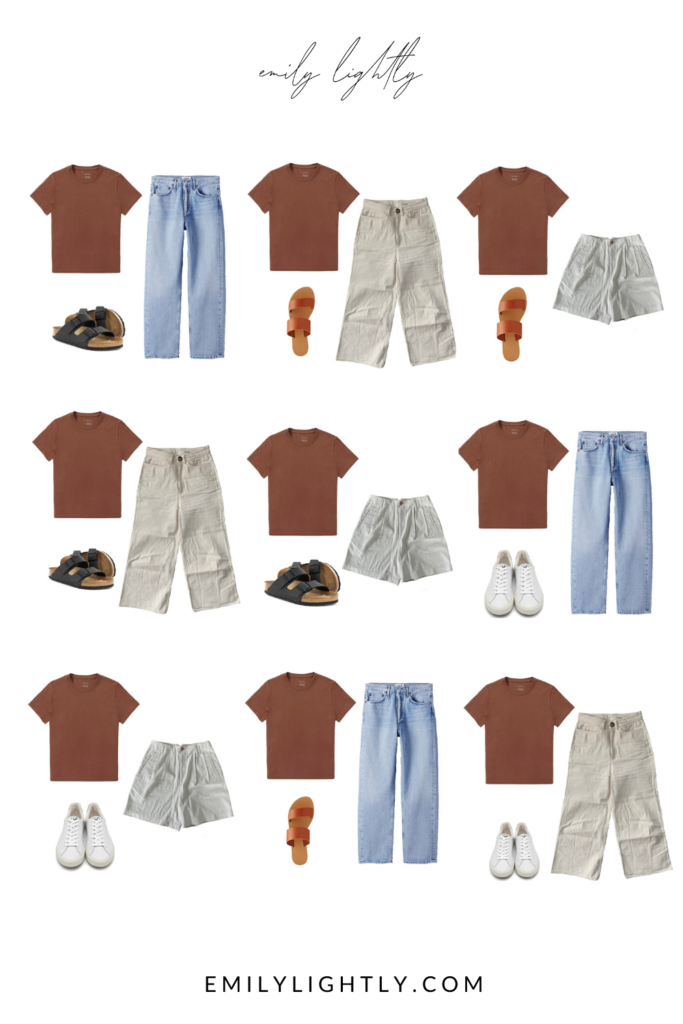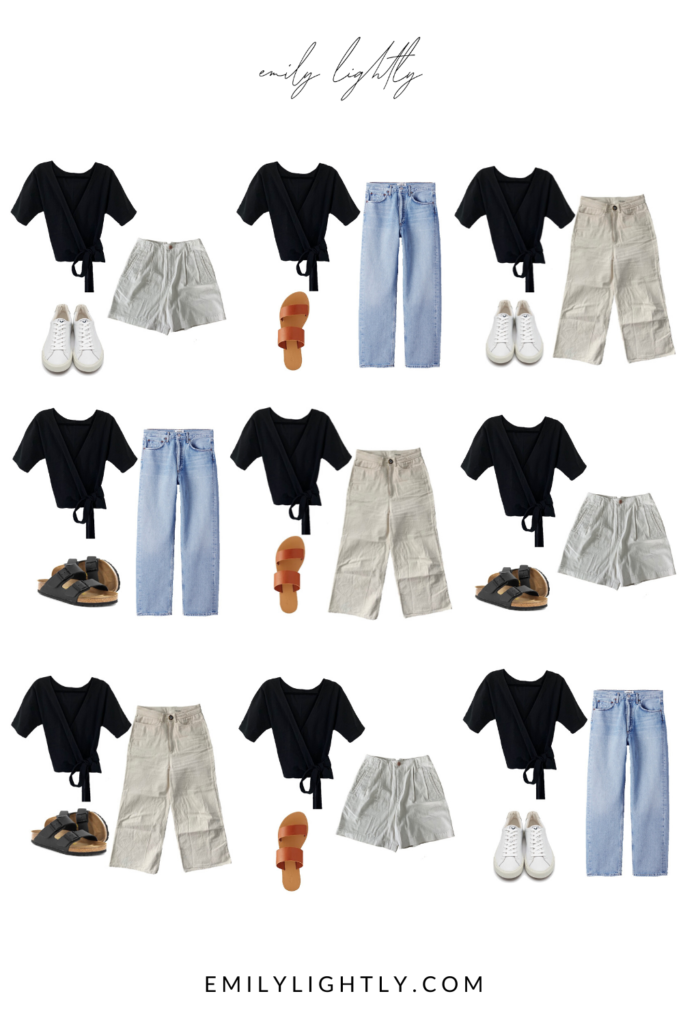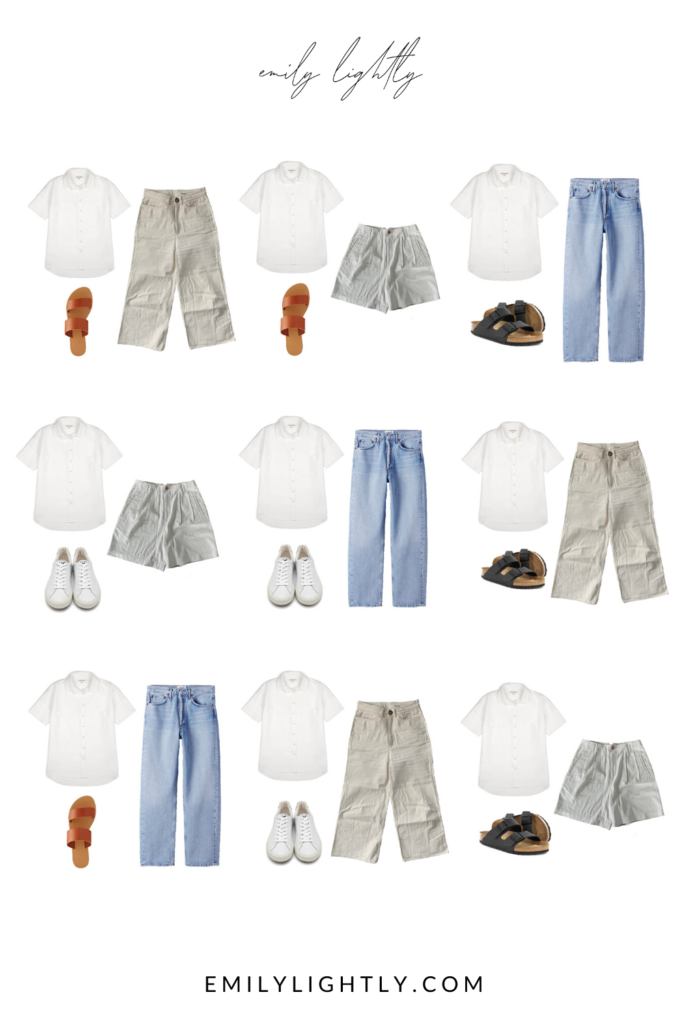 I should note as well that each of these outfits can stand alone or serve as as a base that you can layer some more pieces or accessories with. For example, you can add a jacket, bag, sunglasses, scarf, hat, jewelry; whatever you like! This challenge is definitely not meant to constrain you in any way, but to help you explore your closet so you can get more out of what you already have.
I hope you enjoyed this post! Will you give the 3Squared Challenge a try with me? If you decide to join and want to share yours on Instagram, use the hashtag #3squaredchallenge so we can all connect!
Thanks for reading,

Pin for later