Hello and welcome back to the blog! In today's article I'm going to be sharing a review of the highly coveted Tradlands Finn Jumpsuit. I say highly coveted because I personally had been eyeing this piece for about a year. It first launched last year I believe while I was doing Slow Fashion Season and not buying any new items or accepting new PR products into my closet. I kept seeing it everywhere on Instagram, and it just seemed like such a good piece!
So when Tradlands reached out earlier this year to partner on their spring collection, I couldn't resist but go for the Finn. I chose the colour Sand which was one of their newer options for the season. I've been wearing it and test driving it for the last couple of months, and finally have gathered my thoughts to share a full, in-depth review with you, as well as give you some ideas on how to style this piece or something similar in your wardrobe.
Just a couple quick things to note before we get started. Full disclosure, the Finn Jumpsuit was sent to me as a PR product as part of Tradlands' spring 2020 launch. Also, I am a Tradlands partner and this article contains affiliate links. This means that any purchases made through these links give me a small commission (at no extra cost to you). This helps support my blog and content creation, so thank you for your support! Okay, now let's get into the review.
Size & Fit
They have quite a good range of size options for this piece from XXS-2XL. I went for a size M, which going by their size chart is meant for a US dress size 8-10. I'm normally a US size 6-8, and jumpsuits are a little tricky for me to fit because I'm tall (5'9″) and have a long torso. Generally I find the Tradlands size S works well for me in terms of their shirts as they are often oversized, but I didn't want to risk it with this one, so I opted for the larger size.
When it first arrived, the M was definitely too big for me, unfortunately. However, I still wouldn't have wanted to size down because I'm definitely more of a 6-8 and not a 4-6. It looked comically large on me especially around the hips, and so I decided to put it through the washer and dryer and try to shrink it a little. It worked and actually now fits quite well – still roomy, but not too much – although I feel like the legs are a little shorter, which is fine.
Overall I like the shape of the jumpsuit. It's definitely a roomy fit, especially in the legs and hips which is actually where I need it the most based on my personal body proportions. This makes it really comfortable to wear and gives it a relaxed vibe which I love.
Quality
True to Tradlands form, I'd say the quality is pretty high – I'd give it a 4/5. The material is very lightweight, more so than I expected for a utility jumpsuit. It's a blend of 70% tencel and 30% linen. It had some loose threads when it arrived, but that's always to be expected. It washed well and has a little bit of a crinkle to it after washing it, but I feel like it doesn't wrinkle too easily while wearing it.
Style
I can definitely see this jumpsuit as a versatile piece that would work for many occasions. It's an easy one to just pull on and wear on its own with a pair of sandals or sneakers, but it can also be dressed up with heels and a clutch, especially when you add in the waist tie.
I do wish the material was a little bit sturdier for a utility-style jumpsuit like this. However, the lightness makes it cool for the summer and then it's easy to layer with other pieces for the cooler months.
I also wish there were loops for the optional waist tie. I guess that might look funny when you wear it on its own, but it's a handy feature to have and since this is more of a utility style, I don't think they would look too out of place. It's just one of those little things that can make a big difference to the functionality of a piece.
Finally, the placement of the front pockets is a little odd to me. They look cute, but as someone who loves to have my hands in my pockets, they're not actually super functional. I feel like they would work better if they were placed along the side seams, but it would definitely change the look of the piece and might add too much bulk around the hips, I'm not too sure.
The sand colour is a great neutral and seems to work well with a lot of other colours in my wardrobe. It comes in black as well which would have been my second choice, or if you're feeling more adventurous, they've also added it in a poppy red and surf blue for spring. I also really loved the lighter canvas colour, but it was from a previous collection and doesn't seem to be available anymore.
Styling Ideas
Here are some of the ways I thought of styling the Finn Jumpsuit.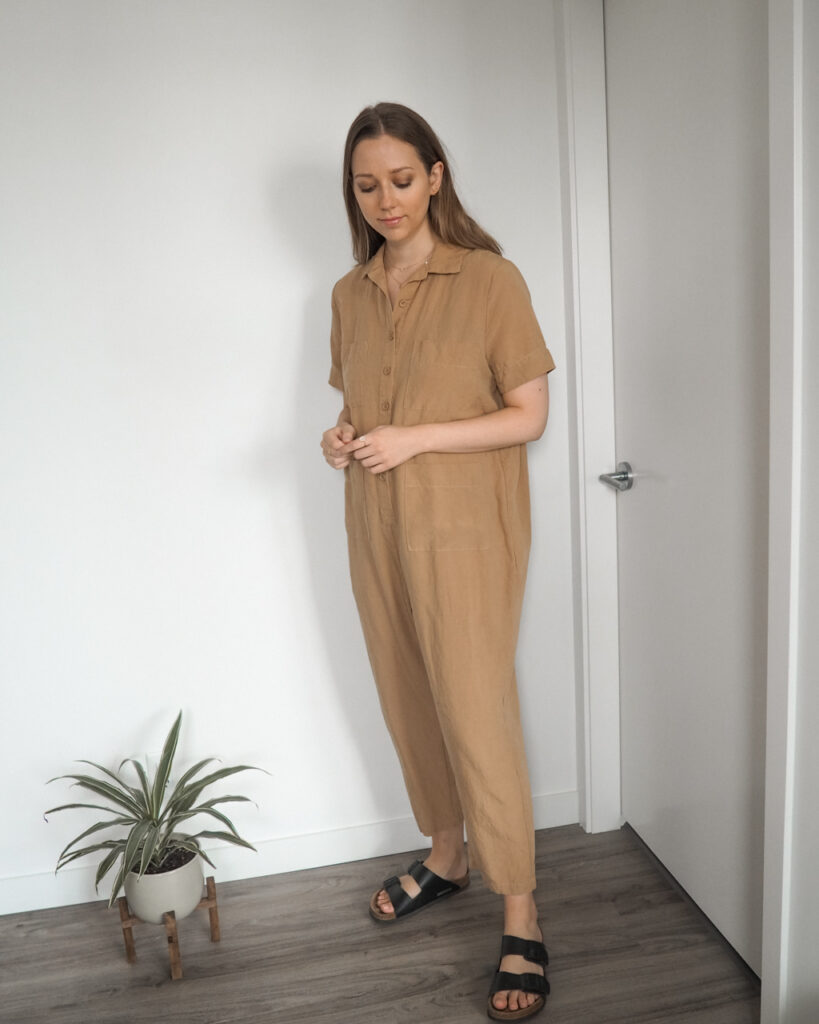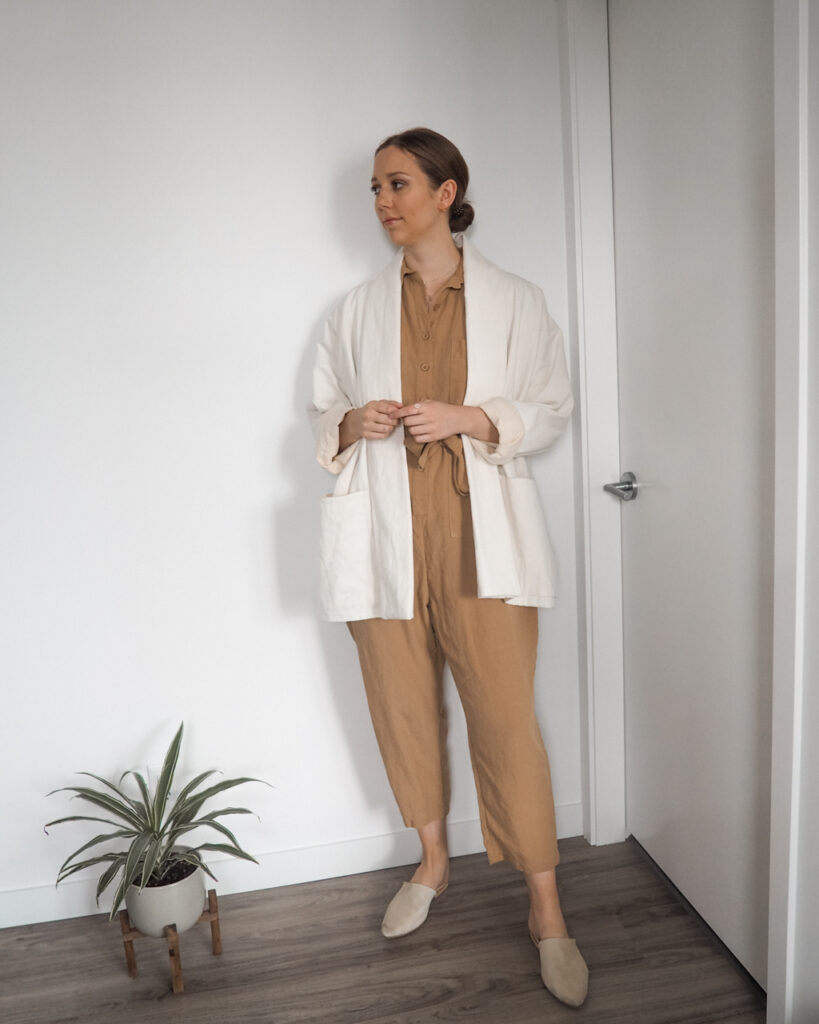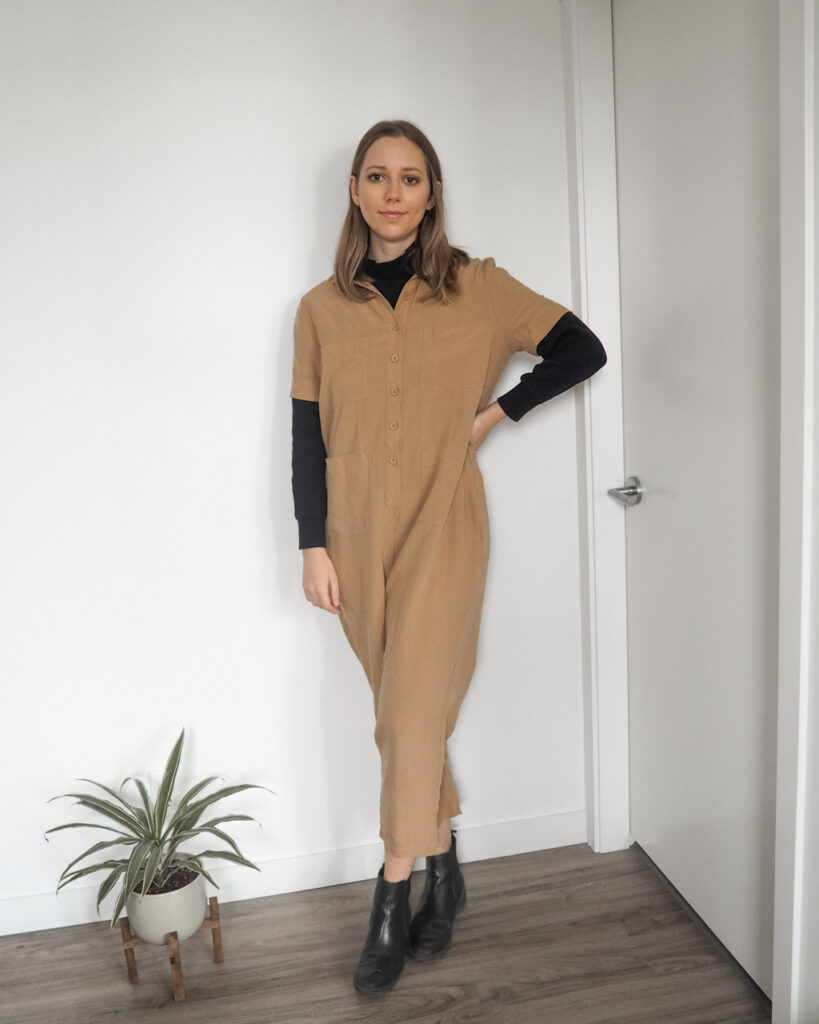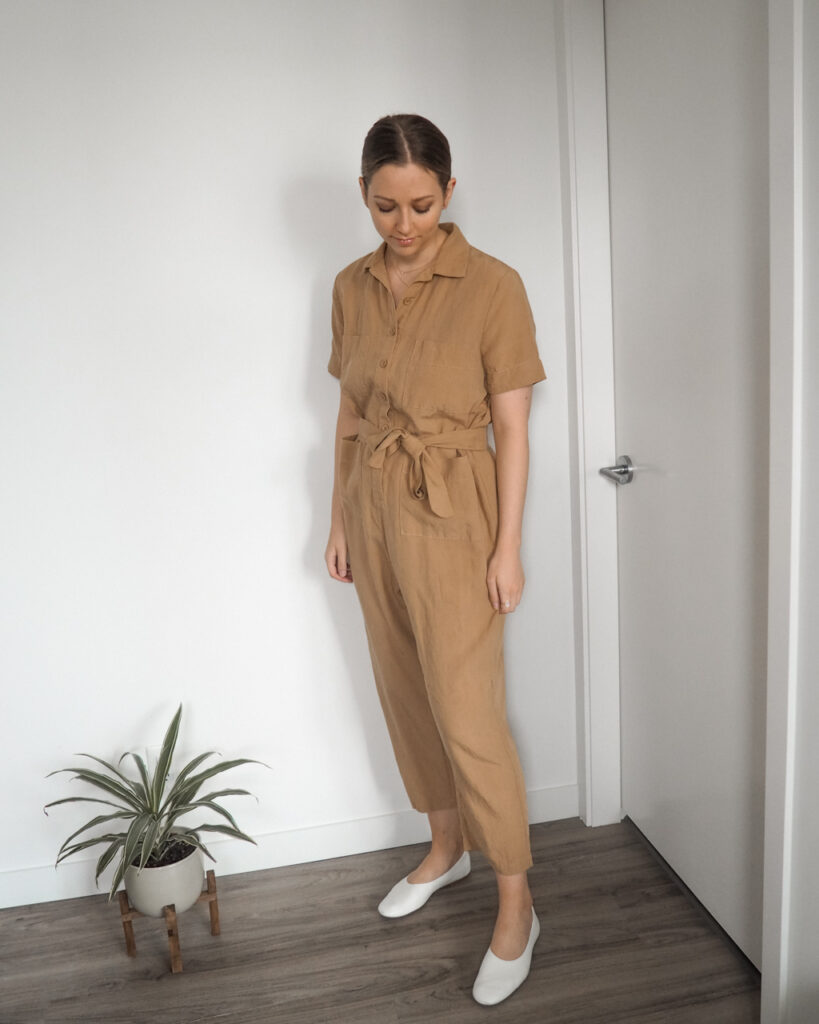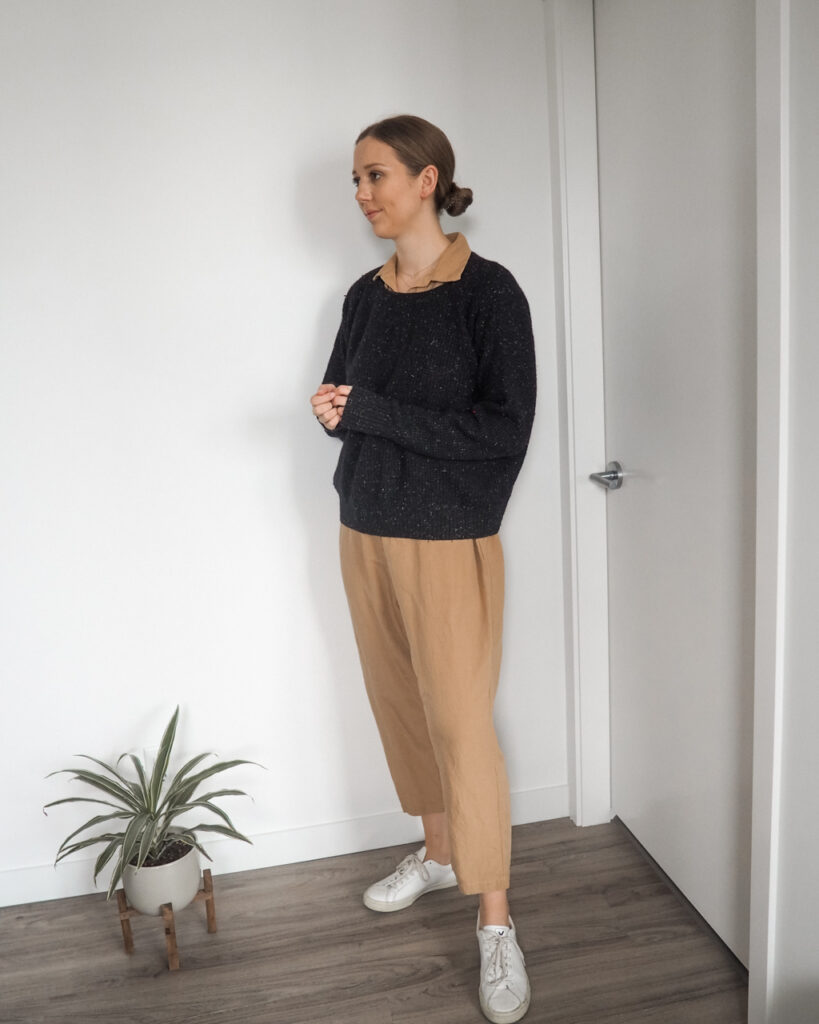 Final Thoughts
Overall, I'd say the Finn is a good basic piece for any wardrobe. It works well on its own, and integrates pretty seamlessly with other pieces in my wardrobe.
Price-wise, this is definitely an investment at $237 USD. Tradlands does sometimes offer sales, or you could try to keep an eye out for a secondhand one somewhere like Poshmark or Depop to make it more affordable.
As for the brand, I really love Tradlands for their sustainability and focus on quality staples that last a lifetime in your wardrobe. For this reason, I'm always happy to support them and share them with you!
Shop the Tradlands Finn Jumpsuit
If you found this review helpful at all and you're interested in adding this piece to your wardrobe, you can shop the jumpsuit with my affiliate link below. Again, thank you so much for your support!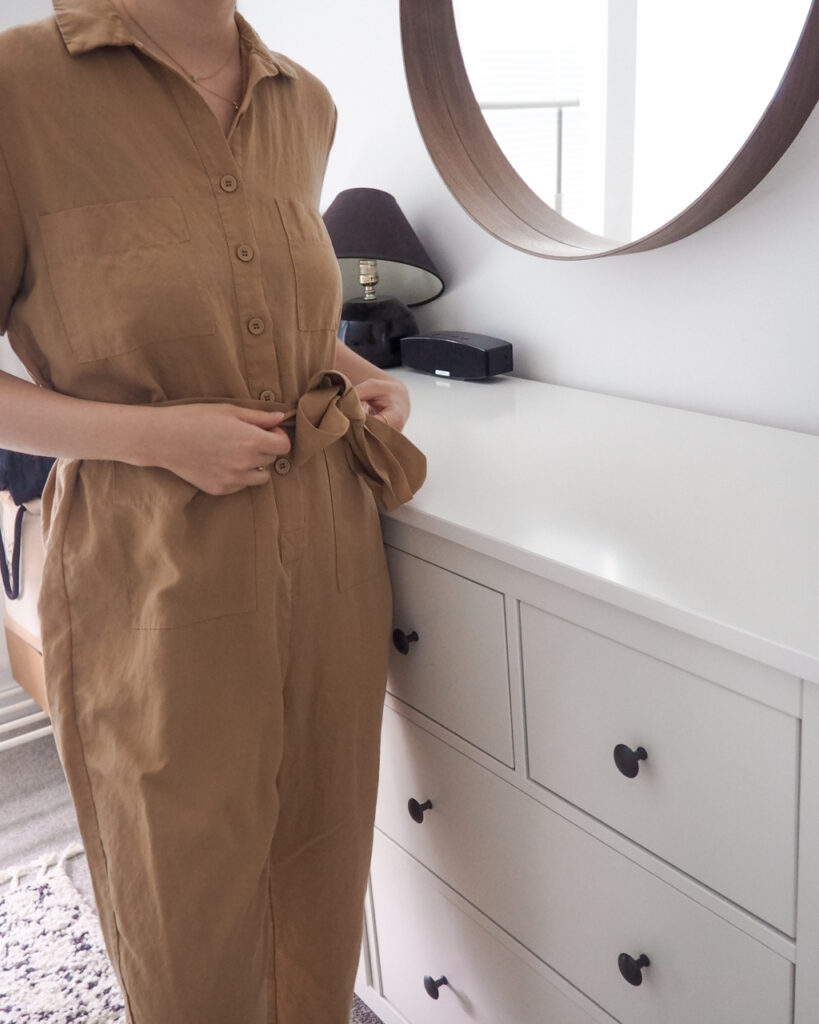 If you have any other questions about the Finn Jumpsuit, drop them in the comments below and I'll do my best to answer them for you.
Thanks for reading,

Pin for later