Hello and welcome to a brand new spring pattern review! I haven't done one of these in a while, but it's something I'd like to start doing more regularly with more of my makes. It's a great way to share a more in-depth look at my projects (as opposed to just Instagram) and I also like it as a way to track what I make for myself.
Today I'll be sharing what I thought of the Zero Waste Gather Dress pattern by Birgitta Helmersson. I finished this one a couple of days ago, and while I love the result, I'm not sure it's a pattern I'd make again anytime soon! Let's go ahead and get into the review.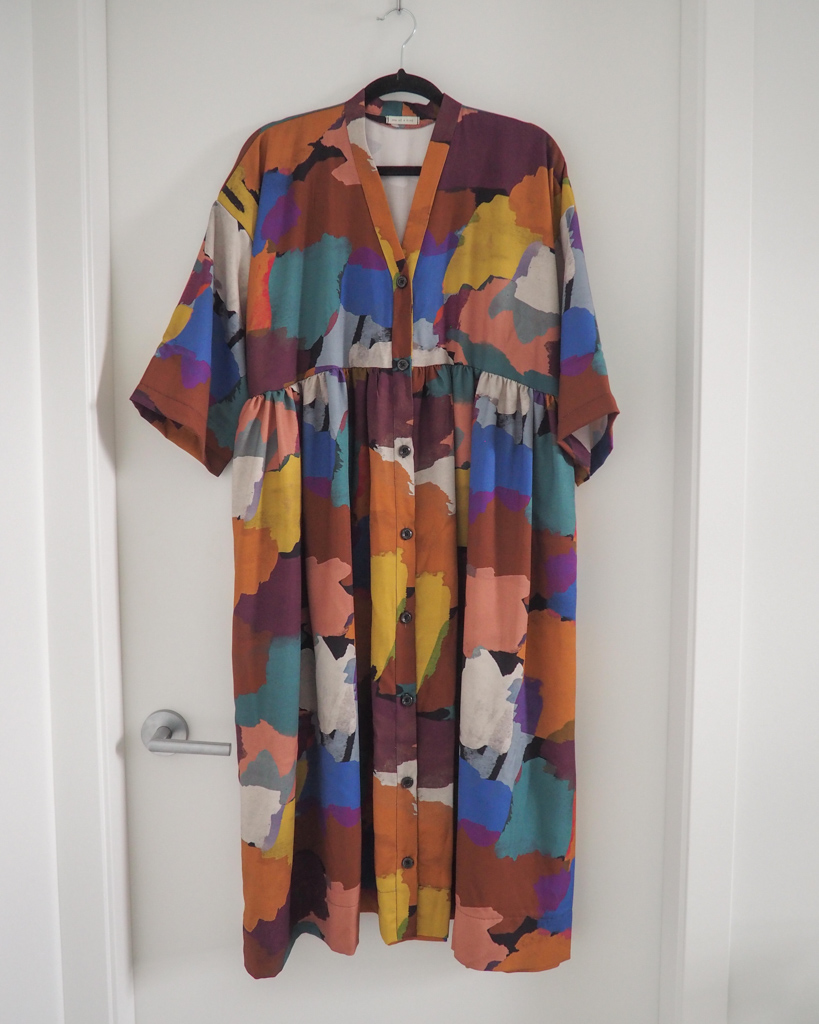 The Pattern
The Zero Waste Gather Dress is available as a PDF pattern from Birgitta Helmersson's website. It comes in two sizes: size one (fits US 4-12) and size two (US 14-22). The pattern is completely zero-waste, which means it uses every inch of just under 3m of 57″ wide fabric. It comes with no pattern pieces and instead includes instructions for how to draw out the pattern lines directly on the fabric. Also, the pattern includes instructions for a few hacks to change the sleeves of the dress, button band, and pockets, so you can personalize the style a little more.
The Fabric
I had purchased 3m of this limited-edition, exclusive print ecovero twill from Blackbird Fabrics with the intention of turning it into a dress. So when I came across the ZW Gather Dress, I thought it was the perfect pattern so that I wouldn't waste any of this really special fabric! Unfortunately, the fabric is no longer available and I'm unsure of whether or not they'll be restocking it.
The pattern was designed in-house printed on ecovero viscose which according to Blackbird's website is "derived from certified renewable wood sources and is manufactured using eco-responsible production processes that meet high environmental standards." The fabric has a beautiful weight and very fluid drape to it – it's gorgeous, but practically speaking I found it quite slippery and a little difficult to work with. It frayed a lot while I was working with it and my machine also seemed to have a bit of trouble with it. I was using a cotton thread instead of polyester, though, which I find sometimes catches on fabric and doesn't seem to work as seamlessly, so that definitely could have contributed to the issue.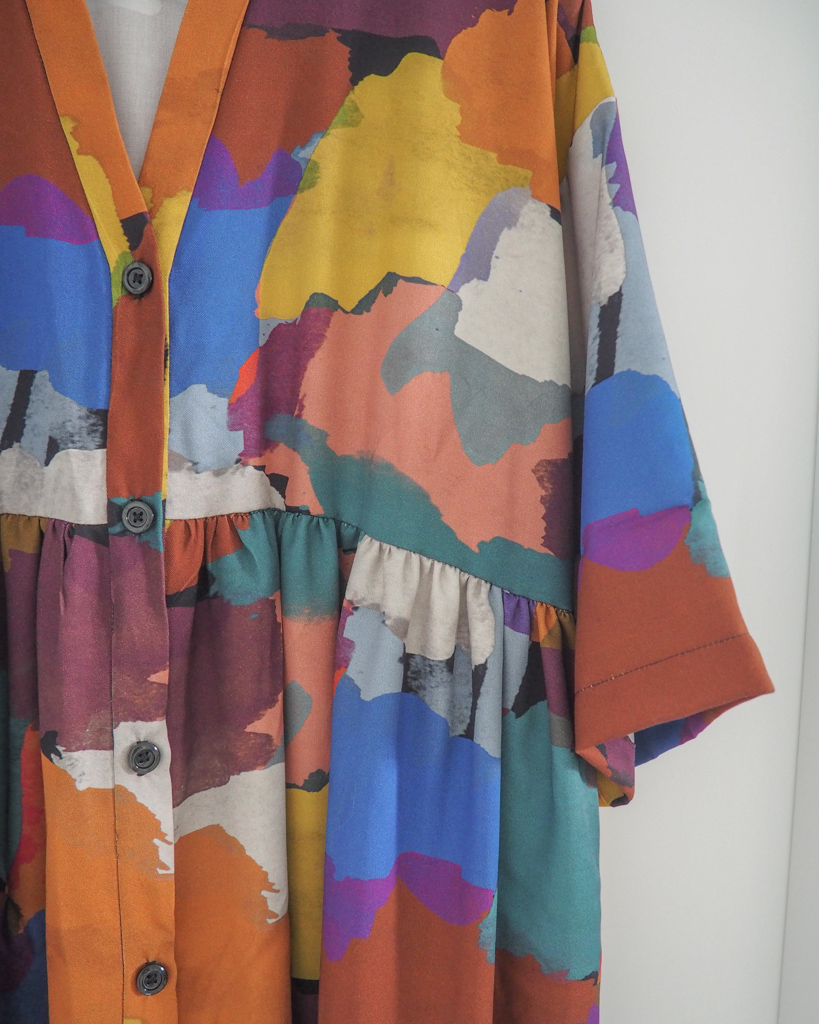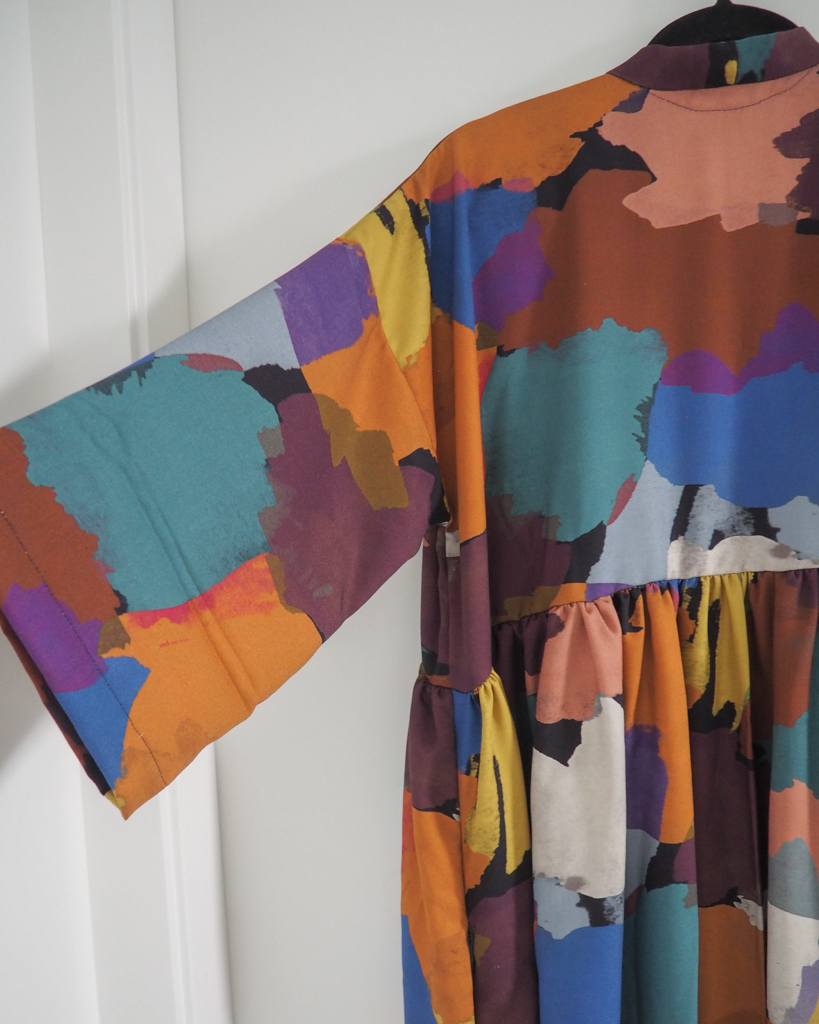 The Process & Adjustments Made
I struggled a little bit with making this pattern. I think it was a combination of the instructions and the fabric I chose. Like I mentioned, I found the fabric a little hard to work with. Especially for this pattern, because there is so much fabric to work with, it was quite cumbersome. It was really hard to cut it out properly and make sure the lines were all straight – I definitely didn't get the measurements perfect, but it still worked out in the end.
Regarding the instructions, I'll admit I tossed them out pretty early on (whoops!) and constructed the pieces in my own way. For the sleeves, I followed Sewing Therapy's tutorial on YouTube to attach them instead of the original instructions. The sleeves are stitched at a right angle to the top which caused a little bit of gathering in the underarm on my dress, but you can't tell when wearing it.
Other adjustments I made include:
Pockets: I cut the pocket pieces in half and used the inseam pockets method from FabricsStore.com to attach them
Button band: I first stitched the band to the garment right sides together, then flipped it inside and "stitched in the ditch" so that the stitching line would be somewhat hidden from the right side
Buttons: Used 8 buttons instead of 9 and spaced them accordingly, as I had thrifted a set and it only came with that many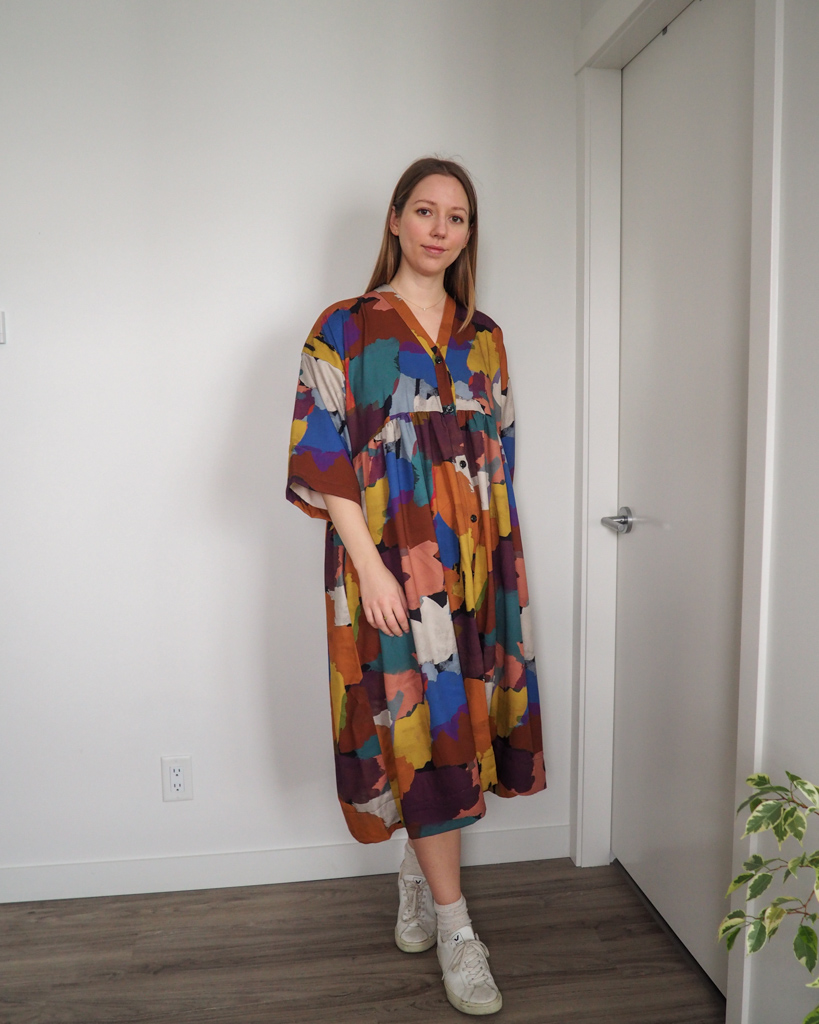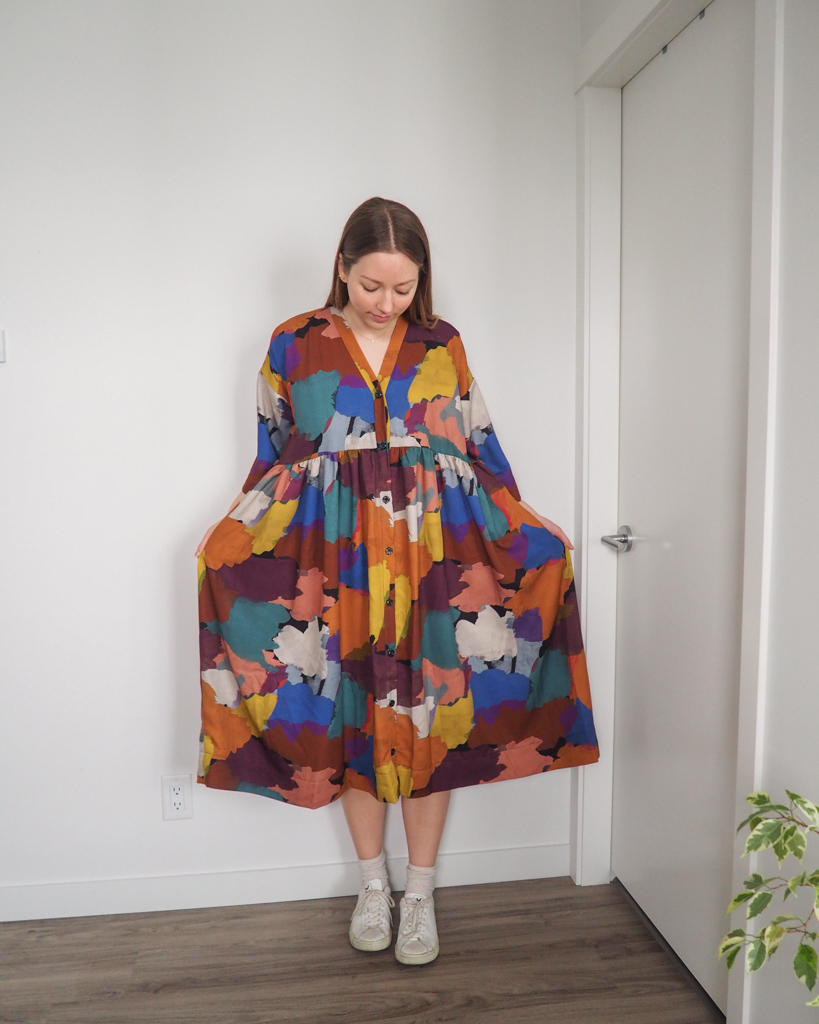 Final Thoughts
Overall, I really like how the style of the dress turned out. I love how it's really comfortable and floaty, and I think it would work really well in a lightweight linen. I love the version on Birgitta Helmersson's website in a very simple black linen. I will say this is a very colourful addition to my wardrobe – it's definitely the most colourful piece I own! I styled it here with some simple sneakers and thrifted socks, but I think it would look great with some summer sandals or a low heel for something more elevated. I could see myself wearing this on a spring picnic date or to an art gallery. I'm also quite happy with the fact that I can probably spill whatever food on this and no one will be able to tell 🙂
I also love the fact that this project is completely zero waste. It's always a pet peeve of mine to throw out pieces of fabric, however small. I've been keeping a bag of small scraps in my sewing stash for a long time just because I can't bring myself to throw them out! So I really like that everything gets put to good use for this pattern.
However, like I mentioned before I don't think this is a project I'll be replicating soon! It was a lot of work – overall I probably spent over ten hours on this project, whereas I feel like my typical average for a dress project is between 6-8. I also feel like I need to stick to projects that don't have any gathering for a while – I feel like I've done so much of that lately, and it's one of my least favourite tasks (though I love the end result!) So I will file this one under my completed projects and leave it there for at least the foreseeable future.
I hope you enjoyed this review and found it useful for your own makes! Have you made this pattern before? If so, I'd love to hear your thoughts on it in the comments below! And if not, is it something you'd be interested to try yourself?
If you'd like to see more sewing content from me, please let me know in the comments below. You can also follow me on Instagram where I share all of my makes, as well as on my YouTube channel where I've started creating more sewing content as well.
As always, thank you for reading!