It's finally getting to that time of year again where we can open the windows, let in the fresh air, and enjoy the sun. It's also the time of year to give the house a good old-fashioned spring clean.
When it comes to our personal household cleaning we've made a lot of changes to our habits and routines, especially when it comes to the products we buy and use. So in today's article, I thought I'd share how to do a deep clean of your home the eco-friendly way.
I've already done a detailed post on my sustainable laundry routine, so if you're interested in that you can have a read. Today I'll be focusing more on cleaning necessities around the home. To get us started, here's a list of the general cleaning supplies we keep on hand:
Re-usable cleaning rags
Spray bottles with cleaners: all-purpose, glass, floor, and bathroom/tile
Swiffer mop and re-usable microfibre cloths
Broom
Vaccuum
I thought that list would be at least a bit longer, but turns out that's it! We have a small apartment, so our cleaning routine is pretty simple and minimal. But it's really all we need to get the job done, and the best part is that the only thing we need to buy regularly is refills of cleaning solutions for our spray bottles. First let's talk about a few things that we need to consider when it comes to household cleaning products.
What to Consider
These days, it's just not enough to go down the cleaning aisle at the grocery store and pick out the formula with the greenest label. We need to be conscious of the packaging that it comes in as well. If it comes in a plastic spray or pump bottle and it's not being re-used, then it's heading to a recycling centre and more often than not ends up in a landfill.
It's also important to know what ingredients (and potentially harmful or toxic substances) are in the cleaning products we buy. Not only can this be harmful for ourselves to use, but also think about how they get washed down the sink or the drain and go back into the system as well. Moving towards more natural-based products helps keep your home clean, in more ways than one.
Many cleaning products are tested on animals to determine whether they're safe for humans, so cruelty-free products are important to look for. Products not tested on animals will usually be Leaping Bunny Certified and have the badge on the label.
Finally, water usage is also an issue in home cleaning products. Most pre-made products that are sold are made up of mainly water, so really all you're buying is a plastic bottle of water with a small amount of cleaning agent. Water is a precious resource and we need to be careful of how we're consuming it.
Zero-Waste Home Cleaning
There are two easy ways to skip the packaging and keep your household cleaning products zero-waste. The first is to head to a local refill store if there is one near you (this is how we've been doing it). We clean our old, empty bottles and bring them into the store with us, where we can refill them and then pay for them by weight. A lot of the products offered at our local store are also all-natural and eco-friendly formulas which is a nice bonus. The prices tend to be at par or if anything a little bit cheaper than buying brand name products at the grocery store, so it's a really affordable and economical way to shop. If you have a refill or zero waste store near you, I highly recommend checking it out!
The other method to keep things zero waste is to create your own DIY cleaning solutions. This is something that I've yet to delve into, but I've seen a lot of inspiration on Pinterest – for example, how to make a wood cleaner using old orange peels. Someone I love to follow for DIY cleaning recipes is Kristy who authors a blog called Life n' Reflection (if you use Pinterest regularly, I'm sure you've seen her content). She has a great library of all different kinds of cleaners that you can make at home, re-using bottles and jars that you already have. Another good blog to have a look at is Hello Glow. Finally, I've saved quite a few ideas to my own DIY board on Pinterest if you'd like to have a browse there.
Sustainable Household Cleaning Brands
If you don't live near a refill store and aren't as much into the DIY side of things, then the next best option is to buy your products from a sustainable household cleaning brand. Luckily, there's a growing number of eco-friendly cleaning products popping up, so I've compiled a small list of the ones I've come across here.
The Bare Home
The Bare Home is a Canadian shop that offers re-fillable products that are effective and clean for the environment (i.e. biodegradable, phosphate free, and dye free). How it works is you buy a three litre box of cleaner and use it to refill your bottles at home, which replaces six bottles going to a landfill. Their formulas are never tested on animals and are all scented using just essential oils. They offer a full range of household products including hand and dish soaps and all-purpose cleaners.
Kinfill
Kinfill is based in the UK and sells concentrated cleaners which are meant to be diluted and blended at home, which ends up saving a good amount of waste. They have a beautifully minimal aesthetic to their brand, and their bottles are made with glass so they can easily be cleaned and re-used for life. They also have a beautiful selection of scents which I'd love to try and smell for myself one day!
PUR Home
PUR Home is changing the cleaning industry through the use of natural, biodegradable, plant-based and cruelty free household cleaners and laundry detergent. Their core values surround people, the environment, community, and sustainability. They also work to support global efforts and awareness around access to clean water, fair trade, and ethical treatment of workers both in the US and abroad.
Grove Collaborative
Grove Collaborative (affiliate link) is a certified B corporation and 'plastic neutral' retailer of home cleaning products, which means they use mainly post-consumer materials for packaging and carbon offset every shipment they send. They only supply products that are effective, non-toxic, and sustainable. They also work with a charity in the US to plant trees with the goal of planting one million trees over the next three years.
Veles
Veles is an interesting brand. They only make one product which is an all-purpose cleaner, and its ingredients are derived from food waste. Their product is fully lab-tested so you can be confident that it's effective. By using food waste as a resource, they reduce greenhouse gases while also reducing the over-consumption of natural resources like water, which is used heavily in the creation of cleaning products. Their cleaner comes in a refillable aluminum bottle, and refills are sold in an amber glass bottle.
Cleancult
Cleancult has built a better cleaning model by focusing on ease of use, sustainability, and cost-effectiveness. They use natural ingredients, paper-based packaging, and re-usable glass bottles. Product refills come in paper-based milk cartons which can be recycled (and if they can't in your local area, they have a take-back program as well).
Filo
Filo produces and sells their products without using water or plastic, the two main ingredients of contemporary cleaners. They do this by condensing their cleaning product down into a tablet which can then be dissolved in a re-usable container with tap water and used as a spray cleaner. The tablets are really affordable and there is a range of different cleaners including hand soap, stainless steel cleaner, and more.
Unscented Co.
The Unscented Company makes products that are – you guessed it – unscented. But they're also biodegradable, eco-responsible, and never tested on animals. They are a certified B corporation and all of their products are made in Canada. We use their dishwasher tabs at home (purchased from our refill store with no box) for a totally zero-waste dishwasher routine. They offer a full range of products such as laundry detergent and body care, and also have refillable options for some products as well.
The Laundress
Last but not least, The Laundress is an eco-friendly laundry and home cleaning brand. Their focus is mainly on garment care, and they offer a wide selection of laundry-focused products to help maintain your clothing well and keep it looking newer longer. Their products are plant-derived, recyclable, and never tested on animals. They have an all-purpose cleaning concentrate which mixes with water at home for up to 32 uses.
I hope you enjoyed this article and that it gave you some new ideas and inspiration for how to clean your home the eco-friendly way. What are your tips for a more sustainable and zero-waste cleaning routine? Let me know in the comments below!
Thanks for reading,

Pin for later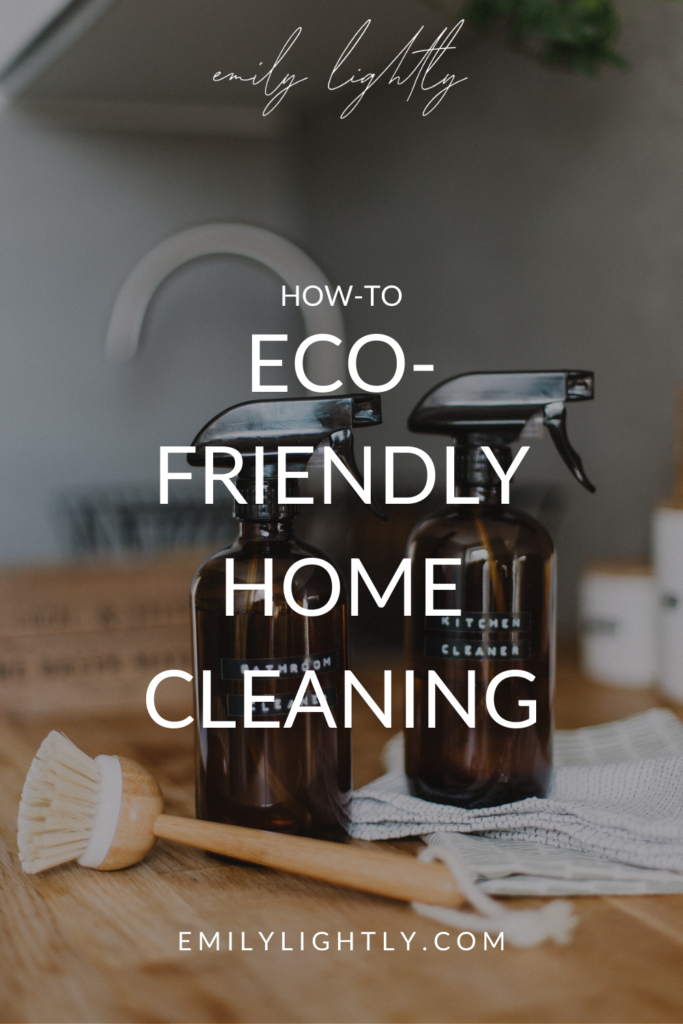 Featured photo by Daiga Ellaby on Unsplash