Instead of doing a full-blown capsule this season, I wanted to share what I consider to be essential pieces for my winter wardrobe. Of course, this could be its own stand-alone capsule wardrobe if you wanted. Personally, I'll mix in a few other pieces like some hand-knit sweaters and me-made trousers to really put my own spin on it. That said, these key pieces make up the basic foundation of my winter wardrobe and have really seen me through season after season. So if you're looking to build a minimalist wardrobe full of winter essentials, you've come to the right place!
My Top 5 Winter Essentials
To start things off, here is a list of my absolute top five essentials for winter:
Chelsea boots. The pair I have has lasted me for so many years now. They're the easiest slip-on cold weather shoe that goes with anything. These ones are no longer available, but I'd recommend looking for something with a good grip for slippery surfaces, like these.
A warm coat. I like to have a few winter coats on rotation, mainly because in winter sometimes it feels like the coat is the outfit. I like to rotate between a heavier-duty parka for utility and a wool coat for something a little more polished.
Cozy knitwear. Is it even winter without knitwear? I have a few options below from my own closet, and I also love this and this. Some really great ethical & sustainable knitwear companies I love are Babaa, L'envers, James Street Co., and Bare Knitwear if you're looking to invest in high-quality, lifelong pieces. Or, if you're like me and into DIY'ing, you can learn to make them yourself! I personally love patterns by Ozetta, Petite Knit, and My Favourite Things. The first sweater I knit was using this pattern, so I can definitely say that one is beginner friendly. You can find me on Ravelry here if you'd like to follow along with my projects.
Base layers. These come in so handy during the winter season. I like to wear them underneath all of my knits to keep them fresh and so that I don't need to wash them as often. They're also useful for wearing under wool sweaters to keep itching at bay.
Wooly accessories. It gets cold here, so layering with additional accessories is a must. My picks are a toque (beanie) and big scarf. They don't just look cute, but they really add that little bit extra to help you stay warm.
With that out of the way, let's take a look at my full wardrobe edit of basic winter essentials.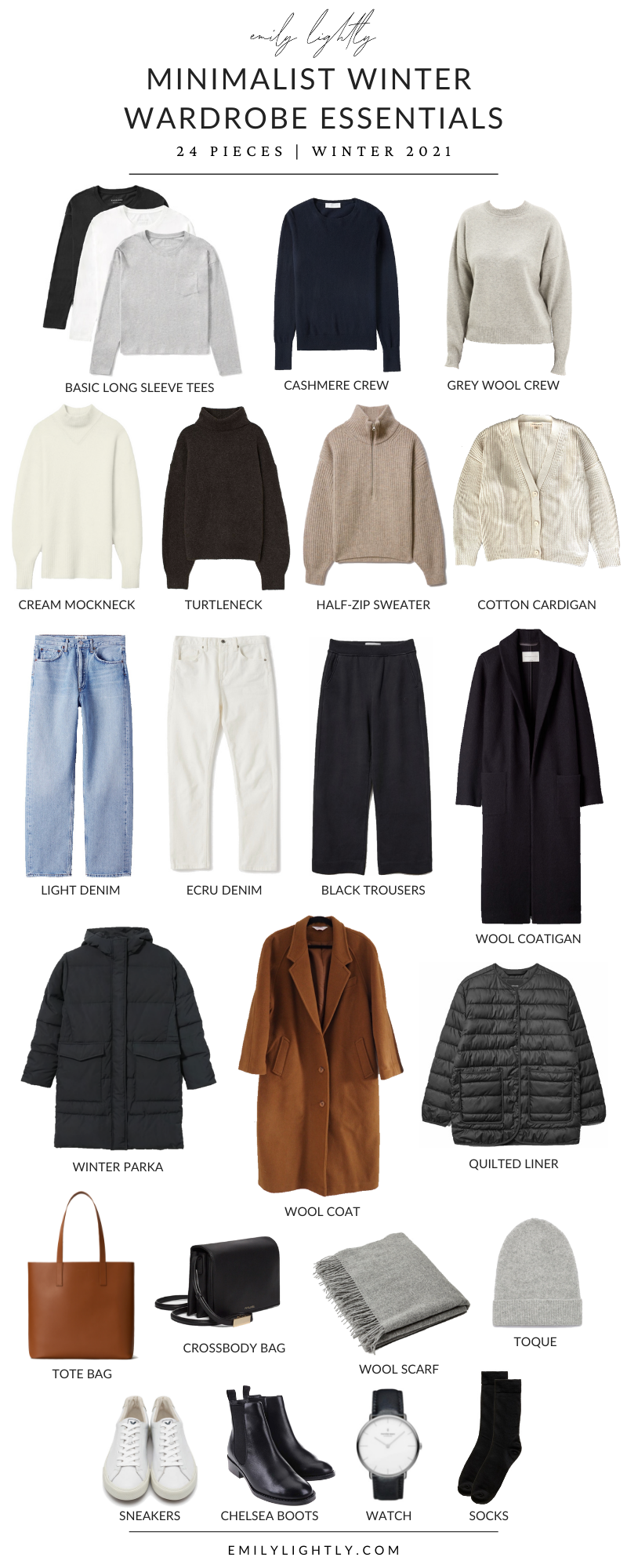 Item list
Note: This list contains affiliate links, which means I make a small commission from purchases made through these links. For more information about how I work with brands, please see my disclaimer. As always, thank you for your support!
Grey wool crew (old; linked to similar)
Turtleneck (old; linked to similar)
Ecru denim (thrifted; linked to similar)
Wool coatigan (old)
Wool coat (thrifted)
Crossbody bag (old)
Wool scarf (old)
Toque (old; linked to similar)
Outfit Inspiration
I love that all of these pieces are completely interchangeable with one another to create so many outfits. I'll choose a top and layer, bottoms, a jacket, and pair of shoes and it's good to go. Here are some outfits I saved using my Stylebook app for this wardrobe.
You can see more outfit inspiration for winter on my capsule inspiration Pinterest board here.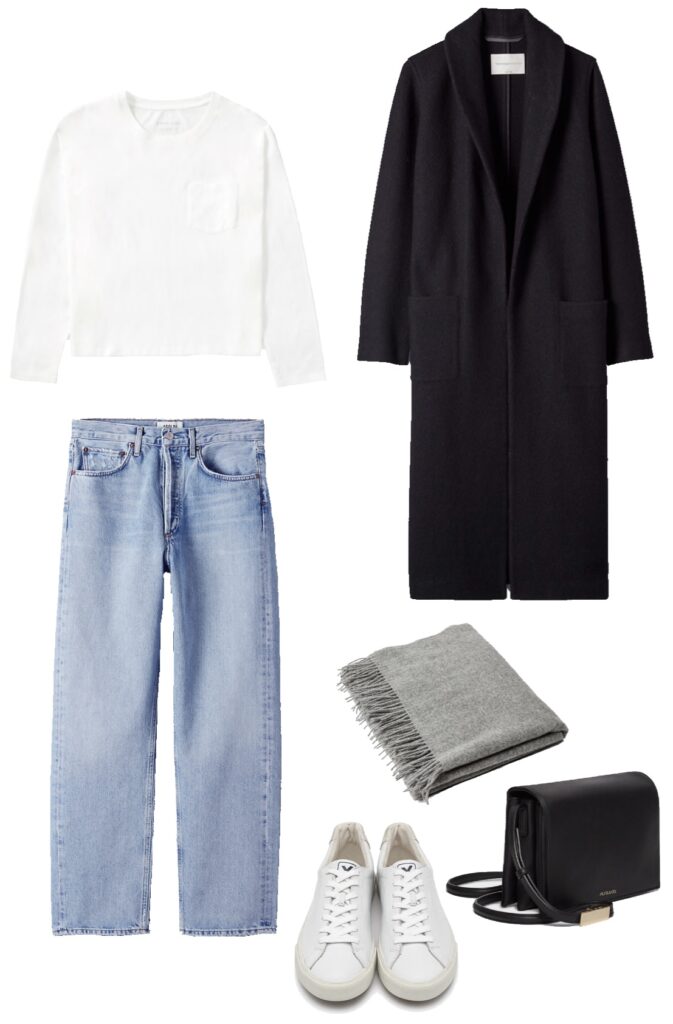 ---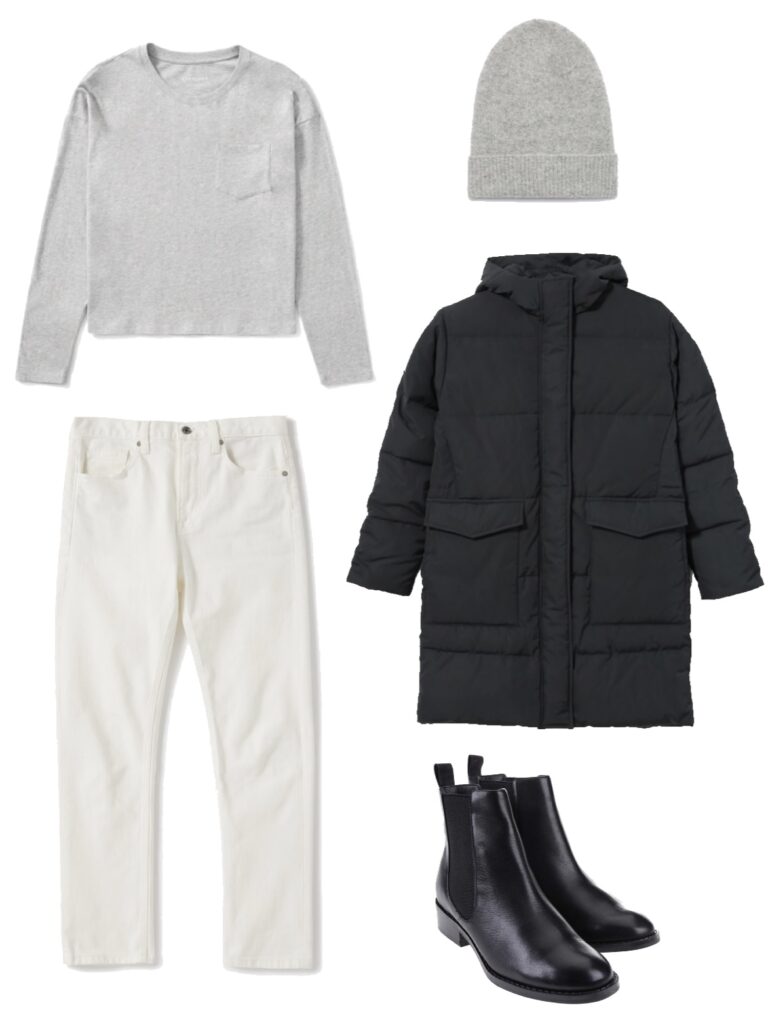 ---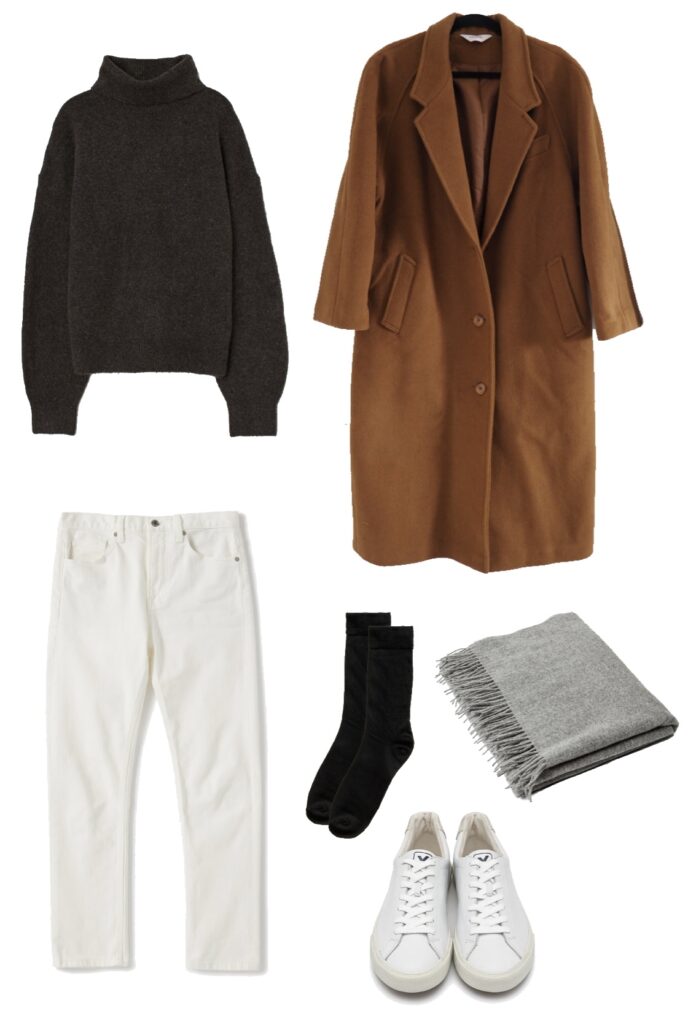 ---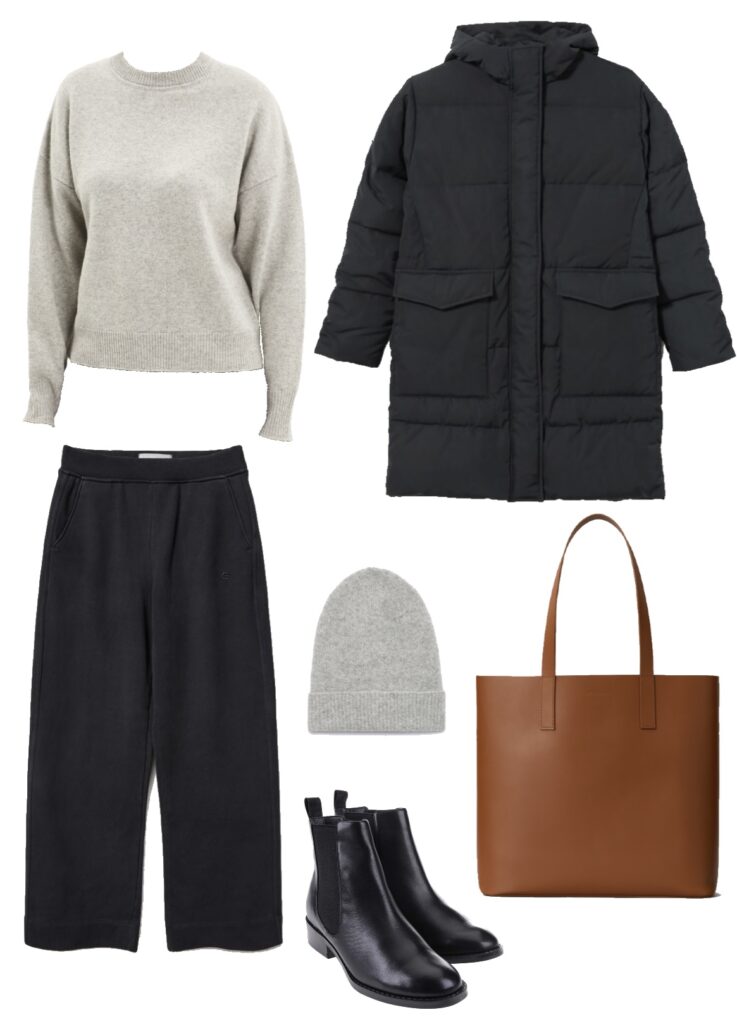 ---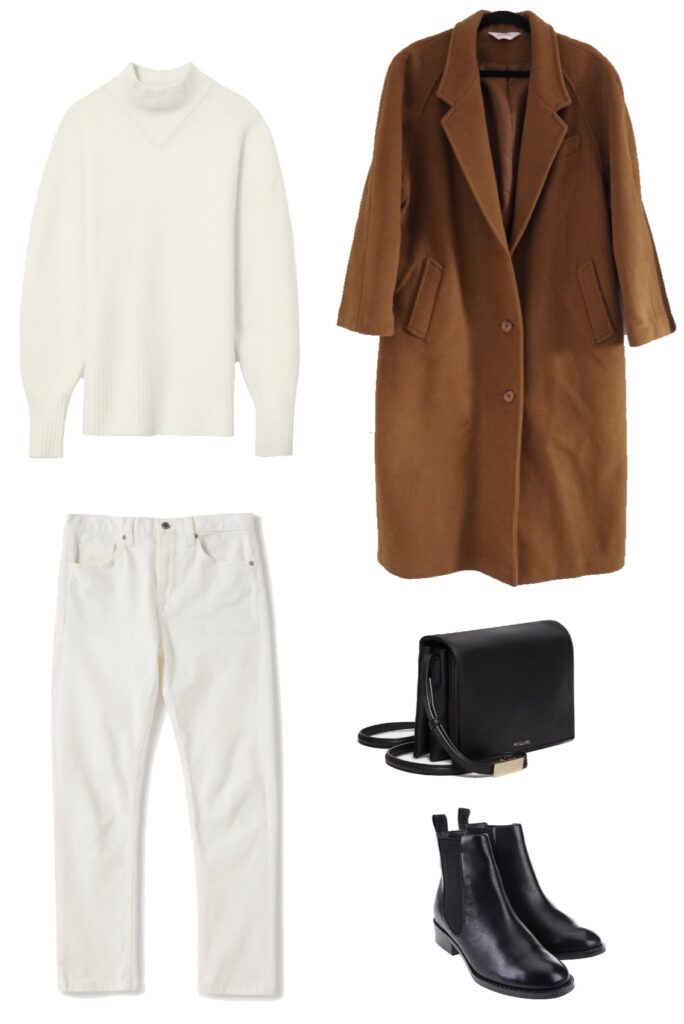 ---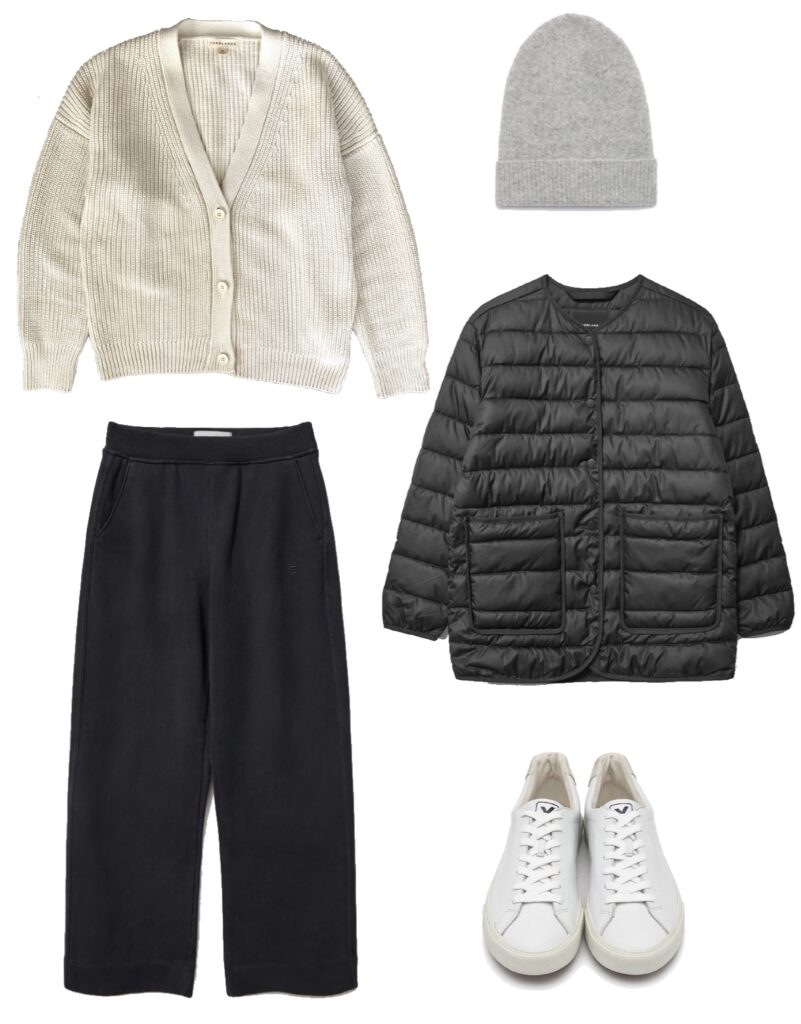 ---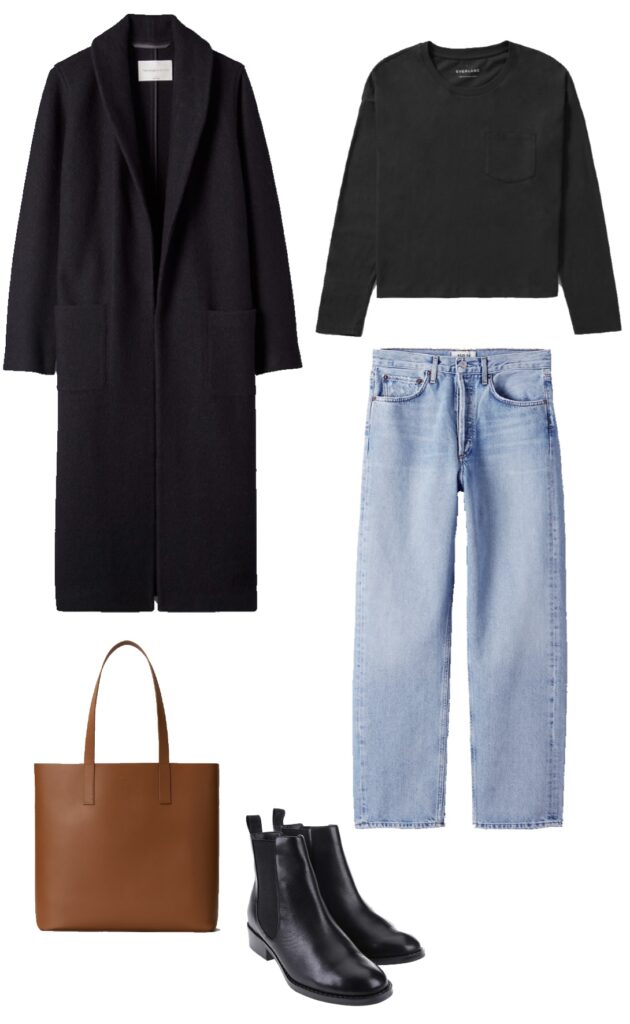 ---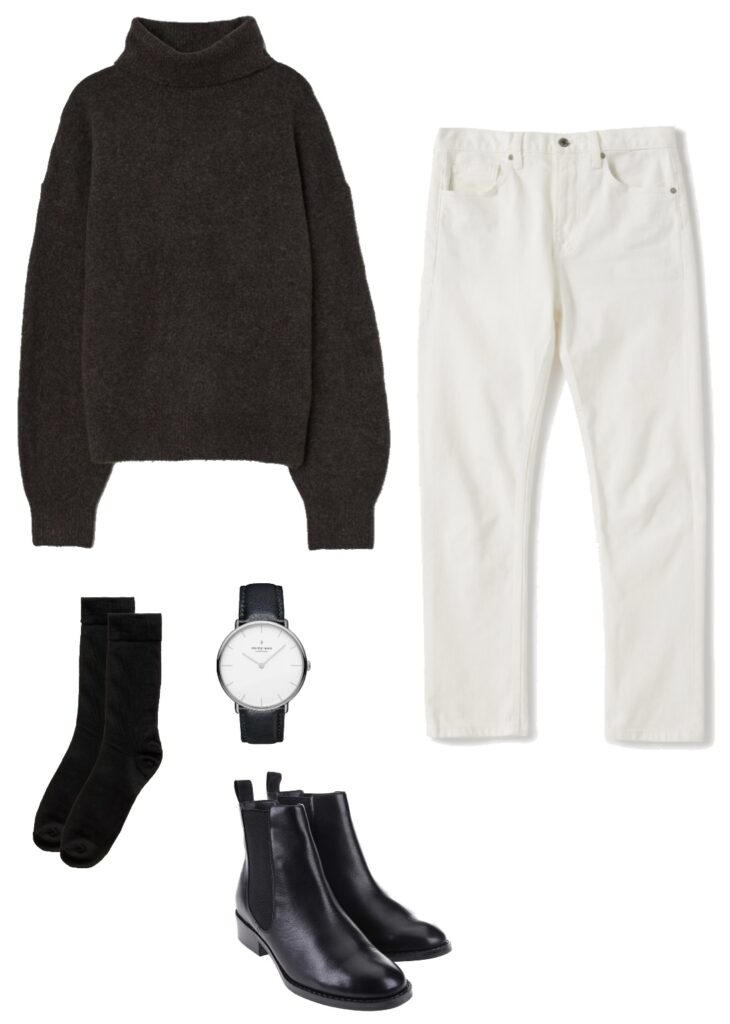 ---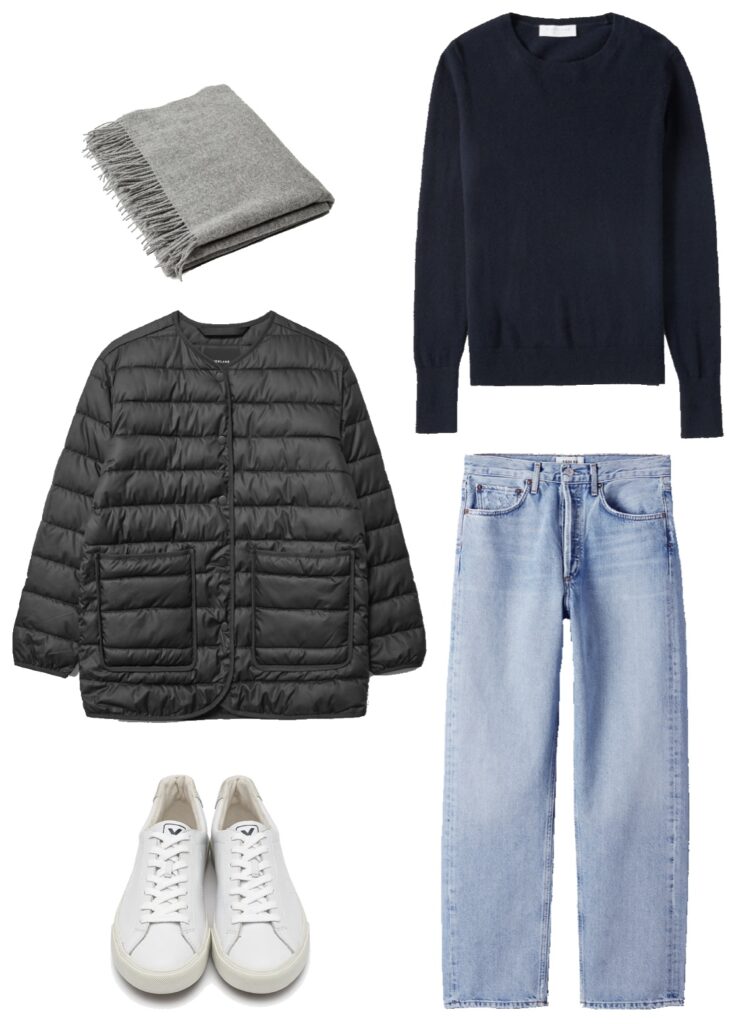 ---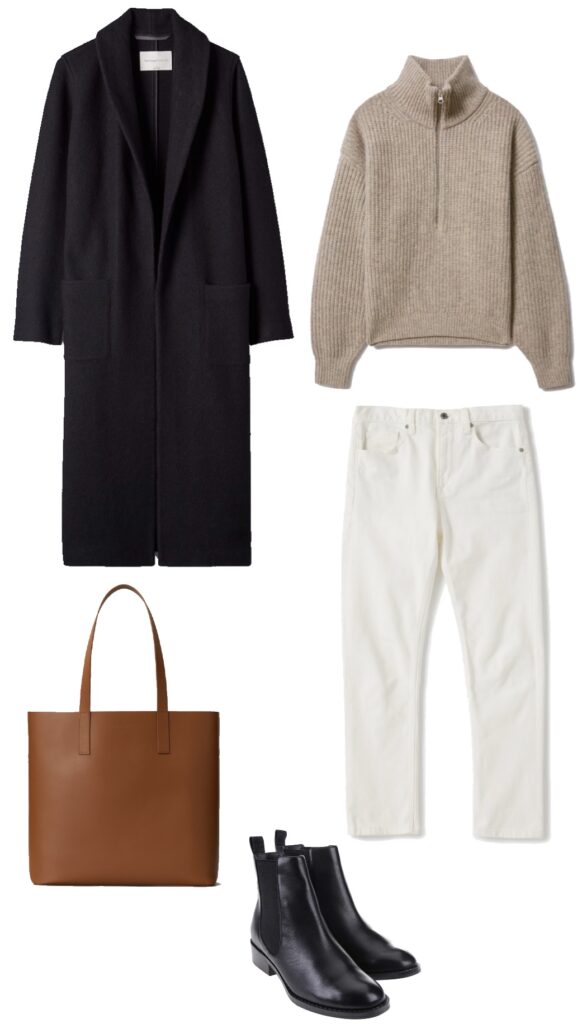 So that's it for my minimalist winter wardrobe essentials! These pieces truly encapsulate my winter wardrobe and are everything I need to make it through the season.
I hope you enjoyed this post! What pieces in your wardrobe do you consider essential for winter? Let me know in the comments below. And, don't forget to follow me on Instagram to see daily outfit posts for your winter wardrobe inspiration.
Until next time, thanks for reading!