Watch the Video
The Basics
Pattern: Heroine Jeans by Merchant & Mills
Size range: UK size 6 (W24″, H34″) to 18 (W35″, H44″)
Fabric: 12oz Japanese Deadstock Non-Stretch Popcorn Denim – Dark Indigo from Blackbird Fabrics
Difficulty: Experienced
Approximate time to make: 4-5 days
Sizing
My measurements (W30″, H40″) put me at a size UK 14 based on the size chart. However, based on some recommendations and reviews I read, I decided to size down to the UK 12 (I'm usually a UK 10-12 in RTW clothing). To double-check, I compared the finished garment measurements from a pair of jeans I own and based on those, they would fit me with a little bit of room. In the end, I actually found the fit of the 12 to be a bit too roomy – I've since tried shrinking them a little in the wash, which helped a bit especially with the waistline.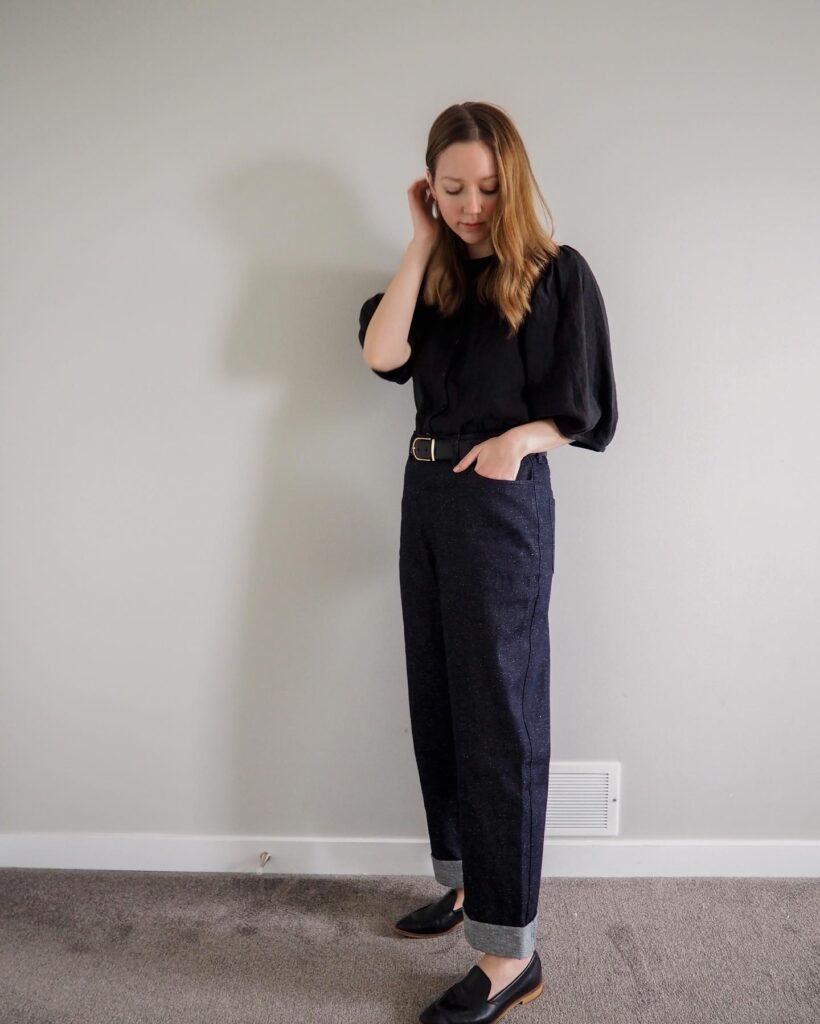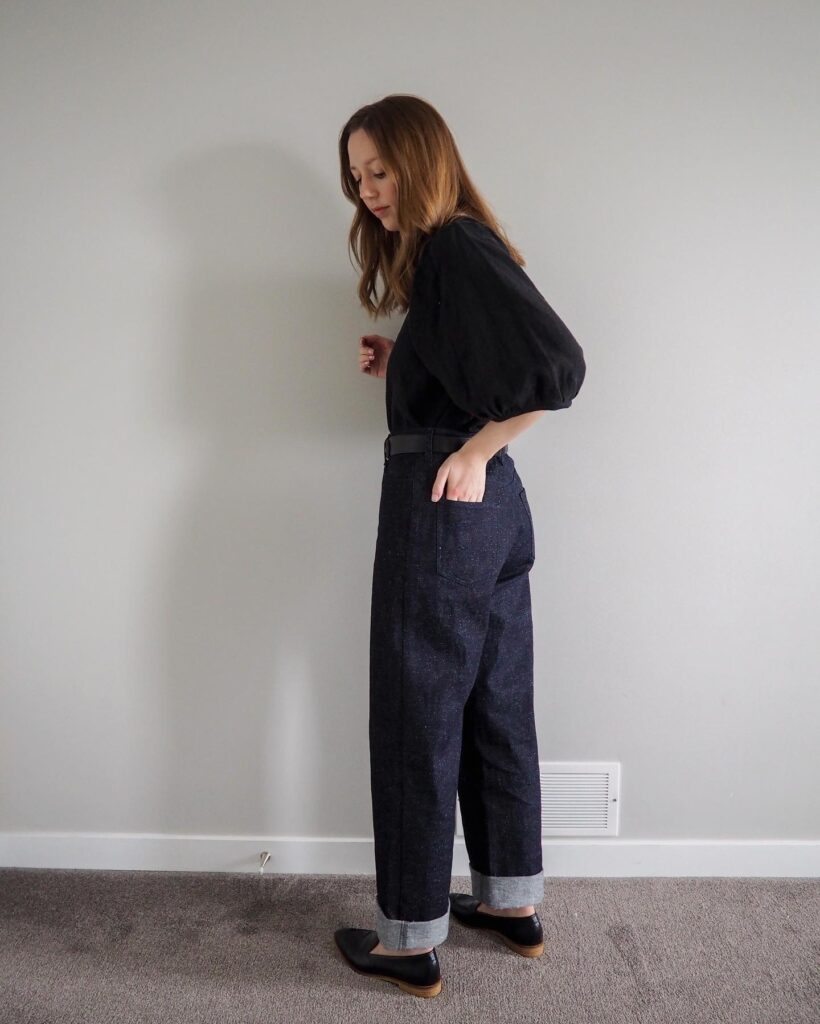 Adjustments
Since this was my first time making a pattern of this level, I decided to keep things really easy and didn't make any adjustments. Originally I was planning on omitting the foldover hem at the bottom and just cropping them to around my ankle. But then once I tried them on a few times during the process, the hem kind of grew on me! So I've left it as-is for now and can always hem them shorter later on.
Overall Thoughts
I was really impressed by this pattern. I was pretty intimidated making a pair of jeans like this since I hadn't made anything of this level before. But I found the instructions were very clear and straightforward, which made them easy to follow. The most difficult part I found was installing the zipper – but it was mainly time-consuming and involved a lot of little steps. So I took it slow and thankfully didn't run into any issues. This was also my first zip fly install, and now that I have one under my belt (so to speak) I feel a lot more confident about the process.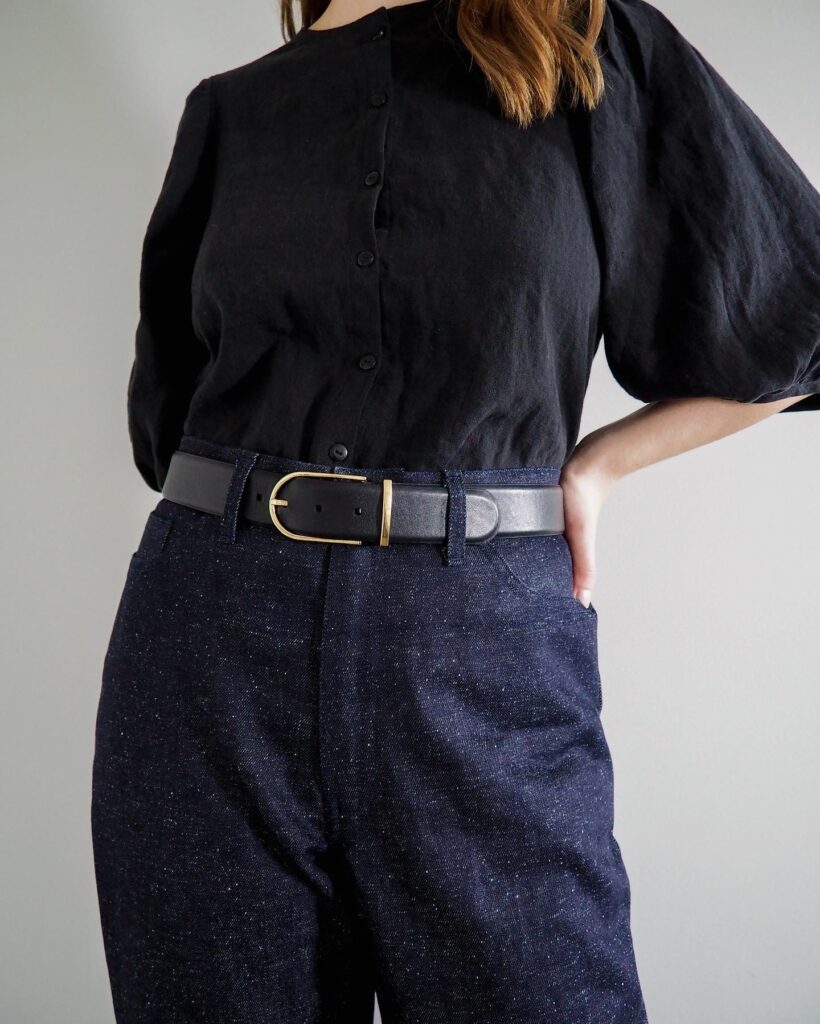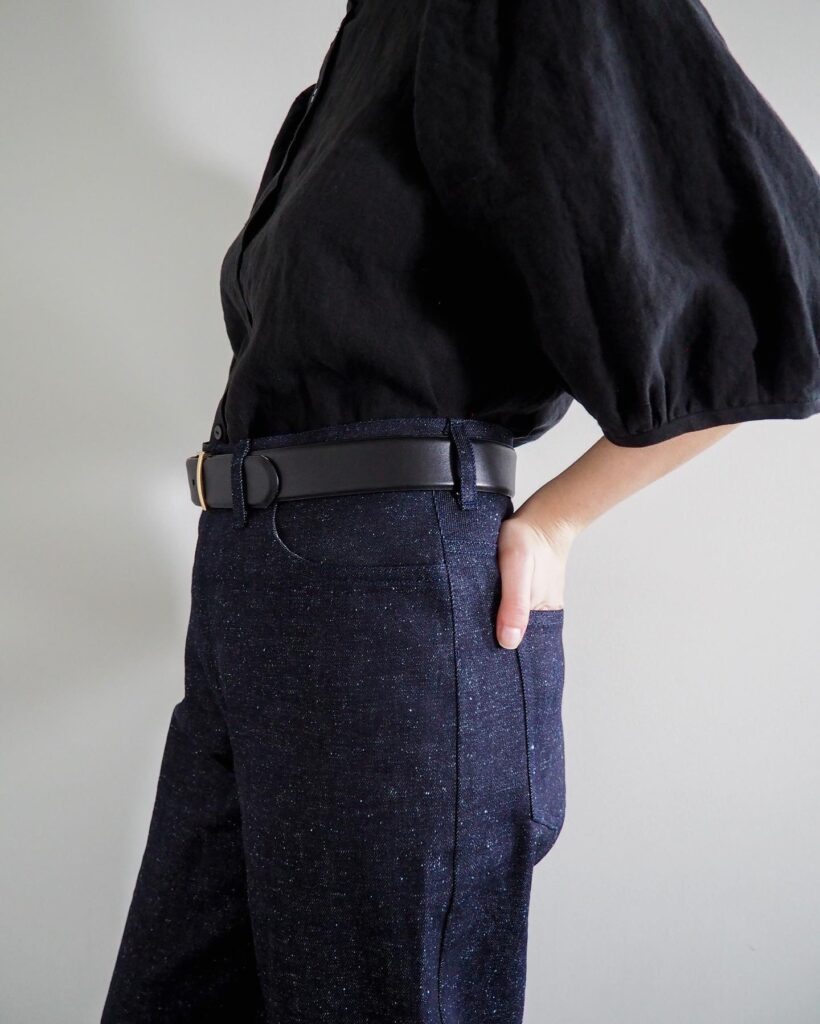 This fabric is also so beautiful. I love the deep colour with the contrasting popcorn detail, and the 12oz weight I think is perfect for this pattern. They almost feel more like a pair of good, heavy-weight trousers than simple jeans. I just have to be careful what I pair them with and where I sit, because the indigo dye definitely transfers easily. To prep my fabric, I soaked it and then hung it to dry per the raw denim care guide on Blackbird's website. Now that they're made, I won't wash them and will only spot clean them if needed, which is how I usually care for my denim.
Style-wise, I think the fit of these jeans is great. I love garments that have some room to them and don't fit to my body too closely (just my preference). So the wide, straight leg on these is right up my alley. I think in the future if I were to make them again (I have an ecru denim pair in mind), I would size down again to the 10 just so that it's not quite as roomy around the waist and hips. In the photos I paired it with a me-made linen Anthea Blouse (pattern by Anna Allen) and classic black loafers.
Let me know what you think of this make and any questions you might have in the comments below! Thanks for reading,