Hi everyone! It feels like forever since I've written a blog post on here. But I wanted to pop in today to share a review of one of my favourite sewing patterns, the Ethel Pants by Style Arc. I've made this pattern quite a few times now (five times, in fact) and so I thought it was about time I shared a review of it! I have made some alterations to the pattern as well, so I'll go through all of those in detail and show you how I made the pattern perfect for me. There's also a sewalong video if you'd prefer to watch that. Let's get into it!
Watch the Video
The Pattern
The Ethel Pants are a very billowy pant with a curved leg and front pleats which add extra fabric volume. I love the shape of them – they give me very Cordera vibes, which is one of my favourite brands. I love the way this pattern fits me particularly; I just find them so comfortable not only physically, but it's just a silhouette I feel very "me" in.
Fabrics
The pattern is suitable for light- to mid-weight with good drape, such as linen. I've made them in linen, a lightweight denim, and cotton. The linen pairs definitely feel more fluid and drapey, whereas the cotton pairs have a little bit more structure to them, and I like them both. My most recent version was made in a midweight organic cotton and linen blend in the colour natural from Earth Indigo.
Sizing
Size-wise, the pattern goes from an 83cm (32.6″) hip to a 178cm (70 1/8″) hip. The size chart puts me at a UK size 12, however one of the alterations I made to the pattern was to size down to a UK 10. I found this gave the pants a much better fit on me, especially in the seat area – previous versions I made had quite a bit of extra fabric there, and now they fit perfectly.
Alterations Made
Other than the size, I made four other major alterations to the pattern. The first of these was to shift the front pleats towards the outer leg (towards the hip, away from the crotch) by about 2.5cm or 1″ each. Previously I found that the pleats were too far inward on me, causing the folds of the fabric to drape towards the inside of my leg and to the side of my knee. Shifting them over centred them much better on my leg.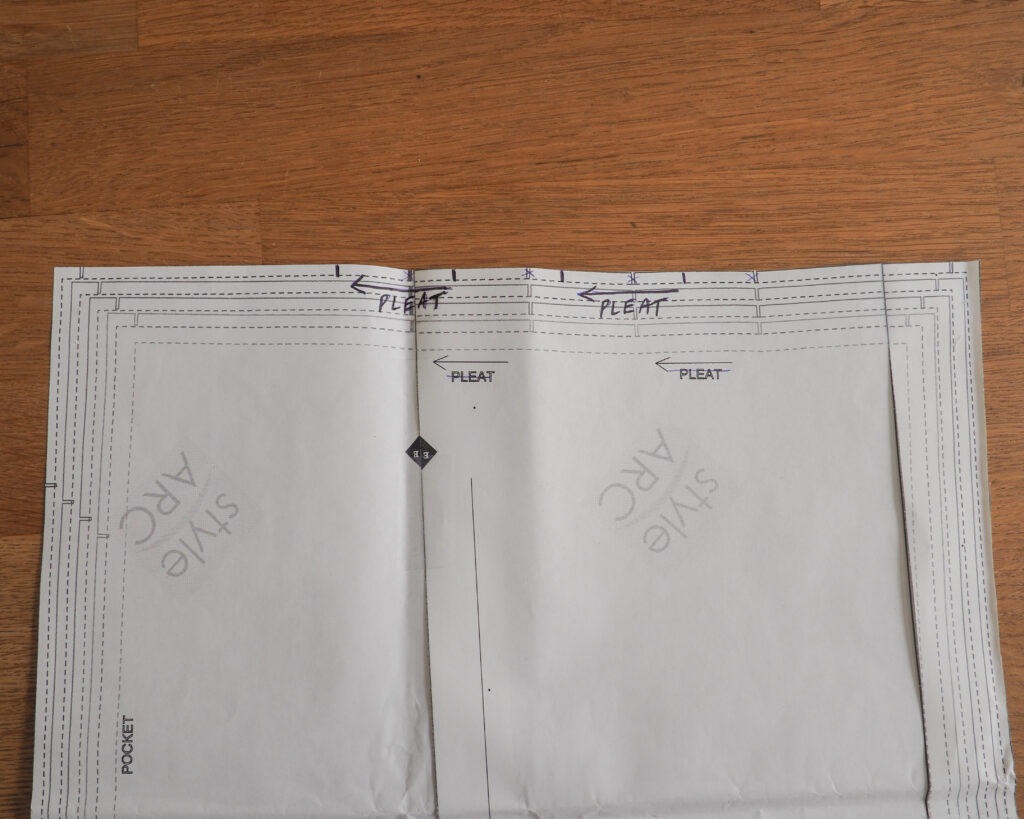 The second alteration I made was to lengthen the pant leg by about 4cm. I'm quite tall (5'9″) and I found the original pattern to just be slightly too short for me, and this extra length made it perfect.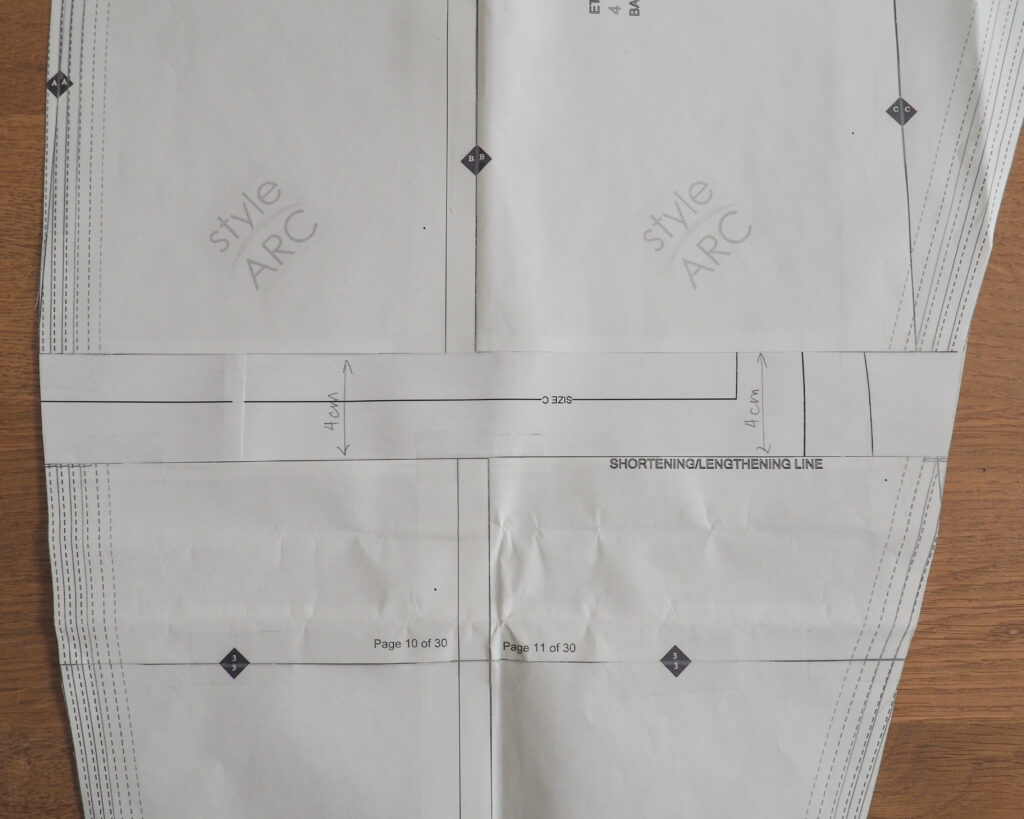 A third alteration was to straighten out the curve toward the bottom of the pant leg. The original pattern has quite a concave shape at the bottom of the pants, which I found caused the hem to sort of flare out a little bit. So I used a ruler and straightened it out a little bit so that the curve was much less prominent. I like the shape of the pants much better now, especially when I compare them side-by-side with one of my first pairs.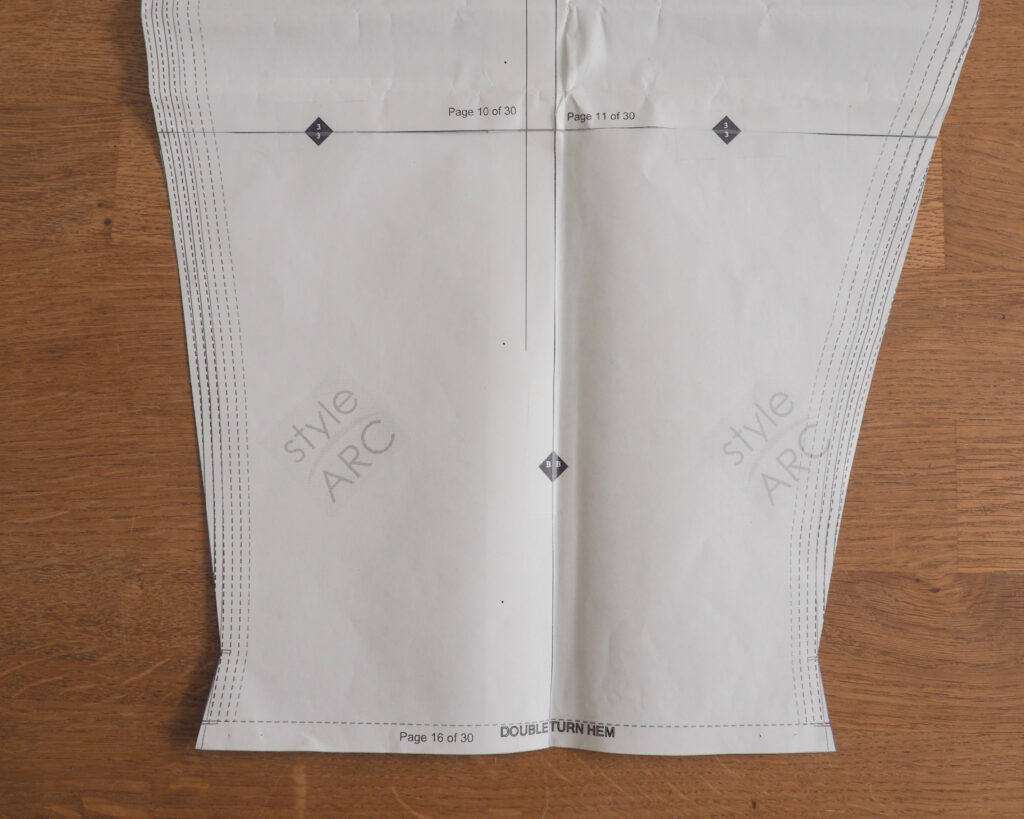 Finally, one alteration that I made since my first version of these pants was to add a drawstring to the waistband. I just feel like it adds such a nice touch and makes the pants feel more complete. To make a drawstring, I simply cut a long strip of fabric that was about 2x my waist circumference in length by about 4cm. Then I folded it in on itself twice, tucking in the ends and topstitching all the way around to create a cord that was roughly 1cm wide. I made two buttonholes on the centre front of the waistband and used those to thread the drawstring through. It's a really simple and easy addition but it adds a lot to the design of the pants.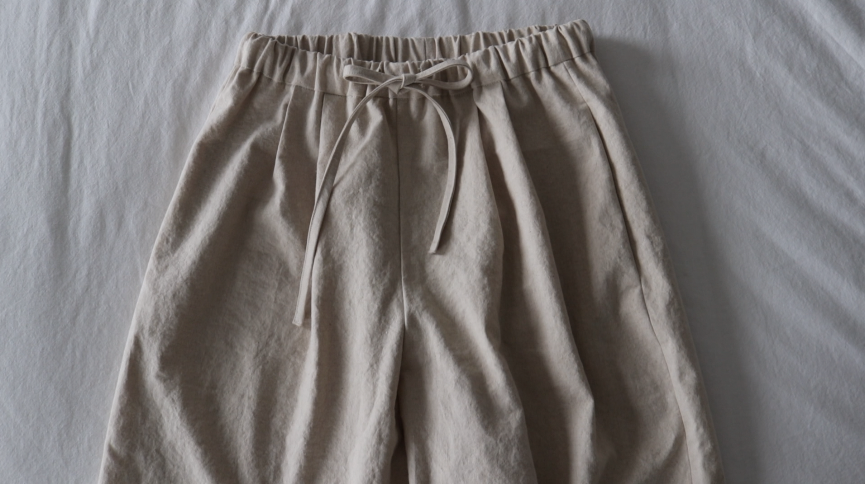 Here's a before and after so you can see how these alterations changed the overall fit and style of the pants: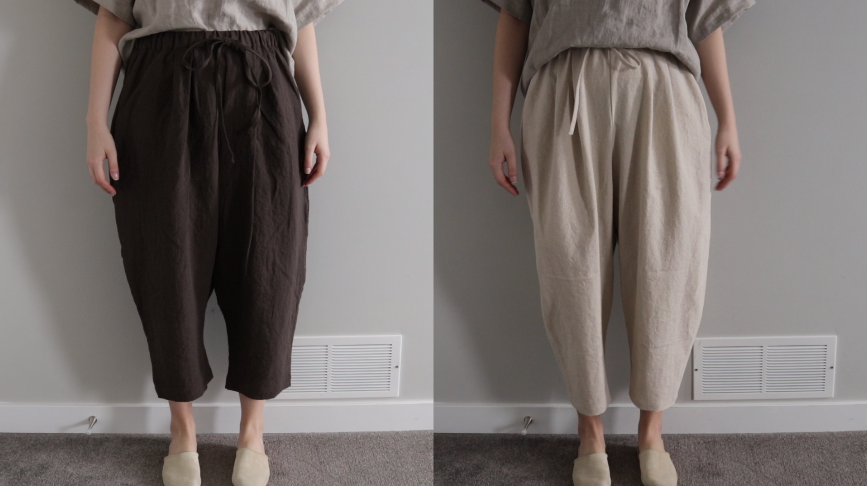 Finished Pant
And here are a few shots of the final product! I styled it with a me-made linen Lara Loungewear Set Tee (pattern by SwimStyle) and The Lèi Co. slides.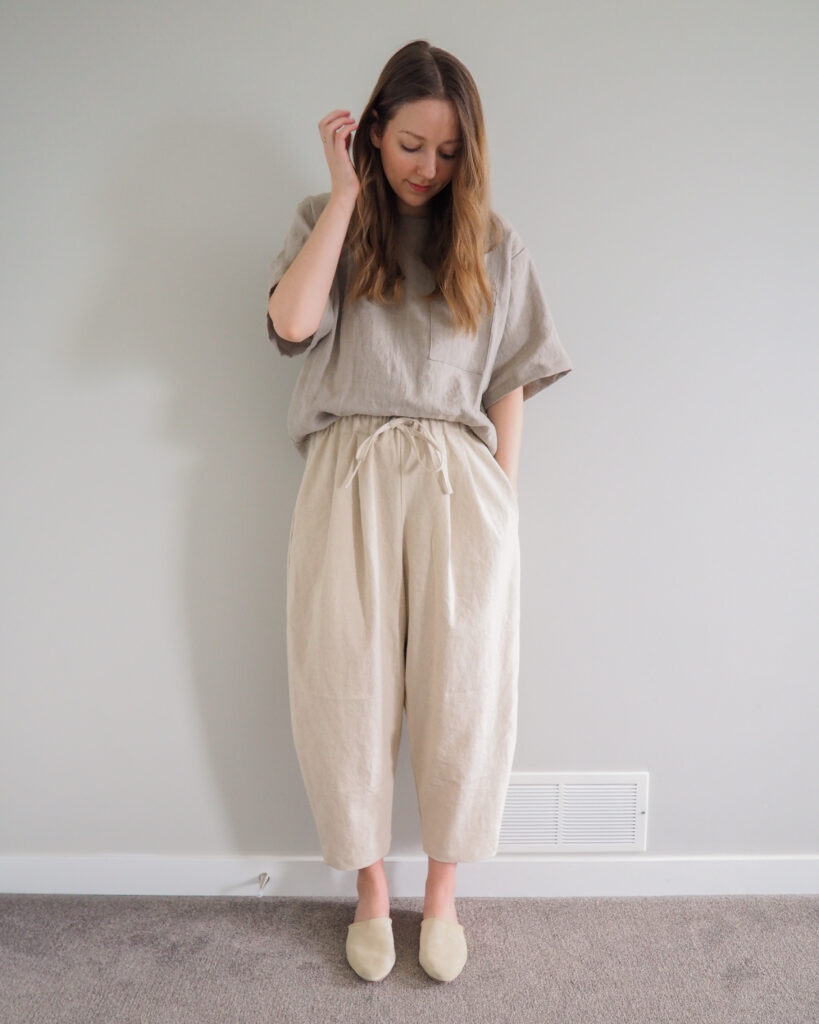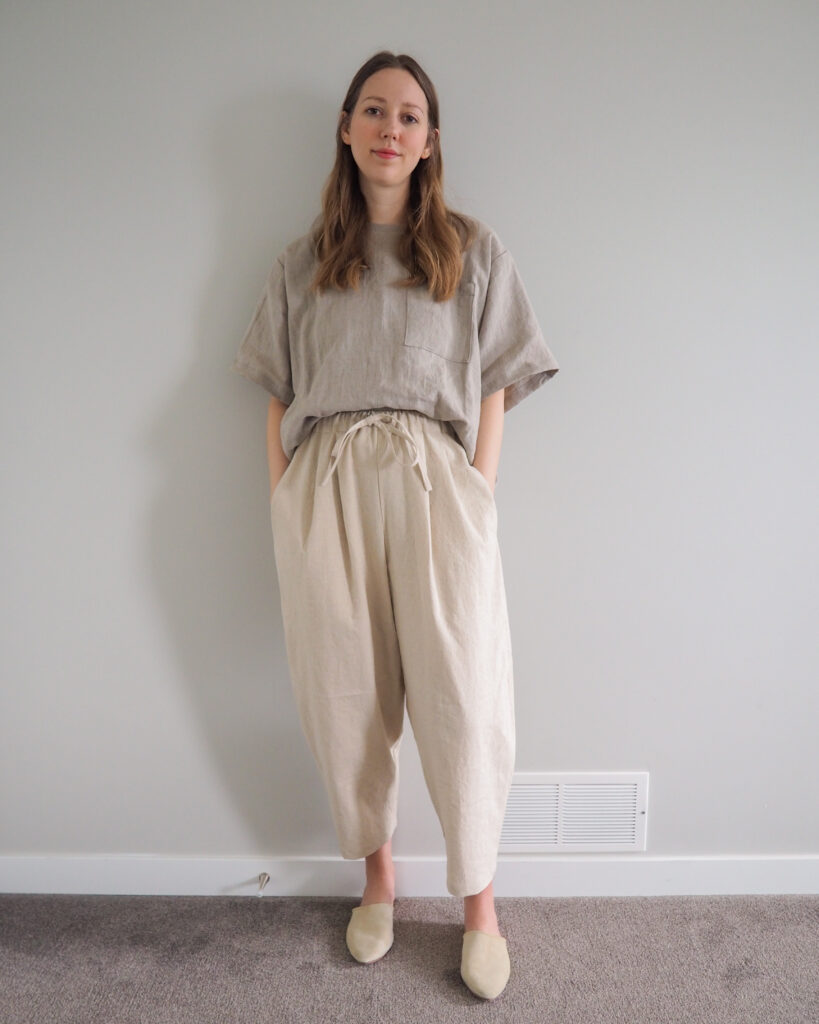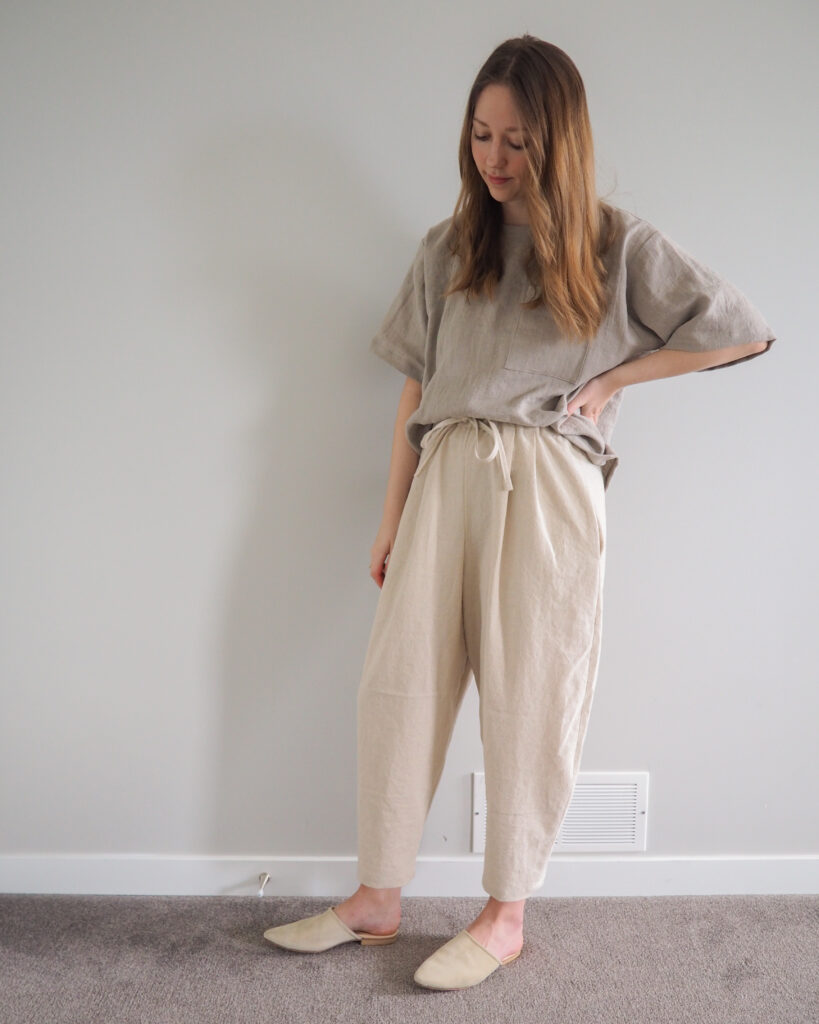 These pants are so comfortable and they're really easy to whip up. I'd say it's a great pattern for beginners that teaches you some good basic pant techniques, such as inseam pockets and how to install an elastic waistband. You can find the Style Arc Ethel Pants pattern here.
I hope you enjoyed this review and found it helpful! If you have any questions about the pattern, or if you'd like to see more sewing pattern reviews, let me know in the comments.
Thanks for reading,