Hi there! Today I'd like to share my favourite green juice recipe. This is a go-to tonic of mine for when I feel like I need energy or to detoxify my body. It makes me feel like I'm glowing from the inside out!
The two core ingredients, cucumber and celery, have so many amazing nutritional benefits for your body (there's a great article explaining a few of them here). I would recommend blending everything into more of a smoothie than to juicing it, as it retains all of those good nutrients like fibre, and is more filling than just the juice.
The Recipe
To start, combine the basic ingredients into your blender of choice. I have a Ninja which works really well, but anything from a top-of-the-line Vitamix to a knock-off Magic Bullet will do the trick! The key ingredients are celery, cucumber, ginger, lemon, and parsley. Top everything off with about a cup of cold water; you can also add ice if you want. I've listed the approximate amounts below, but feel free to adjust it to your own tastes. Make sure to wash all of the ingredients thoroughly before using them. I prefer slicing the skin off of the lemon and throwing it in whole, but you can also just squeeze out the juice.
If you want even more of a boost, try adding a shot of apple cider vinegar. It has a really strong flavour, but I've actually learned to like it over time, and some claim it has several benefits. Also, chia seeds are an excellent source of Omega-3's and are a great way to pack in some additional nutrients, like fibre, iron, and calcium.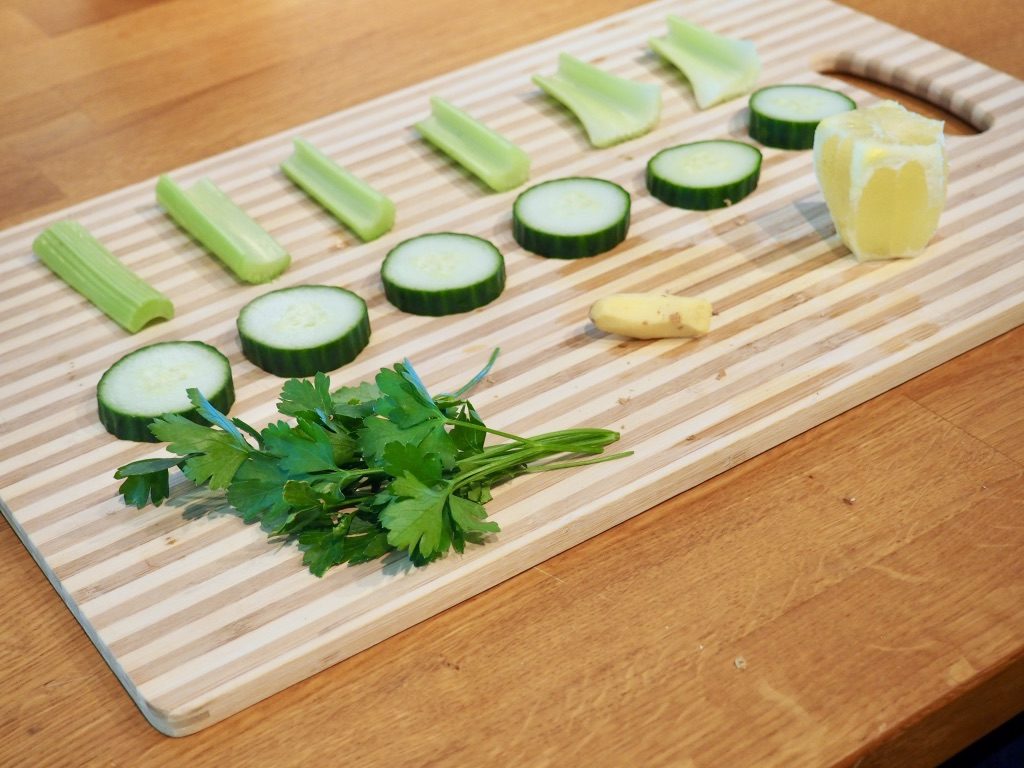 Ingredients:
3 inches of cucumber, sliced
2 sticks of celery
1 thumb of fresh ginger, peeled
1 whole lemon, peeled (or juiced)
A few sprigs of parsley
1 cup cold water
Optional add-ins:
1 Tbsp chia seeds
1 Tbsp apple cider vinegar
It's best to drink straight away after blending, but it will also keep in the fridge for about a day or so.
I hope you enjoyed this post and give it a try! Let me know what you thought of this recipe and if you'd like to see more like this in the comments below.
Until next time,
Emily xx