It's already December! How did that happen so quickly? This year has gone by faster than I could have imagined. It's been a year of change for me and I'm looking forward to what 2018 has in store. But first, we have to get through the holiday season.
I say that jokingly because it's actually my favourite time of year. I'm a sucker for the winter weather – even though we don't get a lot of snow in Vancouver, I love a good grey, rainy day that says "cosy up and stay inside." And I love the holiday spirit, decorations, music, everything!
It can also be a really stressful time of year, with all of the events and finances and mad rush until the end of December. If that's the case for you, here are some tips to help you slow down and have a more simple holiday season.
Prepare and plan ahead.
The first tip I have to take the stress away from the holiday season is to plan and prepare as much as possible ahead of time. Make a list of the gifts you need to buy, recipes you plan to make, or crafts you'd like to do. Set up your calendar of events and make sure to schedule in some time for yourself. I also like to plan my holiday outfits ahead of time based on my events (such as family gatherings or parties). This all helps to keep things organized and save you time later!
Set a budget and stick to it.
It's so easy to overspend during the holidays, especially when giving gifts is so much fun! To reduce financial stress, create a holiday budget and track all of your expenses to make sure you stick to it. My personal budget template is a great starting point. Include things like gifts, food, outfits, event tickets, donations, travel, etc. This will help you stay on top of your finances, conscious of how much you're spending, and (hopefully) keep you from going over your limit.
Give or ask for clutter-free gifts.
Giving and receiving gifts is so much fun, but many of us just don't need more clutter in our lives. I recently wrote an article with some ideas for gifts that aren't things. Many of them are free as well, so this can help with your budget too! Consider giving these to your loved ones or asking for them instead to keep from starting off your new year with a bunch of clutter that you don't need.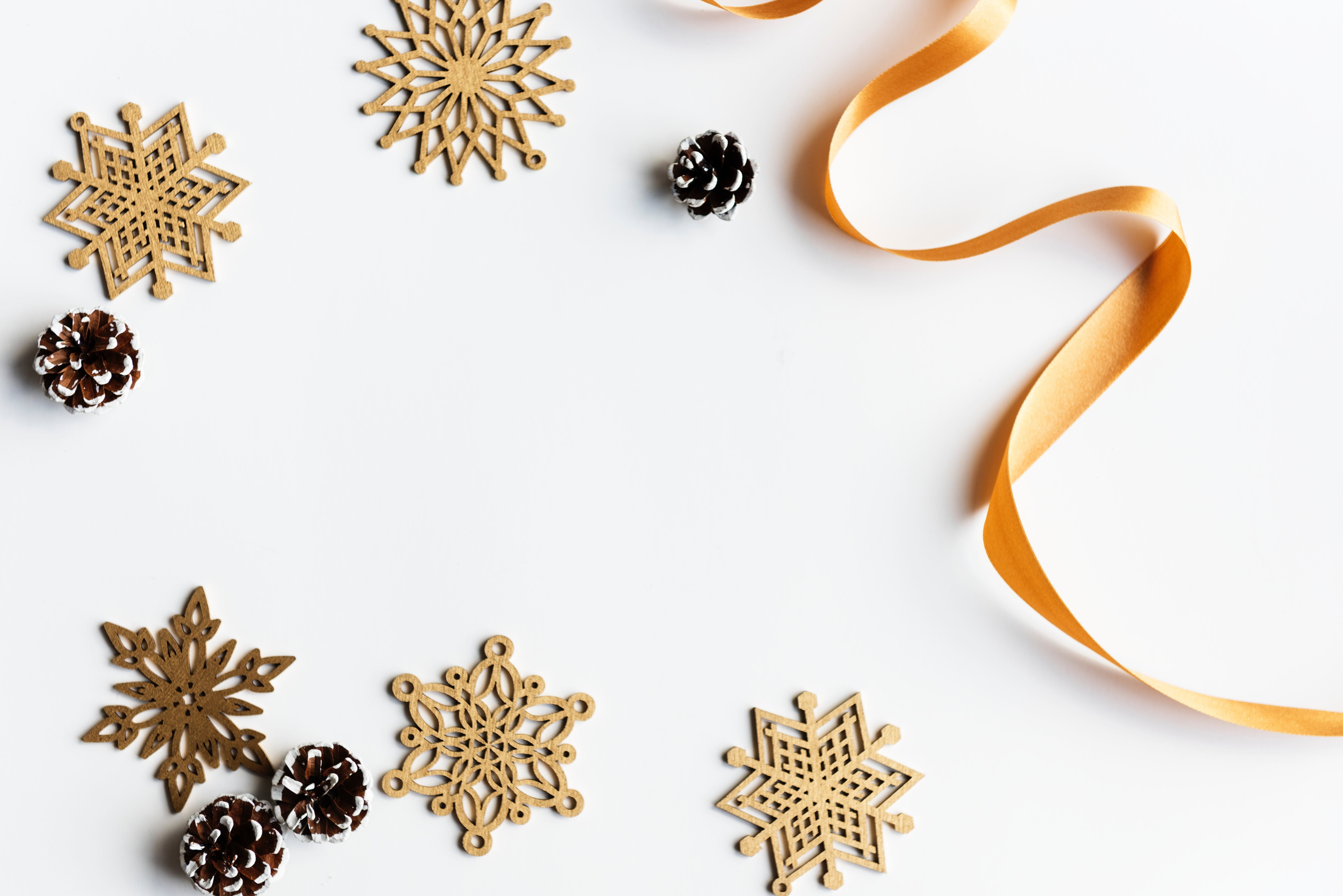 Know that it's okay to say no.
The holidays are a busy time of year, but they don't necessarily have to be. It's okay to say no to events or plans that you don't want to do. Take some time to prioritize what the most important plans are to you for the holiday season, whether it be with family, friends, or just yourself. You don't need to participate in anything that leaves you broke, overwhelmed, or exhausted.
Take time to enjoy it.
Make sure that during all of the hustle and bustle, you have given yourself some time to stop and smell the roses (or more likely, fir trees.) Things can get so busy that we forget to enjoy it while we're in it, and then all of a sudden it's over. The holidays are the perfect time to work on the simple living pillar of mindfulness. Enjoy the little things and be present in the moment as much as possible.
Set meaningful and realistic goals for the new year.
One of the greatest benefits of living simply is making room for more of what matters. The holidays are the perfect time to evaluate the past year and set goals for the year ahead. Decide what's important to you and what you want to make room for in the new year, whether that be goals related to your career, love & relationships, personal development, finances, hobbies, health, etc. Set a few (no more than three) goals that are the most meaningful to you, as well as realistic and achievable, to ensure the next year gets off to the right start.
How do you slow down and create a more simple holiday season? Let me know in the comments below! Thank you as always for reading!
Emily
Featured photo by Markus Spiske on Unsplash
Pin for later: