When it comes to my closet, I used to be more concerned with looks over functionality. But as I've grown older and minimized my belongings, I feel like that has shifted. While I still value aesthetics, the first thing I look for when adding a new piece is function.
Luckily, with the Everlane Rain Boot, I don't have to compromise on either side! Not only do they look like a cute chelsea boot (albeit a little heavier-duty), but they also give me the protection I need to get around in all kinds of weather.
I posted about the boots on Instagram a while ago to let you guys know I'd be testing them out, and asked you for any questions. In this article, I'll be sharing my personal thoughts with you and answering all the questions you sent me. Here is the Everlane Rain Boot review!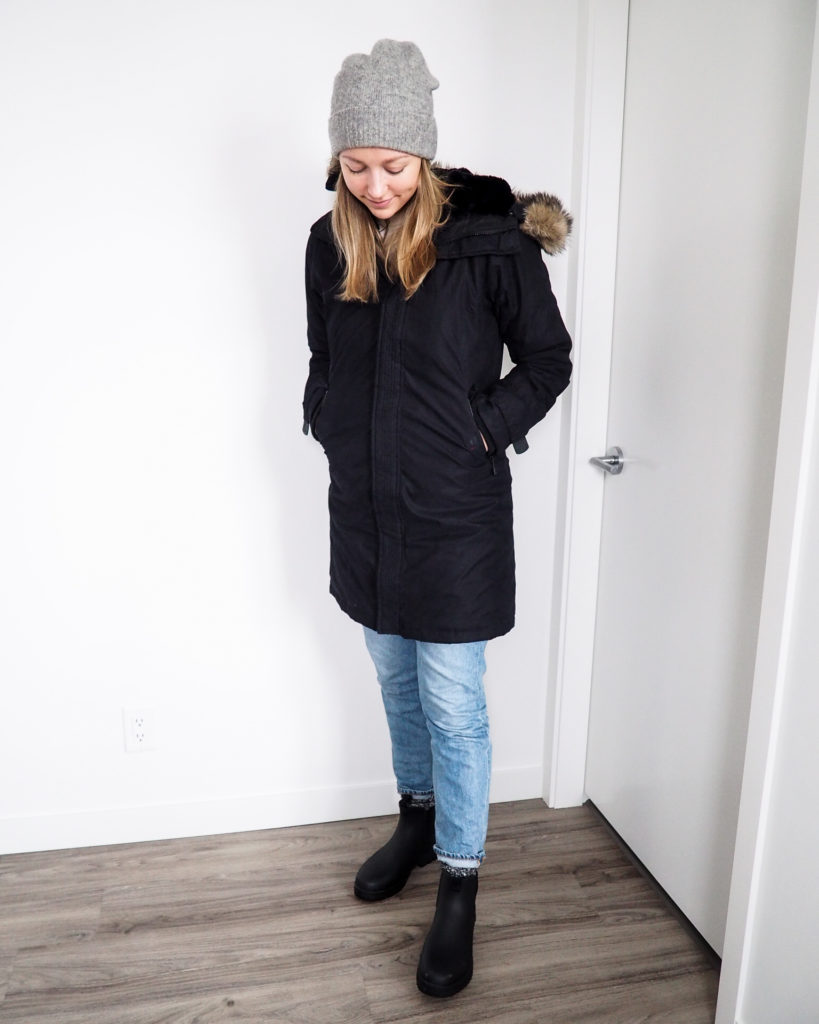 Sizing
I received the boots from Everlane as a gift to share with you guys, and asked for a size 9 in black. I am normally between an 8.5-9 US or 39 EUR, and I find that these fit me really well. I'd say they are true to size, if anything they run a little big – but that works well since you can then wear them with a thicker wooly sock in the colder months.
Style
As far as the style goes, I actually think these look really sleek – at least the all-black version that I have. They sort of remind me of Blundstones in terms of their size and weight, as well as how they look. I don't mind that they are a bit chunky, and actually like pairing them with lighter items in my wardrobe. For example, I love the look from their marketing campaign of a model wearing them with a slip dress. Mixing different styles is fun and it's something I love to do to keep my wardrobe from being too boring.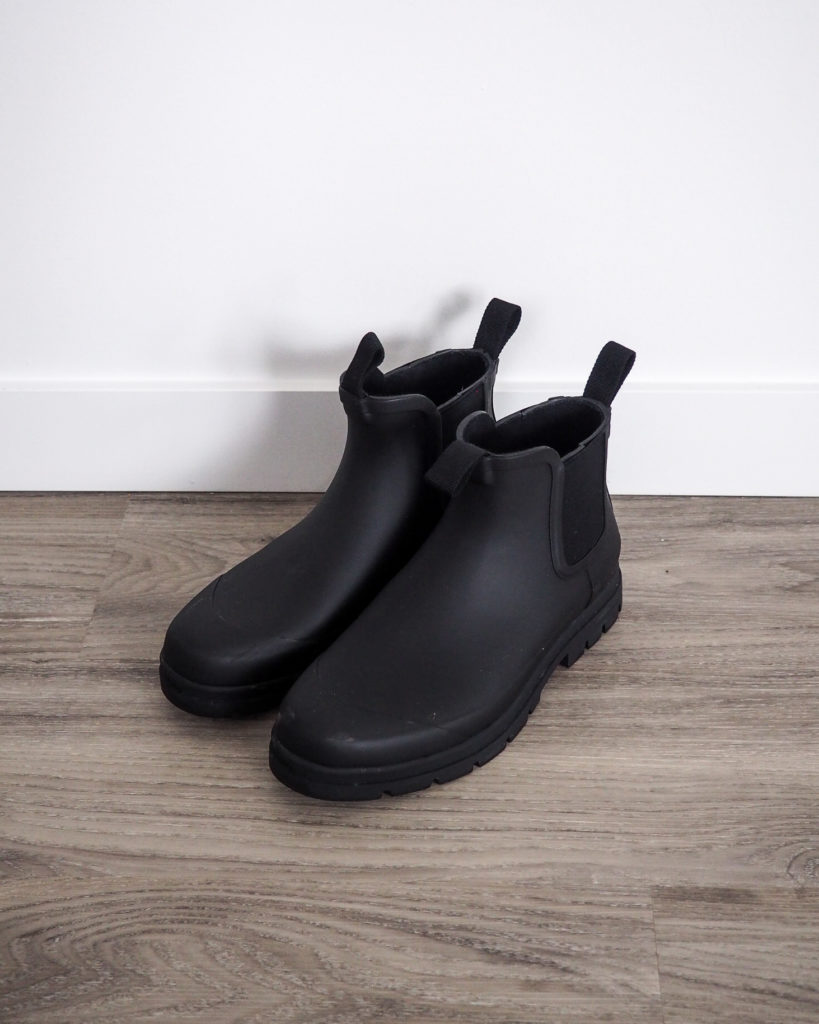 I also really like that they have a low ankle. It might not seem as practical as a tall rain boot, but it actually makes them a lot more functional for me because I like to wear baggier jeans and trousers that don't fit into a higher boot. My other pair of rain boots is an old pair of tall Hunters, which were great when I loved wearing skinny jeans day in and day out. But as my style has evolved, I wear those less and less because it's not comfortable and doesn't look great to tuck in baggier pants.
The lower ankle also doesn't seem to be a problem with splashing in my opinion because the ankle is stretchable and fits pretty snug. If anything, I've noticed the top can rub a little around my ankle a bit (just on one side, apparently I walk lopsided!) Wearing a taller sock fixes this and keeps me warm anyway. (In case you're wondering, the boots are lined with a softer material, but I still prefer to wear them with socks.)
Performance
Overall, these have performed really well for me. Where I live, we don't get much rain to be fair, but we have had a lot of snow, slush, and ice the past few weeks. The boots seem very durable and well-constructed. They also have great traction and I feel really comfortable and safe walking in them on snow or icy sidewalks.
They're also pretty comfortable, although they can feel a bit clunky. As I mentioned, the interior lining is soft and the stretchable ankle makes pulling them on and off really easy. They feel supportive underfoot and are not too hard for walking around in.
I love how I can wear them with my black trousers on my half-hour walk to work through snow, and then I don't feel the need to change out of them when I get there.
Overall, I think these are a great option if you're looking for an all-weather commuter boot to get you around town. I love how I can wear them with my black trousers on my half-hour walk to work through snow, and then I don't feel the need to change out of them when I get there. They are a great mix of style and functionality, making them a versatile piece that's great for smaller wardrobes especially.
I hope you enjoyed this review and found it helpful! If you have any questions that I didn't answer, post them in the comments below and I'll get back to you.
Thanks for reading,
Emily
Shop the Rain Boot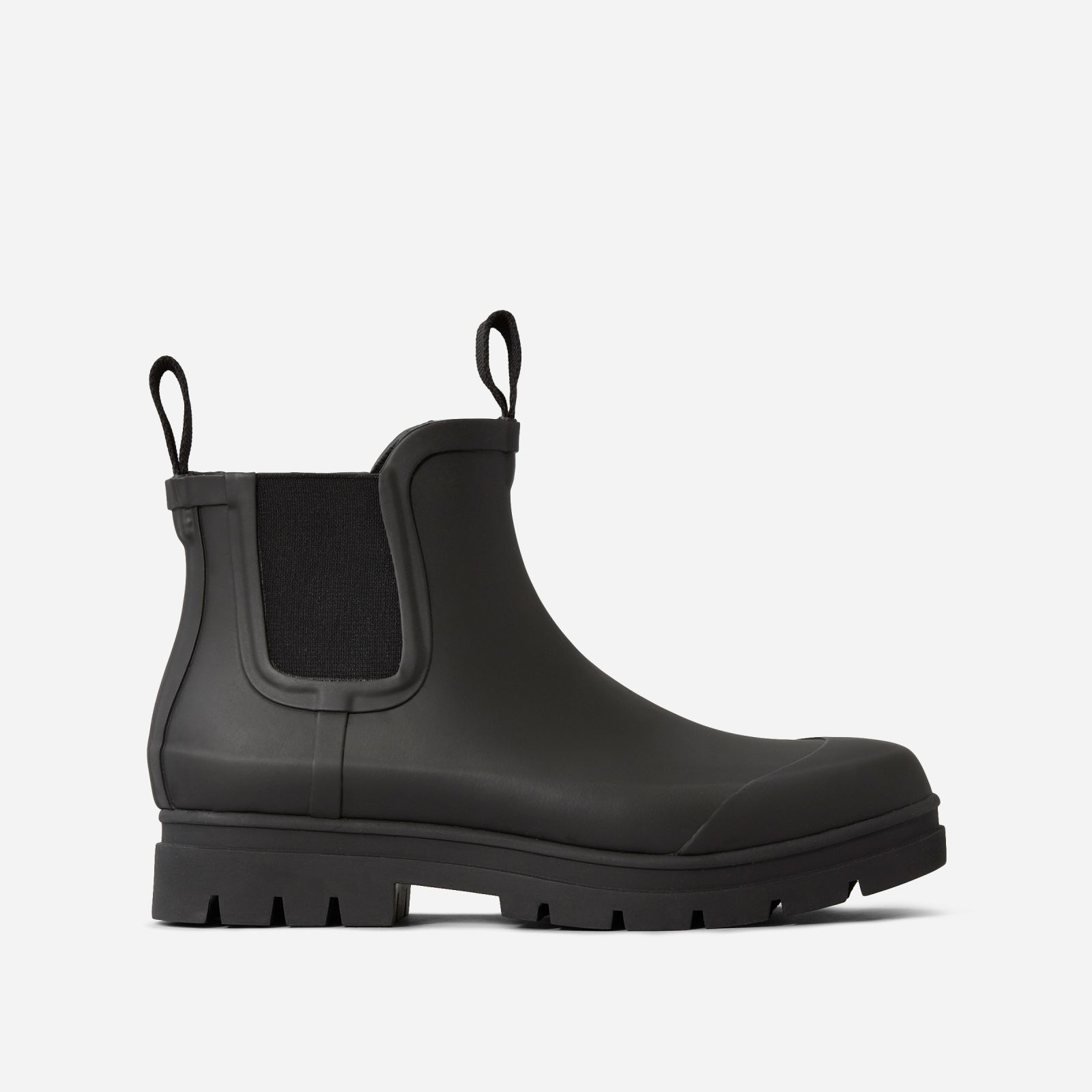 Pin for later