Welcome back! In today's article I wanted to give you a little tour of our new home. We bought our first apartment together at the end of 2017, and finally were able to move in when it was completed this past November. We waited almost a year for it to be finished! Now that we're in, we couldn't be happier with our decision.
Since we were moving from another city and had been renting for years, we decided to re-sell all of our old furniture and invest in new pieces that would suit our home. It made the move so much easier and it was so fun picking out each special item to bring in.
A couple months later and I would say our place is pretty much finished, aside from a few small details here and there! We still need to furnish our patio (we'll wait for summer to do that) and we could use a few more accents, like house plants and artwork. But for the most part, we have everything we need now.
The apartment is just over 800 square feet, with two bedrooms (one we use as an office) and two bathrooms. It's the perfect size for the two of us, and we were able to fit all of our possessions no problem. We had decluttered and sold a lot on craigslist before the move to prepare, which helped us a lot. The apartment itself also has quite a big storage area in the hall closet, and we have a storage locker in the parkade for items like our winter tires and a few boxes of keepsakes.
Just a quick note before we start – this article is by no means a way for me to brag about our home or our possessions. I realize how lucky we are to be able to afford to live in such a nice, new apartment! I'm writing this just in case you're interested in how I designed our space, and to give you inspiration for your own home. I always love seeing inside the homes of others, and just looking at home decor and interior design in general. If you do too, then this article is for you!
I will provide links where I can throughout the post for you. If there's something you're interested in or have any questions, let me know in the comments below. Otherwise, let's get started with the tour of our minimalist apartment!
Home Office
We'll start with the office because it's the first room you see when you come in. We decided to set up our second bedroom as an office because Jason works full-time from home, and I also need the space on my off days and weekends. However we do have an air mattress which we can set up for when friends and family want to visit.
We picked a long sit-to-stand desk for us to share, which was such a good investment. The bookshelf is from Wayfair and I would definitely not recommend it – I'm not sure we'll be purchasing from Wayfair again based on that experience! In the end, it turned out okay and it will work for us for now.
This is all that's left of my book collection. I love books and used to have shelves upon shelves of them, even if I rarely re-read them. A few years ago I received a Kobo as a gift and that pretty much replaced paper books for me, so I slowly decluttered anything that wasn't really important to me. What's left are just my favourites. I actually had to put the fifth Harry Potter back on the shelf for this photo, as I'm currently re-reading it for what feels like the hundredth time (you can see it sticking out a little). I grew up with this series, and love it so much that I go back and re-read them once every couple of years.
Kitchen
Our kitchen is very modern, clean, and minimal which I love. The colour scheme is quite cool, so I love how the island and the few wooden items on the counter add a bit of warmth. Our apartment doesn't have space for a separate dining table, so we use the two chairs at the island for ourselves. When we have guests over, we have a couple of folding stools in our entry closet that we bring out. It works really well and the added counter space is a huge plus in the small space.
Living Room
I was a little nervous when I saw our new living room for the first time, because it's pretty tiny! Because of that, and specifically the huge A/C and heating unit you see here, we had to go with a small couch. We ended up choosing this one from Article, which I like the look of, but we had a couple of issues with it when it first arrived (the frame was uneven causing the couch to wobble on its legs). So again, this isn't one that I would absolutely recommend. But it works well in our small space given that the arms are very narrow, allowing for more sitting room. I got the throw pillow covers off of Etsy from a store called Bo and An Studio, and they're one of my favourite things in our apartment!
Another one of my favourites is the rug, which just goes perfectly with the colour scheme and really ties things together. It's also really plush underfoot so it makes it feel nice and cozy. The coffee table is actually a lift-top with storage inside, so it adds a lot of functionality to this small space.
The Luna chair was one of our final additions to this room. I love how it's a little funky and adds some interest to the space. It's also really comfortable (Jason and I are always fighting over who gets to sit in it!) And don't worry, the sheepskin is an old faux piece from Ikea, so it was both animal- and budget-friendly.
Bathroom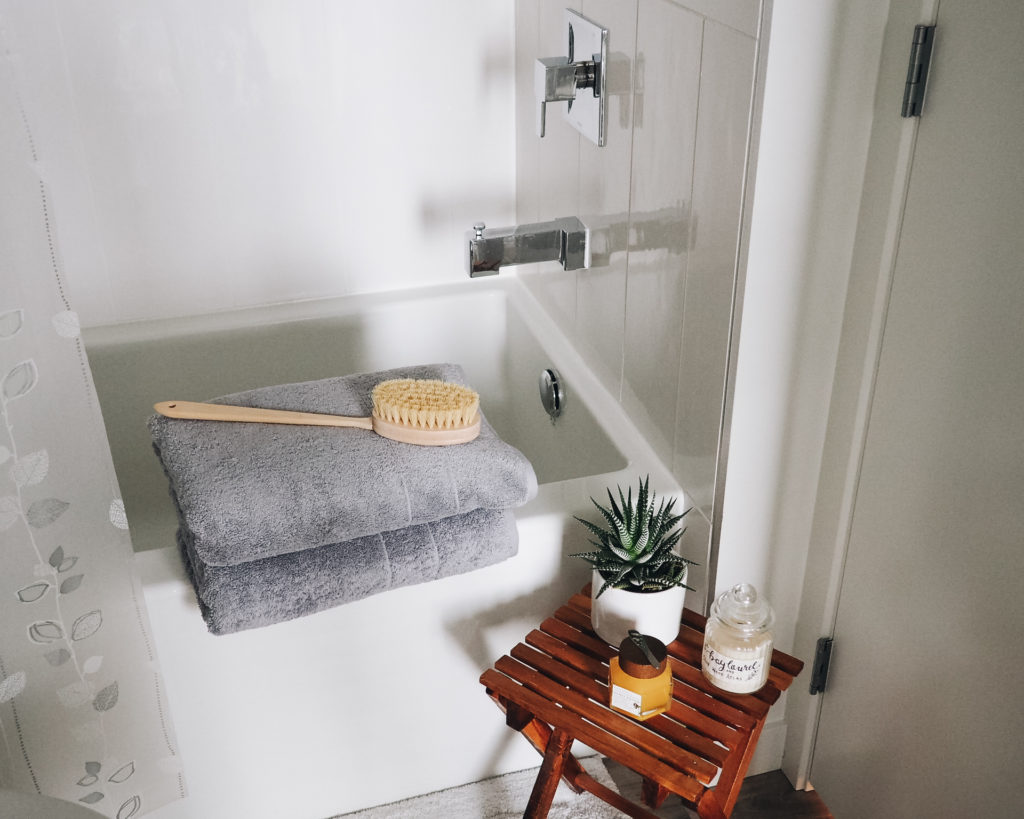 We're lucky enough to have two full baths in our apartment, one off of the office/guest bedroom and one off of the master bathroom. This one is the guest bathroom, which is my favourite because it has this big soaker tub! I wanted to get one of those wooden trays to hold things like a candle or book in the bath, but I've been having trouble finding a simple and affordable one. In the interim, we picked up this little wooden folding stool from the thrift store for $3 which does the job well enough!
The towels were kindly gifted by SOL Organics, and I can say they are some of the softest towels I've ever felt. They are made from certified fair-trade organic cotton. I was going to save them for guests, but I might have to swap them out for my own towel!
Bedroom
Last but not least is our bedroom. I love how this room turned out – we finally both have a nightstand, which feels extra luxurious. The wall lamps were one of the first things I bought for the apartment and I can't even express how happy I am with them! They save space on our nightstands which is so great. We also purposefully bought extra wide nightstands since we had the space, and they are so lovely and functional with the drawer and shelf underneath. The bedsheets and duvet cover are all fair-trade, organic cotton by SOL Organics (kindly gifted for me to share with you all!) I chose the classic bedding bundle in white.
I had seen this Ikea Hemnes dresser all over Instagram, and knew I wanted it for our new place. But let me tell you, this thing was a beast to put together! I did it myself with a few moments of help from Jason, and it took me probably all of eight hours (with a few breaks thrown in) to actually get the whole thing finished. At one point I managed to put something together wrong and had to take it half-apart partway through, but still – it was a lot of work! Now that it's done I love it, but I'll never forget the day I spent building it when I look at it.
And there you have it! I hope you enjoyed this little tour and that it gave you some inspiration for your own home. What's your favourite room in your home? Let me know in the comments!
Thanks for reading,
Emily
Pin for later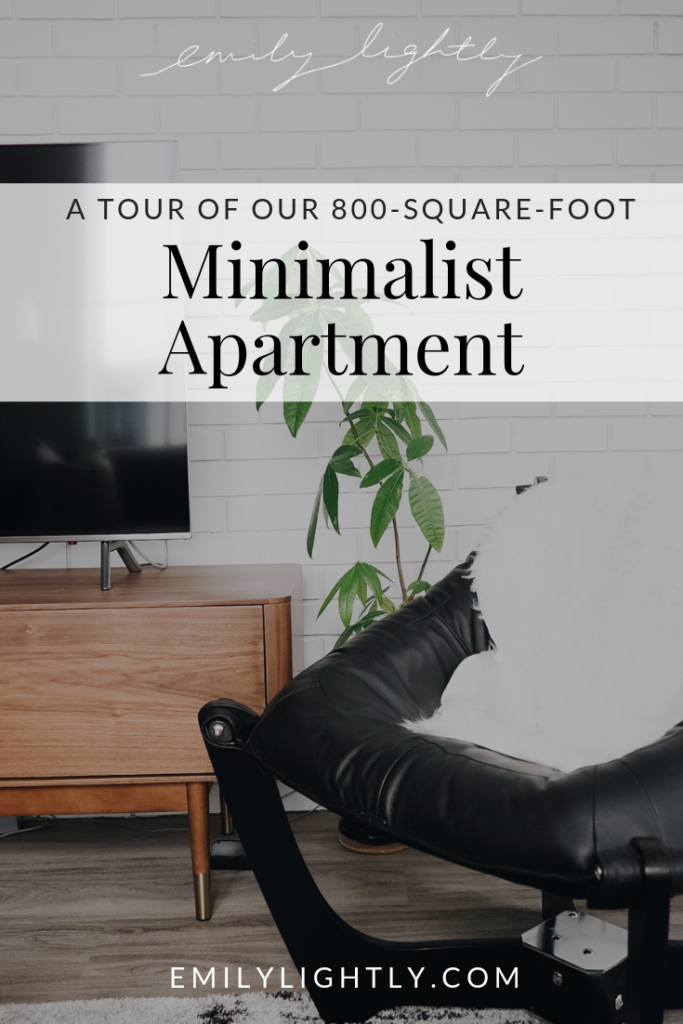 This post is not sponsored, however I received the bed sheets and towels as a gift from SOL Organics to share with you. All opinions are my own. This post contains affiliate links – please read my disclaimer for more information.