This article is sponsored by Nordgreen. Please see my disclaimer for more info.
Welcome back! In today's article I wanted to share a little get ready with me. I love reading these kinds of posts, so I hope you enjoy it too! I'll be walking you through my morning beauty and skincare routine, how I pick outfits for the day and evening, and how I accessorize my capsule wardrobe. So if you're interested, just keep reading!
My Morning Routine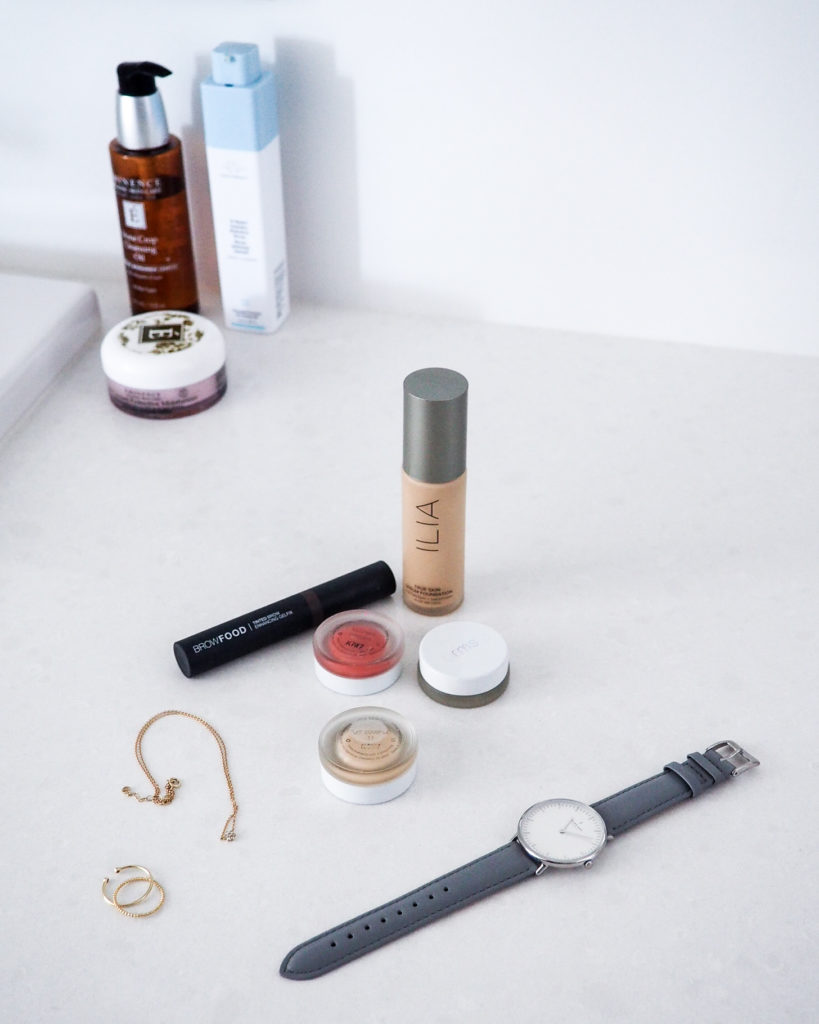 The first thing I do in the morning is brush my teeth and wash my face. I'm not a morning shower-er; I much prefer to shower at night and be clean before getting into bed! That way I can also leave my hair to dry naturally and style it in the morning if I need to. (Okay, fine, I'll be honest – it's just because I want to sleep in a little more!)
For skincare, I start off with my Eminence oil cleanser, followed by a Drunk Elephant hydrating serum and Eminence SPF moisturizer. After that it's on to makeup. My daily makeup routine is pretty simple, and I normally use just 4-5 products. My skin is a little temperamental these days with the change in weather, so I'm starting by using my Ilia serum foundation to even out my skin tone. After that I'm going in with my three favourite RMS Beauty products – Un Cover-up, Lip2Cheek, and Living Luminizer. To finish off my day look, I use a Brow Food gel to give my eyebrows a little more definition and shape.
My Day Look
Choosing an outfit for the day is easy when you have a minimal closet with just what you love! A typical outfit of the day for me is a simple jeans and a t-shirt. But to make things a little more interesting, I'll add some accessories. For daytime I typically opt for dainty gold jewelry and classic, timeless accessories. I wear my favourite Mejuri ring every day, as well as the necklace Jason got me for my birthday last year.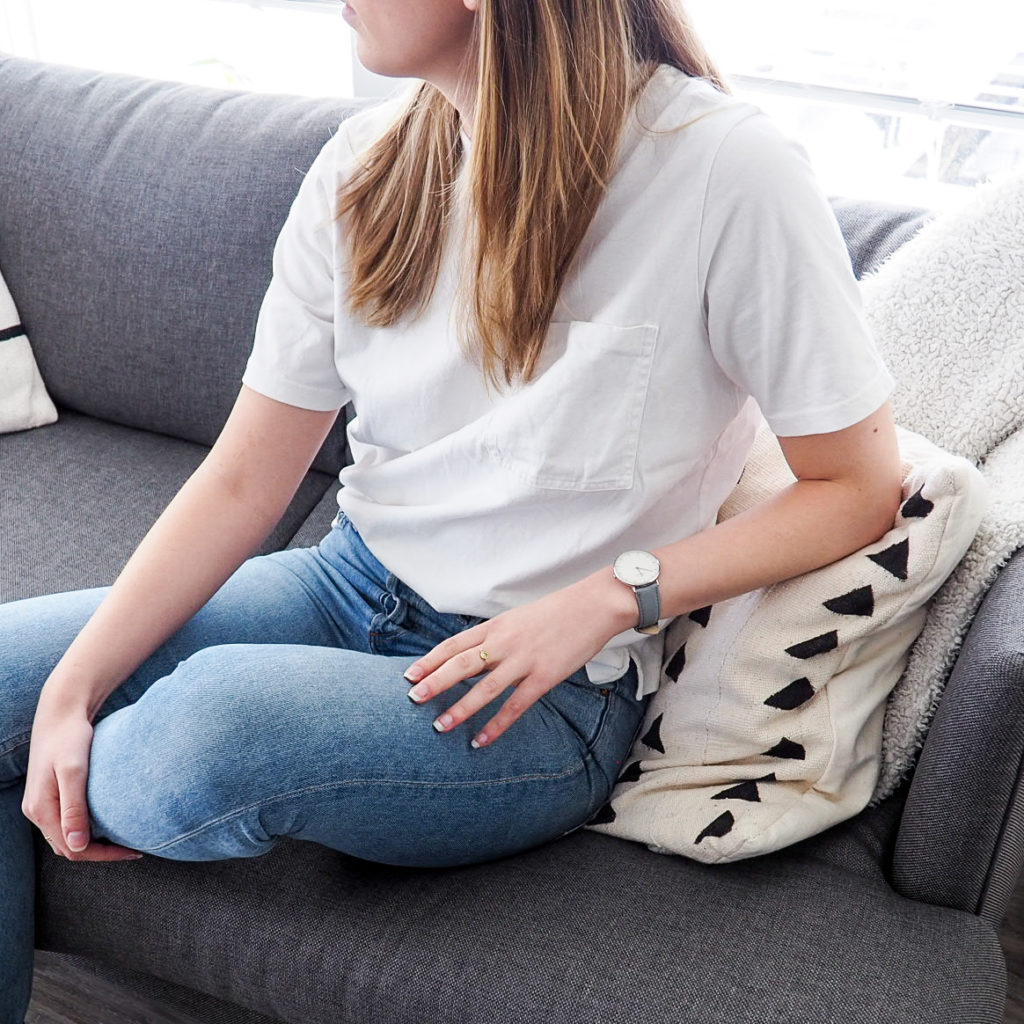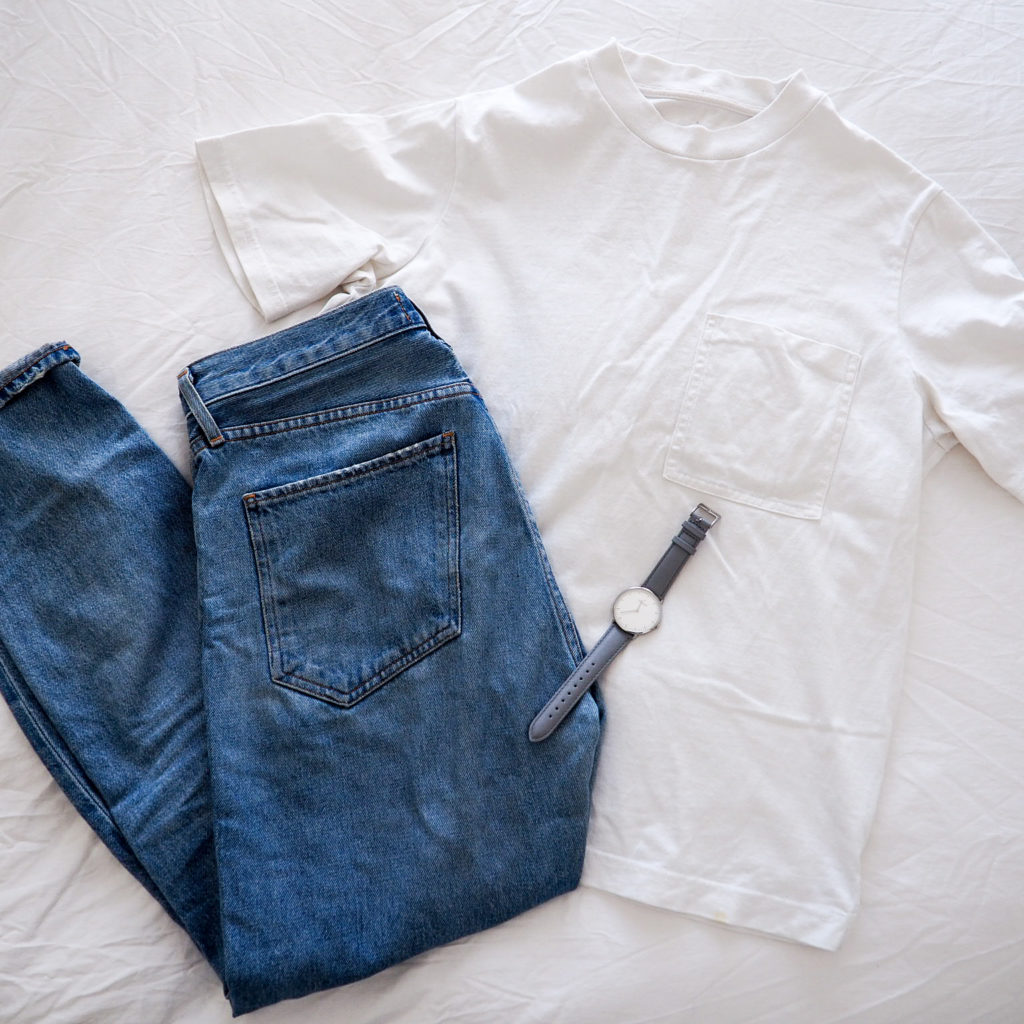 Finally, I like to wear a classic watch just to elevate my look a little bit and make me feel more put together. Here I'm wearing the Native watch in silver, 32mm by Nordgreen. The grey leather strap is the perfect, soft touch for a daytime look.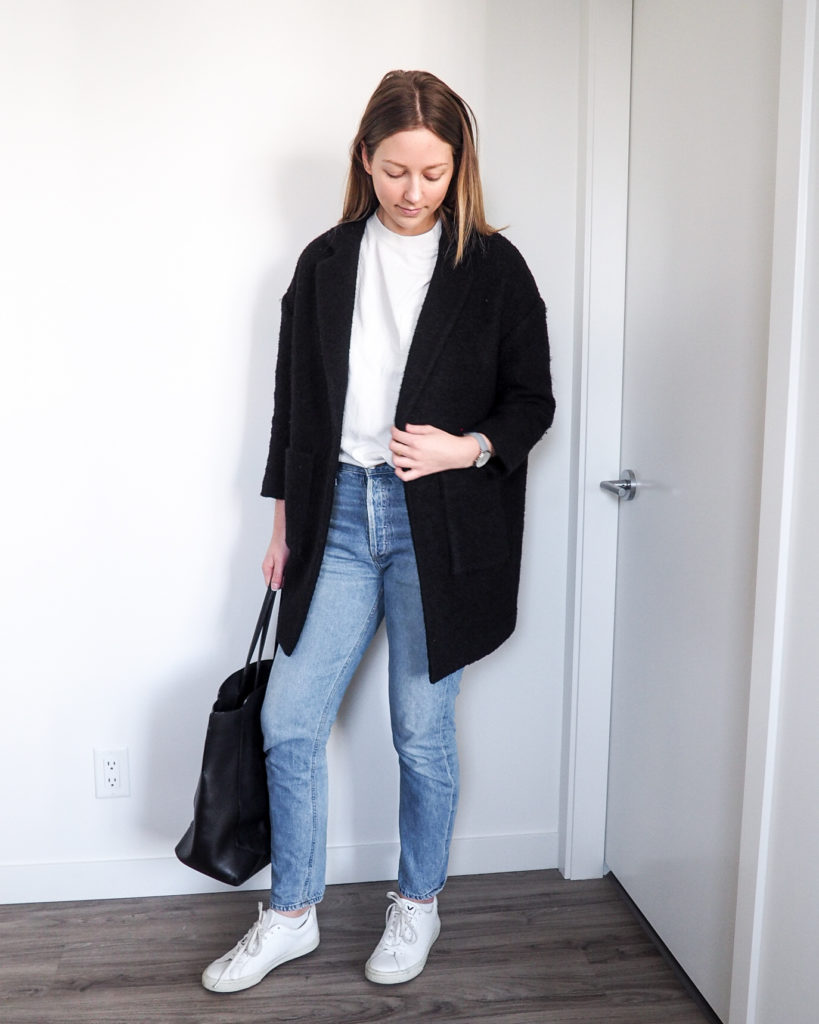 I was so excited to work with Nordgreen on this article because their watches are of Scandinavian design (I'm part Danish and just really love anything with that sort of minimalist vibe.) They are designed by Jakob Wagner, who is world-famous for his designs with Bang & Olufsen.
The watches offer interchangeable straps which make them incredibly versatile without breaking the bank. They also offer a few vegan strap options if leather's not your thing. Their pieces are affordable, and I can personally attest to their high quality and beautiful style!
If I'm going out, I'll layer a coat or jacket overtop and slip on my sneakers. During the day I like to carry a tote bag since if I'm running errands it doubles as a shopper (no plastic bags, thank you!) And that's my complete look for the day!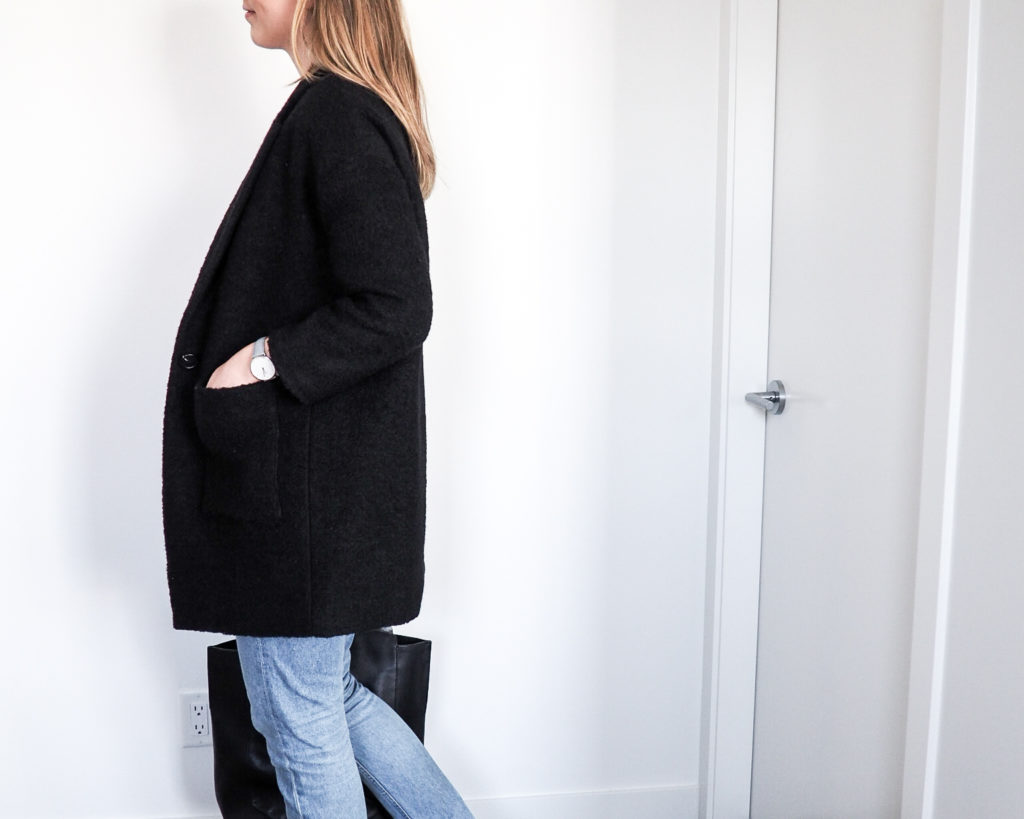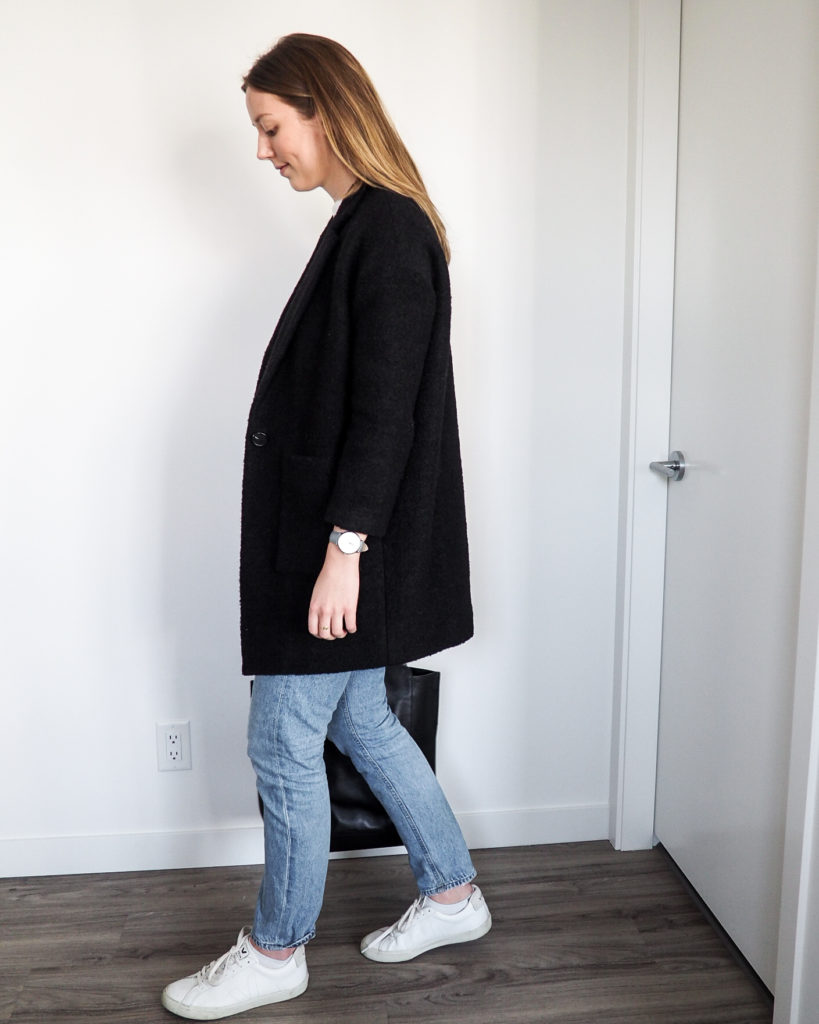 My Evening Look
Most nights you'll find me staying in, but on the off-chance we are going out to dinner or to see friends, I'll take the opportunity to get a little more dressed up. I'll touch up my makeup and add a touch of RMS Eye Polish, some mascara, and lipstick for more of an evening look.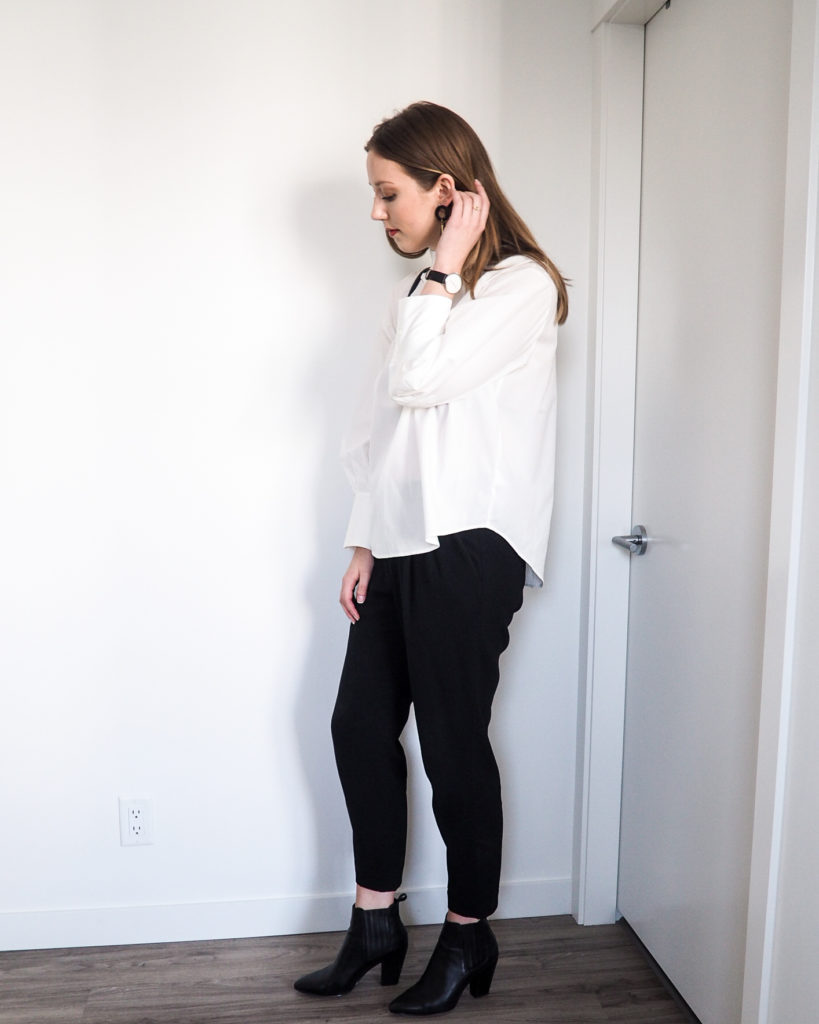 For my outfit, I love to keep the same sort of silhouette of a top and pants, but elevate it by using dressier fabrics. So instead of a t-shirt I'll opt for a silk blouse, and instead of jeans I'll go for some tailored trousers. Or for something easy, you can never go wrong with a little black dress!
I also like to swap out the jewelry and add something that has a little more impact, like statement earrings or a necklace. To finish off the accessories, I'm switching out the strap on my Nordgreen watch to black leather. It's such a classic, chic look, and the black makes it a little bit sharper for something like a date night or cocktails with friends.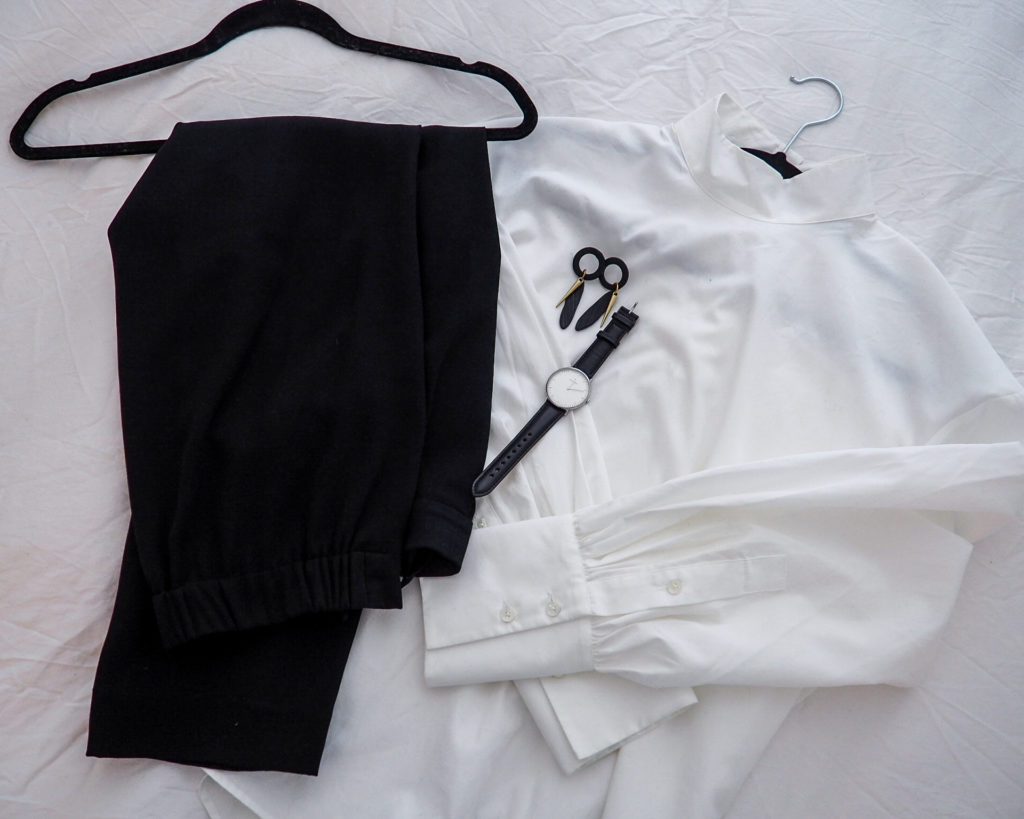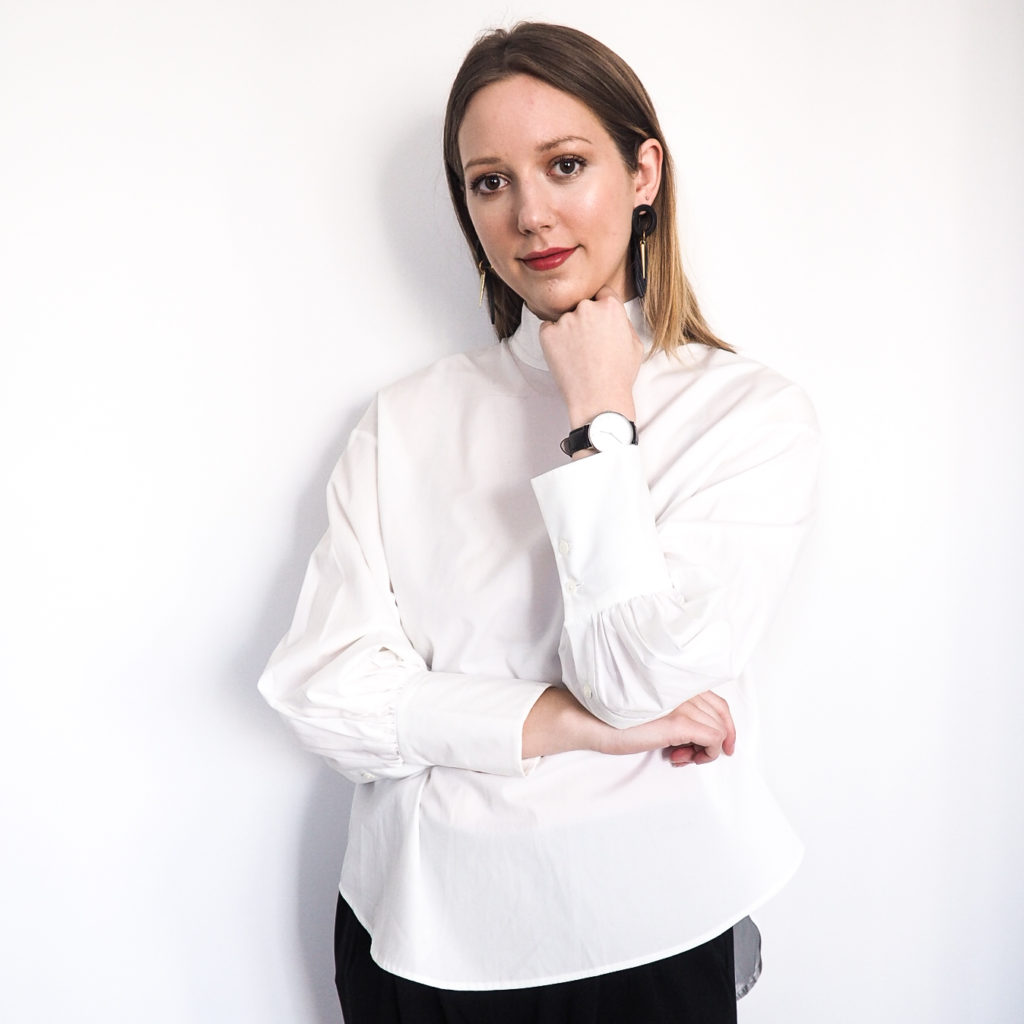 To finish off the evening look, I'm adding a pair of pointed-toe heel booties and my favourite side bag. It's a perfectly simple but chic look for an evening out!
Not only do Nordgreen watches look stylish, but I can feel good about wearing it because of their practice of giving back a portion of sales to social causes. When you buy a Nordgreen watch, you get to choose between one of three organizations to donate to:
Health: giving 2 months of clean water to a person in The Central Africa Republic with Water For Good
Education: giving 2 months of education to a child in India with Pratham UK
Environment: preserving 200 sq ft of rainforest in Latin America with Cool Earth
I'm always happy to give my vote to brands who are making positive change in the world. An easy way to do that as a consumer – when the need or want to purchase arises – is to choose to support and purchase from brands who are committed to corporate social responsibility, like Nordgreen.
I hope you enjoyed this post! Let me know what your favourite day to night looks are in the comments below. Thanks for reading!

Shop Nordgreen Watches
Use the code EMILY15 to receive 15% off your purchase with Nordgreen!