Sundays used to be a day full of dread for me. I knew it was the end of the weekend, and I'd feel anxious about starting another full five days of work. I'd want to get the most out of my day, and would stress about making it great – but that stress would immobilize me and normally I'd end up doing nothing but anxiously watching the clock count down to Monday. However, now that I've made changes to simplify my life, I actually look forward to Sundays as what they're supposed to be: a day of slowing down and rest.
In today's post, I'm going to be sharing some of my favourite slow Sunday rituals with you. I'm excited to be partnering with SOL Organics on this post – I'll be telling you a little bit more about their company and sharing my review of a few of their products. Let's get into it!
Hot Tea in Bed
One of my favourite ways to start my Sunday morning is by… going back to bed! I wake up to an alarm 6 out of 7 days of the week, but on Sundays I allow myself time to laze around in bed in the morning as long as I like. But because I'm normally up early and can't sleep, I love to go grab myself a hot drink (usually herbal or green tea because I can't have coffee), climb back into the sheets, and just sip and enjoy.
To be honest, it's this time that I normally end up checking emails and going on Instagram, which maybe isn't the slowest start to the morning. But I'm always most productive in the mornings anyway, so I like to get that out of the way – and what better way to do that than from a comfy bed?
It helps that these Hemmed Organic Sheets from SOL Organics are so cosy against the skin. I also love that their sheets are made from 100% GOTS certified (Global Organic Textile Standard), fair-trade organic cotton. The certification means that they need to meet specific ecological and social criteria in their production processes that qualify them as a responsible manufacturer.
The sheets might feel light, but their use of long staple cotton fibres means they are high quality and are actually made to last longer than regular cotton sheets. And, they're an affordable luxury – SOL Organics doesn't mark up their products past the initial premium, meaning they're sold for less than the industry standard. It's a total win-win for consumers and the planet!
Yoga or Meditation
Yoga is one of those things that I hardly get around to doing, but when I do, it just feels so darn good! Because I'm typically a pretty anxious person, I hold a lot of tension in my body, so getting a good stretch in and letting that all go feels amazing. It's also really easy to just do at home; just roll out a mat and throw on a free YouTube video or go along with your own flow.
I've also been exploring doing some meditation lately, because I've heard it's so beneficial especially for reducing stress. I have a really hard time quieting my mind down and it takes a lot of practice, but even just sitting for ten minutes and resting while trying not to think of my to-do list is a nice break.
Catching Up on Reading
I love books, but I'm normally too busy during the week to get much reading in. On Sundays I love to cozy up on the couch or back in bed and just lose myself in a good book. Normally I like to read novels, but I throw in some non-fiction every now and then. I've just finished my last book so I'm on the lookout for a new recommendation – if you've read anything good recently, please share in the comments!
Taking a Nap
Getting good sleep is so important to our overall health and wellbeing. I've always been a big sleeper, and there are some days where I just feel like I need a bit extra. So, I'll take a nap! I never feel guilty about it on my slow Sunday – that's what it's for, right? Let me know if you enjoy a nap every now and again in the comments!
Making Art
One of the ways I find the most joy in life is by creating. I love to write and sew, and I also enjoy drawing and painting. I've done art ever since I was young, but I wouldn't say I'm very skilled – and you don't have to be, either! I think the point of art is more the process, and not the end result.
For that reason, I particularly enjoy painting with watercolours. I find watercolours so hard to control, but the less control I try to have over the paint and the water, the more beautiful it ends up being. The water will just carry the paint where it wants, and you can only guide it and see what happens – which I think is sort of a good metaphor for life in general! It's inexpensive and it's a great exercise in learning to let go and just flow along with what comes.
Relaxing in the Bath
I absolutely love taking hot baths as a way to relax and wind down after my day. Normally I light a candle, drop in some epsom salts and essential oils, and sit back to steam away. It helps soothe muscle tension away from my body and gives me some space to think.
When I get out of the bath, I wrap up in SOL Organics' Super Plush Organic Bath Towels. These are so incredibly soft – when I first received them, I planned to reserve them for guest use, but when I felt them I just had to switch them in for myself!
Aside from the softness factor, they're very absorbent which is one of my number one pet peeves when it comes to towels. I've used other soft towels before, but because of the softness, they didn't absorb any water – and isn't that, like, the one job towels need to do? I don't need to worry about that with this set.
They're also a good large size so I can use just one to dry off both my hair and body. Lastly, they dry quickly which means I can get away with using them a few times before having to give them a wash, which helps with the sustainability factor.
Listening to Music
I feel like no one ever listens to music anymore just to listen – we're always listening to music while doing something else, like working, driving, cleaning, etc. Sometimes it's nice to just sit down, put on an album, and enjoy it for what it is without any other distractions. When it comes to music, I like a bit of everything – from alternative indie to classical, and even a bit of pop thrown in! Some of my favourites are Lana del Rey, Tame Impala, The National, and Beach House – but if you want some more recommendations, let me know in the comments!
Bedtime Chamomile Tea
Finally, to end my day I like to make an herbal tea, preferably with chamomile so that I get the anti-anxiety benefits. Chamomile is super calming and also helps induce sleep. It's beneficial any day of the week, but it's especially a nice way to finish off my slow Sunday and ensure I get a good, peaceful night's rest to prepare me for the week ahead.
I hope you enjoyed reading this post! Let me know some of your favourite ways to slow down (on Sundays or otherwise) in the comments below.
Thanks for reading!

Pin for later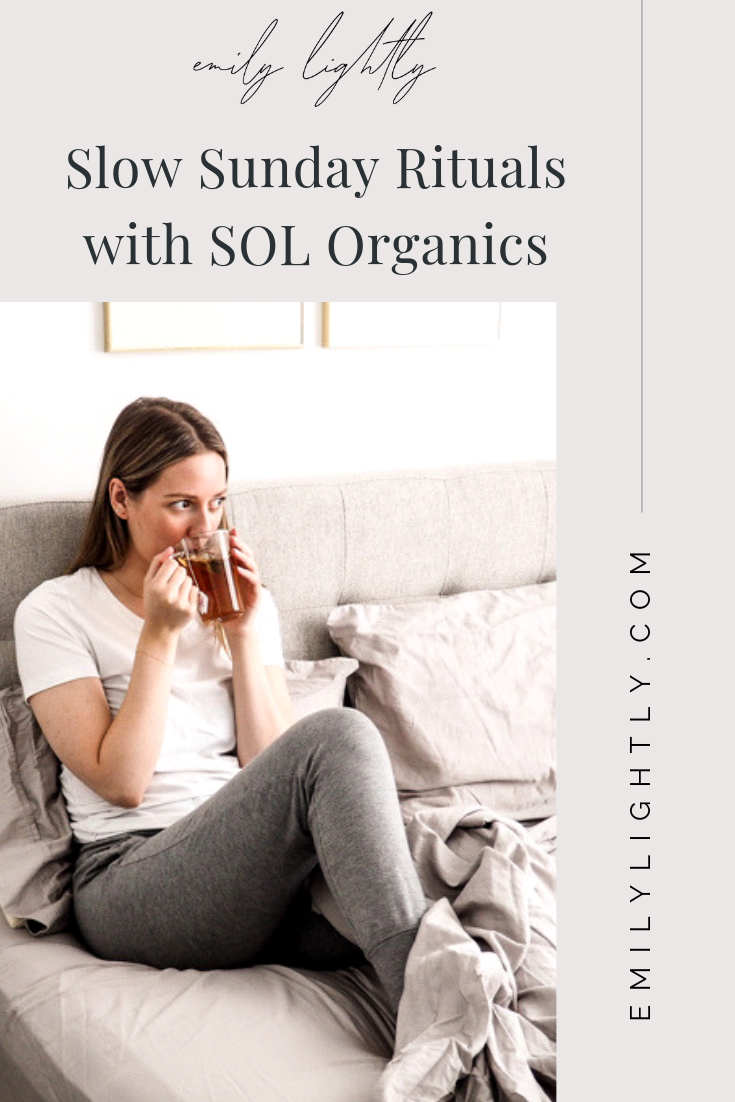 Note: This post was sponsored by SOL Organics, and the products in this post were kindly gifted to me for the purpose of my review. All opinions are my own. This post contains affiliate links meaning I make a small commission off purchases made through these links. Please see my disclaimer for more information. Thanks for your support!