In this article, I wanted to share one of my favourite low-waste recipes: crispy baked kale chips. These are a great, healthy snack and they're also really easy to make!
For this recipe, I'm using some kale that I grew in my small patio garden this year. But store-bought green or purple kale works perfectly fine as well. If possible, bring your own produce bag or simply skip using the plastic produce bag provided by the store to keep it low-waste.
For seasonings, I'm using garlic powder, nutritional yeast, and salt. These can all be found easily in bulk stores, so you can use re-usable containers. I like to keep old shaker containers and re-fill them with what I buy from the bulk store.
Watch the Video
Ingredients:
One bundle of kale
Olive oil (or other oil of choice, such as coconut)
Seasonings of choice (I'm using garlic powder, nutritional yeast, and salt)
Instructions:
Preheat your oven to 350 degrees F.
Wash your kale well and allow it to dry.
Tear the kale into bite-sized pieces and place in a mixing bowl. Drizzle with oil and season to taste, mixing well to coat evenly.
Place kale onto baking sheets lined with parchment paper. Try to space it out as evenly as possible.
Bake for approximately 20 minutes, keeping an eye on them so they don't burn.
Allow the chips to cool on the pan so that they crisp up.
Enjoy! These chips are best eaten straight away, but they can also be saved for later in a sealed container.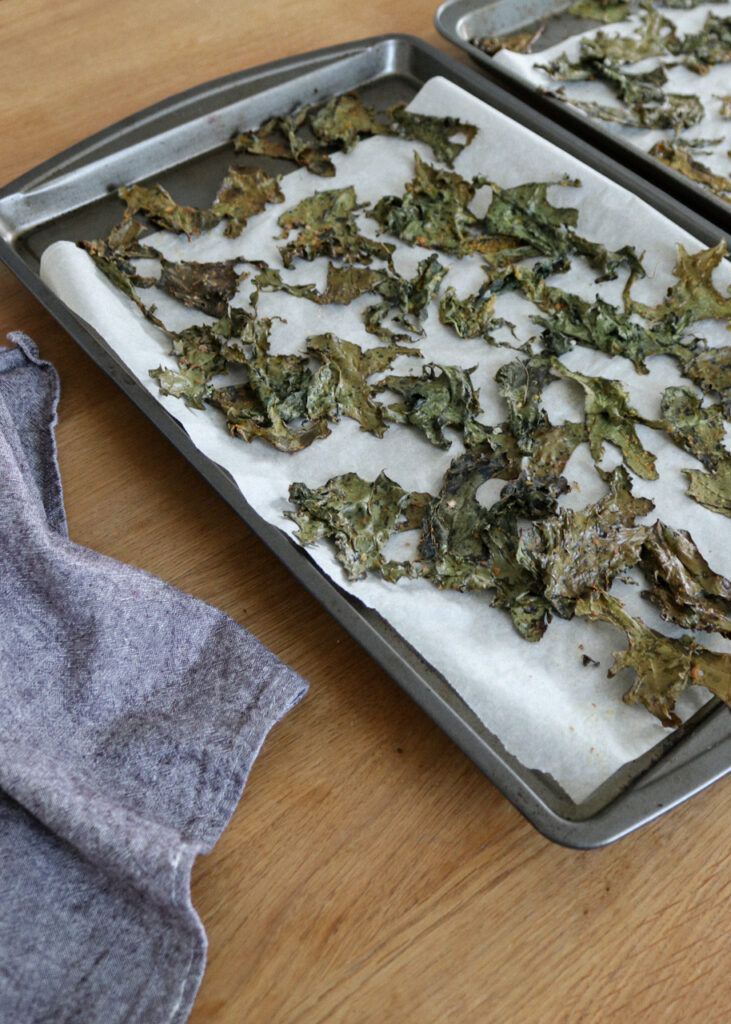 I hope you enjoyed this article! If you'd like to see more of my low-waste cooking recipes, let me know in the comments below.
Thanks for reading,

Pin for later