Today's article is the first in what I'm hoping might become a series where I re-create outfits from my favourite celebrities and style icons using clothing I already have in my wardrobe.
As someone who is trying to keep my closet more minimal and shop less, I'm always looking for inspiration and trying to find new ways to wear what I already have. One of my favourite sources of inspiration is Pinterest, and I find that a good amount of the outfits I pin come from celebrities. (You can check out my Style Icons board on Pinterest here).
So in today's article, I wanted to re-create some looks from one of my favourite style icons, Dakota Johnson. I really love her style because she always looks really classy and put together, but her outfits are still really approachable for a celebrity. She wears a lot of casual outfits that are easy to replicate, like a pair of jeans and a t-shirt (which is basically my uniform!)
She also wears a lot of timeless, classic pieces like loafers and blazers which are great basics for any wardrobe. Overall I think she has really great style and I'm excited to share some of my favourite outfits of hers with you.
I've chosen ten outfits from Pinterest that I'm re-creating using what's already in my closet. Everything in this post will be linked as best I can (or linked to something similar). There's also a video version of this post if you'd prefer to watch that instead. Let's get into it!
Please note that this post contains affiliate links, which means I make a small commission from purchases made through these links. Please see my disclaimer for more information. Thank you for your support!
Watch the Video
The Outfits
Outfit 1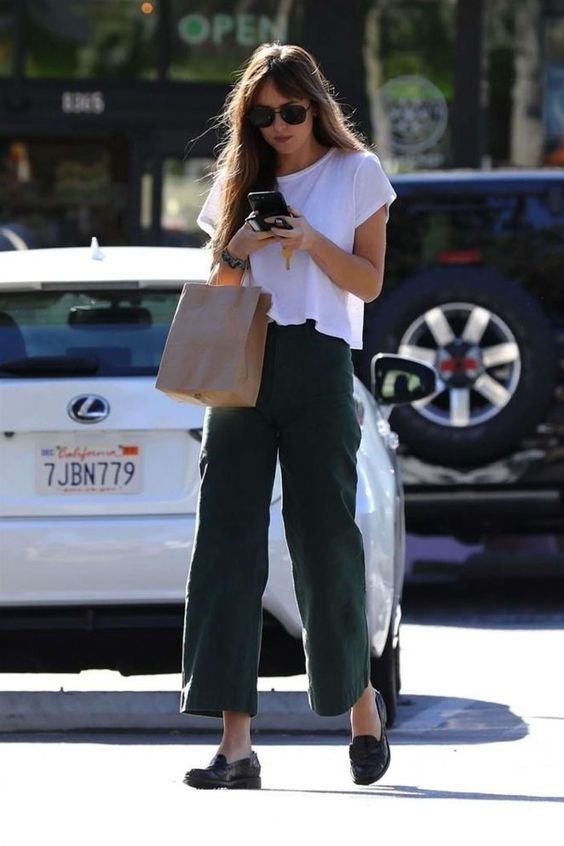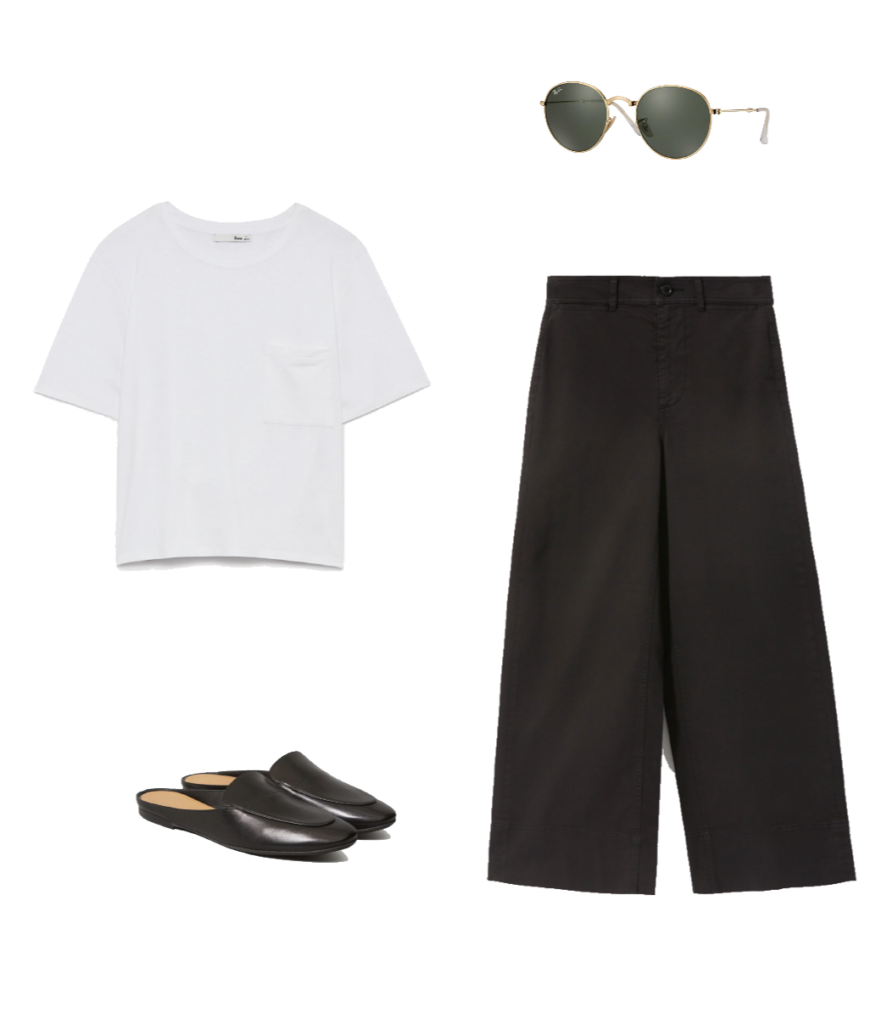 This first outfit is a really simple t-shirt and pair of wide leg pants. Hers look like a really beautiful dark green colour, but I'm substituting a black pair which is all I have. I am however planning on making a pair of the Anna Allen Persephone Pants in a similar colour inspired by this outfit! She's wearing her t-shirt untucked and as you know I'm a fan of the french tuck, but that's totally up to your personal preference. She's also wearing sunglasses in almost every photo, so I've included them in my outfits too.
Outfit 2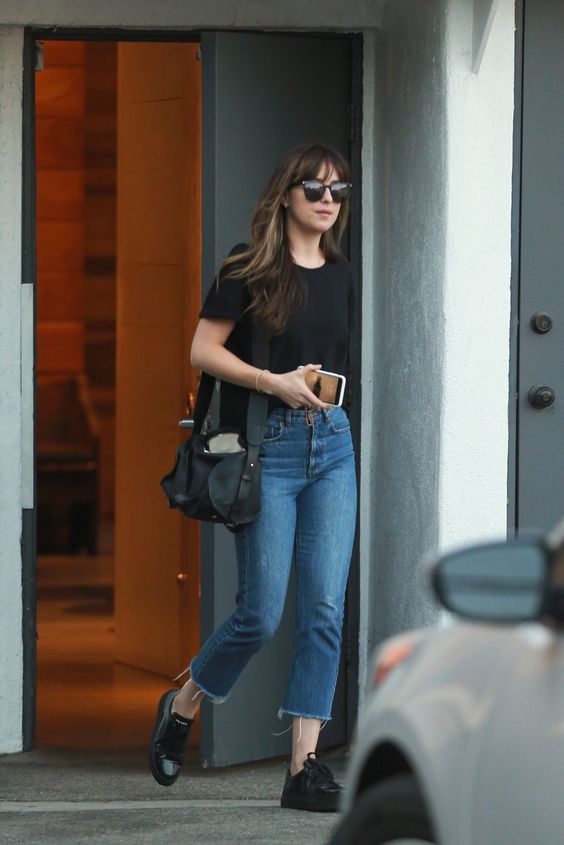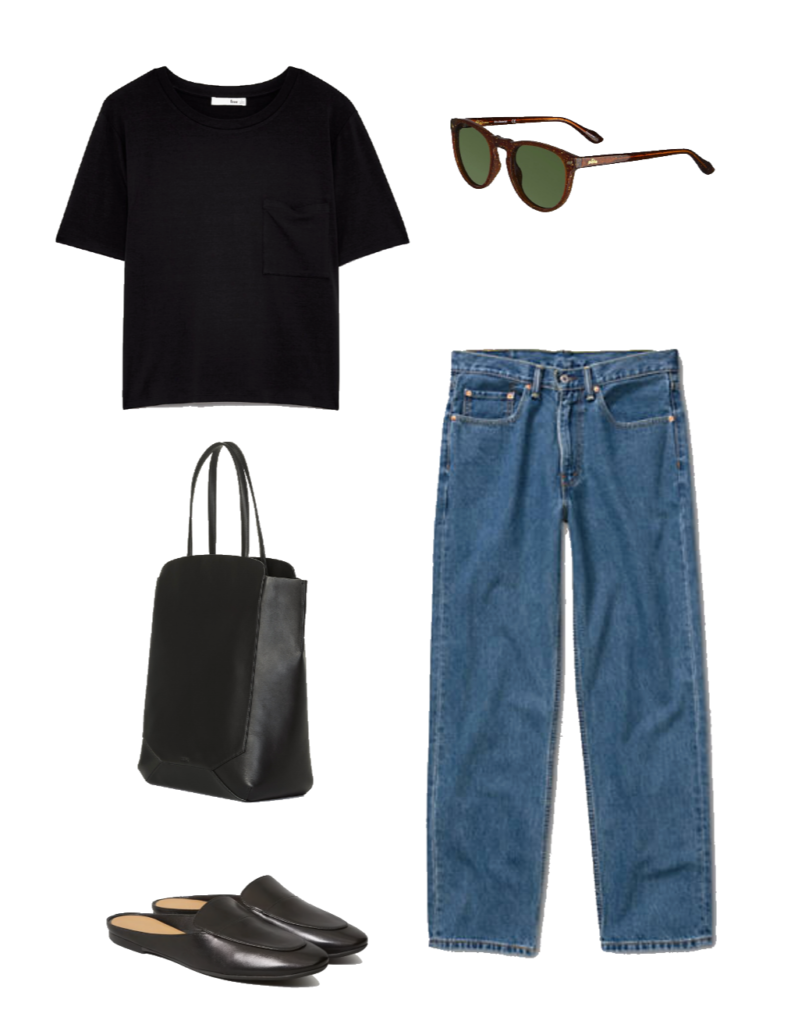 This is another really simple look with just a basic black tee and a pair of medium wash denim. It looks like she's wearing black sneakers which I don't have, so I substituted the same pair of slip on mules from the first outfit. This is a really basic and casual outfit that I would definitely wear, and maybe just add a layer like a cardigan or jacket for fall.
Outfit 3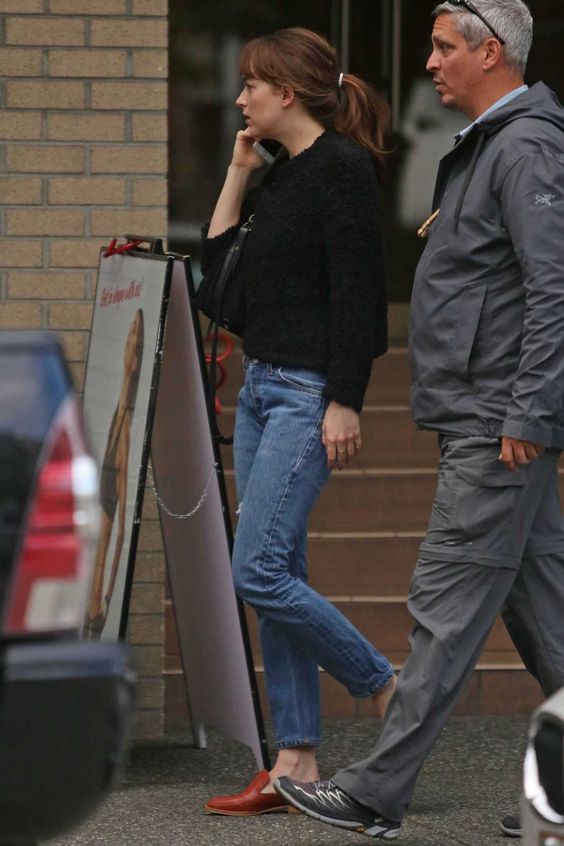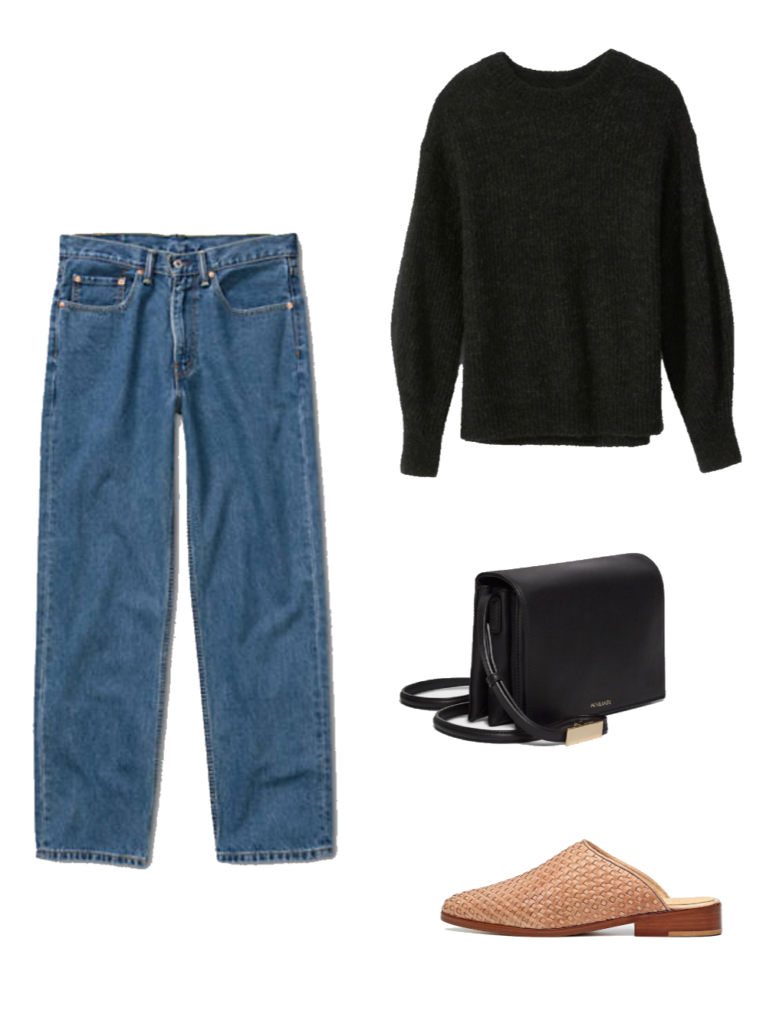 I love this outfit – it's probably one of my favourites of this lookbook. It's just a simple crewneck sweater paired with medium wash denim. She's wearing loafer mules, but I swapped in these woven slides instead since they're more of a similar colour than my black ones.
Outfit 4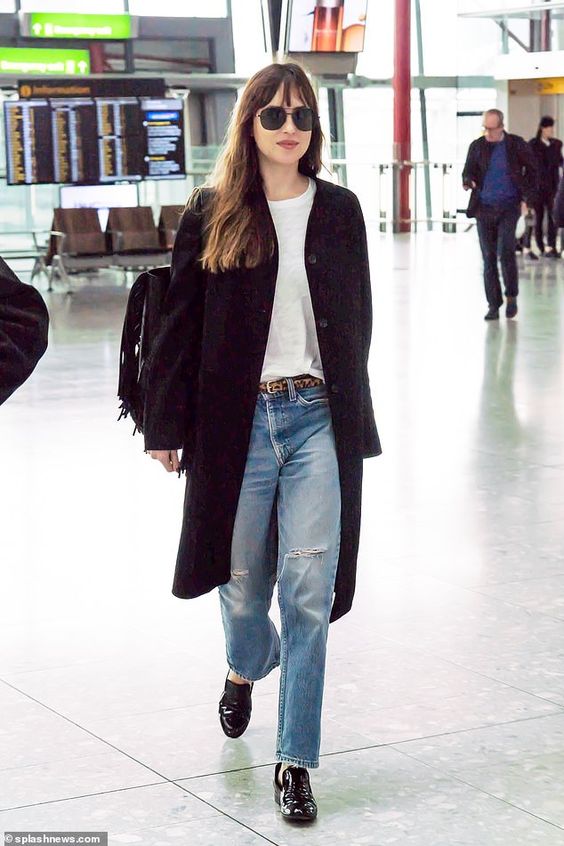 This outfit probably best describes my fall uniform – a basic white tee and jeans with a warm layer over the top. The belt is a nice added touch as it brings some warmth into the colour palette. Her jacket is a little longer and it looks like she's carrying a backpack instead of a tote bag, but I think the overall effect on this one is still pretty close.
Outfit 5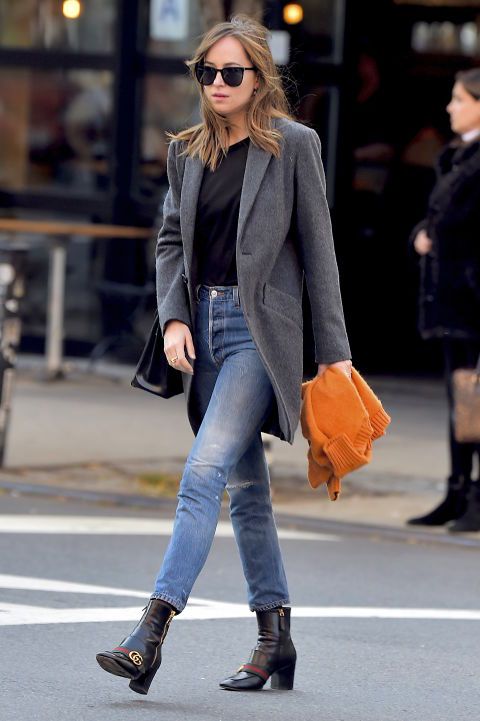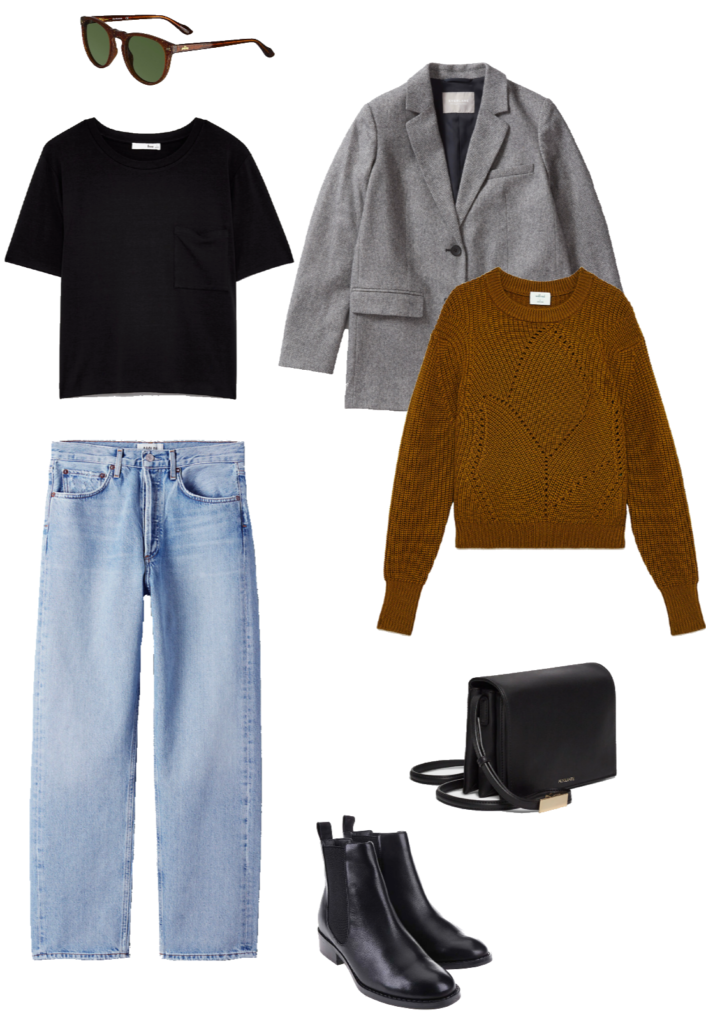 This outfit is one that's constantly coming up on Pinterest for me. It's super classic and I love the pop of colour with the orange sweater. I don't think it's super practical to be carrying around a piece of knitwear in your hands like this, but I can imagine it more as if you were wearing it as a layer and it maybe got too warm so you took it off. In any case it's nice to have some options for layers this time of year because the weather can definitely change quickly.
Outfit 6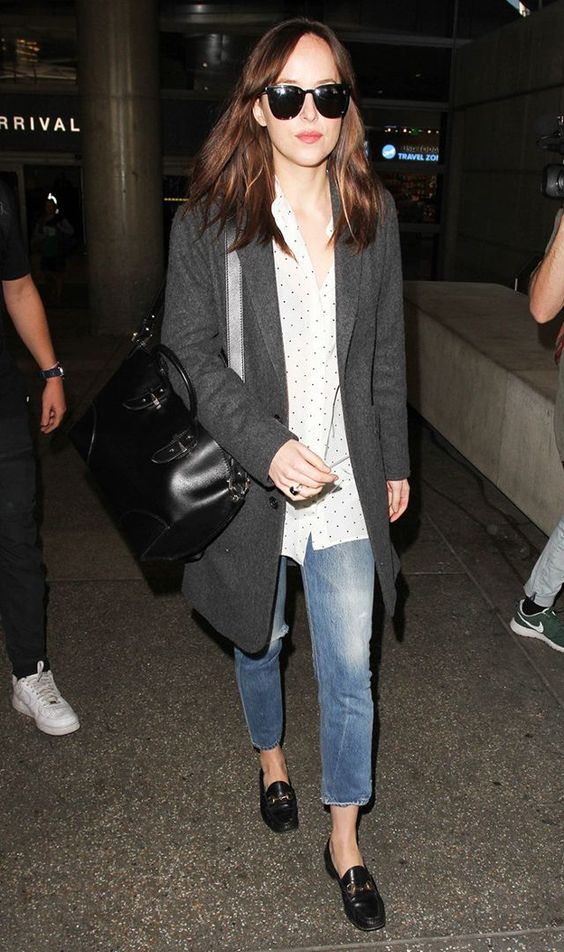 I feel like this whole lookbook is just this blazer and these loafer mules so far, but I guess that just goes to show how versatile these pieces are and how much wear you can get out of them! Her collared shirts look a little longer than the one I have and also has polka dots, so I think I would tuck mine in just because I think it would work better for this style. But again, this is just a really classic look which I can see being worn to run errands or grab some lunch, or to the office if you work in a more business-casual setting.
Outfit 7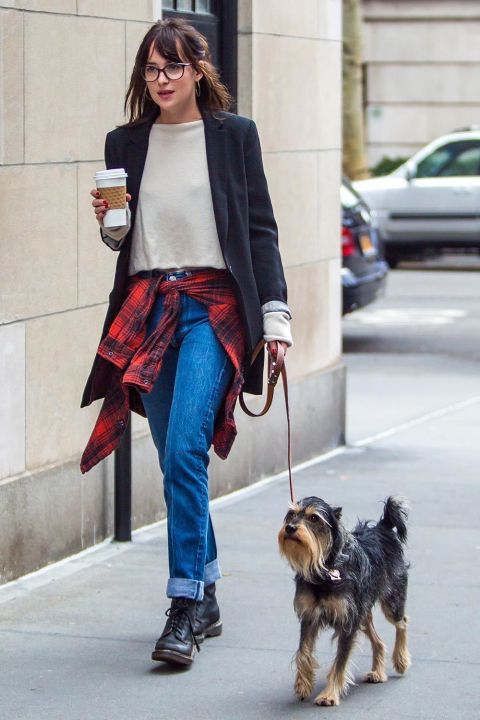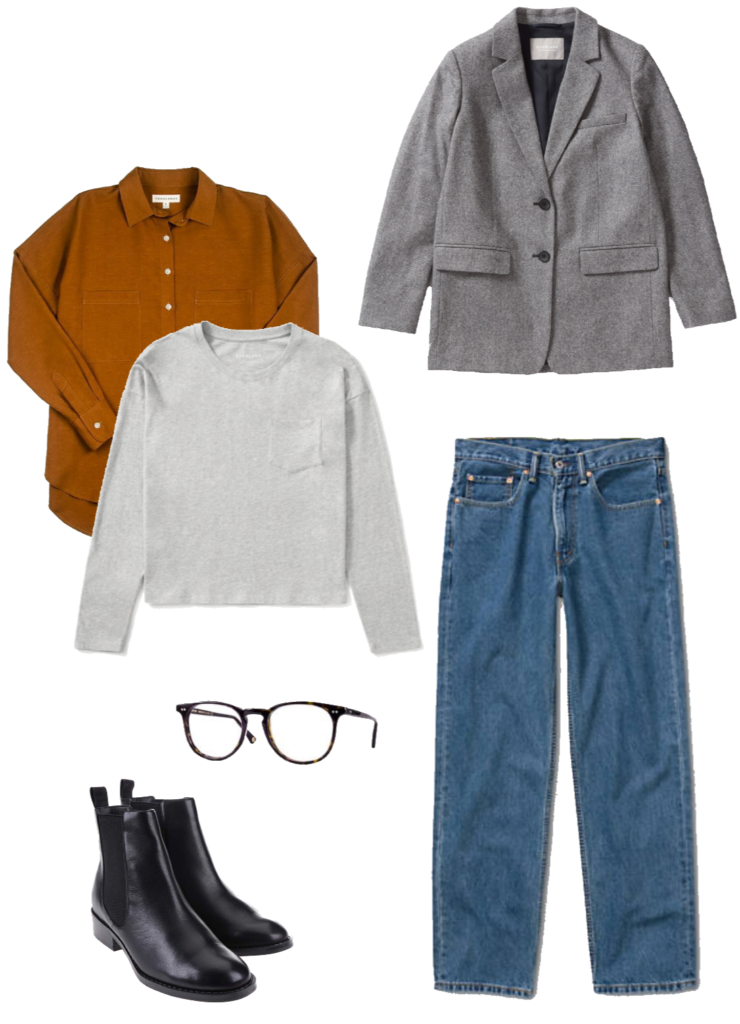 For this next outfit, I don't have a flannel shirt so I've swapped in a very fall-appropriate rust-coloured one instead. This isn't something I'd normally wear and I don't think the end result on me was as effortless as it is on Dakota, but it's still fun to explore new ways of wearing my wardrobe that I might not have thought of before. I'm also throwing in my pair of reading glasses which I wouldn't usually wear outside the house, but I just wanted to use them to complete the look for this outfit. I also wish I had her dog, but that's a conversation for another day.
Outfit 8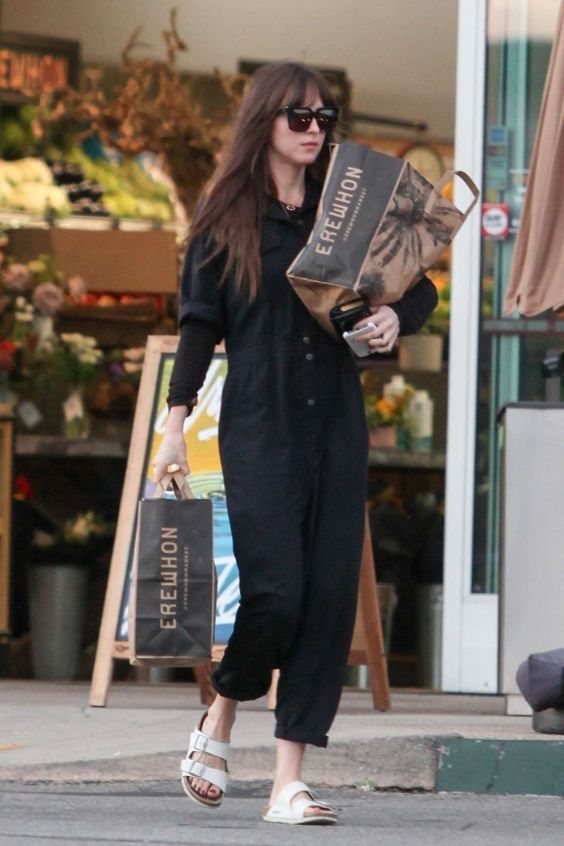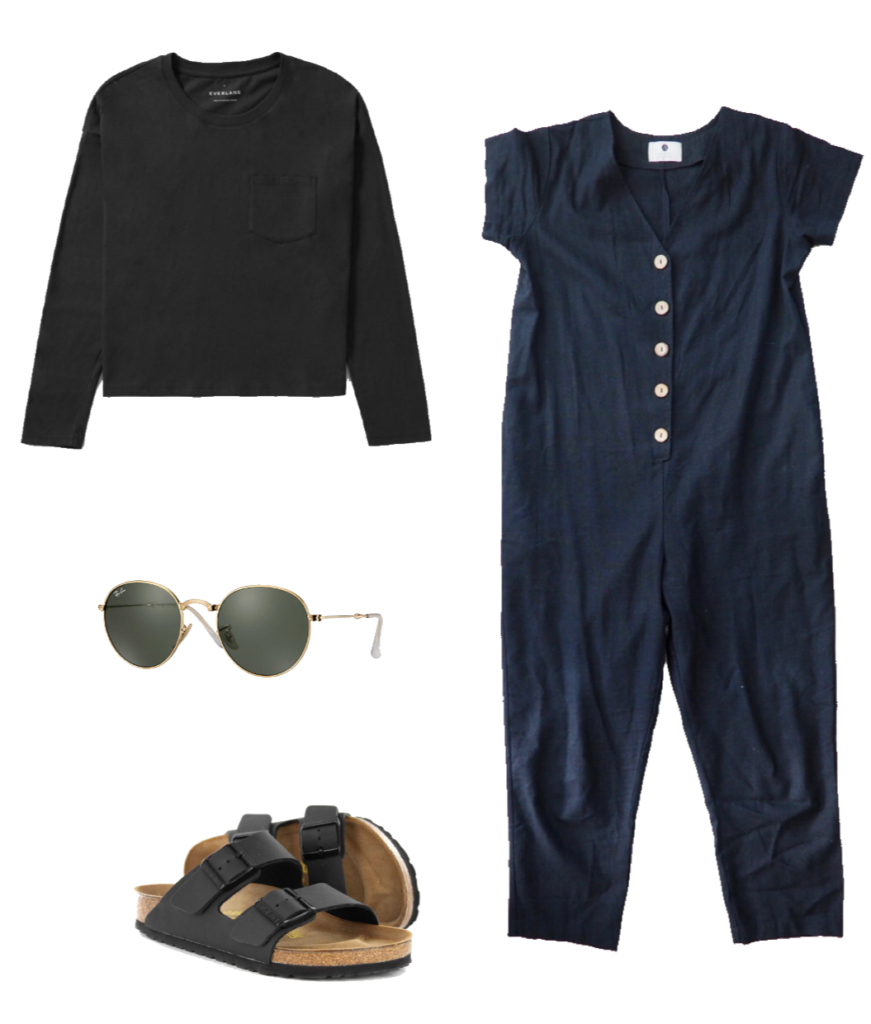 For this outfit, I'm wearing a linen jumpsuit over a long-sleeve top which I think is a great way to carry over a summer piece like this into the fall and winter. Her sandals are obviously lighter and mine are black, so I think adding a lighter piece like a canvas tote would help break up the outfit and warm it up a little. But overall I really like this look and it's definitely something I would wear.
Outfit 9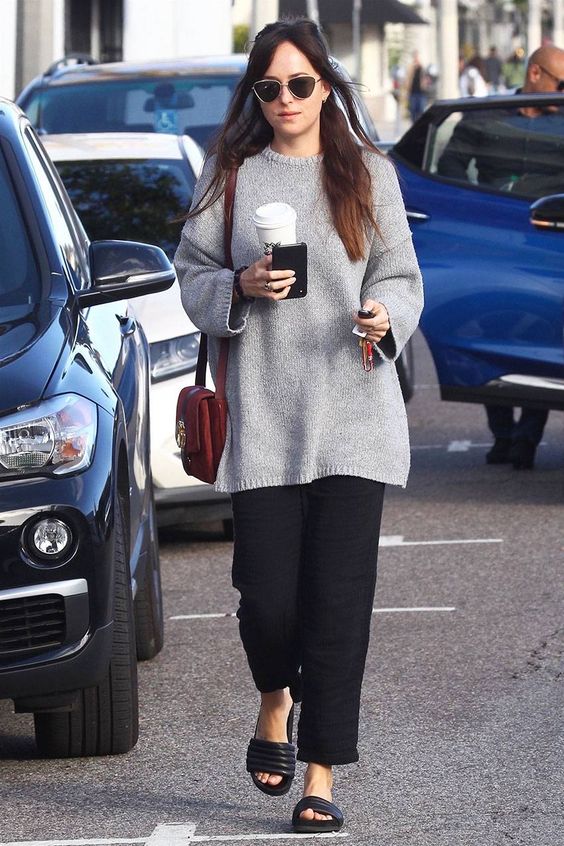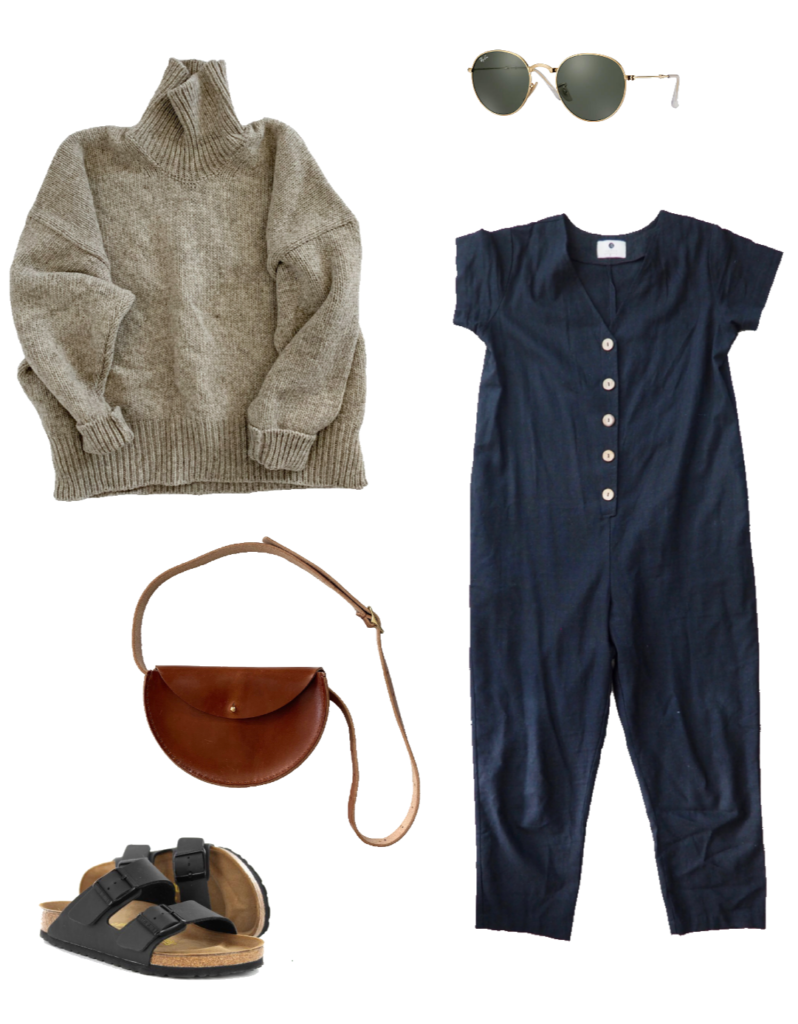 This is another favourite look for me. I'm pairing the same jumpsuit as the last look with a really cozy, chunky turtleneck to achieve a similar look. This one would be so cozy and warm for fall and winter. I really love the short period of the year between summer and fall where you can actually get away with wearing cozy sweaters and sandals.
Outfit 10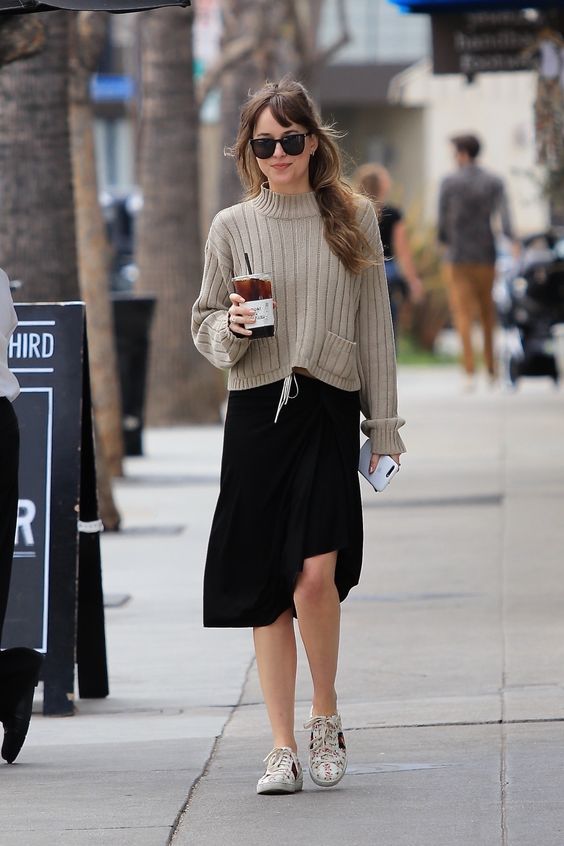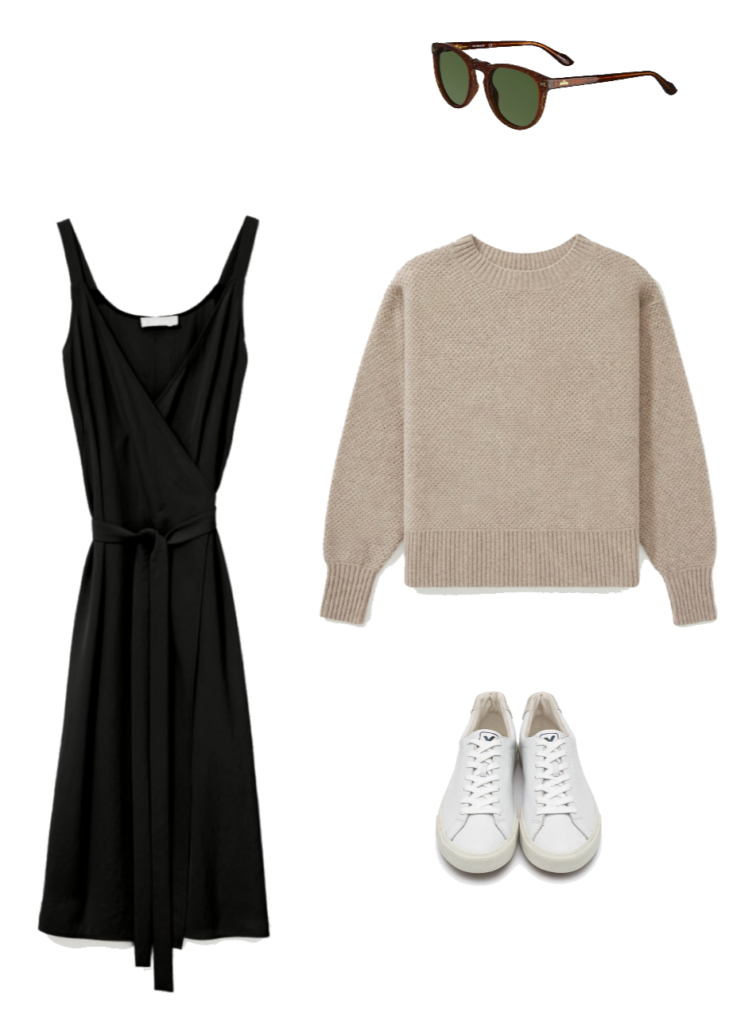 Finally, for this last look I'm pairing a black wrap dress and layering a cashmere waffle sweater over top. I love how she paired this look with some beat up sneakers as it makes it super casual. If you wanted to dress it up, you could also swap in a pair of loafers or slides. I also think this one would look great with a pair of boots for fall.
Bonus: A Transitional Capsule Wardrobe inspired by Dakota Johnson
As a little bonus, I used 29 pieces in total to create all of these looks. So I thought it would be fun to put them all together as a transitional fall capsule wardrobe as well!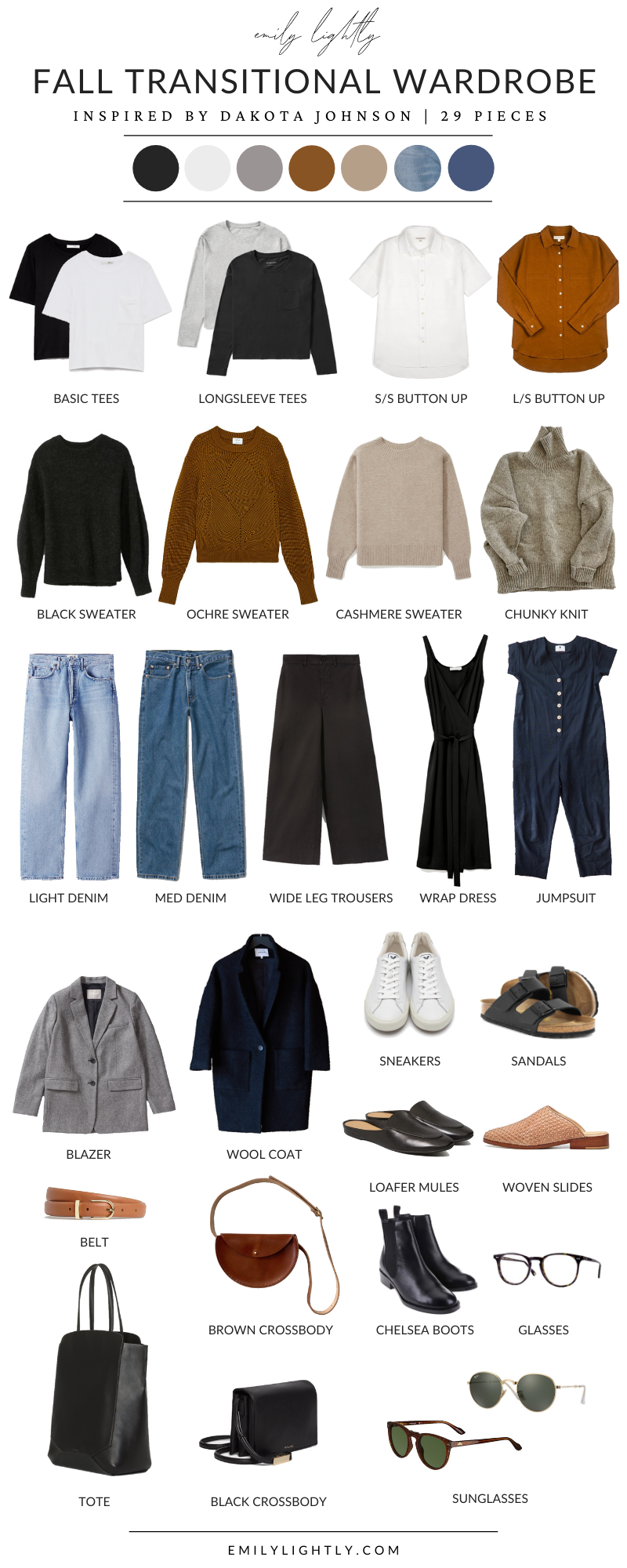 I hope you enjoyed this article and that it gave you some outfit inspiration to take away to your own wardrobe! Which celebrity or style icon would you like to see me re-create outfits from next? Let me know in the comments! And as always, thanks for reading.