As I've gotten older, I've become less focused on makeup and much more into skincare. It's become a sort of self-care ritual for me, and I really enjoy trying new products and finding out what works best for my skin.
I was recently sent some products from Miranda Kerr's clean skin care line, Kora Organics, in exchange for an honest review, and I was really excited to try them! I was particularly interested in the Turmeric Glow Moisturizer, as turmeric is one of my favourite ingredients. It's such a powerhouse when it comes to brightening, and I haven't found many skin care products out there that include it.
So if you've been wanting to give this brand a try, or if you haven't heard of it but are interested to learn more, then just keep reading!
Note: The products featured were gifted to me in exchange for a blog post review. This article contains affiliate links meaning I make a small commission from purchases made through these links. For more information about how I work with brands, please see my disclaimer. Thank you for your support!
Product
In total, I was sent four products to test: the Turmeric Glow Moisturizer, Turmeric Brightening & Exfoliating Mask, Noni Glow Face Oil, and Noni Bright Vitamin C Serum. Let's talk about the products themselves first.
Turmeric Glow Moisturizer
I have to say this one is really nice. It goes on smoothly, absorbs well and doesn't leave my skin feeling greasy. I have oily/combination skin, and so far this doesn't cause me to break out. The best part is I have definitely noticed a difference when it comes to some dark spots left on my skin from acne. I tend to scar quite easily and I've noticed that they are fading faster than usual, I think thanks to the turmeric. I typically use this product at night only after cleansing my skin.
Shop the Turmeric Glow Moisturizer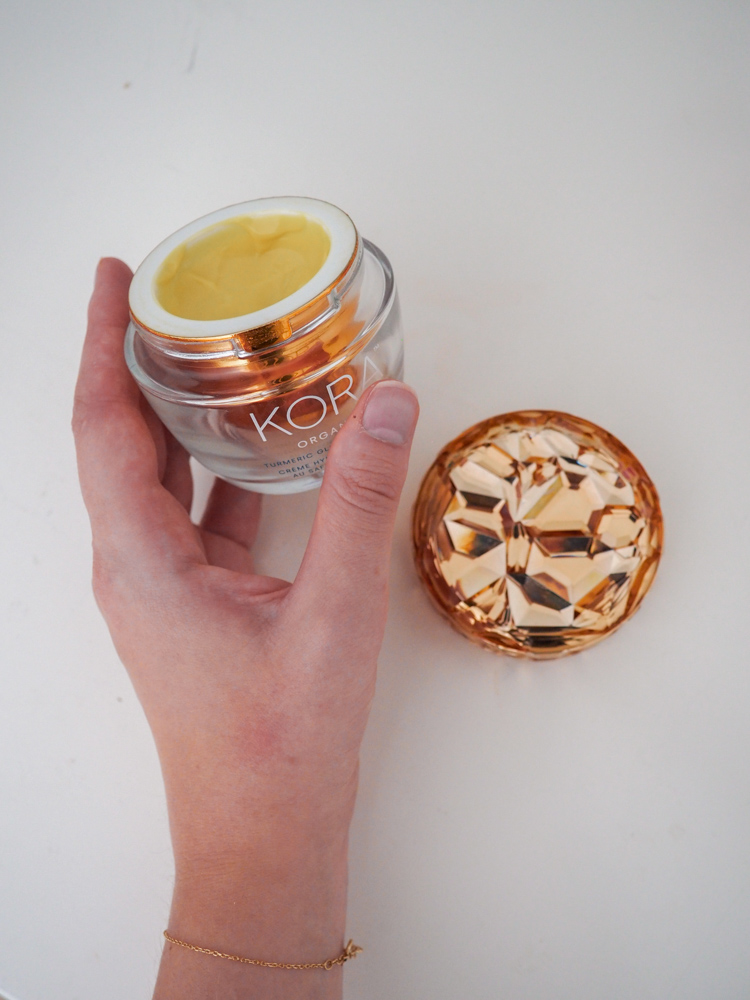 Turmeric Brightening Mask
This one looks a little scary coming out of the tube, but I actually really enjoyed using it. I love the exfoliating action of the mask which helps to remove dry and dead skin cells when applying as well as when removing. So it works both to exfoliate the skin, and then brighten it as well. I've been using this approximately once a week.
Shop the Turmeric Brightening Mask
Noni Glow Face Oil
Oils are usually a tough one for me because of my skin type, so I need to be careful to avoid products that are too heavy in case of breakouts. So far this one has been really nice and light, and leaves my skin feeling hydrated and glowing without feeling too oily or causing excess buildup in my pores. I typically use this after I shower in combination with a jade gua sha stone.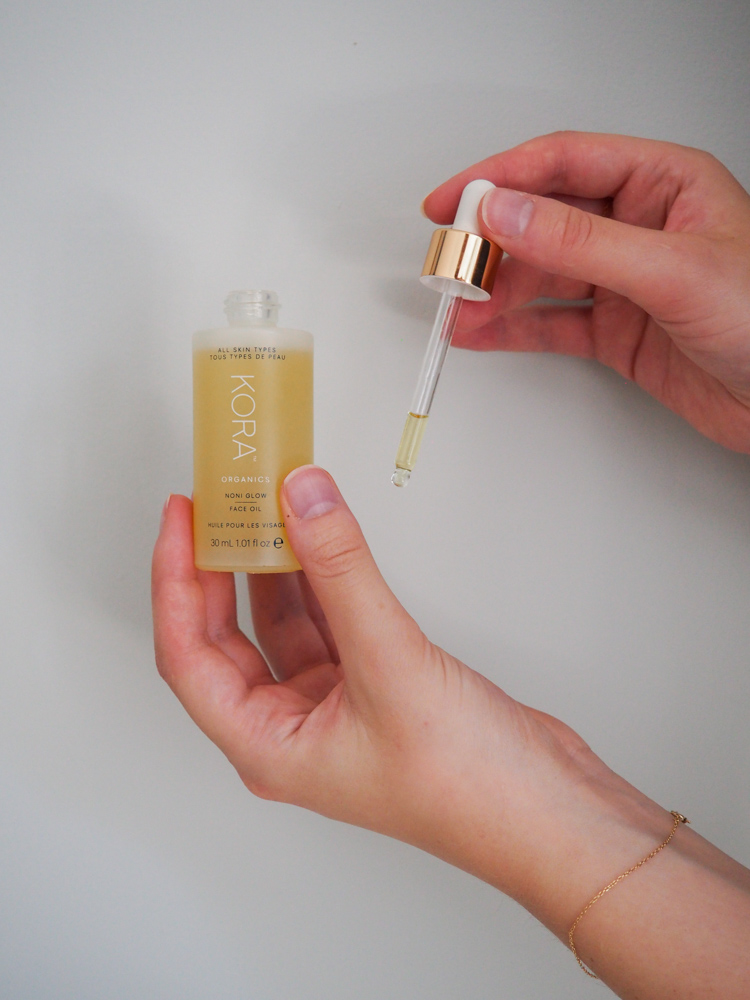 Noni Bright Vitamin C Serum
Last but certainly not least, the Vitamin C serum is something I've been using every morning. This is the one that I think I was most pleasantly surprised with, mainly because I've tried several vitamin C serums in the past but I've never noticed much of a difference in my skin. Until this one, that is! Firstly, this product smells so good as well, with a lovely citrusy scent. But more importantly, it actually seems to give my skin that ever-desirable glow that other products I've tried couldn't help me achieve.
Shop the Noni Bright Vitamin C Serum 
It's also worth noting that all of the products in the collection are cruelty-free and contain high quality, certified organic ingredients.
Packaging & Sustainability
Sustainability is something that's always important for me to consider for any brand, not just skin care. And often, it's a tough one to balance as so much skin care comes packaged in plastic or non-recyclable containers.
Kora Organics seems to be doing a pretty good job sustainability-wise – it's not the best I've seen, but it's up there, and the brand also has specific goals that it's working to achieve in order to improve.
All of the products are contained in either glass packaging or recyclable plastic packaging. Personally, I prefer glass packaging as it's much easier to recycle. I often hold on to old glass containers to re-use as well.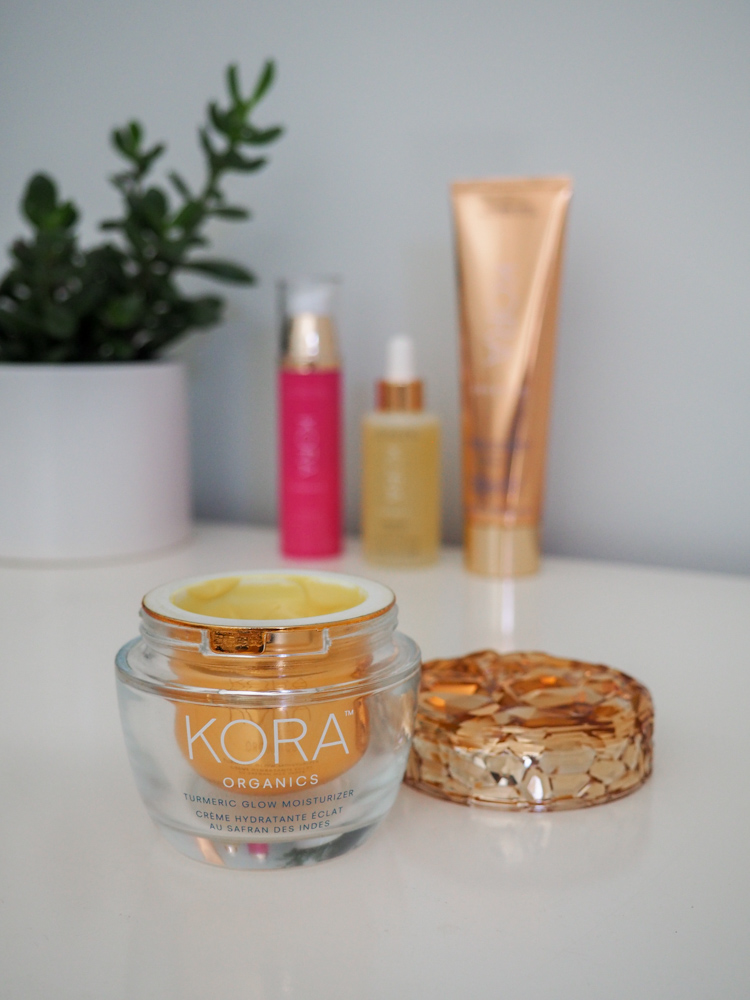 The Turmeric Glow Moisturizer comes in a glass jar with a re-fill pod, so you actually keep the larger glass container and re-use it while only purchasing the smaller pods. I think this is a really good system to reduce overall waste, and buying the pods alone is also less expensive than buying the entire jar again.
Other than that, Kora Organics is currently working with an external organization to become climate neutral in 2021, is also working towards using more sustainable packaging in all future products. If you're interested, you can learn more about their sustainability initiatives here.
Price
Price is another important consideration when it comes to skin care. These kinds of products can get expensive really fast! It all depends on your budget, but relatively I would say this is a mid-range brand when it comes to the price. As an example, the Turmeric Glow Moisturizer retails for $58 USD including the jar, and then $46 USD for the refill pod only.
It's not the most affordable line out there, but it's also not exorbitant, especially when you consider the quality of the ingredients. High-quality products with clean ingredients that are also effective generally means a higher price point, and I've always found that with skin care you get what you pay for (though there are still some really great affordable brands out there as well.)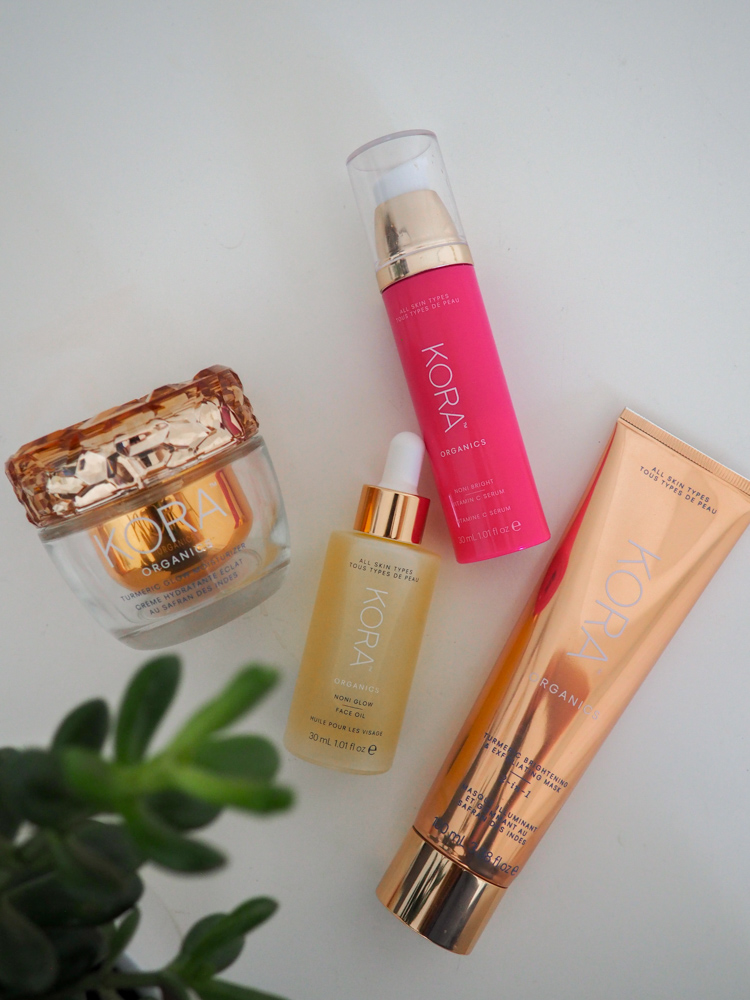 One tip I have for reducing the overall cost is to use products sparingly to extend their life. You actually don't need as much as you think you do. I've been using these for over a month now and there's still plenty of product left, so I would guesstimate that I would probably get anywhere from 3-6 months of use out of them (less for the daily products and more for the weekly ones, like the mask).
Final thoughts
Overall, I have to say I'm pretty impressed with the quality of ingredients as well as the values of this brand. The two products I'm most impressed with are the moisturizer and the vitamin C serum, though I think all are worthwhile investments depending on your budget and what you look for in your skincare regimen. Based on these, I'm definitely looking forward to trying other products from the range as well!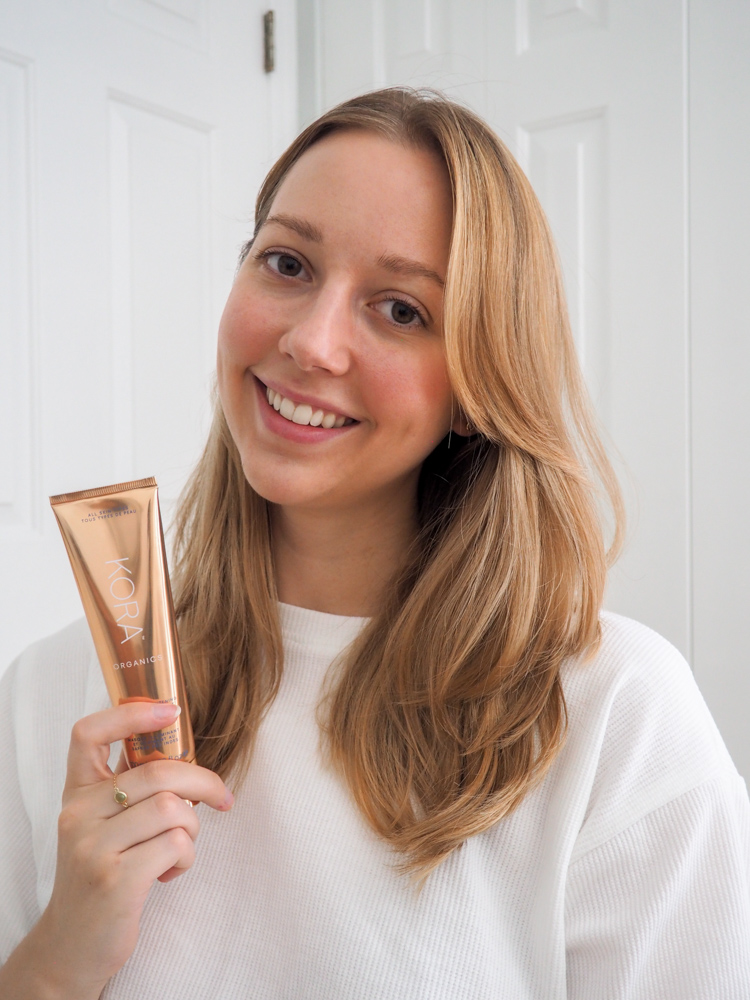 Is Kora Organics a brand you've tried, or one you'd like to try? I'd love to hear your opinions in the comments below. And I'd also love to know what other skin care brands you'd be interested in a review of.
Until next time, thanks for reading!

Pin for later