For an "aspiring minimalist", I'll admit that I have a very full skincare routine. But, taking good care of my skin is something I really enjoy and invest in. Plus, I don't spend a lot on brand new products or buy more than I need. I've also moved to almost exclusively using eco-friendly and natural skincare brands, which will be the focus of this blog post. Aside from my holy grail exfoliant, my current routine is made up of mainly natural products. The best part is that they actually work. They make my skin look and feel amazing, but without all of the harsh chemicals or damage to the environment.
There are a few reasons why it's important for me to use natural skincare products from eco-friendly brands. First, consider that your skin is the biggest organ in your body. Everything that you put on it absorbs directly into your bloodstream. So many products these days contain toxic chemicals can have severe and negative impacts on your health.
All of the brands I currently use are also cruelty-free. I am against testing on animals, and so I really try to stay away from any products or brands that employ it. (You can check whether a brand is cruelty-free at PETA.org.) Finally, a lot of these brands use recycled packaging which is important for the environment and reducing waste.
All that being said, it can be hard to find natural skincare products that meet all of this criteria and still actually get the job done. I've tested out quite a few brands and products in the past, and I feel that these are really the most effective and worth the money. This post isn't sponsored in any way, these are just my own opinions based on my experience. So, let's get into it!
My Natural Skincare Routine
Cleansers & Hydrating Mists
After removing my makeup and cleansing my skin with water, I use the Sukin Micellar Water to remove any remaining impurities. This might be my favourite natural product as it just feels so amazing on the skin, and it's so budget-friendly! It's also the lazy girl's best friend as it's so quick and easy to use. I just pour a little onto a cotton pad and swipe it all over my face. You'll be amazed how much dirt comes off even after cleansing!
With micellar water and other liquid formulas in particular, you want to watch the ingredients. A lot of drugstore formulas contain the chemical polyaminopropyl biguanide (PAPB), which is currently banned in the EU for its potential to cause cancer.
After my face is feeling fresh and cleansed, I like to spritz a bit of the Herbivore Rose Hibiscus Hydrating Mist all over my face. It smells amazing and just feels very luxurious and indulgent! It acts as a hydrating toner which prepares the face for serums and moisturizers. Herbivore products are sold at Sephora or you can purchase them directly online. They are mid-range when it comes to budget, but so far this mist has lasted me a good long while so it seems to be good value for the price.
Serums & Oils
Before moisturizing, I will either use a serum or a skin oil. I recently discovered the By Nature Moisturizing Face Serum and it's become one of my favourite steps! It is made with coconut oil and the scent reminds me of a tropical summer getaway. I also use the Rejuvenating Eye Cream from the same brand which smells just as nice. I actually found these products at Winners in the natural aisle. Since then I haven't seen them, but when I need to restock next I will definitely be looking for these. Like Sukin, the brand is very budget-friendly so it's a great first step if you're looking to move to natural skincare.
Another Herbivore product that I use is the Orchid Facial Oil. This one is definitely a bit pricey but a little bit goes a long way. What I really like about this product is despite being an oil, it's very light and doesn't clog pores. I have normal to oily skin so it's very hard for me to find an oil that won't cause breakouts. But just a couple of drops of this is perfect and doesn't feel heavy or too oily at all. It also smells quite nice, a bit like jasmine tea which I really like!
Moisturizers
My day and night cream are both from Eminence Organics, which is my favourite natural skincare brand that I've used so far. It is very pricey, however the products last a really long time and are very high quality. For daytime I use the Tropical Vanilla Day Cream which has SPF 32 and smells just about as good as its name suggests. I make sure to wear SPF every single day, so I put this on in the morning under makeup or just on its own. I always put it on my neck as well and rub any excess on the backs of my hands.
At night I use the Stone Crop Whip Moisturizer which absorbs really well into the skin and leaves my face feeling very hydrated and nourished. I've had these pots since last Christmas and so I think they will have lasted me a full year. And, for organic products it's really nice that they haven't gone off in that time. Eminence Organics is a Hungarian brand, and the best place that I've found to purchase it in Canada is online at BeautySense.ca.
Masks & Treatments
Outside of my daily routine, I have three masks that I use on a regular basis and rotate to keep my skin looking and feeling its best. The first is another Eminence Organics product: the Citrus & Kale Potent C+E Masque. This mask is just chock full of nourishing ingredients – it's like a green smoothie for your skin!
The other two masks I use are both by Herbivore. The first is the Brighten Pineapple & Gemstone Mask. I use this when my skin is feeling a bit dull or like it needs a boost. The second is more of a treatment than a mask, and it is the Moon Fruit Superfruit Night Treatment. I use this once or twice a week and really love the results; I wake up with hydrated and glowing skin.
The only downside is that it started to go off soon after I purchased it. For an expensive product this was disappointing, not to mention wasteful. I am still able to use it by scraping off the top layer or any areas which have gone bad (they look much lighter as you can see in the photo below). I guess that's just the price you sometimes have to pay for having fully organic ingredients. But for that reason, while I love the results I get from this product, I probably wouldn't consider purchasing it again.
So that is my full, natural skincare routine! I hope you enjoyed this post and learned something new. It is definitely doable and can be budget-friendly to use products that are made with nourishing ingredients and that don't harm the environment. And the best part is that they truly do work! In many cases natural skincare probably has a much better impact on your skin and health than products with harsh chemicals and toxins.
Let me know if you've tried any of these products or if you have another favourite natural skincare brand in the comments below!
Until next time,
Emily
Pin for later: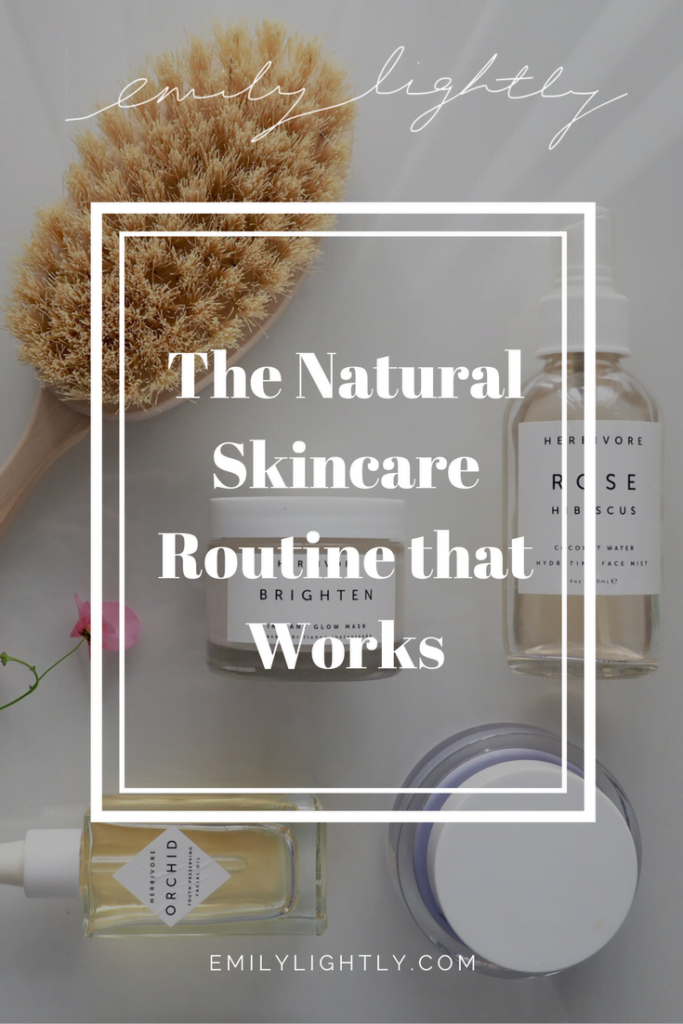 Disclaimer: This post is not sponsored in any way; these are my own, honest opinions.