Monday this week was the first beautiful spring day we've had in Vancouver. The sun was shining all day and I think it hit up to about 16 degrees. It finally felt like the warmer weather is here! I took full advantage of it by finally wearing some of the warmer-weather pieces from my spring capsule wardrobe.
Monday also marked the first day of Fashion Revolution Week. This was actually the first time I heard about this movement, although it's been going on since 2013. It was sparked when a garment factory in Bangladesh full of workers collapsed. Cracks had appeared in the building the day before, however the garment workers were ordered to go back to work. From the website:
On 24 April 2013, the Rana Plaza building in Bangladesh collapsed. 1,138 people died and another 2,500 were injured, making it the fourth largest industrial disaster in history.
It means a lot to me to be part of a community that supports better lives for garment workers around the world. When I first started my capsule wardrobe, I have to admit that it was for more selfish reasons. I was sick of waking up in the morning feeling like I had nothing to wear, and spending all of my money on clothing. I wanted less stuff – less clutter, less stress, less comparing myself to others. I also wanted to love what I wore on a daily basis and feel better and more confident about myself.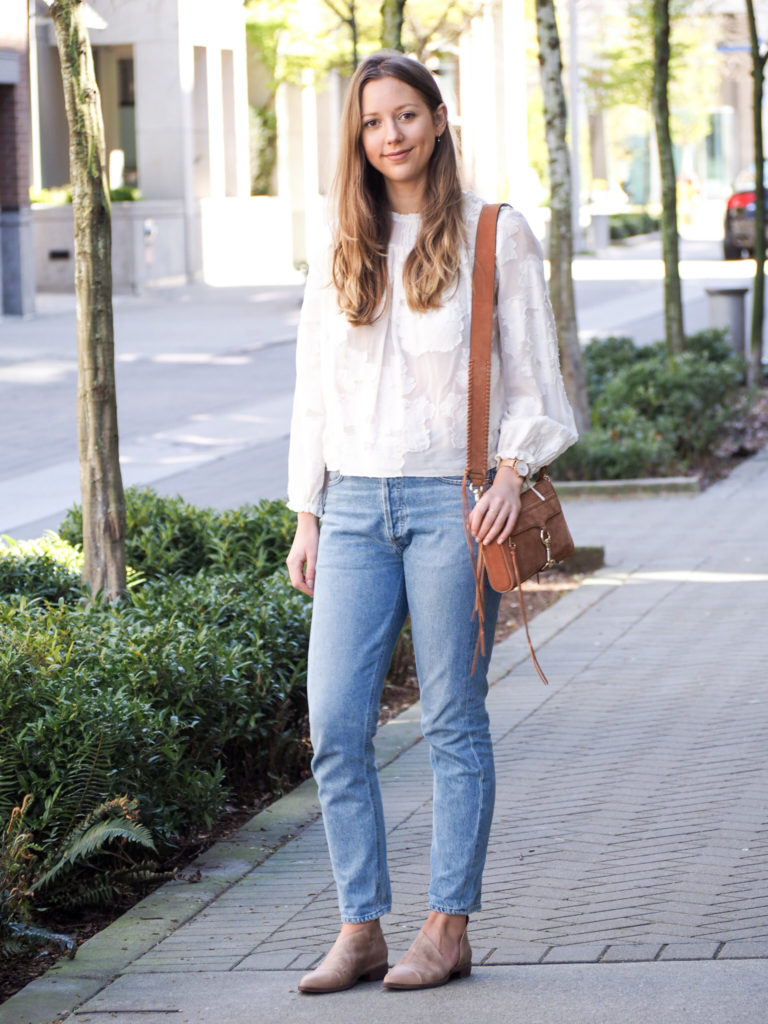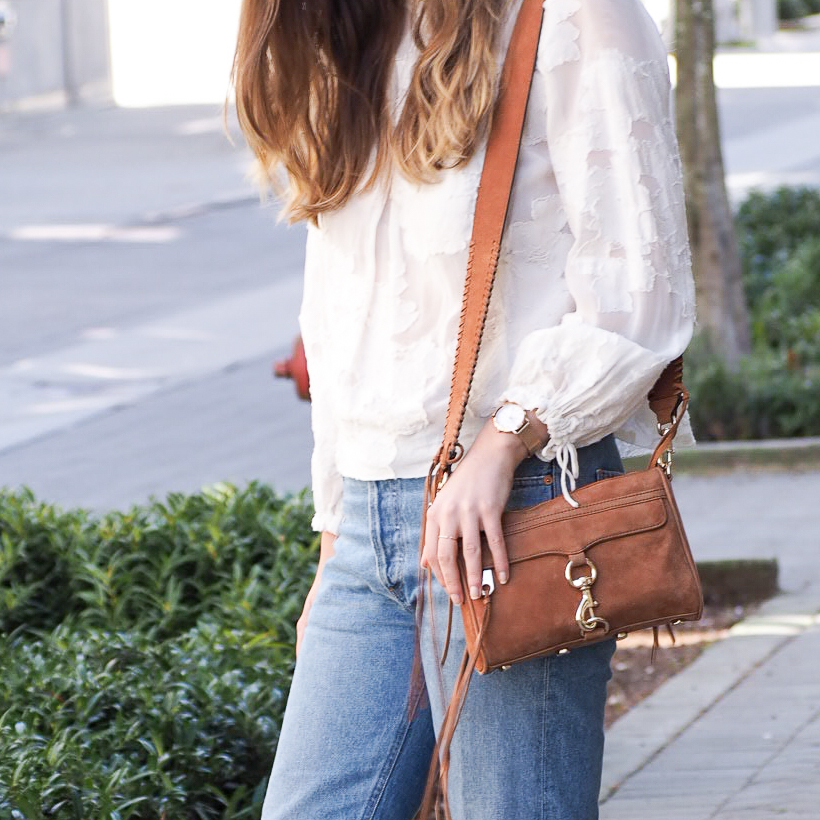 But the thing that has really kept me going with it is the benefits for others and not just myself. Not only is consuming less better for our environment, but choosing sustainably and ethically made goods is better for the people who are involved in making them. For too long I hadn't really considered this question, but now it's at the forefront of my mind when I shop.
While today's outfit is not necessarily made up of sustainably or ethically made goods, it is a part of my reduced wardrobe that will see me through the spring and summer, without having to purchase more. Moving forward, I would love to start incorporating more ethically made brands into my wardrobe, but it doesn't mean I can't get use out of what I already have.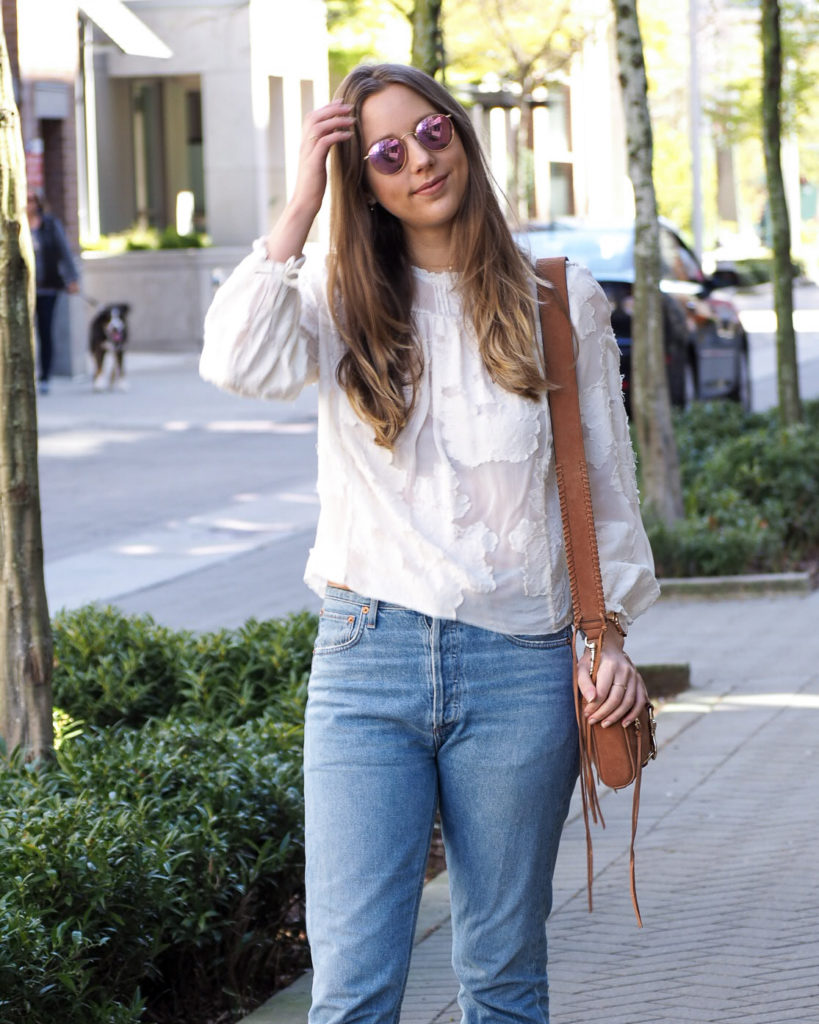 I'll start with the top, which is from Aritzia (and miraculously still in stock!) It's not the most practical of blouses, but I consider it one of the more special pieces in my wardrobe because it's just so pretty. I paired it with my trusty AGOLDE jeans which are made from recycled and organic cotton; if you follow me on Instagram, you'll know that I wear these all the time.
I'm also wearing my Free People flats which were a new investment purchase this season. I have a feeling I'll love these puppies until the day I die. The bag is by Rebecca Minkoff and I found it deep within the racks at Winners for a steal of a deal. My sunglasses are Ray-Ban and I'm wearing Rosefield and Mejuri accessories.
As a consumer, you have a lot of power when it comes to showing brands what's important to you. You can cast your vote by choosing carefully which brands you give your money to, or alternatively, which brands you don't want to support. There's a great list of fair trade and ethical brands in this article from The Good Trade. If you want to get involved this week, you can use the hashtags #fashionrevolution and #whomademyclothes across social media.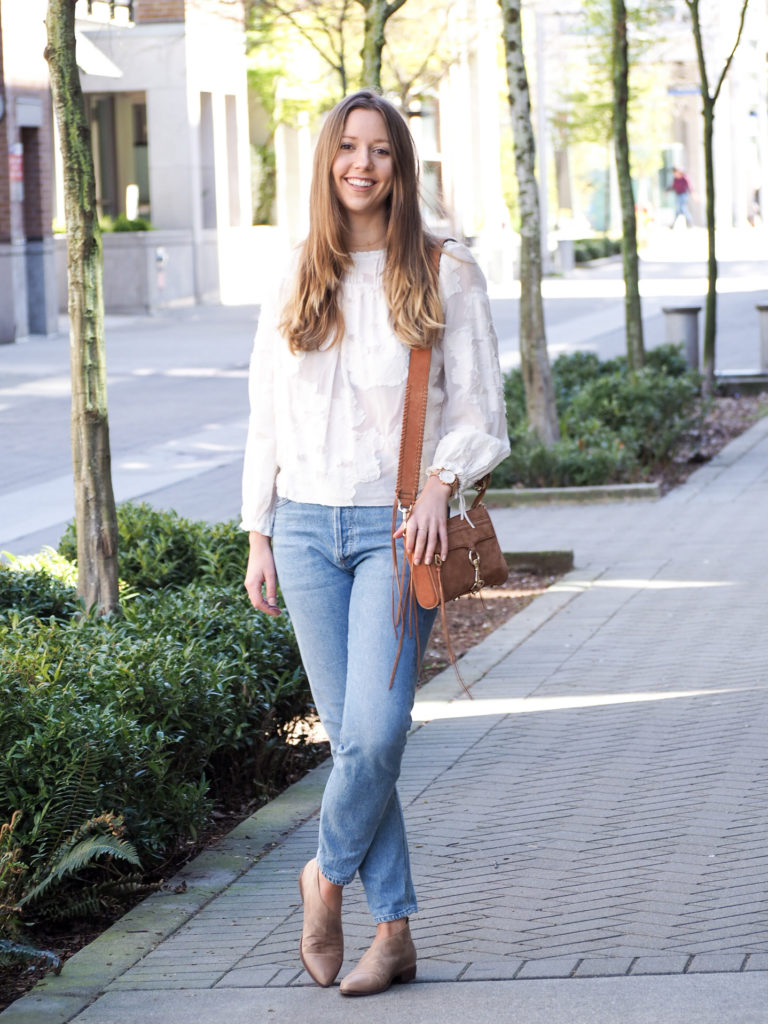 I hope this post has inspired you to learn more about Fashion Revolution Week and the people who are behind the clothes you wear! Let me know your thoughts in the comments below and as always, thanks for reading.
Emily