Welcome back! Today I'm sharing some things I've been loving this past spring season. I have a small selection of beauty and lifestyle products that have really stood out to me, and you might love them too. Without further ado, let's get into my spring favourites!
Makeup & Skin Care
Let's start things off with some beauty favourites. I have two to share; the first is the REN Radiance Perfection Serum. I'm really trying to move all of my skin care and makeup (but especially skin care) over to clean beauty alternatives. REN makes it really easy with their super effective yet still non-toxic skin care line. I was looking for a serum to give me a bit of a radiance boost and stop my skin from looking so dull after the winter. This serum absolutely does the trick – it's not a huge difference, but it's enough that it's noticeable. After trying this, I'm likely going to add a few more REN products into my skin care regime once I run out of my current stock.
The second beauty favourite is the ILIA True Skin Serum Foundation. This is a new product by ILIA and the first product I've tried from the brand. It's off to a good start for me! The foundation provides just enough coverage to even out my skin tone, but is still light and feels like I'm not wearing anything. It wears really well throughout the day, and I have oily/combo skin, so that's a huge plus. I purchased it in the shade SF2 Tavarua, and they have a fair amount to choose from which is refreshing.
Shop my beauty favourites
Both products can be purchased directly from REN or ILIA, at Sephora, or using the links provided below.
REN Radiance Perfection Serum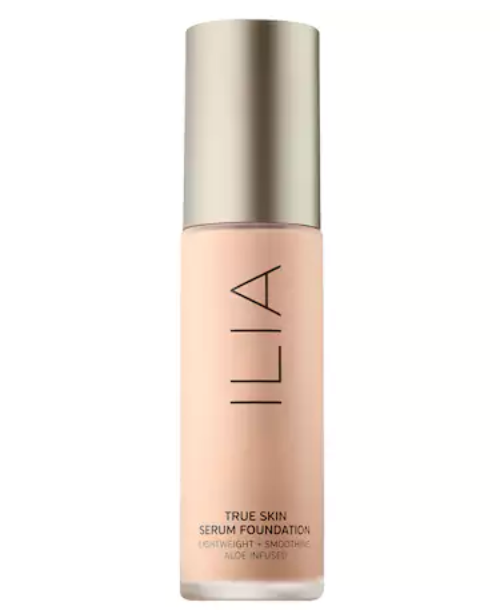 ILIA True Skin Serum Foundation
Hair Care
Probably my favourite discovery this season was a line of hair products by Love Beauty & Planet. I follow the brand on Instagram and when I saw these in store, I couldn't resist picking them up to give them a try. I love what this brand is all about – just take a look at their story and you'll see why. All of their products are vegan and use 100% recycled plastic bottles to keep their carbon footprint low, not to mention their packaging and branding is totally on point. What's not to love?
For my hair type, I picked up the Hope and Repair line which contains coconut oil and ylang ylang. But, they have lots of options for different hair types which all look great. This one smells wonderful and my hair was so soft and shiny after just one use. I feel like this always happens at first when you switch shampoos so I'll temper my excitement, but so far I've been impressed.
The hair oil is also nice, but you need to be careful not to use too much of it, especially if you have fine hair like me. The pump disperses a small amount, and trust me it's all you need. I put in three pumps the first time (just because that's how much product I'm used to using) and my hair looked really greasy – it was like I was doing a mask. So I definitely learned my lesson!
UPDATE: I've found out that this brand is distributed by Unilever, a massive corporation that I don't support. I'm glad that they picked up this product line because it's certainly a step in the right direction. But they perform testing on animals which I am against, so for that reason I won't be buying from this brand again until that changes.
Shop Love Beauty & Planet
I found these at Superstore, which means they are also likely available at Shoppers Drug Mart. Or, you can get them online at Amazon.ca using the links I've provided below.
Love Beauty And Planet Coconut Oil & Ylang Ylang Hope and Repair Shampoo
Love Beauty And Planet Coconut Oil & Ylang Ylang Hope and Repair Conditioner
Love Beauty And Planet Coconut Oil & Ylang Hope and Repair Hair Oil
Jewelry
Moving on from beauty, I wanted to share a new jewelry brand called Finley. They are an environmentally responsible brand committed to providing high quality pieces without all the typical retail markup. I was lucky enough to get into their launch promotion in which they had three pieces available: a ring, a pair of earrings, and a choker necklace. I could either choose one piece for the cost of shipping, or pay a little more and get all three pieces (still for a steal of a deal). I couldn't decide and so I went for all three, and let me tell you that they are absolutely gorgeous!
I was already a fan of minimal, dainty gold jewelry (surprise surprise) and typically shopped on Etsy or Mejuri. I just love the little pieces that you can wear every day, but are still lovely enough to make you feel special. These pieces embody that perfectly to me, and you can bet I'll be getting a lot of use out of them for years to come. But what really sealed the deal for me was the company's commitment to sustainable practices. You can learn more about Finley and get on the wait list for their spring launch here.
Reading
Once of the last books I've read is Soulful Simplicity by Courtney Carver. She's the author of the blog Be More With Less and also the creator of the Project 333 wardrobe challenge. I absolutely loved her book – I found her story so inspirational, and related to it so deeply. I'd highly recommend reading it if you're looking to simplify your life or intrigued by minimalism and its benefits. I also wrote an article with some of my favourite quotes from the book and how they relate to my own simplicity journey, which you can read here.
Read Soulful Simplicity
Soulful Simplicity can be purchased from Amazon or at major book retailers, or borrowed from your local library.

Soulful Simplicity: How Living with Less Can Lead to So Much More
Speaking of books, my final favourite from the spring season is… the library! I've always loved reading, but books are expensive and take up a lot of space. I'd stopped buying them for a while, which also meant I just wasn't reading as much anymore. One day I remembered I have a library card, and realized that my library offers a service where I can check out ebooks online and download them directly to my e-reader. It took a while to set up (Adobe Digital Editions is a terrible program), but now that I have it running smoothly, I can't believe I didn't think of this sooner. The next time you want to pick up a new read, I recommend skipping the bookstore and checking out your local library instead. It's honestly just the best!
That's it for my spring favourites. What are some things you've been loving recently? Let me know in the comments below!
Thanks for reading,
Emily
Pin for later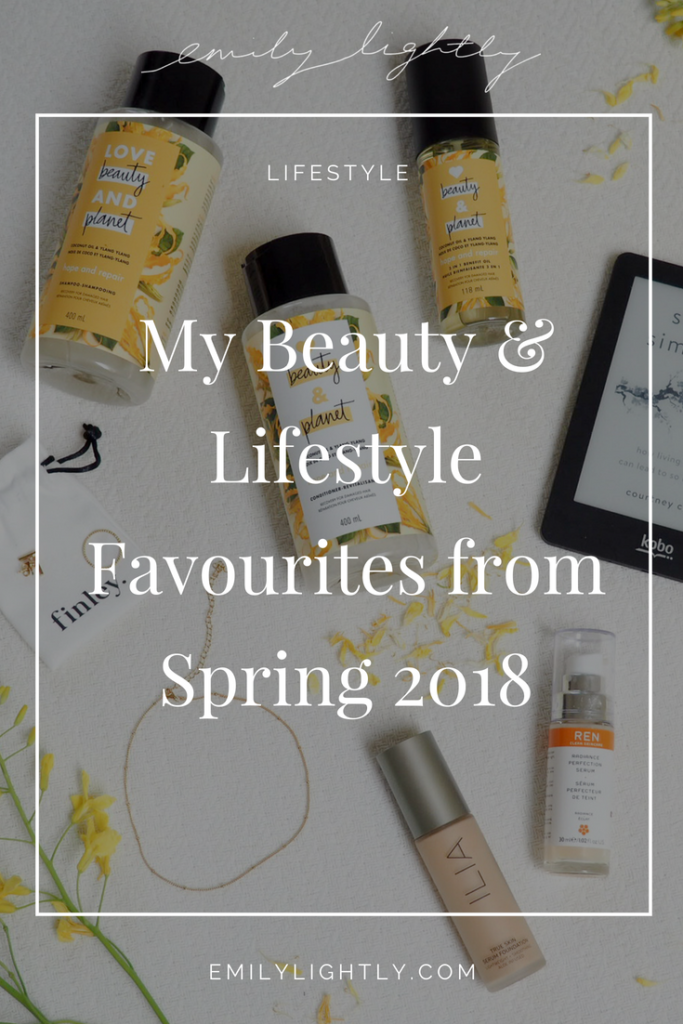 This article contains affiliate links. If you make a purchase through one of these links, I may receive a very small portion of the sale (at no extra cost to you). Please see my disclaimer for more information. Thank you for your support!