Don't you just love it when the seasons change? It always makes me feel refreshed, like I have a clean slate and a new beginning. I especially love when summer turns to fall, the leaves turn red and orange, and I pull out all of my cosy knits from deep within my drawers. I hope you've had a wonderful summer, and aren't too sad to see the good weather go. I've had what feels like one of the best summers of my life, because I finally am starting to feel like I'm on the right path. But enough about that – today I wanted to talk about a few things I discovered or learned about over the summer season. So, here is a roundup of my summer 2018 favourites: a handful of beauty & lifestyle tidbits that I picked up in the last few months and want to share with you!
Beauty Favourites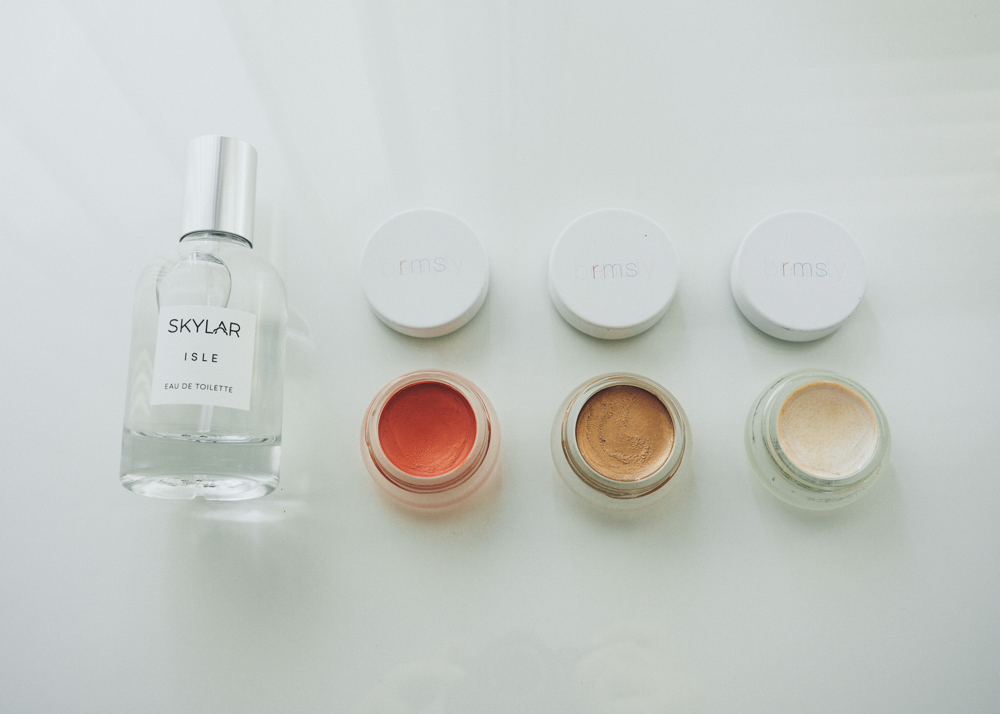 RMS Beauty
The first beauty-related favourite I wanted to share with you is RMS Beauty. If you watched my recent Natural Makeup Routine on YouTube, you will know that I am pretty much obsessed with their Living Luminizer (it's seriously the best highlight). Since trying them, I've fallen in love with RMS products. The cream formulas are super easy to use and create the most beautiful finish. Best of all, the products are all made with clean ingredients, meaning there are no harsh chemicals or toxins. My current favourite products are the Living Luminizer (duh), Lip2Cheek in the shade Paradise, and Eye Polish in the shade Solar. You can learn more about the philosophy behind RMS here.
Skylar Perfume
My other beauty favourite from summer is Skylar perfume. I discovered Skylar when one of my favourite minimalist bloggers, Signe of Use Less, shared it on Instagram. Skylar sells cruelty-free, natural, and hypoallergenic perfume. This is so important because typical perfumes can contain a lot of harsh chemicals and irritants that if sprayed on your skin over time can have adverse effects. I also love the fact that the scents are quite light and airy compared to more traditional, heavier fragrances. I ordered their sample palette, which was a great deal because once I had tried the scents and decided on one, the cost of the sample palette was subtracted from the price of the full-size scent I ordered. They even have a fun scent quiz you can take to find your signature scent, which I found was oddly accurate (my signature scent is Isle, which is the 'clean' scent.) If you want to give it a try, you can get a 10% discount when you shop Skylar here.
Lifestyle Favourites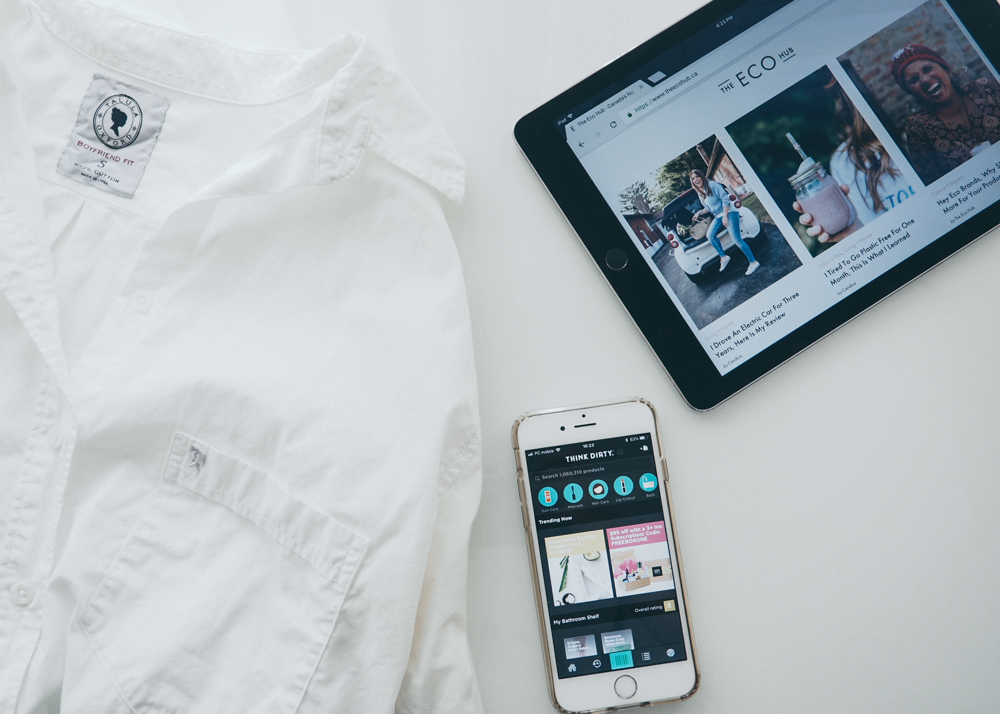 The Eco Hub
Now on to some lifestyle favourites! The first is a website called The Eco Hub, which calls itself 'Canada's number one resource for eco living.' I'm always trying to learn more about ethical, sustainable, and eco-friendly brands, but a lot of them are based in the states, and it's expensive for us to get our hands on them up here. But the Eco Hub has helped solve my problem by creating a detailed website with tons of content related to living a more eco-friendly lifestyle from a Canadian perspective. They have a super useful brand directory which they're adding to all the time, not to mention a plethora of articles related to fashion, beauty, and lifestyle all through an eco-friendly lens. If you're in Canada too and are looking for a great resource in this area, you need to check them out!
Thrift Shopping
My second favourite thing I picked up this summer is a little bit different: thrift shopping. I've been trying to find ways to make my wardrobe more ethical and sustainable, but it can be really expensive to purchase ethically made goods. Thrifting is a great way to do that (I wrote this article on it a while ago), but was never something I was very good at or invested in, but over the summer I started making a more conscious effort to familiarize myself with the world of secondhand fashion. After a few months of visiting thrift stores every so often, I've become a bit of an addict. There's just something about walking into a store full of cheap, previously-owned stuff and digging through to find that one perfect item you've been looking for. I've found some really great pieces over the summer, including a 100% cotton Aritzia button-down shirt in perfect condition, as well as a pair of beautiful Aritzia sailor pants which I had frustratingly already purchased for full price (and the duplicate pair is now for sale on my Depop.)
I'll admit thrifting takes time and effort, and I'm still learning what stores are the best and how to spot good items. But it's been so much fun and it's a great way to make your wardrobe and home more sustainable because you're not contributing to the production of new items. Next time you need something, take a look at your local thrift store – you might be pleasantly surprised by what you find!
Think Dirty
My next favourite is an app, which is a sort of combination of both beauty and lifestyle. The app is called Think Dirty – let me know if you already use it in the comments! If not, it's basically an app that lets you scan the products you use (everything from beauty and skincare to household products like laundry detergent) and it gives each product a rating out of ten which signifies how toxic or carcinogenic the product is. A higher score means it has more toxins or potentially harmful chemicals. It's really useful if you're shopping for something and want a quick way to determine how healthy or unhealthy its ingredients are without googling a ton of hard-to-spell terms.
The only downside is that a lot of more natural alternatives actually aren't listed in the app yet – I feel like the products they have are more mainstream, like products that are sold in big-box stores. So a lot of the cleaner alternatives I'm turning to these days (such as my Eminence Organics skin care) is not listed, but you do have the option to add it yourself and they will eventually give it a rating. I mainly use the app to let me know what to stay away from, and as the product list continues to grow, I'm sure I'll get more use out of it. You can download the app here.
Fitness Blender
My final favourite is one that I think I talked about in an article a long time ago. Over the summer I've really been trying to focus on improving my health and fitness. It's something that I let slip when I was working full-time – it's hard to squeeze in a workout and take the time to make a healthy, home-cooked meal when you're working upwards of eight hours a day (not including your commute). So now that I have the time, I'm trying to make more of a habit of it. Exercise is something that I've never really been good at or felt motivated to do. But it's so important, especially because I suffer from moderate anxiety and depression, and exercise is one way that really helps relieve the symptoms for me.
I have had gym memberships in the past, but I always found them more inconvenient than they were worth. So I've mainly been working out at home, and my absolute favourite free home workout routine is by Fitness Blender. I've been doing their 5 Day Strong and Lean Challenge every week and am noticing such an improvement in my overall health and wellness, not to mention my waist size (although my favourite jeans are now sadly becoming too big, which is a good problem to have I suppose!) I'm not trying to lose a ton of weight or go on a super restrictive diet, I just want to build a little bit of strength and feel healthier overall. I won't lie, the workouts are hard – they do have modifications if you need to work up to them. But they're super effective, and they can be done in your living room for free. If you are looking for a workout program that provides results, I'd recommend checking out Fitness Blender for yourself!
That is it for my summer 2018 favourites. I'd love to hear about any new beauty or lifestyle discoveries you've made recently in the comments below. I hope to see you again soon!
Thanks for reading,
Emily
Pin for later: