I have spent the last ten days wearing just ten items of clothing. Because, why? The spring 2018 10 x 10 challenge, of course! The challenge took place over ten days from Friday, March 30 through to today. It was hosted on instagram by three lovely, capsule wardrobe boss ladies: @caroline_joy, @leevosburgh, and guest host @elizsuzann. They do it every season, and while I have done similar challenges on my own in the past (like my fall 12 x 12), this was my first time participating in the 'official' one. It was definitely challenging, but also a ton of fun! Today I wanted to share all the details of my ten outfits with you as well as a few insights I gained from participating.
If you're new to the challenge, here's how it works. You need to pick ten items for your closet and use them to create ten outfits which you wear over ten consecutive days. Your items should include tops, bottoms, and shoes (some opt to not include shoes but I really wanted to challenge myself this time!) It doesn't cover accessories, so you can feel free to jazz up your outfits with jewelry, scarves, bags, etc.
It's a lot easier said than done, believe me! Things like laundry and the weather will probably (definitely) throw you some curve balls. In my case, I had to be quite careful to avoid any and all tomato-based pasta sauces lest they ended up on those stark white pants.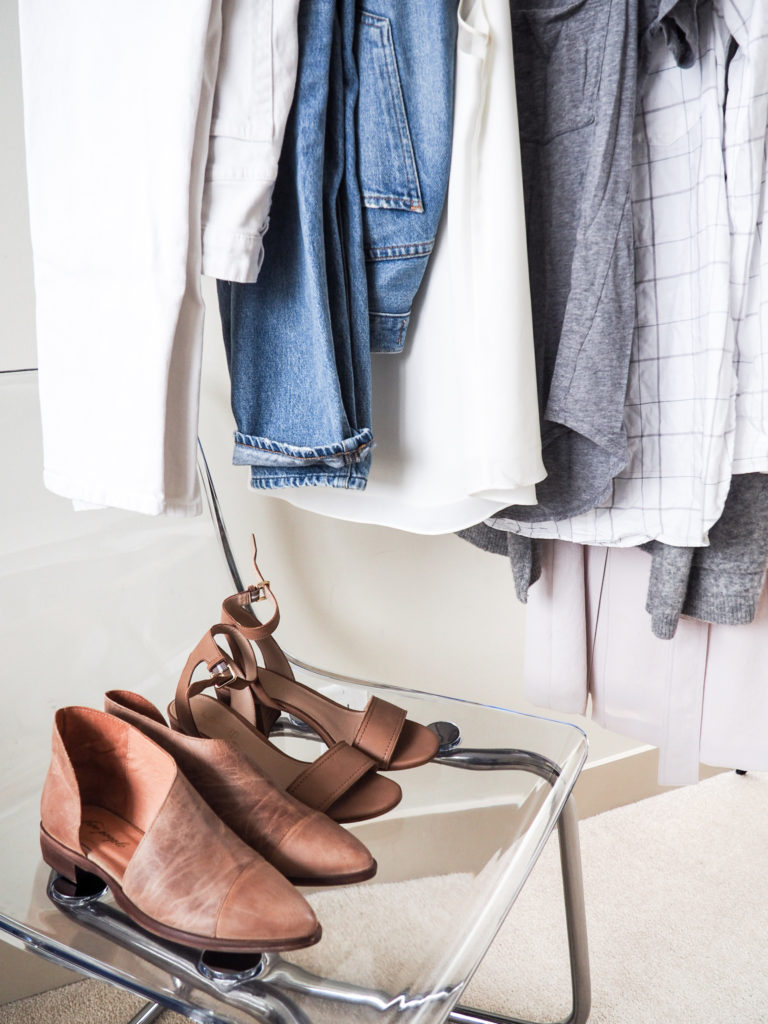 So why would I want to do this, anyway? Well, there are a couple reasons. The first is that it helps you practice building a minimal yet versatile wardrobe. To get by with only ten items, you need ones that are going to work well together and create looks that suit your lifestyle and your daily activities. Which is really what a capsule wardrobe is all about! Doing this exercise is a really great way to flex those muscles and practice building a variety of outfits from a limited number of pieces.
It also really forces you to get creative with your wardrobe. As I continually try to downsize and minimize my closet, I am constantly looking for ways to get more wear out of the items I already own. This challenge makes you think outside the box a little in that respect and get creative with your combinations. It gave me some new ideas on different ways to wear what I have.
The best example of this is the shirt dress. This item worked the hardest for me in this challenge, and I used it in four separate looks. It was perfect to wear as a dress on its own, dressed up or down depending on the shoes. But to get more mileage out of it, I also wore it over a pair of jeans, with no belt and the bottom buttons undone as a sort of tunic. And I wore it fully open over a cami and jeans as a sort of kimono. So all in all I got four totally different looks from just one piece which was amazing!
Benefits aside, there are a few things I might do differently next time. Firstly I didn't really plan my outfits around the weather, which in Vancouver is hard to do anyway. It ended up being cool and raining most of the ten days, so the outfits I wore weren't really practical. I work from home so this wasn't a big problem, but it still felt a little disingenuous.
The other thing is that I really pushed myself out of my comfort zone with the items I chose. Both of the shoe options I felt were a little bit fancier than what I typically wear, and I was wearing at least one white item in almost every outfit. Towards the sixth day I really started to miss my favourite sweater, jeans, and sneakers. Next time I'll be sure to include pieces that I'm more comfortable wearing day to day.
Okay, let's get to the challenge!
The Spring 2018 10 x 10 Challenge
I picked my ten items from my spring capsule wardrobe. I went for a white, grey, tan, and denim blue colour palette (still no black – are you proud?) Here are the ten items I chose, as well as the ten outfits I ended up putting together: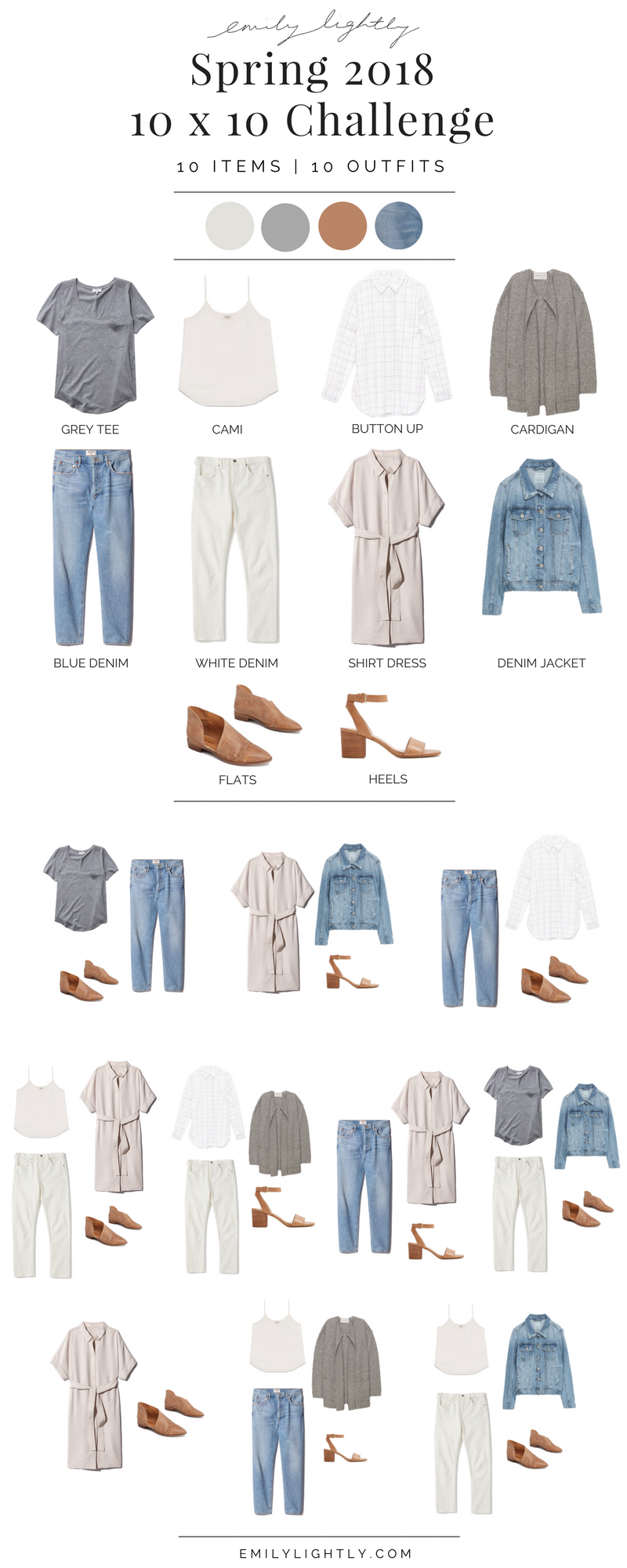 Item details: Grey tee – Aritzia / White cami – Aritzia / Button down shirt – Aritzia (similar) / Grey cardigan – Aritzia (similar) / Shirt dress – Aritzia / Denim jacket – Zara (similar) / White jeans – Joe Fresh (several years old) / Blue jeans – AGOLDE / Flats – Free People / Sandal heels – Aldo (similar)
The Outfits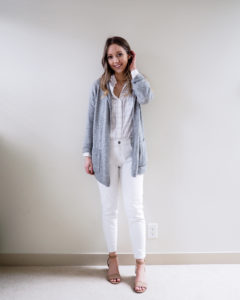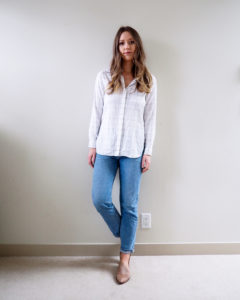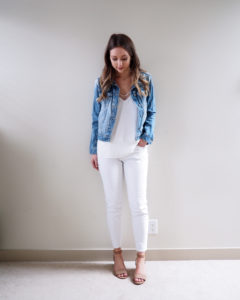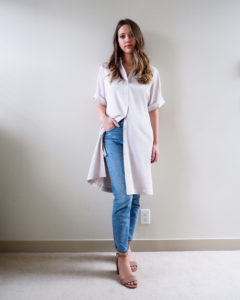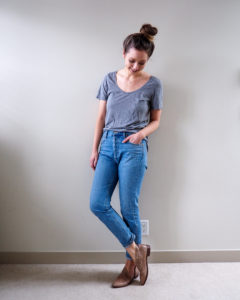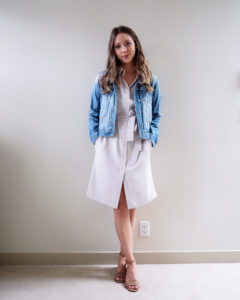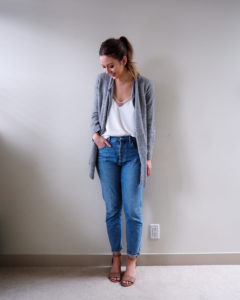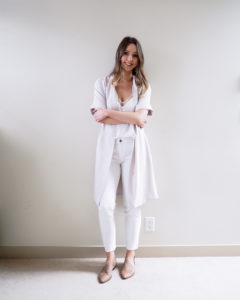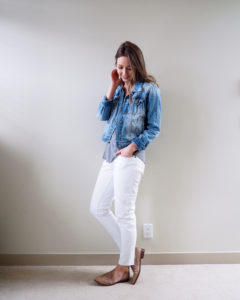 I hope you enjoyed this article! Would you participate in the next 10 x 10 challenge? Let me know why or why not in the comments below. And, don't forget to follow me on Instagram so you can tune in next season and see daily outfits from my current capsule wardrobe.
Thanks for reading!
Emily
Pin for later: