One of the things I struggle with most as a slow fashion influencer is keeping up with fashion trends while staying true to my values. Don't get me wrong – I am much happier now that I've simplified my wardrobe, reduced the number of pieces, and learned to shop with more intention. But at the end of the day, I'm still someone who loves fashion. While I no longer feel the need to keep up with trends, there are times when I still want to.
Given the fast-paced nature of trends, these two things are kind of at odds with one another. I feel a little guilty when I look at some of the outfits I put together and think, That's not what an ethical style influencer would wear. To be honest, at times it makes me feel like a bit of an impostor. That said, I've found a few ways where I can still keep my love of fashion and style alive in my wardrobe while remaining true to my mission. Here are my tips on how to still be fashionable when you're trying to have a more intentional wardrobe – whether it's sustainable, ethical, a capsule wardrobe, more budget-friendly, or all of the above.
Mix basics in trend-forward ways
My first tip is to get creative with what you already have. If you have a wardrobe full of good basics, you might be able to get away with participating in some trends just with those alone. For example, one of the ways I love to wear my camis and slip dresses (which I consider basics) is overtop of a t-shirt, which makes for a very on-trend outfit. There's also a lot of athleisure going around these days, so you can make the most of the fact that workout gear isn't technically included in a capsule wardrobe (unless you count it in yours).
DIY your items
Instead of buying something new, consider converting your pieces into something new and on-trend. You can add embellishments, tailor the fit to be more in-style, cut off tees or denim, or tie a knot in your tee or tank top to crop it. This is a great way to get more wear out of some of the older pieces in your wardrobe that you don't get a lot of use out of, and it can be really fun.
Change up your look with a new hairstyle
Changing up your hair can really elevate your look and make it a lot more stylish. Try doing something different – if you always straighten your hair, try curling it or vice versa. Or, just get creative and try some new styles. Try a topknot, or slick your hair back over your shoulders. I'm constantly seeing images on Pinterest of french and fishtail braids, which also happen to be really easy (and convenient for keeping your hair out of your face!)
Pick your trends based on what you already own
This is one of my favourite ways of staying on-trend: shopping my own closet. I spend a lot of time on Pinterest looking for outfit inspiration, and a lot of the outfits I save can be replicated from things I already own (the upside of having built a wardrobe with basic, classic pieces). Sometimes, you don't need something new to participate in a new trend.
Keep space in your wardrobe for fluidity
You're the owner of your closet, and you make your own rules. Sure, there are a lot of guidelines out there for 'capsule wardrobes', but really what it comes down to is what works for you. If you're like me and enjoy fashion, set aside some room in your closet for more a more fluid set of pieces to complement your basic wardrobe foundation. For me that means that at the start of each season (spring/summer and fall/winter) I'll pick one or two trendy items to include in my capsule wardrobe. Typically I buy these according to the rules in the last tip below. But the point is that you can have more fluidity in your capsule wardrobe if that's what works for you.
Purchase on-trend pieces according to these rules
My last tip is to purchase on-trend pieces, but be more mindful and intentional about them as with the rest of your wardrobe. Depending on your values, that may mean that you want to look for pieces that: you really love; are high quality and will last you a long time; suit your personal style; fit your budget; are versatile and can work with a lot of different outfits; are bought secondhand; you can re-sell after; are from an ethical or sustainable brand; or that you've thought about for a good while (weeks to months) and still want. For more tips on how to shop with more intention, I also recommend my article on How to Shop Like a Minimalist.
I hope you enjoyed reading this article and found it helpful. What are your tips for how to still be trendy with a capsule wardrobe? Let me know in the comments below!
Thanks for reading,
Emily
Pin for later: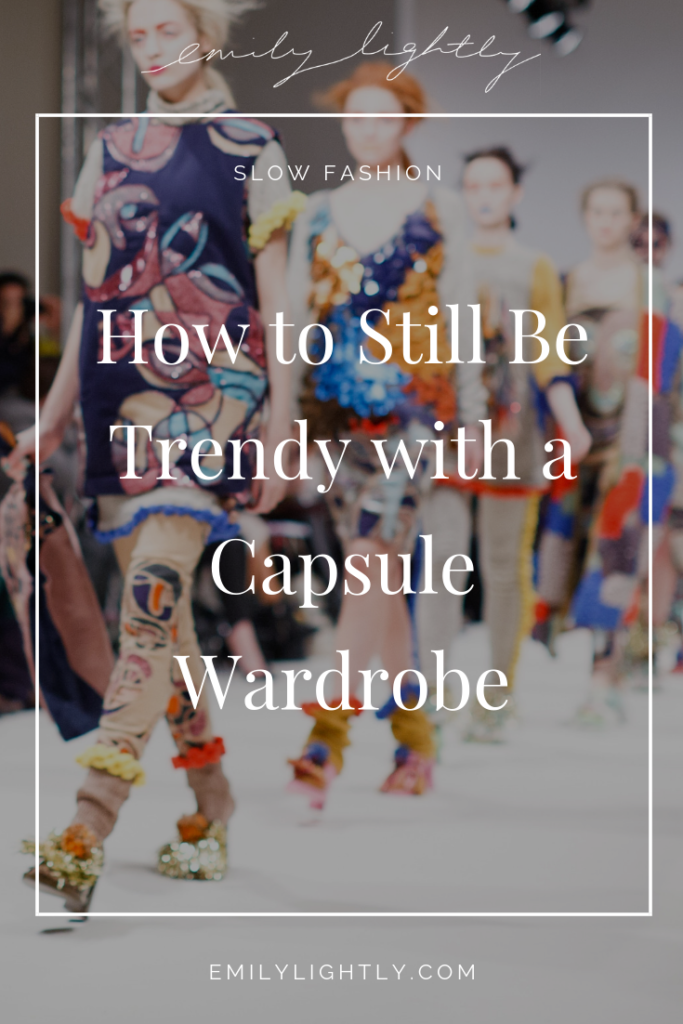 Featured photo by Kris Atomic on Unsplash