Christmas was always an important holiday for my family growing up, and I look forward to it every year. While simplifying my life has involved reducing a lot of clutter in my home and purchasing less, I still enjoy the tradition of giving and receiving gifts at Christmas. The one change being that now I am a lot more conscious about what I buy and ask for, and specifically, the ethics of the companies I give my money to.
With that in mind, I wanted to create a guide for those of you who still like to exchange gifts for the holidays and who might also looking for more ethical and eco-friendly products. So, here are some ethical gift ideas to give you some inspiration!
Style Gifts
Everlane Cashmere
I've been a fan of Everlane for a long time, and they are one of my top go-to's for ethical fashion. I've added a few pieces from their collection here and there to my capsule wardrobe over the past couple of years, and their quality and style always impresses me. Their cashmere sweater collection is just in time for the holidays, not to mention the prices are totally reasonable. They also have some cute cashmere accessories if you're looking for a smaller gift. Finally, their 100% Human line supports human rights – for every product in the line sold, Everlane donates $5 to ACLU (American Civil Liberties Union). Click below to browse through their super handy gift guides!
Shop gifts for her | Shop gifts for him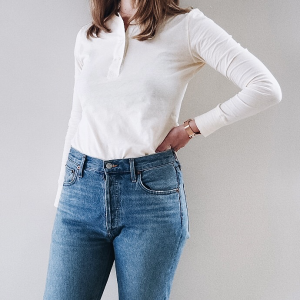 Tradlands Shirt (for her)
Tradlands has some great gift options right now. I especially love their modern fishermen sweater, and I love the Sawyer henley which they kindly gifted me. It's ultra soft and one of my staple items (as seen in my winter capsule). Not only are their clothes and accessories ethically-made, they offer timeless menswear-inspired styles that make great basics for any wardrobe.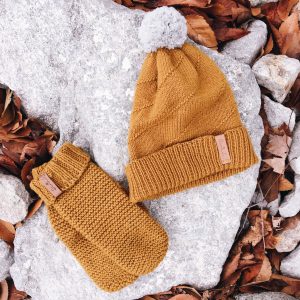 Dinadi Knitwear
Dinadi provides ethically- and sustainably-made knitwear while also creating a positive social impact in Nepal. It's truly the gift that gives back! Their pieces are all unisex as well which makes them especially easy for gifting. See my review of the Signe hat and Astrid mittens here.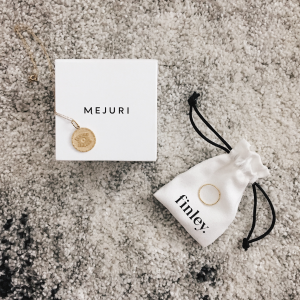 Mejuri or Finley Jewelry
I hate to admit it, but I do love receiving jewelry as a gift. It's something I never want to buy for myself because it seems frivolous, and receiving it makes me feel really special. Two companies that I absolutely love for jewelry that is both beautiful and ethically made are Mejuri and Finley. I have a couple of pieces from both companies and they're great for both everyday or for dressing up.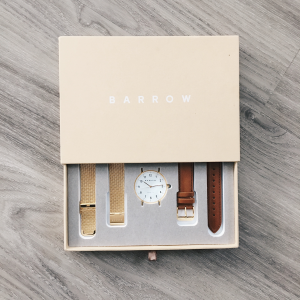 Barrow Watches
Barrow is an Australian company that creates ethically-crafted watches. Their pieces are all timeless, high-quality, and come with interchangeable straps so they are more versatile. It comes in a beautiful little box which can be kept to store it and whichever strap you're not currently using. I have the Modello with both a tan strap and a mesh strap (kindly gifted by Barrow), and I'm sure it will be in my collection for years and years to come!
A new pair of kicks
For the sneaker head in your life, I have a couple of options. Veja and Allbirds both create sustainable and ethically-made shoes with great style. Veja are a little more mainstream and remind me of Adidas; I love the look of the Esplar pair, which has been on my wish list for a while. Allbirds have a more athletic vibe, and have lots of fun colours to choose from. I'm saving up for a pair of these as well!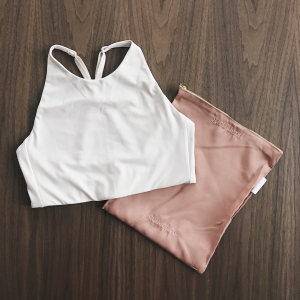 A new gym kit (for her)
Finally, with new year's resolutions swiftly following the holiday season, a new gym kit might just be the motivation we need to stay active and healthy in the coming year. I absolutely love my simple high-waisted black leggings from Girlfriend Collective. I've had them for a few years and they still look brand new! I've also got a few of their tops which are all high quality, and look and feel great. Plus, they make their clothes from recycled plastic bottles and fishing nets – how cool is that?
Other Ideas
If you're looking to give a gift outside the realm of style, here are a few other ideas I have.
Books
The two things that I will never have a problem spending money on are books and travel. I have always loved books and while they take up a lot of space, they're one thing that I keep room for in my home. Check out my simple living reading list for some great resources on minimalism, capsule wardrobes, and slowing down life in general.
Zero Waste Supplies
Going zero waste can be really daunting if you don't know where to start. I got my start when my sister gifted me some beeswax food wraps to replace plastic wrap. I've been using them ever since, and all it took was getting the re-usable food wraps as a gift! Other things that come to mind include stainless steel mugs and food containers, travel cutlery, bamboo toothbrushes, safety razors, a personalized re-usable shopping bag, and metal straws. These gifts are great because it's not something someone might think to get for themselves, but it is useful while also lessening our impact on the environment.
Something hand-made/DIY
Last year, I hand-made all of the gifts I gave to my family. It was definitely more work but it was so rewarding to spend the time creating something that I thought they'd love. Things like homemade candles, bath bombs, or embroidered hand towels make great gifts, especially since they'll know you put in the time and effort to make it with love. You can also create a DIY kit for them to enjoy, like a bake-your-own-cookies mix or a homemade gin kit.
Something locally made
Instead of ordering online or buying from large corporations, try visiting local markets near you and supporting smaller artisans and makers. You'll save some pollution from all the transit it takes to ship a package, and likely get something thoughtfully-made and unique while supporting local business.
An experience
If you or your loved ones are really trying to cut back on clutter, an experience is a great gift to give. Something like tickets to a show or concert or a gift card to their favourite restaurant make a great gift without adding something else to their home.
Your time!
Simply spending time together can be a great way to show someone you love and care about them this time of year. Plan a walk in nature (weather permitting) or catch up over tea or wine. After all, while the gifts are fun, being together this time of year is really what it's all about!
I hope you enjoyed reading this article and that it gives you a helping hand this holiday season. Have you finished all of your gift shopping already, or are you perhaps not doing a gift exchange? I'd love to hear about it in the comments below. Thanks for reading!
Until next time,
Emily
Pin for later: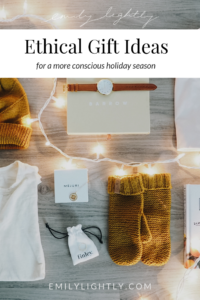 Note: This article contains affiliate links. Please see my disclaimer for more information. Thanks for your support!